Life
Colorful Taste with Jorge Ortiz
Stepping out of the family restaurant business and into the world of visual art, self-taught painter Jorge Ortiz is putting his stamp on the Springfield art scene—one colorful mural at a time.
By Colin Shea Denniston
May 01 2023 at 8 a.m.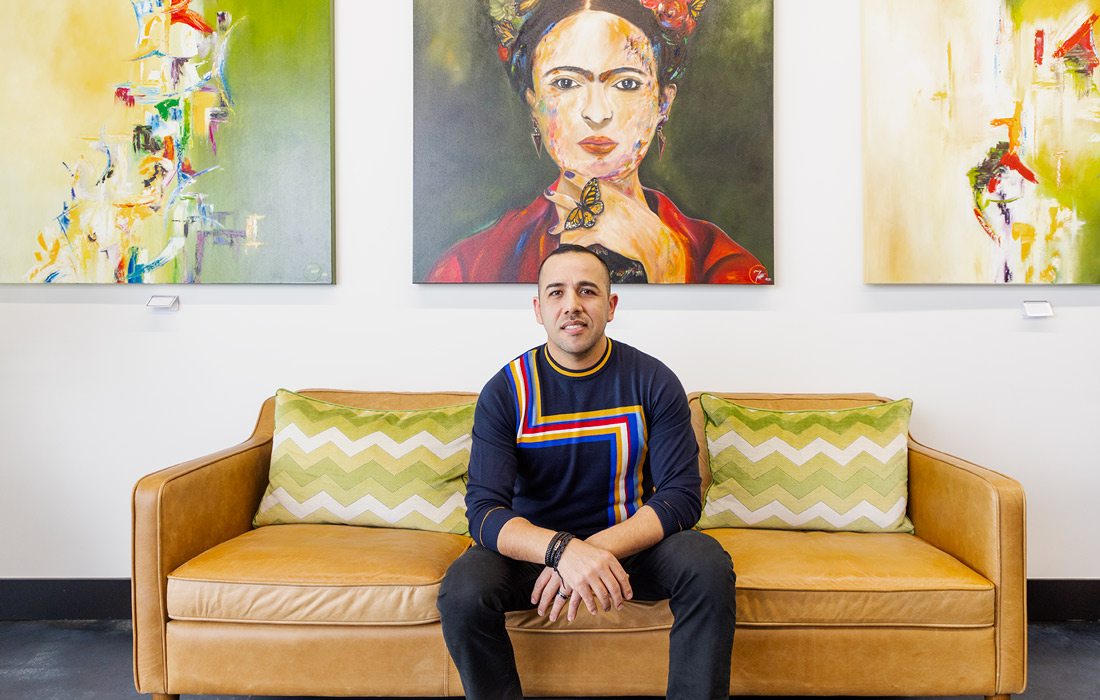 Spend any considerable amount of time in Springfield, Missouri, and chances are you'll eat at at least one restaurant owned by a relative of Jorge Ortiz. Ortiz's siblings run some of Springfield's most popular Mexican eateries, including Cielito Lindo, Jose Locos and the always crowded Cesar's Old Mexico. "They were like, 'When are you going to have your restaurant?' Ortiz says of his family. "I don't think I'm going to have a restaurant," he recalls with a grin. "I'm going to go a different way." 
The seventh of nine siblings, Ortiz came to Springfield from Guadalajara, Mexico, in 2003 to visit his brother, and as he says, "I decided to stay." Without any formal training, Ortiz began painting once he arrived in 417-land, and it wasn't long before his new hobby became a successful career. 
While still in Mexico, Ortiz began studying for a career in architecture. "I feel like they're brothers," he says of architecture and painting. But while architecture focuses heavily on structure and balance, painting leans more into feelings. "I like expressing my ideas with colors," Ortiz says.  And while bold colors can be seen in a majority of Ortiz's work, he's the first to point out that his aesthetic is ever-evolving. "I don't like to stay in one style. I [have painted] portraits, people, animals, landscape and now I do this," Ortiz says, gesturing to the colorful abstract prints lining the wall of his gallery on Republic Road. 
Ortiz mostly works with acrylic on canvas—admitting that he is too impatient to wait for oil-based paints to dry—but his subject matter changes regularly. "Sometimes I feel like I just want to paint flowers for the whole month," Ortiz says. "And the next [month] change my mind and do abstract paintings."
Additionally, Ortiz's large-scale murals are some his most recognizable local works, including the festive scene inside Cellar + Plate and the "Tom Hanks" mural outside Systematic Savings Bank on South Street.
Most recently, Ortiz created the artwork for Señor Julian Mexican Bar & Grill, a new Mexican restaurant—owned by friends of Ortiz—near Battlefield and Highway 65. Inside the restaurant, Ortiz created a series of alebrije prints—traditional, spirit animal artwork that Ortiz describes as "a lot of color and kind of cartoon-y but really classic in Mexico."
Any while Ortiz's style may be hard to pin down, there is one subject he returns to time and time again: Frida Kahlo. "I have an obsession with Frida," Ortiz says. "I have three Fridas hanging on the walls in my house. I like to bring Fridas to my galleries because I can show people I can do more than abstract paintings."