Life
One Home at a Time
Habitat for Humanity of Springfield began operations 35 years ago as a response to a widespread local need. Today, the organization operates with the same mission: to create a world where everyone has a place to live.
By Michelle Lewis
May 01 2023 at 8 a.m.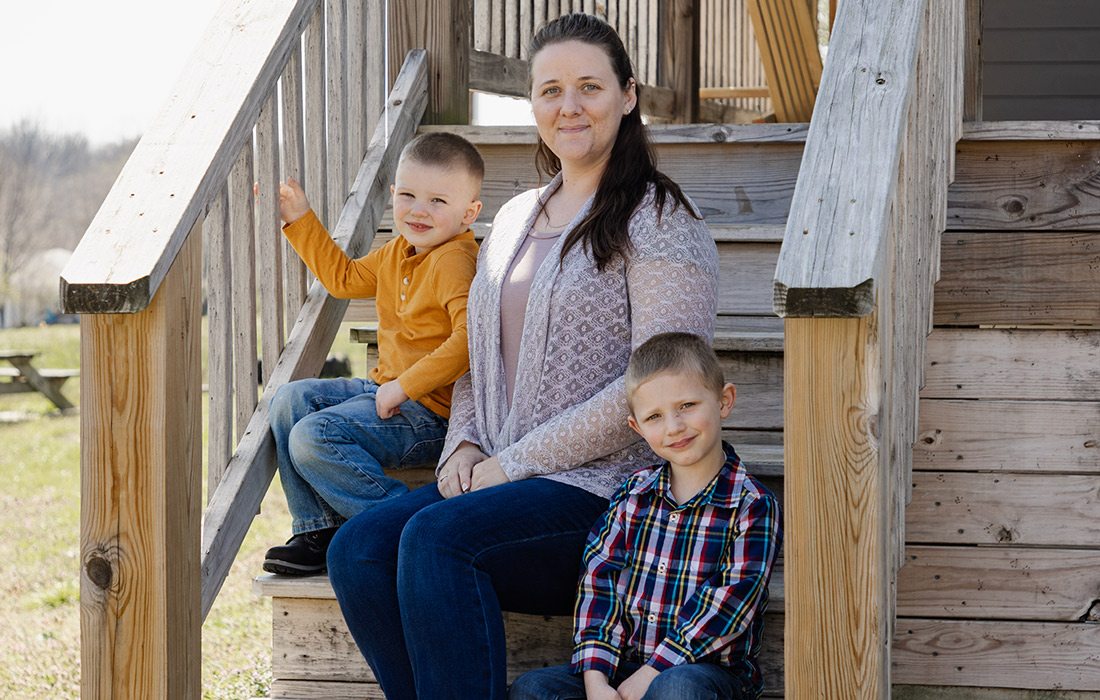 As a single mother of two toddlers, Keri Durban struggled with finding home loans that would work around her needs. The few loans Durban did qualify for weren't enough funding for a home for both her and her children and she knew it would be impossible for her to save the extra money and afford the high interest rates of traditional loans. After hearing about Habitat for Humanity of Springfield, Durban applied for HFHS's Home Buying Program, completely unsure of what would happen. She received her approval on June 10, 2022, a day that would forever change her life.
"I grew up in an unstable environment and for so long I was worried I wouldn't be able to provide stability for my children," says Durban. "After working with Habitat, I feel more confident about providing my children a safe place to raise them."
Durban hit the ground running to complete the 250 hours of classes and volunteering required by HFHS all while beginning to save money to help her knock down some of the debt she's acquired in the past. After the long journey, Durban will move into her home with her two sons later this year. 
What They Do 
One of HFHS's largest areas of focus is providing assistance to local families that may struggle to qualify for a traditional loan and guiding them through the process of buying a home. Many of the individuals who receive assistance from HFHS have never owned a home and are often stuck in the constant cycle of moving from rental to rental. HFHS's Home Buying Program gives these community members the opportunity to purchase a new home with a loan that holds 0% interest. Loans are paid back to the organization over time where the money is used to impact more community members.
Future homeowners go through a variety of educational classes that help them learn firsthand how to care for their future home and how to budget their finances. "These classes coach our homeowners to be some of the most responsible homeowners in our area," says Christopher Tuckness, executive director of HFHS. Between classes, working with volunteers to build their homes and volunteering, future homeowners put in anywhere from 250–350 hours of work towards their new homes.
HFHS doesn't just put people in homes. Alongside HFHS's Home Buying Program, the organization also works to preserve and revitalize homes and neighborhoods throughout the community. HFHS partners with local homeowners to complete vital repairs that can prevent community members from being forced to uproot from their homes.
The Impact 
Over the past 35 years HFHS has served over 1,200 households through home buying, home repairs and neighborhood revitalization. While inspiring, this number only begins to show the true impact.
There are those who have gone through Habitat's process that choose to get pets, something that many non-homeowners can't achieve. Even more special, though, is the opportunity to create a home that is truly theirs. Durban, like many others who have gone through HFHS's Home Buying Program, already has plans for how she is going to decorate her son's room.  
Amber Mueller, director of development and partnerships at HFHS, says the little things like this are exactly why HFHS does what it does. "There are so many things we take for granted," says Mueller. "Understanding what these homes mean to people is humbling and inspiring."
How to Help
There are three main ways to get involved with HFHS: shopping, volunteering and donating. Make your way to HFHS's ReStore, a nonprofit home improvement store; all funds from the store go straight toward HFHS's mission. With only 33 employees, HFHS relies heavily on the efforts of local volunteers. Sign up to volunteer in the construction of new habitat homes or volunteer in the ReStore. Make a financial donation online or donate new and gently used building materials, furniture and appliances to the ReStore.