Travel
Taking a Scenic Road Trip to Colorado
417 Magazine's Editorial Director Katie Pollock Estes chronicles her family's RV trip to Colorado and offers a few travel tips along the way.
by Katie Pollock Estes
May 01 2023 at 8 a.m.

One early June day last summer, my family and I awoke on a mountainside just outside Estes Park, Colorado. We were greeted by cool morning air and a view of the Rockies from the edge of our off-the-grid campsite. Soon after, we were peeling off our layers under the hot sun while we watched a mama moose and her baby make their way through a pine-laden hillside inside Rocky Mountain National Park. An hour after that, we were bundled in coats and hats, grabbing frosty fistfuls from a waist-deep snow bank while the treeless Alpine tundra stretched out all around us. We had barely warmed back up before we found ourselves running full-speed alongside the Colorado River on a trail that wove through the Kawuneeche Valley, trying to get back to our car before an oncoming rainstorm soaked us. Once in the car, we drove across the park again, climbing back up in elevation and nervously eying the drop-offs on the edge of the mountain road while the rain turned to ice and then snow. When we got back to the other side of the park, the hot sun was beating down hard again as we sat outside and dug into some snacks.
A year later, my family still loves to talk about that wild day, when one drive across Rocky Mountain National Park and back let us experience vastly different ecosystems and weather events. We always joke about how the weather can change on a dime in Missouri, but it's nothing compared to that day.
When my husband, Eli, and I started planning our summer 2022 vacation, we didn't expect experiences like that. At first, we were only considering our usual go-to: a lovely, lazy beach week in Florida. I started thinking about my kids, Oliver and Eloise, and I realized I wanted to show them something grander—I wanted to show them more of the world's beautiful places. And repeating that beach trip (even though we truly love it) wasn't going to get us there. At 5 and 9 years old, Eloise and Oliver were rambunctious, wild, curious and adventurous. I wanted to plan a trip that would match that energy, give them lots of room to run free, and show them something brand new. And more than anything else, I wanted to spend time (good technology-free time) with them. Even though Eli and I had never embarked on an RV trip, we knew it checked all the boxes for the adventure we craved. So we blocked off our calendars and went for it.
That's how we found ourselves crammed like sardines into a 20-foot travel trailer, making our way out west and loving every moment of it.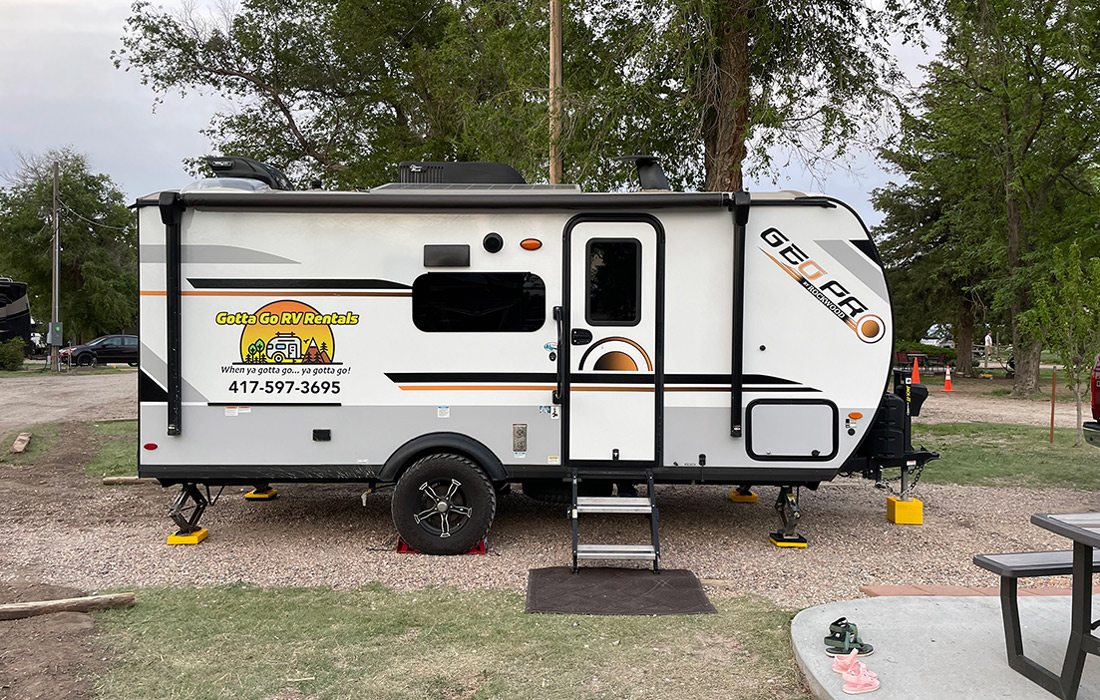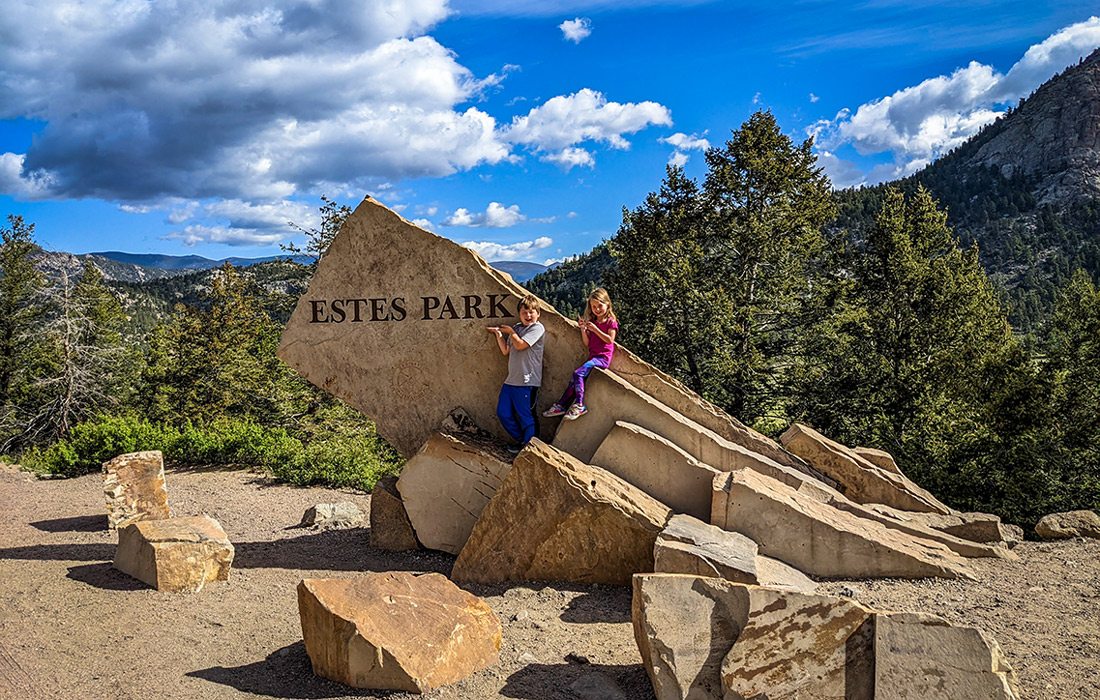 Photos by Katie Pollock Estes A simple, trusty travel trailer (left) carried the Estes family from 417-land across Colorado. Oliver and Eloise Estes (right) loved that they shared a name with Estes Park.
Find Your Home on Wheels
You don't have to own an RV to get the RV trip experience. We rented ours from a super-nice guy in Republic using the website Outdoorsy. It's like Airbnb, but for recreational vehicles. At first we looked for a large, drivable RV, and there were plenty of options available to rent in that category. But in the end, we decided smaller was better for us and our first ever RV excursion. So we opted for a towable 20-foot travel trailer with a queen bed and a set of bunk beds—plus teeny tiny areas for bathroom, kitchen and seating. Some days, it felt a little tight for our rambunctious crew. But we committed to spending most of our time outside, and we made it work!
Home Base: Colorado Springs
It took us three days to drive to our first destination, Colorado Springs. We decided to keep our daily travel to 350 miles or less since we weren't yet adept at setting up and tearing down our travel trailer, and we didn't want to feel rushed for time. Along the way we marveled at the things out our windows, like the towering windmills and changing landscapes—even the forever flatness of Kansas charmed us.
We stopped for nights at KOA campsites in Topeka, Kansas, and Goodland, Kansas, before letting the third leg of the trip deliver us the rest of the way to Colorado.
Once in Colorado Springs, we set up camp and started to adventure. First thing on the agenda was a guided van ride to the summit of Pikes Peak. This 14,115-foot mountain that inspired the lyric "purple mountains majesty" was much too high for our crew to attempt to climb—and it was just the view we were after anyway. Our Rocky Mountain Ride tour guide warned us to dress for sudden weather changes and much colder temps atop the mountain. He wasn't kidding. An incoming snowstorm brought our trip to a stop at about 12,000 feet, where we spent some time shivering and kicking around in the snow waiting to see if the road would open. It did not. But the trip wasn't a bust. We learned a lot from our excellent guide, enjoyed some time at the visitor's center, watched hikers and skiers trudge around looking as tiny as ants way above us, and got a little bonus tour at the end because our guide wanted to get us to a spot where we could take in the mountain from a distance since we didn't get to explore the summit.
Also from our base in Colorado Springs, we took a 50-minute road trip to Cañon City to visit Royal Gorge Bridge & Park, where we walked a footbridge all the way across a massive gorge (I am not ashamed to say that this terrified me). Then we spent a day hiking around and climbing on the massive rock formations at Garden of the Gods, a place that feels otherworldly and truly awe-inspiring. We all felt like we were on another planet as we explored those red rocks. My kids loved to stand on top of the ones that were small enough for them to conquer, put their hands on their hips, stare out toward the horizon and beg us to take a picture of their serious explorer-esque poses.
In fact, they struck this pose at pretty much every place we visited in Colorado, on pretty much every boulder they found. Who knew the rocks would be what made the trip such a hit with these two?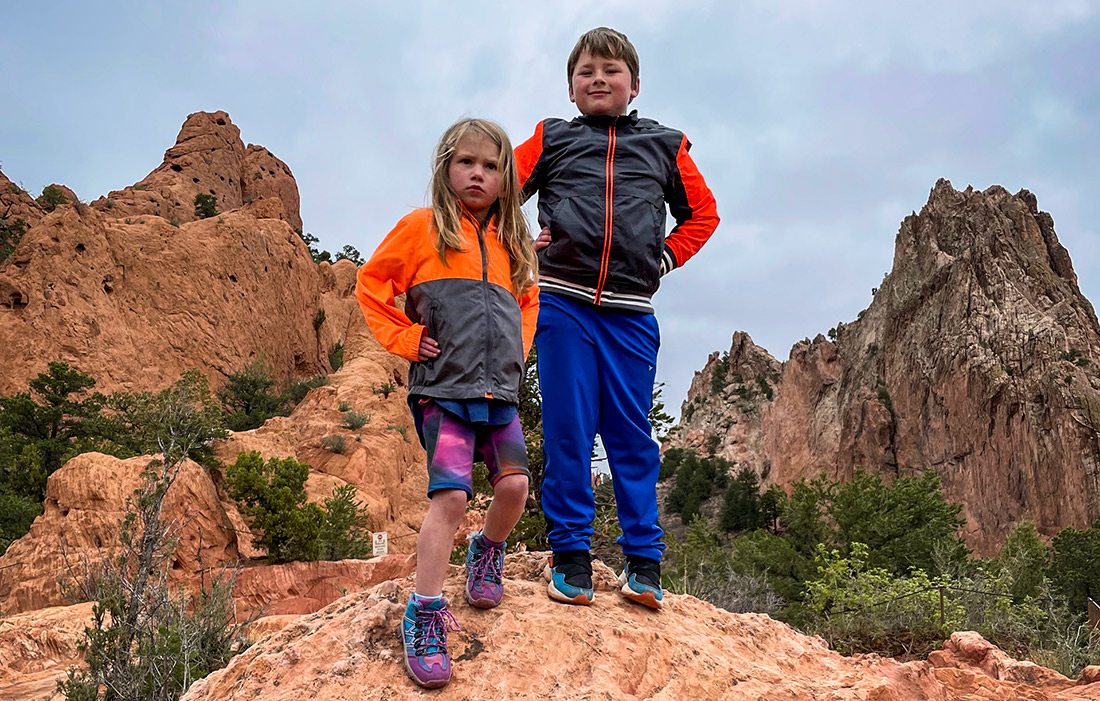 Photo by Katie Pollock Estes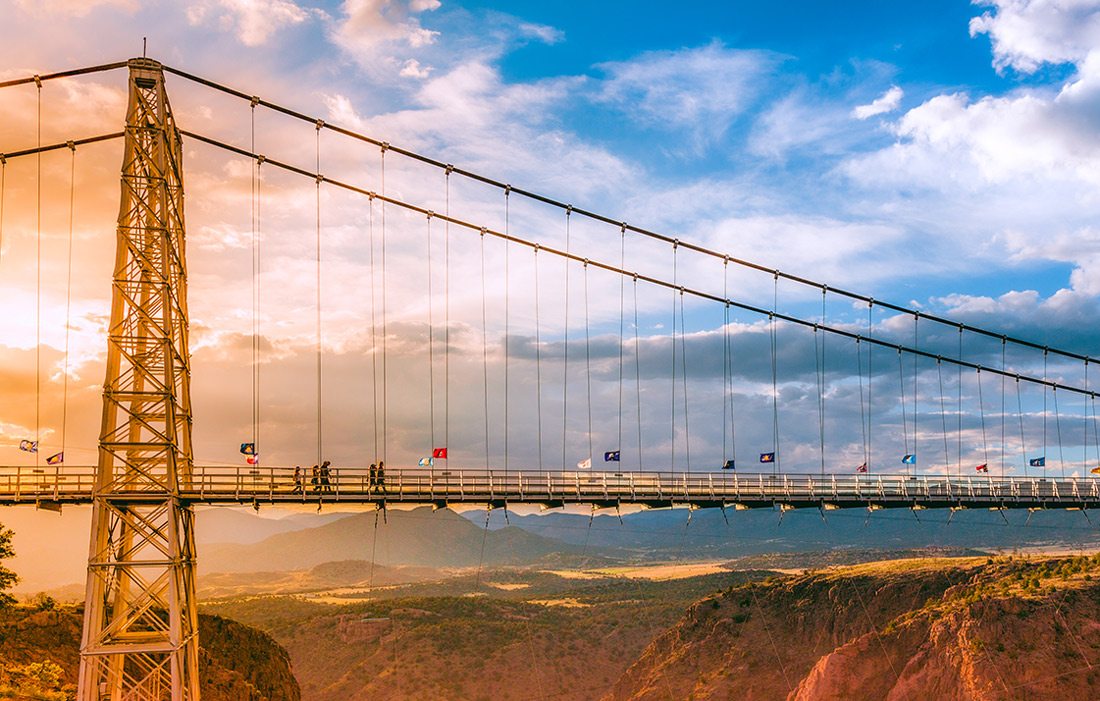 Photo courtesy Fox Run Art/Eve Nagode
The trails weaving through Garden of the Gods are surrounded by awe-inspiring rock formations, some perfect for tiny explorers to conquer (left). The Royal Gorge Bridge & Park in Cañon City, Colorado, features a kind-of-scary footbridge across the gorge (right).
Reserve Your Spot
If you are RVing to any National Park and want to camp inside the park borders, make sure you plan ahead. Reservations for most campgrounds open six months in advance, and at certain times of year they fill up fast. We chose to stay outside park limits, which opened up some options for us. The right campground for you depends on what you want: Are you looking for convenience, full hookups (electric, water and sewer), and perks like swimming pools and on-site restaurants? Or are you hoping to get away from it all to the wilderness where you might dry camp or boondock without the amenities?
We did a bit of both. On the road on the way to and from Colorado, we opted for full-hookup KOA sites because they are absolutely everywhere and easy to reserve. We could roll in, spend a night and roll out.
For a longer four-night stay in Colorado Springs, we got a spot at the full-service Mountaindale Cabins & RV Resort. It was just outside of town, far enough that it actually felt like camping (in fact, we encountered some black bear cubs while we were there and woke up one morning to see a little family of elk munching on some grass right outside our windows) but close enough that we could easily get to some fun sites.
During the second part of our trip, when we explored Rocky Mountain National Park, we stayed four nights at Hermit's Hollow Campground 10 minutes from Estes Park. Hermit's Hollow had zero hookups and was very remote and rustic, tucked up on the mountainside. The site we chose was enormous, with tons of room for the kids to run around, a rocky area where they could climb and our own personal sprawling vista that looked out over the mountaintops.
After that we stayed at Jellystone Park. It had the most amenities of all (full hookups, laundry, showers, swimming pool and more). But after the idyllic beauty of our spot at Hermit's Hollow, Jellystone Park just didn't feel very fun.

Trip Tip: Go Solar

Our travel trailer had solar panels, which made it possible for us to stay at off-the-grid places like Hermit's Hollow while still maintaining some comfortable RV perks like air conditioning, running water (using our tanks), and fully functioning appliances.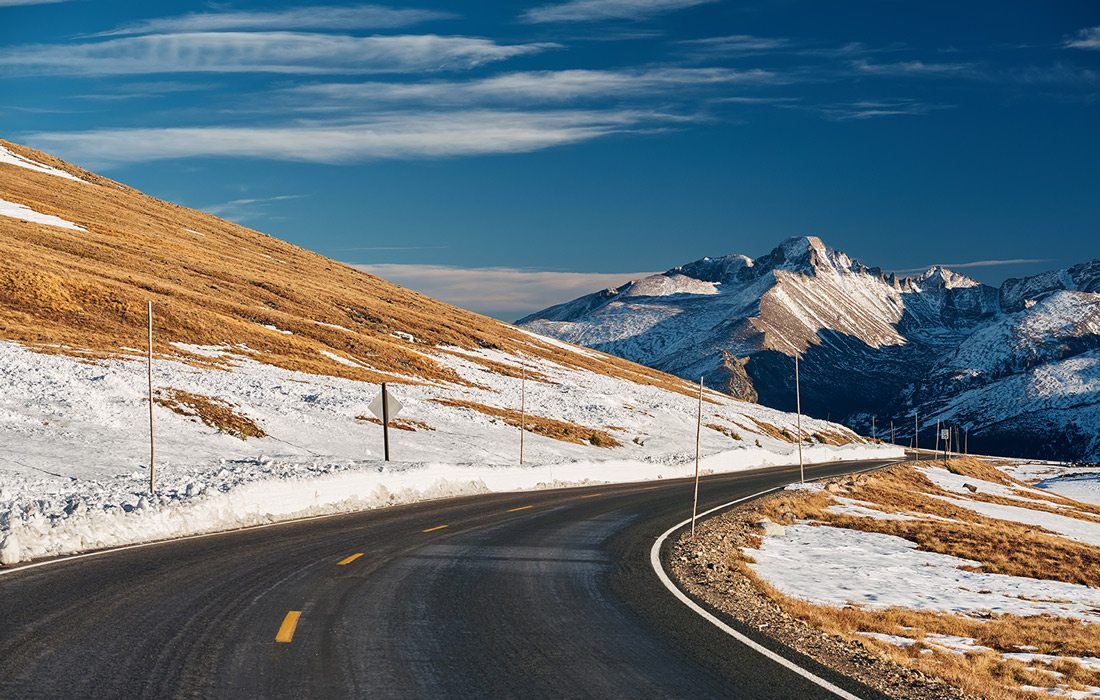 Onward to Rocky Mountain National Park

After several days in Colorado Springs, we packed our RV up again and headed north toward Estes Park, the oh-so-charming little town just outside Rocky Mountain National Park. We made camp at a spot called Hermit's Hollow Campground, and my kids loved pretending that Estes Park was our city. "We're the famous Esteses," was the lie they told through giggles to numerous kind strangers who graciously pretended to believe it.
Rocky Mountain National Park was a dream, with trails for every skill level (we stuck to short ones for our kiddos), four distinct ecosystems to experience as you climb in elevation, and picture-perfect spots like the wildly popular Bear Lake. It was crazy to walk Coyote Valley Trail and think about how the little, bitty Colorado River that flows through the Kawuneeche Valley is the same waterway that ultimately carved out the Grand Canyon some 650 miles to the southwest. Wild, right?
Although the weather at the lower elevations was delightful in early June (sunny skies, warm air, no need for anything more than short sleeves), our very favorite part of Rocky Mountain National Park was the more inhospitable Alpine tundra areas at the very highest elevations. It's incredible to drive Trail Ridge Road, which crosses the entire width of the park from the towns of Estes Park to Grand Lake, and emerge out of dense evergreen forests and into the treeless expanse of the tundra. You feel like you're on top of the world. Our visit was early in the summer, so there was still quite a bit of snow at those high elevations—plus bitter wind and biting cold. We tried to walk the Tundra Communities Trail to the very top, but we couldn't handle the wind even though we were bundled. We took in what we could before driving to the Alpine Visitors Center to warm up with cocoa, hot tea and muffins. The cold might sound a little intense, but we truly couldn't get over how interesting the tundra was, and to this day it's the part of our trip that Eli, Oliver and I talk about the most. (Eloise, on the other hand, only has eyes for Garden of the Gods.)
The next day, we almost skipped the Alluvial Fan. At only about a ¼-mile, the paved path didn't feel exciting enough to spend our time on. We knew it ended at a cascading waterfall that flows though a boulder field formed by a 1982 landslide—but we were feeling kind of meh about it. We were in the area, though, so we visited. It wound up being one of our top favorite spots in the park. The path was easy to navigate, meaning we didn't expend all our energy on the walk. So the kids had plenty of oomph left in them to climb around on and slide down the sides of boulders of all shapes and sizes. We spent the whole morning there, taking in the mountains rising up around us on all sides and enjoying the sound of the water rushing beside us.
Pack It Up
There are a few ways you could do this, and I went with the most intense option: I entered every single storage space in the RV in a spreadsheet and then listed out exactly what to pack in each one to maximize the space we had to work with. Or you could be a little saner and just wing it. Either way, my biggest tip is this: Don't over-pack. For our two-week trip, we only packed about three outfits for each person and utilized campground laundromats. And aside from a few books and playing cards for lazy evenings and a stuffy or three for our daughter's bed, everything else we packed was totally utilitarian. Don't over-pack your food either! You can always restock at the grocery store.
Trip Tip: Create a Car Kit
Fill a little plastic tub with daily necessities for your away-from-camp adventures. With unpredictable weather and drastic temp changes throughout each day, we found it useful to pack coats, hats, gloves, sunscreen, bug spray, snack bars and extra water.
Just Take the Trip
This all sounds so magical, right? Like everything went perfectly?
Well, no. We had some hiccups. We weren't able to ride the gondolas across Royal Gorge because of extreme wind. I got a bit of altitude sickness. The solar pooped out on the RV when we were boondocking at Hermit's Hollow Campground, and we spent one very cold electricity-free night surrounded by condensation-soaked windows. But it was one night. The next day, we were due to switch to a campground with full hookups anyway. We made the most of it all, and everything worked out. I only remember one day when the close quarters in the RV got the best of us (and by "us" I mean "me" because I was 100% the grumpy one), and the kids had surprisingly few bickering battles. 
I think it all worked out so well because we just decided to go with it. We knew before we left that we had no idea what we were doing, that we'd be crammed into a small space in that RV, and that we'd be learning as we went. We told ourselves we'd need to roll with the punches, and for some inexplicable reason, just saying it seemed to make it happen. We rolled with the punches, and we had so much fun. More fun, truly, that we'd ever had on vacation before. 
This trip required us to be easy going. It required us to unplug from work and the hustle of life. It required us to be physically close all day, every single day. And we embraced the heck out of it. The result was two weeks packed with new sites, new memories and a new appreciation for unplugging. I'll never forgot when Oliver told me, "Mom, if we can be happy in that little RV, maybe we don't need our big house." (We do, though. We do need our house and won't be adopting an RV-all-the-time lifestyle change anytime soon.) But I really appreciated the sentiment. We left most of what we owned behind us to seek out gorgeous vistas together. Who needs all the stuff that clutters up life when you have that?