Life
Fill Your 4th of July with Fireworks
Check out these fabulous firework displays happening right here in southwest Missouri for the Fourth of July 2019.
By Dayle Duggins, Shannon Hoffmann and Haley Phillips
Jun 03 2019 at 12:21 p.m.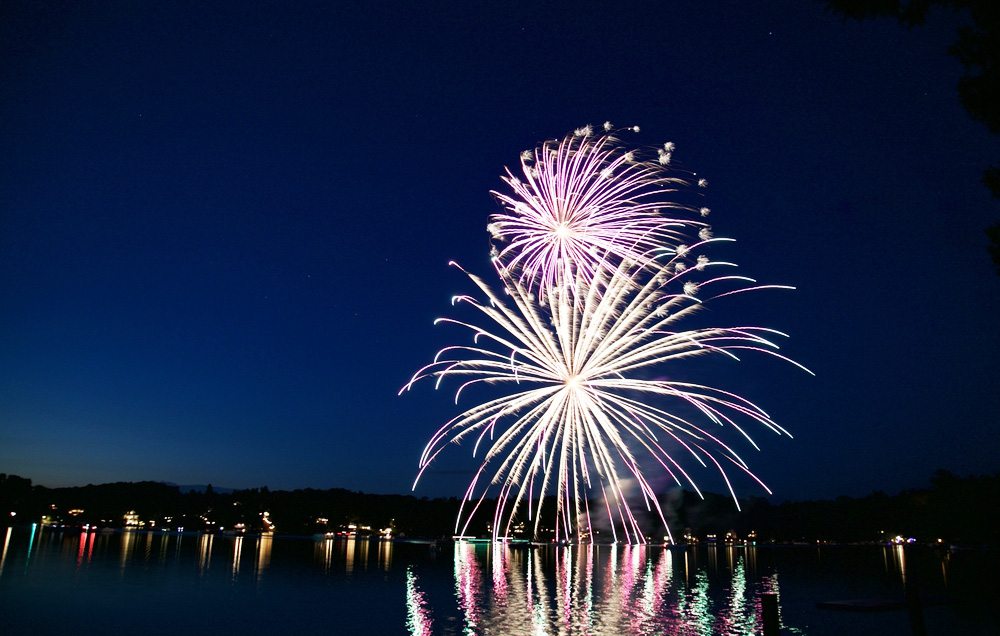 Friday, June 21 at 7 p.m.
Gather up the family and head to the The Track Family Fun Parks in Branson for an epic firework display at the Branson Ferris Wheel! Enjoy food trucks and live music from Coffey Anderson. While you're in town, try out the new Skyscraper thrill ride.

Saturday, June 22 at 10 p.m.
Head out to Finley River Park in Ozark, MO for the grand finale celebration of the Sertoma Duck Race Festival. After a full day of carnival rides, live music, a pie-eating contest and the Rubber Duck Race, cap off the weekend fun with the largest firework display in Christian County.

Friday, June 28 at 6 p.m.
Republic kicks off the firework-filled celebrations at J.R. Martin Park (300 E. Hines St, Republic) on Friday evening. Members Only brings the '80s tribute tunes while families enjoy food, fireworks and activities. Admission is free; vendors and activities require a fee.

Saturday, June 29 at 8:30 a.m.
Spend your Saturday at the 57th annual Freedom Fest in Willard at Jackson Street Park. Feast on tasty barbecue, enjoy live tunes, catch the Little Miss Firecracker Pageant, watch the parade and round out the night with fireworks!
Saturday, June 29 at 6 p.m.
Venture to Rogersville for a kid-friendly celebration for the Fourth of July at Fellowship Bible Church. The evening includes food, inflatables, live music, and will conclude with one of the largest firework displays in the Rogersville area. 
Sunday, June 30 at 5:30 p.m.
Show off your national pride at College of the Ozarks. In addition to an old-fashioned, barbeque picnic, the college's patriotic program includes live music by AYO Voices of Glory and Dawson Hollow, children's activities like face painting and crafts, the presentation of the colors and The Hard Work U Concert Band to provide the musical backdrop for the evening's fireworks display.

Monday, July 1–Wednesday, July 3 at 6:30 p.m.

The Springfield Cardinals may hit the road on the 4th of July but that doesn't mean they aren't going to celebrate with Freedom Week Fireworks! Head to Hammons Field to see the Springfield Cardinals take on the Tulsa Drillers. July 1st has fireworks with Ladies of American Country Music, July 2nd is $1 hot dog night with fireworks played to songs from American movies, and July 3rd has fans-on-field patriotic fireworks, with a pre-fireworks concert by The Mixtapes. 
Tuesday, July 2-Sunday, July 7 at 8 a.m.
Celebrate America at Chateau on the Lake's Fourth of July bash. Fill up on all-you-can-eat barbecue, listen to live tunes and watch fireworks light up the sky over Table Rock Lake. The outdoor dinner is $34 for adults, $18 for kids and free for ages five and younger.

Wednesday, July 3 at 6 p.m.
Branson Landing hosts the 11th annual Liberty Light Up with live music by Jason Pritchett and The Steel Horses, while you watch a choreographed fireworks display over Lake Taneycomo. Enjoy other Independence Day activities at the Branson Landing, like the Firecracker 5000 Run on July 4th. 

Wednesday, July 3  at 9 p.m.
Enjoy a professional fireworks display as it erupts directly above the recently renovated Kimberling City Bridge. Watch the show from the shore, from a nearby home or from a boat on Table Rock Lake. 

Wednesday, July 3 at 9 p.m.
This annual fireworks display is directly following the Kimberling City display on Table Rock Lake, so sit back and enjoy two shows in one night. 
Thursday, July 4 at 4 p.m.
Show your patriotism at the City of Battlefield's annual 4th of July celebration at the Battlefield City Park (5434 S Tower Drive, Battlefield). Bring the whole family to enjoy an afternoon of inflatables, face painters, balloons, food vendors, and a firework display starting at dusk. 
Thursday, July 4  at 4:30 p.m.
Celebrate America with a Patriotic Picnic on the Swimmin' Hole Lawn at Big Cedar Lodge. Enjoy live music, lawn games, a fly-over, tasty food from Big Cedar's culinary masters and more! Then, grab a spot on the lawn and soak up the fireworks over Table Rock Lake. This event is open to the public and Big Cedar Lodge guests. Parking is $20 per vehicle. Or, enjoy the fireworks show during dinner at one of Top of the Rock's restaurants. 

Thursday, July 4  at 6 p.m.
Come join the city of Hollister at Chad A. Fuqua Memorial Park for the oldest fireworks display in Taney County. Before the main event, enjoy performances by the New Premiere Dance Academy and refreshments. Then settle in for the fireworks show, hand-lit by the mayor himself. 

Thursday, July 4  at 9  p.m.
Hop on your boat or pull up a chair on land near the Shell Knob Bridge to catch the 43nd annual Fourth of July fireworks display over Table Rock Lake. Join the Chamber in a boat parade before the fireworks begin. A longstanding tradition, this firework display is one you won't want to miss.

Thursday, July 4  at 9 p.m.
It's the annual Rockin' 4th of July event at Rockaway Beach. Come by and view the only fireworks display for Forsyth, Merriam Woods, Rockaway Beach, and surrounding areas.
Know of a display that didn't make the list? Email digital@417mag.com and we'll get it added!