Life
Best Winter Ever in Southwest Missouri
Here are our picks for ways to embrace the chill and fall in love with the season, like adventurous outdoor excursions and frosty family outings or cozy indoor activities.
By Stephanie Towne Benoit
Nov 2023

Winter's got it tough coming on the heels of autumn, whose arrival is celebrated with frenzied, pumpkin-spice-latte-fueled enthusiasm. By comparison, many greet winter with a grimace and transform into seasonal Scrooges when December rolls around. But we think it's about time winter gets some love. That's why we rounded ways to embrace the chill and fall in love with the season, like adventurous outdoor excursions and frosty family outings or cozy indoor activities and Christmassy fun galore. So rather than hibernating till springtime, join us this year in reveling in all that winter has to offer. Who knows, you might even find that winter is the most wonderful time of the year in southwest Missouri.
Go Eagle-Spotting Around Southwest Missouri
Join eagle-eyed nature lovers flocking to Ozarks waterways to spy the bald eagles that migrate to Missouri during the winter. (As many as 2,901 of the magnificent raptors were counted in the state one year!) For a great opportunity to marvel at the symbolic brown-and-white birds, head to Lake Springfield and the Springfield Conservation Nature Center for the Missouri Department of Conservation's Eagle Days, which are hosted locally with the Springfield-Greene County Park Board and Dickerson Park Zoo. Spy eagles with spotting scopes at the Lake Springfield Boathouse or head to the nature center to get up close and personal with a bald eagle from the zoo and listen to talks about the birds of prey.
Take in the Sights on the Branson Ferries Wheel
Go for a spin on the towering Branson Ferris Wheel at The Track Family Fun Parks (3345 W. 76 Country Blvd., Branson, 417-334-1612). After riding the attraction (hours vary by day; check the website for availability), stick around for Electrify, a nightly show when the more than 144,000 LED lights affixed to the wheel illuminate the sky with an array of colors and animations.

If you're looking for more spectacular displays, then come all ye faithful to Silver Dollar City (399 Silver Dollar City Parkway, Branson, 800-475-9370) for the annual Old Time Christmas festivities. Hear words of good cheer at heartfelt holiday shows like It's a Wonderful Life and take in the lighting of the five-story-tall followed by Rudolph's Holly Jolly Christmas Light Parade featuring nine musical floats illuminated with 200,000 LED lights. The parade runs twice each evening, and the Christmas tree's sound-and-light show plays every 15 minutes after the initial lighting. We've got a list of places you can find Christmas lights around Springfield and southwest Missouri.

Check out more things to do in Branson, Missouri.

Get Your Game On
As for your kiddos going stir crazy this winter, it's probably not a matter of if, but when. To preempt cabin fever or to treat it once it sets in, make your way to 1984 (408 S. Jefferson Ave., Springfield, 417-831-3665) and hang out with your little ones in the '80s-themed arcade where they can play more than 80 throwback games like Tron and Galaga.
Make Your Home Smell Cozy
There's no place like home for the holidays, so make yours especially cheery with DIY stovetop potpourri. Start by slicing up an orange and adding it to a saucepan. Sprinkle in a tablespoon of cloves, a few cinnamon sticks, a teaspoon of nutmeg and a handful of cranberries. Fill the saucepan with water and simmer the mixture to fill your house with a delicious, festive aroma. For a relaxing scent to soothe your senses and calm your nerves after a busy day, try a combo of sliced lemons, a tablespoon of vanilla and a few sprigs of rosemary.
Indulge with Bean-to-Bar Chocolate from Askinosie Chocolate
Satiate your sweet tooth and your culinary curiosity at Askinosie Chocolate (514 E. Commercial St., Springfield, 417-862-9900). You can find out how this favorite of Bon Appétit, The Atlantic and others makes its single-origin chocolate in weekly factory tours (Saturdays at 11 a.m. and 2 p.m. from November 25 through December 30, 2023), during which you'll taste samples and learn about their production process and lauded fair-trade sourcing.

Sneak Away for a Spa Day
Retreat from the frenzy of the holiday season and indulge with these luxe Springfield spa treatments.
Be enveloped in warmth and nourishment with the hydrating Hydra Lux Wrap at Grove Spa (multiple locations, 417-881-8887). Or go all-in on the luxury treatment with the Vichy Gold Experience—check out our own experience here.
The rejuvenating Eminence Chocolate Truffle Body Wrap at Acacia Spa (4058 S. Lone Pine Ave., Springfield, 417-823-8318) cocoons you in a heated wrap and is removed with warm towels—a perfect remedy for wintery wear on your skin.
Relax tight muscles with a Bamboo Fusion Massage from Nu Essence Spa (1319 E. Republic Rd., Springfield, 417-890-7378). Like a hot stone massage, this massage soothes muscles but with warm bamboo shoots and rattan tools.

Get Smart at the Discovery Center
A little knowledge is a delightful thing at Discovery Center of Springfield (438 E. Saint Louis St., Springfield, 417-862-9910). Bring the family for parent-child workshops, themed crafts and activities about the science of motion.

Jump for Joy at Sky Zone
Want to help your kids burn off excess energy? They can jump up, jump up and get down at Sky Zone Trampoline Park (2765 S. Kansas Expy., Springfield, 417-771-3883). The nearly 20,000-square-foot indoor trampoline park offers open jump times with access to fun features like trampoline dodgeball and Sky Slam basketball. There's also a special time where little ones ages 5 and younger can bounce away, as well as high-energy GLOW nights, where lasers and black lights illuminate the darkened space.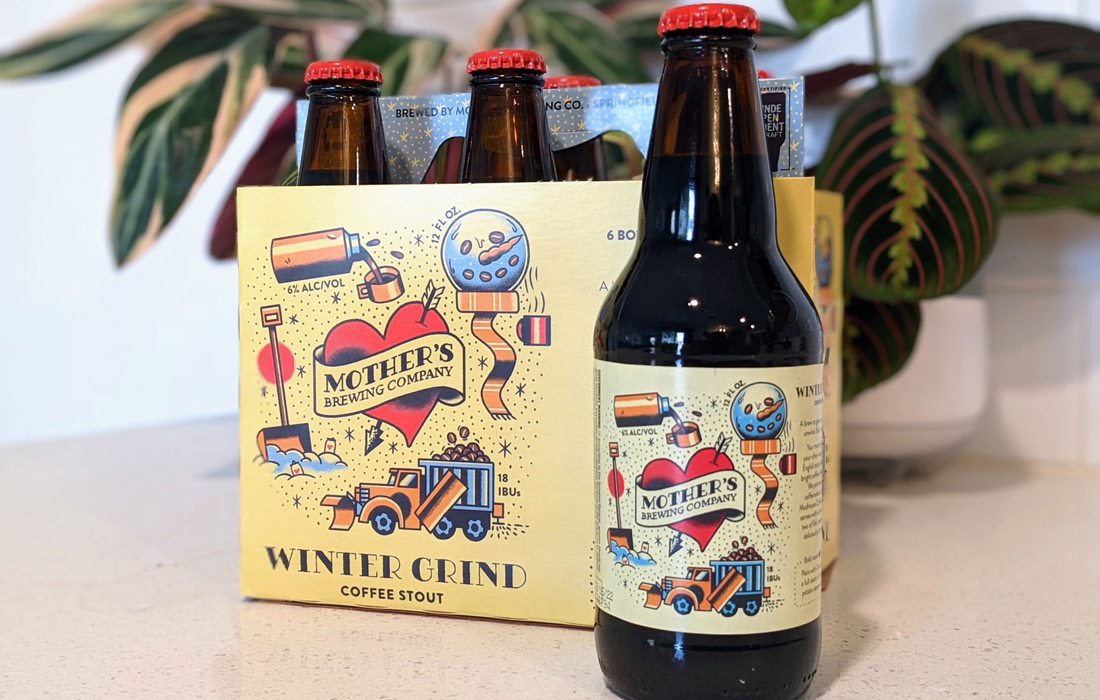 Warm Up with Some Winter Beers from Springfield's Breweries
It's beginning to look a lot like Christmas, which means that local breweries are bringing out their winter brews like coffee-laced stouts and hop-heavy IPAs.
Old Tom Porter
Piney River Brewing Co.
Try it because: Cold weather calls for darker beer. Old Tom Porter offers a roasted malt flavor with the expected sweetness and smoothness of the style.
Mudhouse Stout
Springfield Brewing Company
Try it because: Featuring an earthy spiciness, this rich, roasty stout is made with Sumatran coffee beans from Mudhouse Coffee.
Winter Grind
Mother's Brewing Company
Try it because: A traditional English dry stout, this beer is flavored with local beans from Mudhouse Coffee.
Nitro Red Ale
White River Brewing Company
Try it because: Using nitrogen to make this beer gives it a smooth and creamy texture to match its warm red color and slightly spicy scent.
Lineman Oatmeal Stout
Wire Road Brewing
Try it because: Wire Road Brewing is new on the Springfield brewery scene. This stout boasts a dark, fruity flavor to match is dark appearance.
Hit the Slopes
Looking for an alpine adventure but don't want to trek all the way to the Rockies? Take a quick trip to Kansas City or St. Louis for a ski day at one of the two resorts operating in Missouri, which, thanks to major snowmaking systems, typically open in December. Located about 29 miles west of St. Louis, Hidden Valley (17409 Hidden Valley Drive, Eureka, 636-938-5373) boasts 60 acres of skiable terrain over two peaks, as well as the Polar Plunge Tubing Area. There's also Snow Creek (1 Snow Creek Drive, Weston, 816-640-2200), about 34 miles north of Kansas City. Snow Creek offers terrain for a variety of skill levels and a tubing area with 700-foot-long lanes, a bonfire pit and more. Both resorts also house terrain parks with jumps, rails and other features for the more extreme set, plus equipment rentals and ski and snowboarding lessons, whether you're starting at square one or just want to brush up on your technique.
Find some local spots to go sledding in Springfield, Missouri.

Take to the Ice at Jordan Valley Ice Park
Lace up your blades of glory and head to Jordan Valley Ice Park (635 E. Trafficway St., Springfield, 417-866-7444), home to two NHL-sized ice rinks once frequented by Olympian Gracie Gold. (The open skating schedule varies; check times online.) You can also perfect your triple lutz at the outdoor ice skating rink at Big Cedar Lodge. Featuring synthetic ice making it skateable in all temps, you can find the times on the website.

Go Winter Trout Fishing
Fall hook, line and sinker for winter trout fishing during the catch-and-release season at Bennett Spring State Park (26250 Highway 64A, Lebanon, 417-532-4338) and Roaring River State Park (12716 Farm Rd. 2239, Cassville, 417-847-2539). A wintertime tradition for many anglers, the trout catch-and-release season runs through February 13 and allows fishing at these spots Friday through Monday from 8 a.m. to 4 p.m.
For those that don't know a rod from a reel, head to the spring-fed waters of Rockbridge Rainbow Trout & Game Ranch (4297 County Rd. 142, Rockbridge, 417-679-3619) and reserve a full or half day of hands-on fishing instruction. Whether you do catch-and-release or catch-and-keep trout fishing, the resort's guides provide pointers and help you get your technique up to speed. Be sure to stop by the gift shop at the end of the day to pick up a few packages of their famous smoked trout.
Winter is a great time to fish Lake Taneycomo, the chilly waters of which are stocked by the Missouri Department of Conservation with more than 700,000 trout annually. One great spot along the lake to cast a line is Lilleys' Landing Resort & Marina (367 River Lane, Branson, 417-334-6380). Fishing is free from the dock here (just check in at the office before you get started), and boat rentals are available for half- and full-day excursions. There's also a tackle shop where you can get geared up and arrange an outing with pro guides.

Huddle Around a Bonfire
Looking for a fun, creative outing with your sweetie? Head to Rutledge-Wilson Farm Park (3825 W. Farm Rd. 146, Springfield, 417-837-5949) and reserve one of the bonfire areas there. Staff members get the fire started as well as add wood as needed. You can also use the farm's roasting sticks, so be sure to bring s'mores-making goodies. It's $40 per hour and a two-hour minimum to rent the bonfire pits, with additional fees after hours, which are 9 a.m. to 5 p.m., Tuesday through Sunday.

Experience the Mountains (without the Snow)
Satisfy your itch for adventure without leaving town at Zenith Climbing Center (3534 E. Sunshine St., Suite 3, Springfield, 417-986-3869). Go up, up and away scaling the climbing walls filling the 12,644-square-foot facility, which is also equipped with a yoga studio and gear shop. If the thought of leaving the ground is intimidating, try the Climbing 101 class, in which ages 14 and up get an in-depth introduction to the sport. You and your youngsters can also join one of Zenith's climbing leagues for more coaching and camaraderie.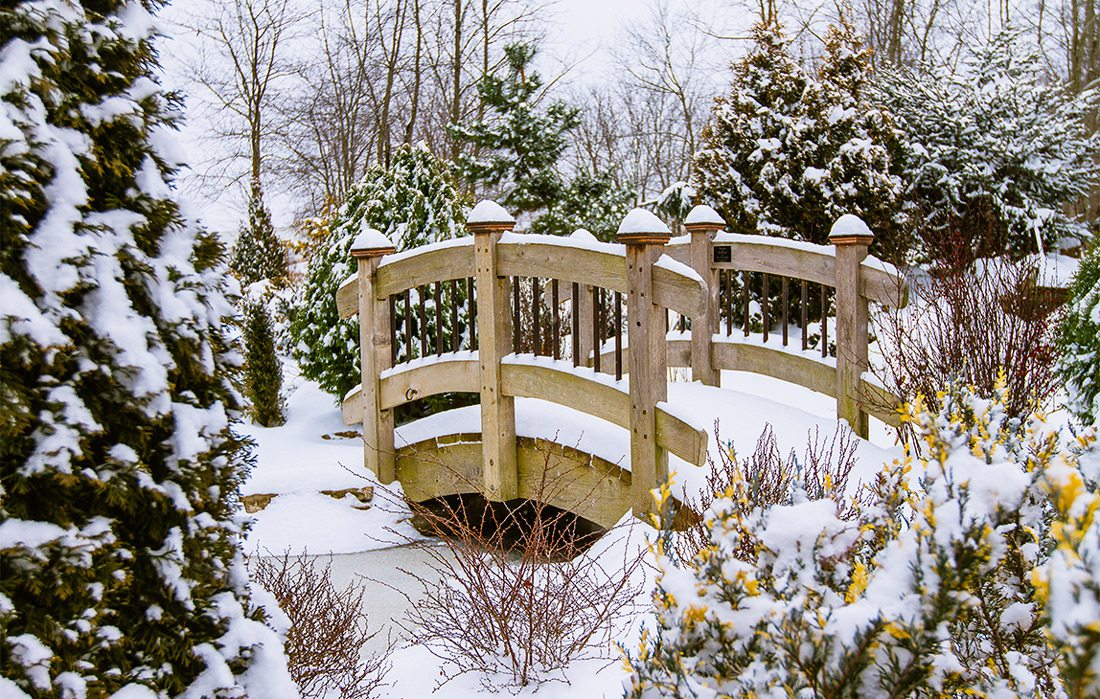 Go Walking in a Winter Wonderland
Venture out to these Springfield parks after a snow flurry to find wondrous wintry scenes.
Wander the 113-acre Springfield Botanical Gardens at Nathanael Greene/Close Memorial Park to admire themed areas that look lovely dusted with white, like the dwarf conifer and ornamental grass gardens.
It's tough to beat Phelps Grove Park, one of Springfield's oldest parks, after it snows. Dotted with towering mature trees, this picturesque park is lovely around Christmas when you can marvel at surrounding homes' festive decorations or explore sculptures at the neighboring Springfield Art Museum.
The three miles of trails at the Springfield Nature Conservation Center are just as pretty in winter. Find the Fox Bluff Trail, which has a bench with a view of Lake Springfield that's more visible when the trees are bare.
Take a look out our year-round picks for the best trails in southwest Missouri.

Shop for Fancy Teas to Warm You Up at Home
Fire up the kettle and thaw chilly fingers with a steaming mug of fragrant tea from Chabom Teas + Spices (209 E. Commercial  St., Springfield, 417-719-4311). Try a festively flavored cinnamon-orange tea or recover from a hefty holiday feast with a detox tea made from organic ingredients like ginger and peppermint.
Walk on the Wild Side at Dickerson Park Zoo
Even when the weather turns frosty, there are still plenty of fascinating creatures to see at the Dickerson Park Zoo (3043 N. Fort Ave., Springfield, 417-864-1800). So gather your kiddos and slither on over to the Diversity of Life building, which is kept at a comfortable 70 degrees year-round for the dozens of frogs, lizards, snakes and other cold-blooded critters and amphibians that live there.
Marvel at Natural Ice Sculptures
Waterfalls are magnificent throughout the year, but they display a distinct beauty when temperatures plunge and they crystallize into fascinating frosty shapes. Head to these three spots when you want to go chasing frozen waterfalls.
Hemmed-in Hollow Falls
Getting there: The Hemmed–In Hollow Trail (a relatively challenging, steep trek) in the Upper District of the Buffalo National River
What you'll see: Ice builds up where the waterfall splashes, creating pretty stalactite-like spikes.
Glory Hole Waterfall
Getting there: A path whose trailhead is located near Highway 16/21 about 12 miles west of Deer, Arkansas
What you'll see: This awe-inspiring waterfall in the Dismal Creek Special Interest Area develops into an icy formation where the creek trickles through a cavity in the rock above.
Long Creek Falls
Getting there: From the Hercules Glades Wilderness Area's Tower Trailhead, access the Long Creek Trail, which leads to the falls.
What you'll see: When temperatures drop, icy sheets develop along the rocky ledges that the water tumbles over.
Want more waterfalls? Take a look at our write-up on some of the most picturesque waterfalls in southwest Missouri.

Tackling Seasonal Affective Disorder
For some, winter is the hap-happiest season of all. But for others—an estimated 10 million Americans—winter's cold weather, cloudy skies and shorter days lead to a type of depression known as Seasonal Affective Disorder, or SAD. "It's a type of depression that's related to seasonal changes," says Pam Stoelzel, a licensed professional counselor at CoxHealth.
Although SAD can occur at other times of the year, it tends to coincide with winter and is more common in northern regions, leading many to believe that it is linked to decreased sunlight, as well as the increased time spent isolated and cooped up indoors. That lack of light might also alter the body's sleeping cycle and internal clock, causing imbalanced levels of serotonin, dopamine and other neurotransmitters and leading to symptoms like decreased energy, fatigue, irritability and difficulty concentrating.
The good news is that you don't have to wait until warm weather returns to beat the winter doldrums. If you think you might be experiencing SAD, see your doctor to determine if it is indeed causing your symptoms and whether treatments such as medication or therapy are necessary.
A mild case of the winter blues can be addressed by embracing the self-care activities that shorter days and gloomy weather inhibit. "Often we feel like we don't want to get out—we're tired, and it's yucky outside—but one of the best things we can do is exercise," Stoelzel says. Try bundling up and taking a brisk walk around the neighborhood. Or if the weather is intemperate, an at-home yoga routine or exercise video can make an impact.
You can also improve your mood by spending quality time with friends and family, keeping your mind active and refocusing your attention outward. For example, Stoelzel recommends keeping a gratitude journal to ruminate on what you are thankful for. You can also take steps to get involved with the community by giving back, which Stoelzel says can be very beneficial. "Often I feel like it's a gift we give ourselves, so that's a really good thing to do," she says.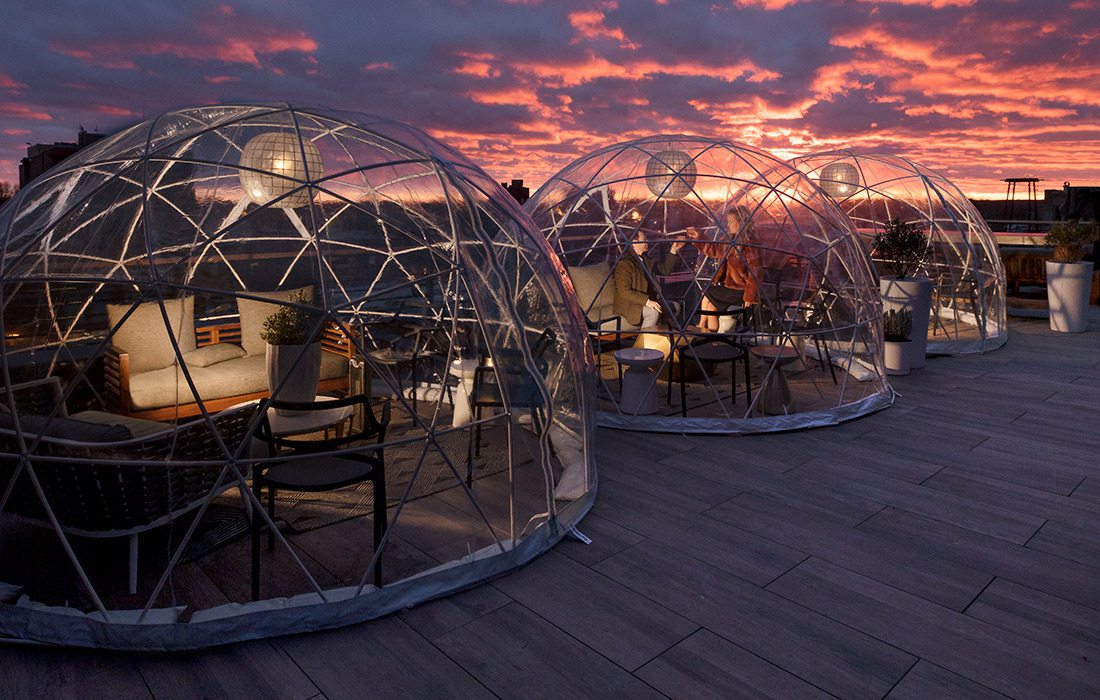 Snuggle with Your Sweetie on a Winter Camping Trip
Imagine huddling by the campfire, snoozing in a snug tent and waking the next day to a dusting of snow. What could be more magical?
Gear up and select a spot for a weekend adventure like the Redding Recreation Area campground (861 Cass Oark Rd., Ozark, Arkansas, 479-754-2864), which is right beside the Wild and Scenic Mulberry River, or the Haw Creek Falls Recreation Area campground (479-284-3150), which is situated about 12 miles west of Pelsor, Arkansas, and boasts a small mountain stream with lovely falls nearby. (Note: This recreation area closes after the third week of December but reopens the third week of March.) Read more about where to go camping in southwest Missouri.

If winter camping still sounds too chilly, enjoy the great outdoors but sleep in cozy comfort by renting a yurt. We've got a guide to glamping in southwest Missouri to help you find your perfect luxury getaway.

Go with the Flow at Splash Country Waterpark
Baby it's cold outside, but you and your family can still enjoy a day of poolside fun away from the wintry weather at Splash Country Waterpark at Grand Country (1945 W. 76 Country Boulevard Branson, 888-505-4096). Drift along in Prospects Bend, a 250-foot-long river, while your little ones frolic in Grand's Fort, a massive three-level treehouse with waterslides, a tipping water bucket and other interactive features.
Tour the Frosty Forest
On the rare day that enough snow has fallen and the weather is cold enough, intrepid adventurers have been known to strap on cross-country skis and try gliding on the Frisco Highline Trail stretching from Springfield to Bolivar. Want to attempt the excursion but lack equipment? The pros at The Ski Shack (5539 S. Campbell Ave., Springfield, 417-882-8480) can help you order cross-country gear. You can also go thumpity thump thump over the hills of snow on snowshoes, which you can order through Ozark Adventures (1111 E. Republic Rd., Ste. 140, Springfield, 417-889-6633).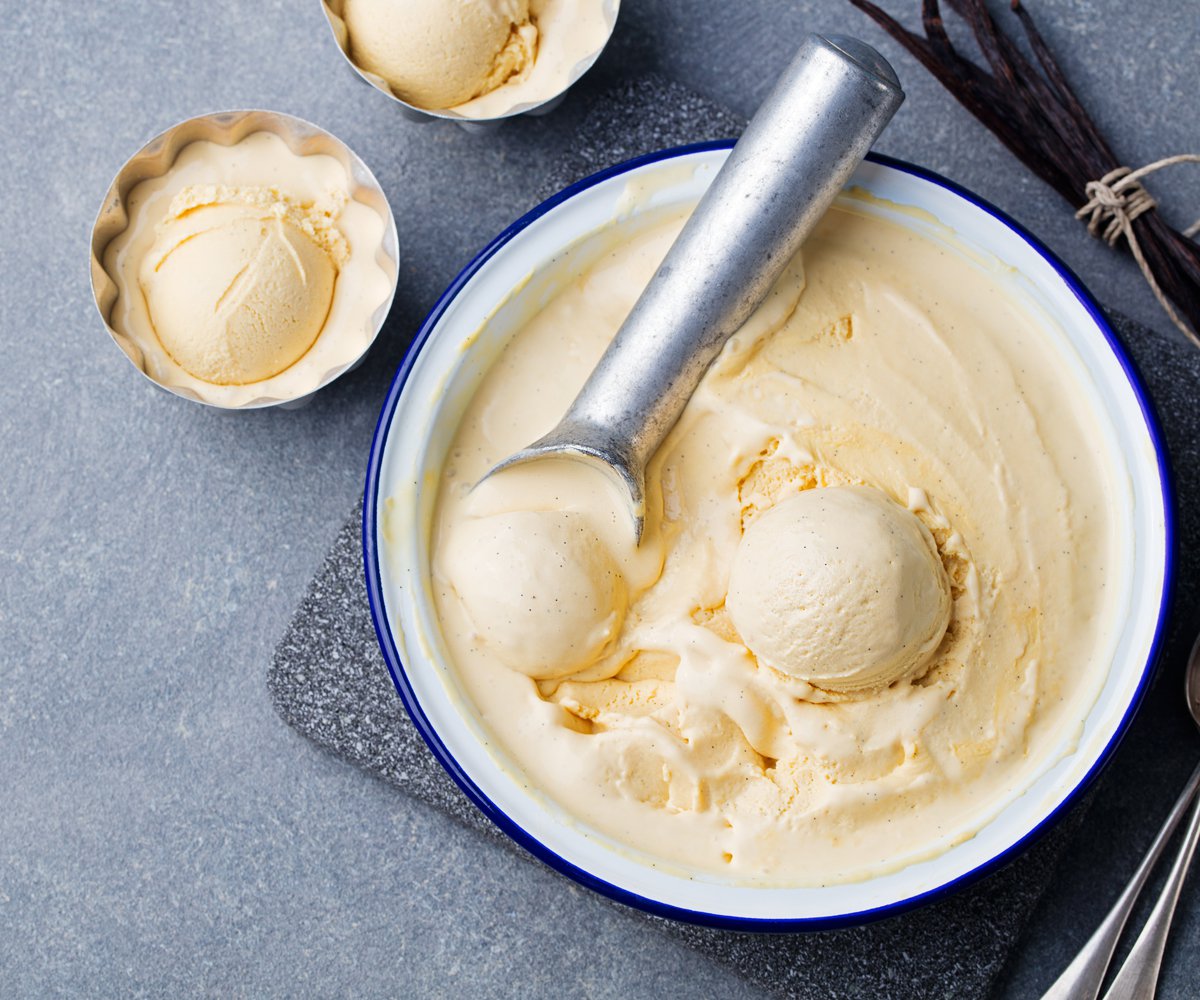 Make Your Own Snow Ice Cream
There is a silver lining to a snowstorm: snow ice cream. Surprisingly simple and definitely delicious, this frozen dessert was a special childhood treat for Robert Stricklin, executive chef of The Keeter Center at College of the Ozarks and assistant professor of culinary arts. Try his simple recipe for creating a tasty, wintry indulgence. Check out the full recipe for snow ice cream.
Make a Grown Up Hot Cocoa
Want something to warm you up instead? Sip on a homemade rum-spiked hot cocoa that you can make yourself.

Go to New Heights at Wolfe Creek
Things are looking up at Branson Zipline Canopy Tours at Wolfe Creek Preserve (2339 Highway 65, Walnut Shade, 417-5610-699). Open through December 31, the park is ripe for exploration in winter because the bare trees open up wide views of the surrounding hills. Try the Ozarks Explorer Zipline Canopy Tour, which boasts seven zip lines, 10 sky bridges and a cheery rest area beside a bonfire where you can thaw out and sip hot cocoa or apple cider.

Have a Ball
When your family is itching for an outing, hop in the car and head to a Springfield entertainment complex for activities and attractions to keep your brood amused for hours. Get bowled over by the offerings at Andy B's Restaurant & Entertainment (1127 E. Battlefield Rd., Springfield, 417-883-1234), like underground laser tag, unique arcade games and a full-service restaurant. Of course there's also bowling; reserve a lane in the luxury VIB area featuring cool LED lighting, high-definition jumbo screens, plush seating and more for "very important bowlers."
It's all fun and games at Springfield's Incredible Pizza Company (2522 S. Campbell Ave., Springfield, 417-887-3030). Kids can bounce away extra energy in the Spring Town trampoline park, twirl on the topsy-turvy Lost in Space ride, cruise in speedy indoor go-karts, play laser tag and more.

Warm Up with a Smokin' Dish
Feel the heat with one of these toasty, on-fire dishes coming in hot from local restaurants.
The heat is on at Kai (306 S. Campbell Ave., Springfield, 417-832-0077). Try the trademark Hot Rocks appetizer featuring sizzling-hot lava stones on which you cook thin slices of beef (try upgrading to top-notch wagyu beef). It comes with Kai's signature Hot Rocks sauce, a Korean barbecue-style concoction.
Haruno Sushi Bar and Grill (3044 S. Fremont Ave., Springfield, 417-887-0077) smokes the competition with its signature, smoldering Oh My God maki roll. Featuring shrimp tempura, crab, creamy avocado, spicy mayo and Sriracha, this rockin' roll is lit on fire before it's served.

Build the Coolest Snowman on the Block
A top-notch snowman requires more than a corncob pipe, a button nose and two eyes made out of coal. Employ these tips to make your family's man in white the envy of the neighborhood.
1. It's all about location, location, location. Choose one that's flat and shady so poor Frosty stays stable and doesn't melt.
2. Use dense, heavy snow that's on the wetter side, which you can create by spritzing a little water onto snow that's too fluffy and dry.
3. For structural integrity, stick with a bottom-heavy shape. And if attempting a classic three-tier snowman, flatten the snowballs where they stack together.
4. Bring your creation to life and give it personality with pine cones, pebbles, old clothing, food coloring and more. But beware: Using items like fruit to decorate might draw unwanted attention from birds and critters.

Cozy Up Beside a Crackling Bonfire
With Jack Frost nipping at your nose, what better way to ward off cold temps than snuggling up to a roaring fireplace? Head to one of these 417-land spots when you want to feel the heat.
Take a break from holiday shopping and collapse into the comfy chairs and sofas surrounding the grand fireplace in the lobby at Bass Pro Shops (1935 S. Campbell Ave., Springfield, 417-887-7334). Be sure to also grab a hot chocolate from the coffee shop nearby.
With tall windows and an eye-catching stone fireplace, the rustic atrium room in Osage Restaurant at Top of the Rock (190 Top of the Rock Rd., Ridgedale, 417-335-2777) is an idyllic spot to watch for falling snowflakes.
After exploring Dogwood Canyon (2038 W. State Highway 86, Lampe, 800-225-6343), tuck into the Dogwood Canyon Restaurant and cozy up to the fireplace in the dining area. There's also a dramatic outdoor fireplace made from stacked stone laid by local masons.
For a toasty hangout closer to home, recline beside the stylish, sleek fireplace at Hotel Vandivort (305 E. Walnut St., Springfield, 417-832-1515). Bonus: The Order typically comes up with fun holiday cocktails, so grab one of those as you relax and enjoy the lobby's buzzing, sophisticated atmosphere.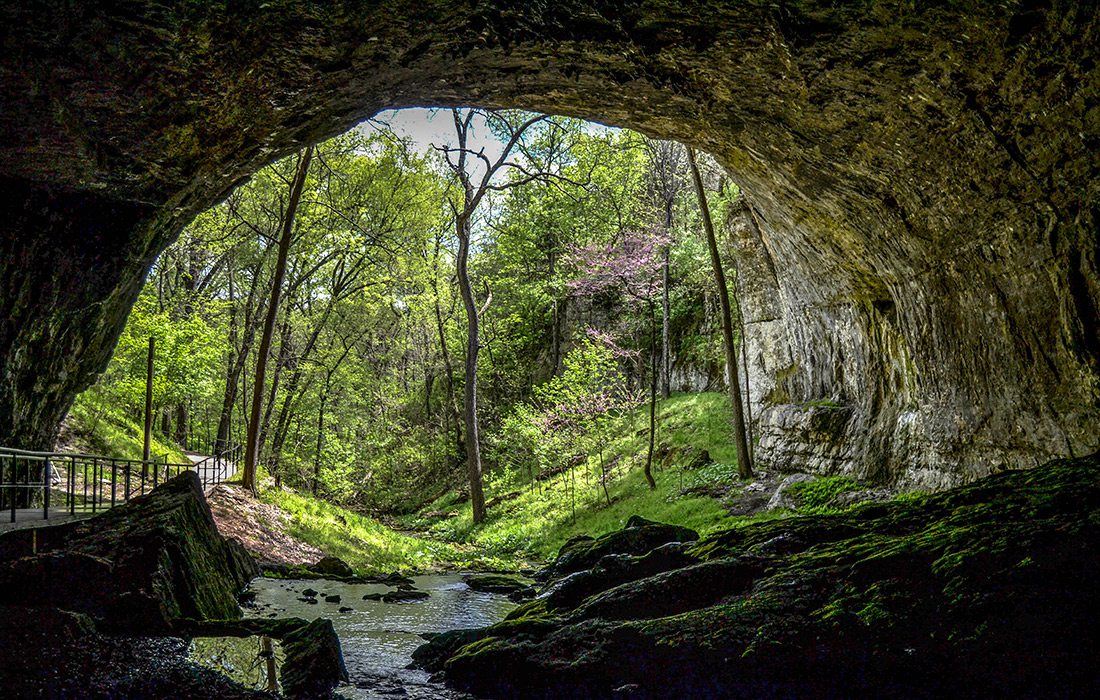 Marvel at a Massive Mammoth Top of the Rock
Immerse yourself in Ozarks history at Top of the Rock's Ancient Ozarks Natural History Museum (150 Top of the Rock Rd., Ridgedale, 417-335-2777). Boasting more than 35,000 square feet of space housing Native American art and artifacts—making it one of the largest collections in the country—the museum delves into the culture and legacy of the region's native inhabitants and journeys chronologically through the natural history of the regions' landscape and wildlife. There are also areas highlighting the American West and Civil War. The ancient carbon-dated remains of prehistoric creatures like a towering woolly mammoth and fearsome sabertooth cat are particularly awe-inspiring.
Explore What Lies Beneath Southwest Missouri
Retreat from wintry weather by descending into Smallin Civil War Cave (3575 N. Smallin Rd., Ozark, 417-551-4545, smallincave.com). A visit to the deep cavern—which boasts a staggering 100-foot-wide, 55-foot-tall entrance—is especially worthwhile December 4 to 28, when winter solstice tours are offered. These late-morning treks take advantage of the cave's south-facing opening and the angled sunlight streaming in that time of year to illuminate cave pools, rock formations, flow stone and a sun-shaped petroglyph believed to have been carved by Native Americans. In December, regular guided tours take place Monday through Saturday from 9:30 a.m. to 1 p.m. and Sundays from 1 to 5 p.m. Weather permitting, they occur on request in January.
Read our full feature on caves in southwest Missouri.

Ride in a One-Horse Open Sleigh in Downtown Springfield
For a magical way to explore a winter wonderland, dash through the snow in a horse-drawn carriage.
Downtown Springfield
Throughout the holidays, carriage rides are available on Fridays and Saturdays from 6 to 9 p.m. The cost is $5 per person or $20 per carriage group, but the Downtown Springfield Community Improvement District sponsors free rides on December 10.
A Summer-Lovers Guide to Not Hating Winter
By Vivian Wheeler
I inherited my intense love of summer from my mother. Growing up, a gentle buzz of excitement would slowly begin to bubble up inside my childhood home as the days would start to turn warmer, and the gray weariness of winter began to lift. Summer was on its way, and we couldn't wait. The inverse feeling would always come at the end of the season. Fall was encroaching, which meant winter was right around the corner. And I hated winter. 
I still hate winter. But this season, I'm trying my darndest to change that.
I'm tired of wasting precious months pining for days ahead—days that aren't guaranteed to me—instead of embracing the present. And even if the present currently looks like a cold, snowy tundra, I don't want to wish it away.
In order to revel in, instead of reviling, winter, I'm looking to adopt the Scandinavian mindset about the season. For example, Denmark sees some of the longest, harshest winters of the inhabitable world, and yet they also enjoy one of the highest levels of happiness on earth. Part of the reason Danes thrive in winter can be attributed to the concept of hygge. The word has no direct English translation, but the idea basically boils down to being cozy, happy and safe. Think long conversations in front of a fireplace with massive cups of spiked cider. Or an afternoon spent under blankets with your significant other surrounded by glowing candles with a pot of tea and a good book. 
Scandinavians live in accordance with the seasons. Summer means lots of time outdoors. Winter, on the other hand, is all about embracing life indoors and celebrating quality time spent with loved ones. Winter is a chance to slow down and take pleasure in the people around you. 
This year, I've decided I'm going to be the queen of hygge. I've already started stockpiling candles and chai tea. I'm going to have friends over for dinner more often and catch up on my long reading list. And even if I long for summer every now and then, I refuse to continue being a Grinch about winter. Life is too short.