Waterways
Your Guide to the Best Waterfalls in the Ozarks
This spring, trek across the Ozarks to visit some of our region's beautiful waterfalls. Whether they are wet-weather falls or continually flowing, all natural or part of a man-made dam, every single one is worth the trip.
By Katie Pollock Estes and Sony Hocklander
Jun 2023

Difficulty: Easy
Can I Swim There? Yes
Wet-Weather: No
Dog-Friendly? Yes, on a leash.
In the Area: See Blanchard Spring in the same recreation area as Mirror Lake Falls.
The wide, tiered cascades of Mirror Lake Falls are breathtaking as they fall over mossy rock ledges to a still and shallow pool below. (Hint: "Still and shallow" means this is a great place to wade.) The site is home to a 1930s Civilian Conservation Corps stone dam, and if you trek to the top you'll see a quiet green pool that tumbles over the edge to form the falls. Believe us when we say this waterfall and its lush setting give serious Fern Gully vibes. And the 1-mile paved path to get there is super-easy to navigate.

Difficulty: Super-easy
Can I Swim? Yes
Wet-Weather: No
Dog-Friendly? Yes, on a leash
In the Area: Stop for a float at Pineapple Bliss on the way home.
At only 12 feet tall, Grand Falls might not sound particularly grand, but it is. That's because it's the widest continuously flowing waterfall in the state of Missouri—163 feet wide, in fact. The falls are just below a man-made dam on Shoal Creek, but that doesn't make their lazy-afternoon, scenic river vibe any less wonderful. Stake out a spot under the trees to wade when you need a bit of shade, and venture out onto the rocks closer to the falls and the chert ledge they pour over when you're ready to scramble around and explore. This is an easy-to-access (just steps from the parking area), picnic-perfect spot that makes a great no-stress day trip.
Difficulty: Moderate to strenuous
Can I Swim There? Yes
Wet-Weather: No
Dog-Friendly? Yes, on a leash
In the Area: The trail to Twin Falls also takes you past Hamilton Falls.
The 2.8-mile trek to Twin Falls can be a little bit tough, but the payoff is worth it. Here, you get two waterfalls for the price of one, as Big Devil's Fork and Long Devil's Fork both cascade into the same pool of turquoise water that's perfect for wading. Plus, big boulders in the water below Twin Falls add to the unique look of this scenic spot. It's a great place to relax and listen to the rippling water of the falls while you enjoy the canopy of the woods around you. Just make sure you save some energy for the walk back to your car!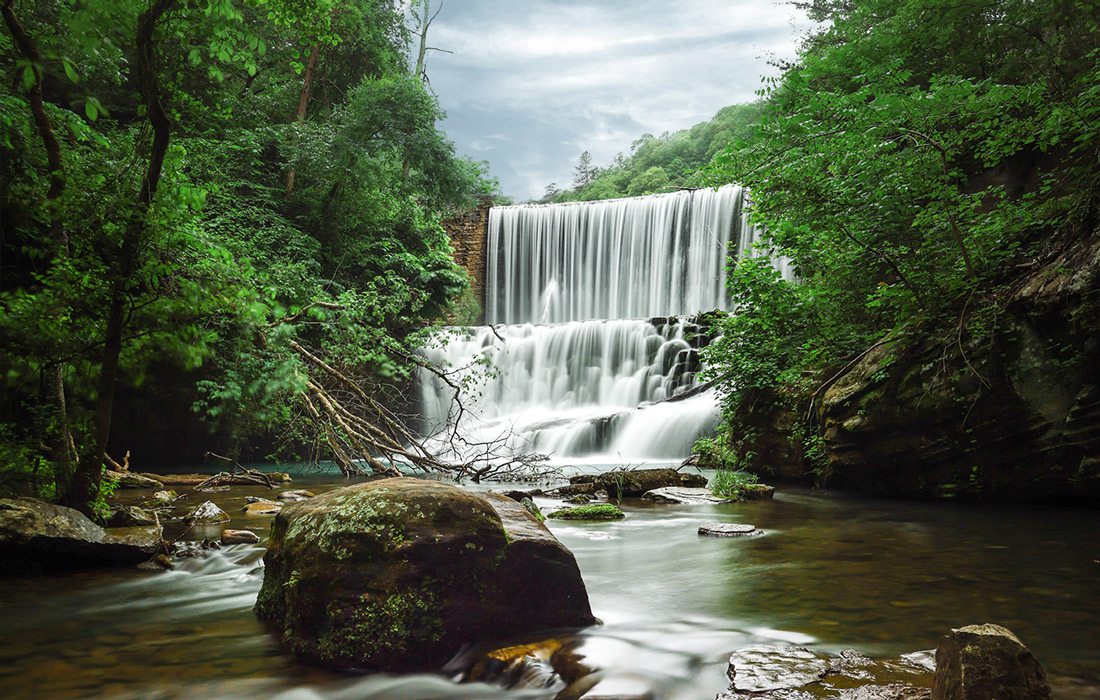 Photo by Josh Beecher
Mirror Lake Falls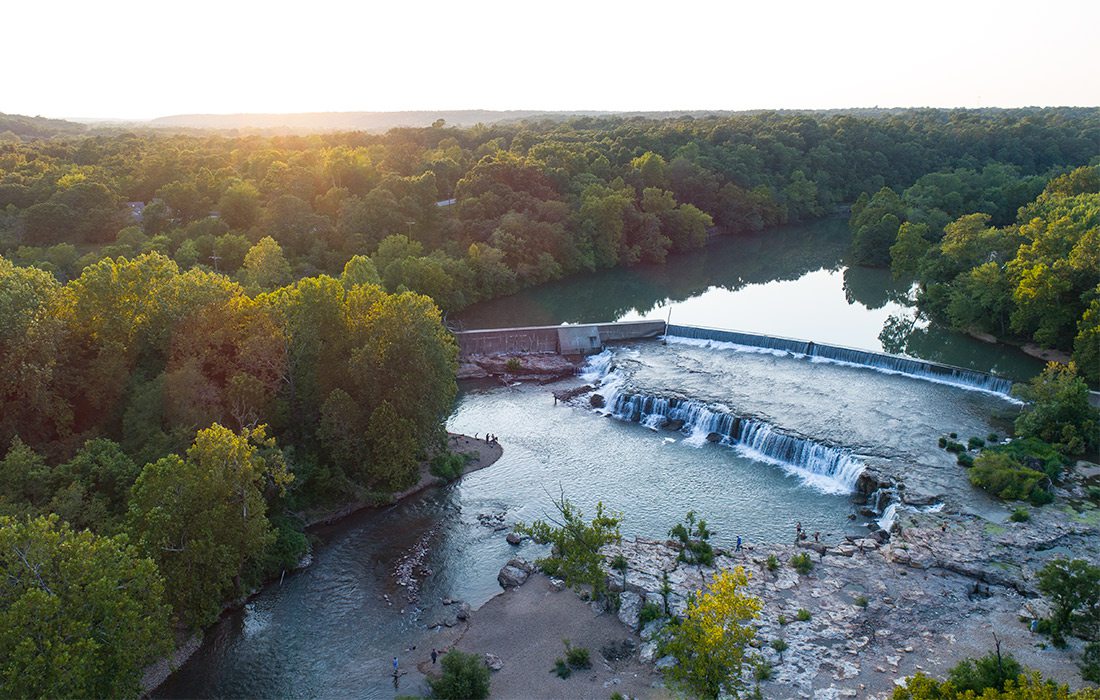 Photo courtesy Zach Schermer of Open House Media
Grand Falls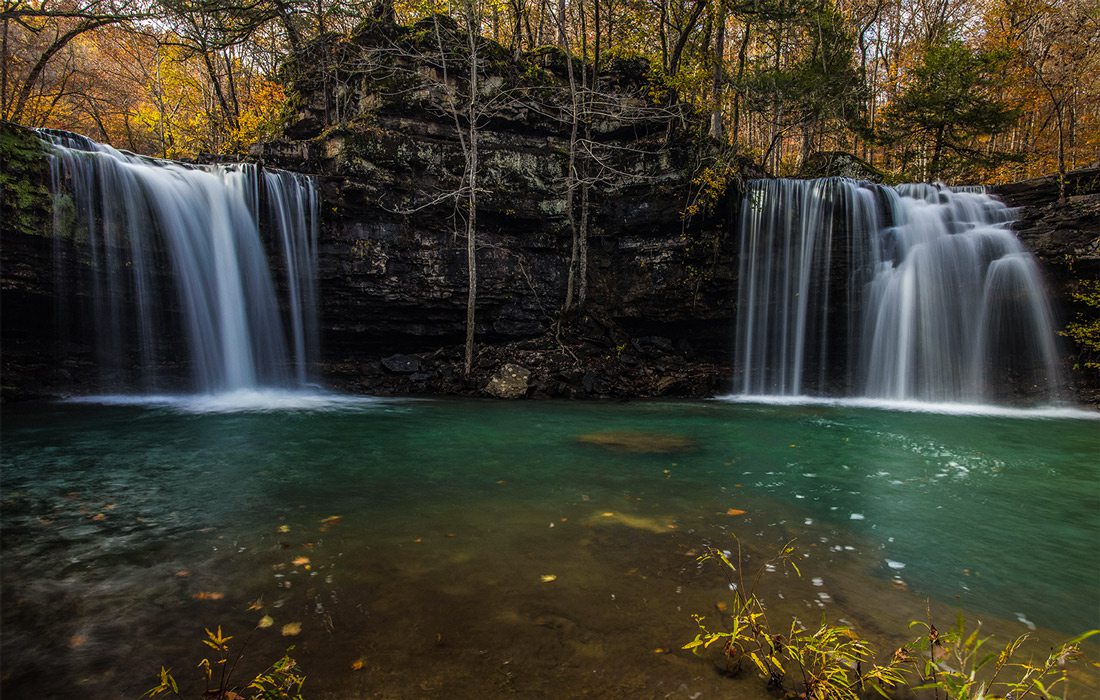 Photo courtesy Brennen Nicole Photography
Twin Falls
Photos by Josh Beecher, Brennen Nicole Photography, Zech Shermer of Open House Media
Difficulty: Strenuous
Can I Swim There? No
Wet-Weather: Yes
Dog-Friendly? No
Along the Trail: On the hike in, you'll pass gorgeous views of the Buffalo National River as it weaves through Ozark Mountain forest. Hot tip: If the challenging Compton Trail access intimidates you, you can access the falls via the less-strenuous Centerpoint Trailhead.
Let's not bury the headline: This popular Ozarks waterfall is notably the tallest one between the Rocky Mountains and the Appalachian Mountains. At 210 feet tall, it pours down a sheer sandstone bluff to a pool below. Make sure you visit during the wet season or after a good, heavy rain for the best effect. (Otherwise, you might see a trickle.) Find this fall at the end of a 5.7-mile out-and-back trail starting from Compton Trailhead that can be steep and challenging—but is totally worth it!
Difficulty: Moderate
Can I Swim There? No
Wet-Weather: Yes
Dog-Friendly? No
In the Area: Be sure to keep an eye out for elk grazing in nearby Boxley Valley.
The 1-mile out-and-back trail that leads to Balanced Rock Falls starts at the Ponca Low Water Bridge that crosses Buffalo National River. But it's unmarked and can be tricky to find. Look for the sign that indicates the Buffalo River Trailhead—but instead of setting off on that trail, take the smaller path in between it and the sign. Once you're on the path, you'll follow along scenic and rocky Leatherwood Creek with its numerous small falls. Don't miss the spur on the left side that leads up to Balanced Rock Falls. The namesake boulder is a sight to see, but don't stop there. Scramble up above it to see even more falls as they tumble down the hillside over stair-stepped rocks.
Difficulty: Easy
Can I Swim There? No
Wet-Weather: Yes
Dog-Friendly? No
Along the Trail: There's plenty to see on Lost Valley Trail besides the falls. See a 50-foot-long natural bridge tunnel, climb into the 200-foot Cobb Cave bluff shelter and explore Clark Creek in Lost Valley Trail's box valley.
Lost Valley is a 2.3-mile out-and-back trail that's fairly flat most of the way, ending in a bit of a climb for the last leg. Toward the end, you'll come across the reason you came here: Eden Falls. The 53-foot waterfall ranges from a trickle on dry days to a full (albeit narrow) fall during wet weather. You can take in the falls from below then head back, or you can continue up that steeper path to the mouth of a cave. There you can pull out a flashlight and venture in to see the falls from a new view.

Difficulty: Moderate
Can I Swim There? No
Wet-Weather: Yes
Dog-Friendly? Yes, on a leash
In the Area: Johnson Shut-Ins and Elephant Rocks are both just a skip down the road.
Mina Sauk Falls might not have the wide, crashing flow of some waterfalls, but it is a record-setter. It holds the title as the tallest natural waterfall in the state of Missouri, tumbling down a rocky hillside inside Taum Sauk State Park—which happens to be home to the highest point in the state as well. The trail in is not too long, just 2.8 miles, but it's rocky in spots and can get a little crowded on busy weekends. Be sure to visit after a good, hard rain to see the waterfall at its best.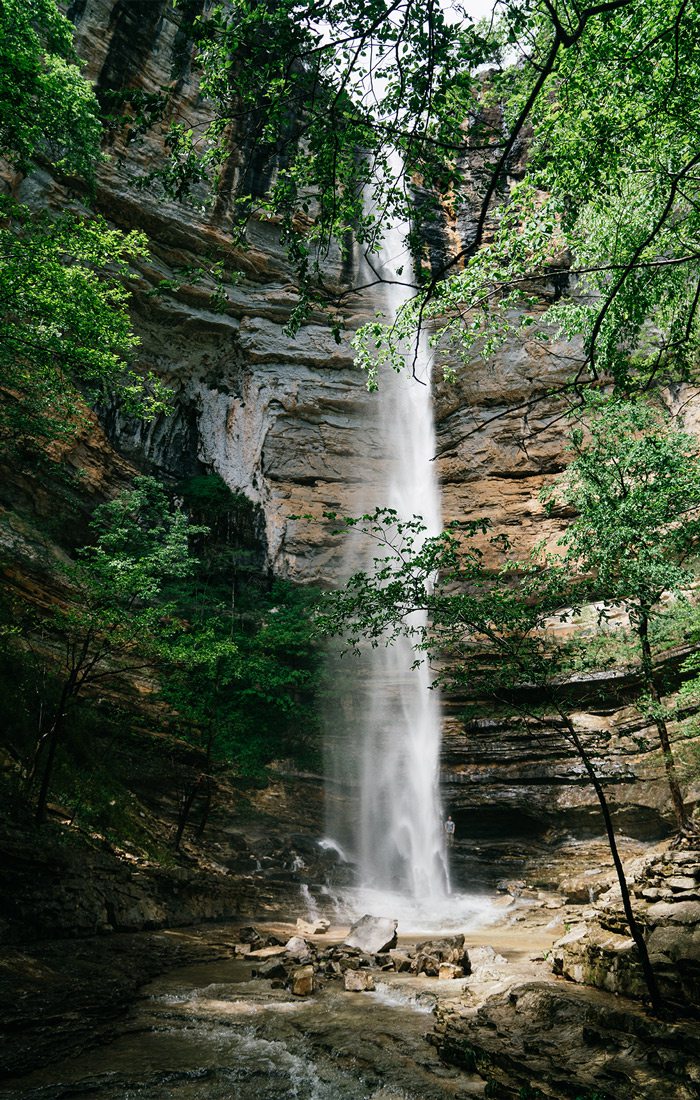 Photo by Jeff Rose
Hemmed-In Hollow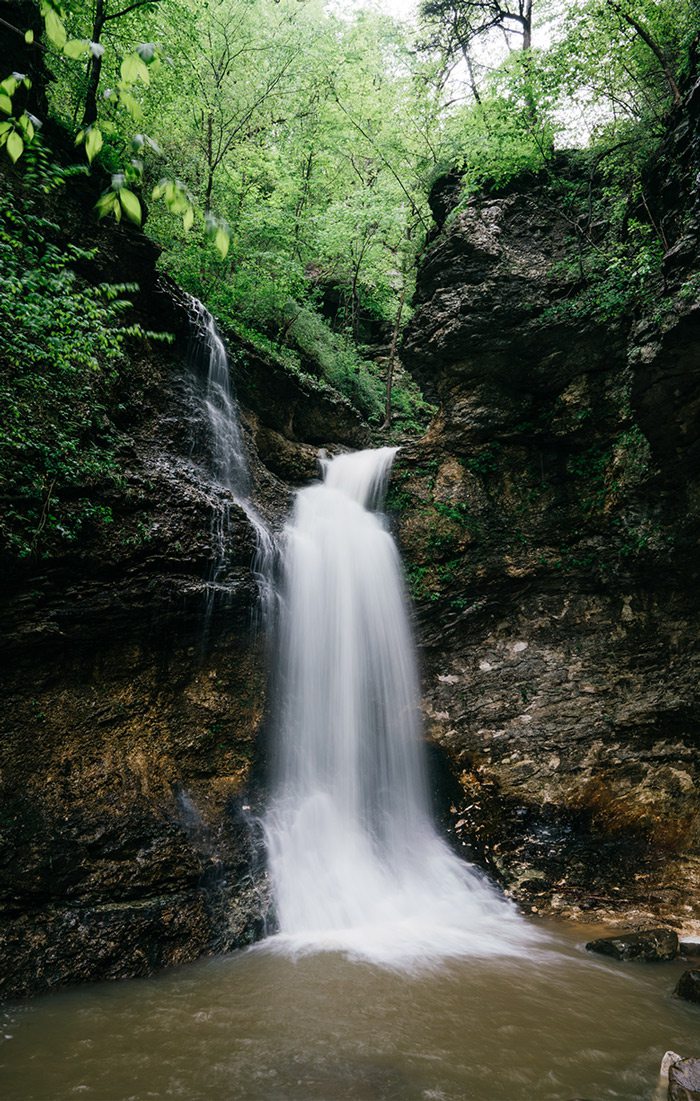 Photo by Jeff Rose
Eden Falls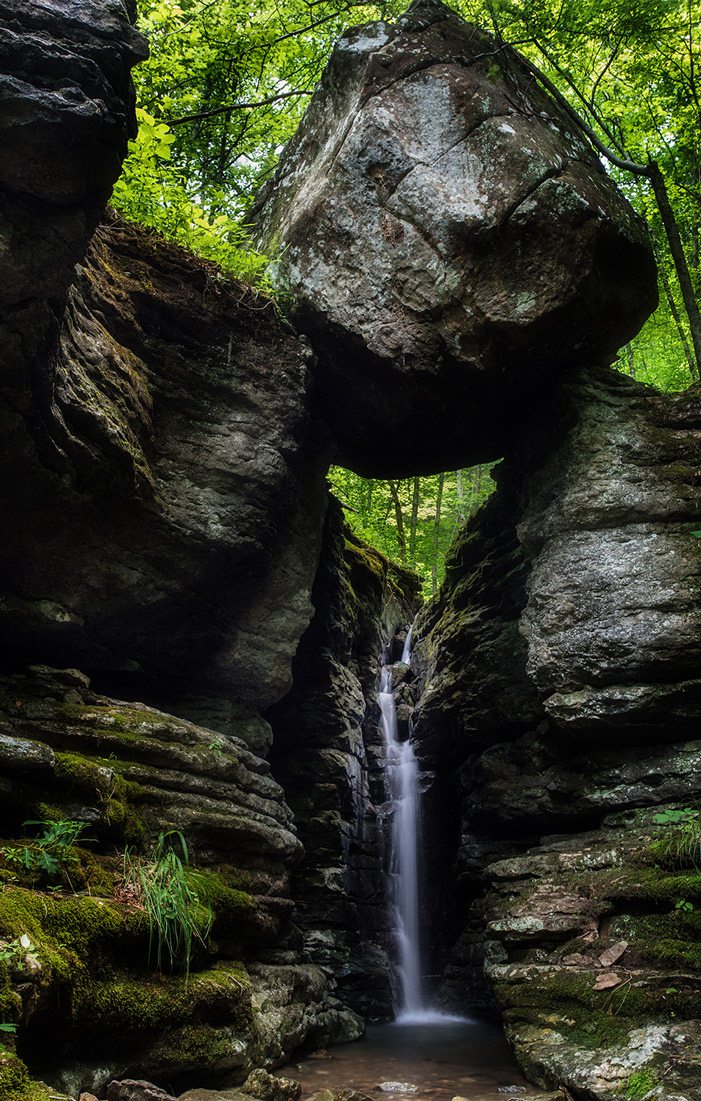 Photo by Brennen Nicole Photography
Balanced Rock Falls
Photos courtesy Jeff Rose, Brennen Nicole Photography
Difficulty: Easy
Can I Swim? No
Wet-Weather: No
Dog-Friendly? Yes, on a leash
In the Area: Splurge on Dogwood Canyon's tram ride to see some cool wildlife.
There are several waterfalls at Dogwood Canyon Nature Park that you'll see as you explore the box canyon, but Glory Hole Falls is always impressive. You can get closest to the spring-fed falls via a boardwalk to see how it pours down through the bluffside into the serene blue pool below that's teeming with trout. And because the 6.5-mile paved trail through Dogwood Canyon is pretty flat, it's easy to explore on two wheels. You can rent a bike or bring your own.
Difficulty: Super-easy
Can I Wade There? Yes
Wet-Weather: No
Dog-Friendly? Yes, on a leash.
In the Area: Visit the park's Twin Falls too, featuring a charming footbridge.
There are a couple of waterfalls you can see at Devil's Den State Park, but Devil's Den Dam Waterfall takes the cake. This man-made native stone dam was constructed by the Civilian Conservation Corps in the 1930s and stretches across Lee Creek. You can scramble up the rocks (just don't slip!) to sit and enjoy the peaceful view, or you can kick around in the water down below the falls. Either way, this historic spot is beautifully serene. And if you're a CCC architecture nerd, be sure to check out the park's scenic overlook too. It's a pretty spot with an even prettier view.
Difficulty: Super-easy
Can I Swim There? Yes
Wet-Weather: No
Dog-Friendly? Yes, on a leash. Be careful if the water is high.
In the Area: The Falling Water Falls swimming hole is nearby, so make it a day!
It only takes a one-tenth-of-a-mile walk to get from the parking area to the water when  you visit Six Finger Falls in Richland Creek Wilderness Area. Although they aren't tall, this cluster of waterfalls is impressive, stretching across Falling Water Creek and pouring over the edge of a 6-foot ledge. If the water is too high, you might not be able to see the falls (and it might not be safe to swim). So plan your visit to avoid the time after a heavy rainfall (unlike the wet-weather falls on this list).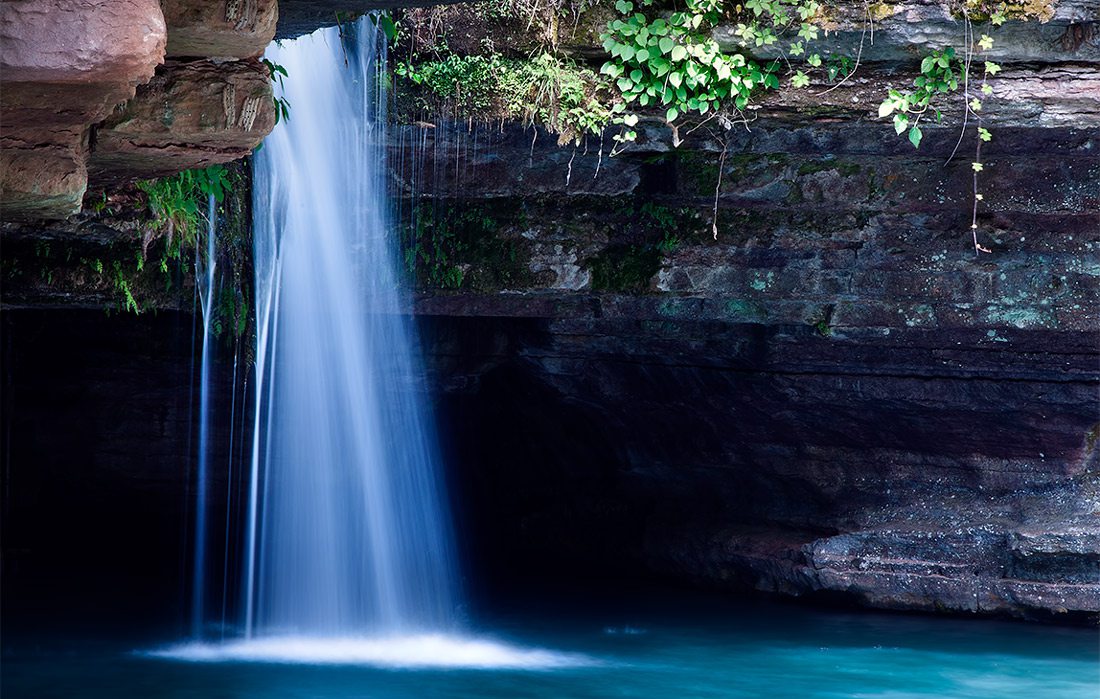 Photo by Brandon Alms
Glory Hole Falls
Photo by Josh Beecher
Natural Dam Falls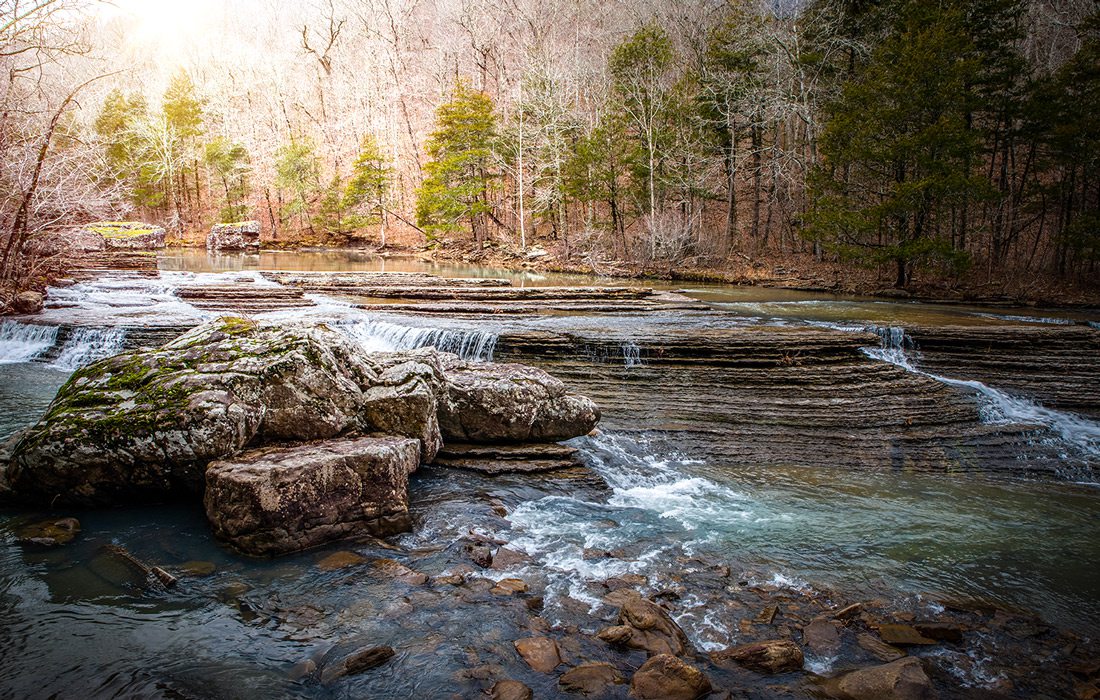 Photo courtesy Shay West Photography
Six Finger Falls
Photos by Brandon Alms, Josh Beecher, Shay West Photography
Easily Accessible Arkansas Waterfalls 
12 miles west of Sand Gap on Arkansas 123, Hagarville
The impressive Haw Creek Falls is the centerpiece of its namesake recreation area on Arkansas 123, west of the Arkansas 7 Scenic Byway at Sand Gap. About six feet high, the waterfall stretches across Haw Creek and makes a beautiful backdrop for a quick stop or a lingering picnic. While in the area, explore more of the creek or visit a few easy seasonal waterfalls down the road, including the Highway 123 Falls (10 minutes south and a short walk from the road). Or if you also want to hike at Haw Creek Falls Recreation Area, nearby trails go to Pack Rat Falls and Pam's Grotto Falls.
Upper Falling Water Road (aka Forest Service Road 1205), Sand Gap
Likely the easiest waterfall you'll ever visit, Falling Water Falls can be viewed from your car. But take our word for it: You'll want to get out. Less than an hour from Haw Creek Falls, this waterfall is one of many in the Richland Creek area. It flows over a rocky ledge on Falling Water Creek to a turquoise pool, roughly 10 feet below. When the creek is up, the beautiful falls fan out over the span of rock. When the creek is low, you can walk onto the ledge. Visiting when it's warm? That pool makes a mighty cool place for a dip.
11333 West Arkansas 74, West Fork; Arkansasstateparks.com
While it's manmade, the massive dam waterfall at Devil's Den State Park southwest of Springfield is pretty darn impressive. And it's so easy to visit: Just park nearby and walk a few feet. In fact, you can sit on top of it, pick your way to the bottom or take an easy path to see it from the other side. The dam was built on Lee Creek by the Civilian Conservation Corps (CCC) in the 1930s to form Lake Devil, a fun spot to paddle and fish. Devils' Den State Park is a great place to spend the day or a weekend for mountain biking, hiking and exploring. 
Previous Picks for the Best Waterfalls in the Ozarks
Check out some of the previous falls we've featured before.
Written by Jamie York & Savannah Waszczuk
Starting Point: Hercules Tower Trailhead
Length: 6.6 miles round-trip
Difficulty Level: Moderate 
Fun Fact: This well-known waterfall can be accessed by multiple trailheads in the Hercules Glades Wilderness are, and nearby hikes offer treks up the Upper and Lower Pilot Knobs (where you can take in some of the longest views in Southwest Missouri).
Starting Point: Kyle's Landing Trailhead
Length: 4.7 miles round-trip
Difficulty Level: Hard 
Fun Fact: This hike has some incredible waterfall views, but it's also home to one of the highest rates of search and rescue due to injury in the area. Take a small first aid kit, and take a friend.
Starting Point: Homesteaders Trail at Henning Conservation Area
Length: 5.7 miles roundtrip
Difficulty Level: Moderate
Fun Fact: To see the falls at this Branson escape you'll have to meander a bit off trail, but after the heaviest of rains, you'll hear it roaring.
Height: 10 to 15 feet
Width: 4 to 5 feet
Source: Wet-weather waterfall
Why We Love It: After a big rain, make sure to head out to the Ruth and Paul Henning Conservation Area. Along the Homesteader's Trail, you can chance upon this wet weather waterfall. This waterfall will be located at Stop 10.
How to Get There: To access Homesteader's Trail, travel East on Highway 248. Turn right on Sycamore Log Church Road and go south 3.4 miles to a gravel parking lot adjacent to Roark Creek.
Height: 90 feet
Width: 7 to 8 feet
Source: Wet-weather waterfall
Why We Love It: Flowing from the Devil's Icebox Spring, this waterfall drops 90 feet into Roaring River Spring. This waterfall does not flow often, however, so don't miss your chance to see it.
How to Get There: It's located at Roaring River State Park (12716 Farm Road 2239, Cassville).