Things to Do
Where to See Bald Eagles in Missouri This Winter Season
The U.S. national emblem, the bald eagle, is making its annual commute to our state this month. Read on to learn more about these birds and where you might discover them in Springfield, MO.
By Reese Radmacher
Jan 2020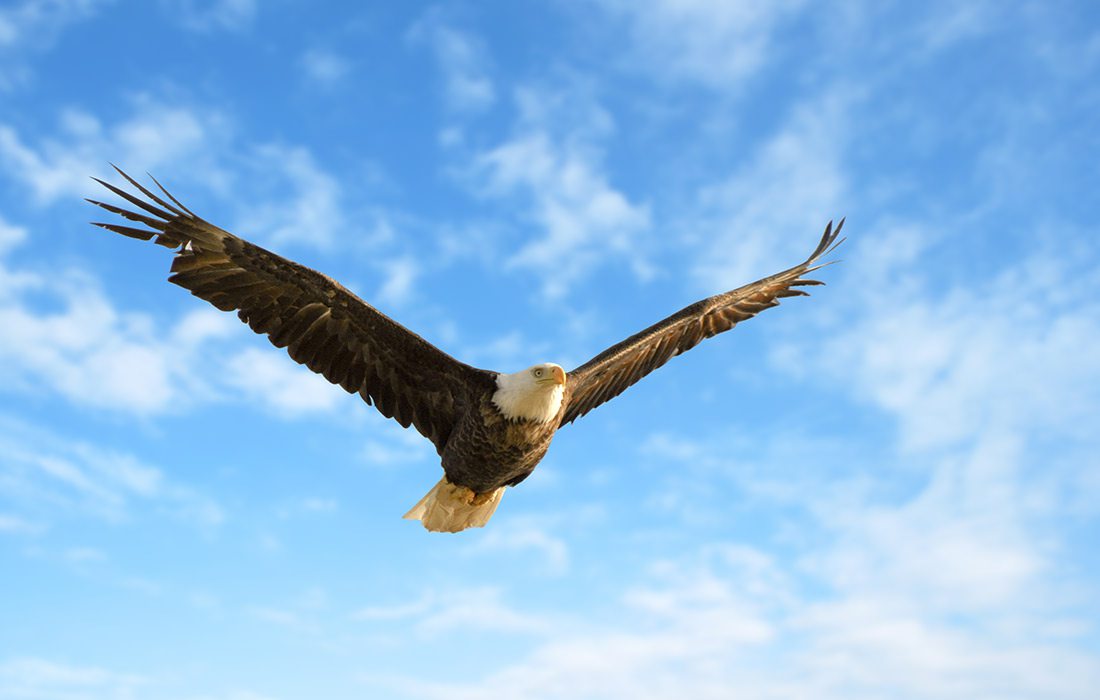 With their piercing stare and brawny build, it's no surprise bald eagles were chosen to be the national emblem by the Second Continental Congress in 1782. The majestic creatures symbolize wisdom, power and freedom, and their build and size reflect this well. Their outward appearance is just one of their many admirable qualities. Francis Skalicky, media specialist for the southwest region of the Missouri Department of Conservation, says the sizable birds can have wingspans of up to eight feet, a flight speed range of 20 to 40 mph and eyesight that is five to six times sharper than that of humans. Furthermore, these versatile birds can swim and can dive at speeds up to 100 mph.

So, how did our nation's emblem become endangered? According to Skalicky, in conjunction with illegal hunting of the eagles based on the assumption they were predators of livestock and aquatic wildlife, the central problem resided in the use of a pesticide known as DDT, which effectively controlled insects but had a detrimental effect on bird reproduction—resulting in eggshells that were far too soft.

Now, bald eagles have made a comeback. The birds are still considered a species of concern in Missouri, but they are no longer classified as endangered, either here or federally. "It's one of the great conservation success stories of Missouri and of the nation, really," Skalicky says.

Evidence of bald eagle revival in Missouri can be seen in birds' nests. There were zero known active nests in Missouri between 1965 and 1982. At present, there are 476 known active bald eagle nests in the state, according to Skalicky. As a state with open water, or unfrozen water, Missouri is an especially appealing place for bald eagles in the winter. "If you do know where an eagle is actually nesting, keep your distance," Skalicky says. "Let them nest. Let them raise their young. We do like having bald eagles around. One way to keep them around is if they have successful reproduction." You have countless opportunities this winter to commemorate the comeback of this remarkable species by visiting these places in 417–land where bald eagles have been known to live or fly through.

The Landing Princess
For a rather luxurious day of eagle spotting, climb aboard The Landing Princess—a Main Street Lake Cruise based in Branson (9 South, N Boardwalk, Branson, 417-239-3980). This hour-and-a-half-long dinner cruise on Lake Taneycomo aboard a 100-foot yacht features a cash bar, a glass-confined viewing deck and an interior aesthetic that accentuates elegance. One of the most renowned features of the cruise is sighting bald eagle nests and their creators along the shoreline. Skalicky says nests are used year after year and are expanded on over time unless they're ruined somehow by natural causes. Given that eagles can live up to 40 years in the wild, it's no wonder Skalicky measured a nest weighing 2 tons that was 20 feet deep and 10 feet across.
River of Life Farm
As the best wild rainbow trout fishery in the Midwest and one of America's 100 best trout streams, River of Life Farm (1746 River of Life Drive, Dora, 417-261-7777) attracts plenty of tourists and bald eagles alike thanks to The North Fork of the White River. Myron McKee, owner of the establishment, says guests canoeing along the river occasionally notice eagles perched in a tree watching them pass, or they will soar steadily in front of canoes, as if leading the way. The river has 4,000 fish per mile, so McKee says the eagles have plenty to chew on. The farm is inhabited by two pairs of year-round resident bald eagles and two nests. To better grasp the size and complexity of bald eagle nests, Skalicky says they "look like a Volkswagen Beetle that's been turned upside down in a tree." For a different view of the North Fork River and additional opportunity to spot an eagle, take the ¾-mile hike to Inspiration Point.
Lakes, Rivers, and State Parks
Annually every January, Skalicky says conservation agents count bald eagle populations county by county, then submit their findings to the U.S. Fish and Wildlife Service. Through this, agents found Barry County to be an area with a recurring higher count—likely a result of Roaring River and the western part of Table Rock Lake's location in the county. Rivers and lakes along with state parks such as Mooring River and Bennett Springs are other locales Skalicky recommends. "Bald eagles will be where bald eagles wanna be—like I say, they're wild animals," Skalicky says. "If you know of roads that go along rivers, it's just one of those things: When you're driving, keep your eyes open."
Go Eagle Spotting at Eagle Days
Eagle Days events will be entirely virtual this year throughout the state. Check the Missouri Department of Conservation website for more information.