Health
We Tried the Vichy Shower at Grove Spa
After a lot of dreaming and planning, Grove Spa's Vichy shower is open and available for booking. We got to try it out.
by Lucie Amberg
Apr 01 2022 at 8 a.m.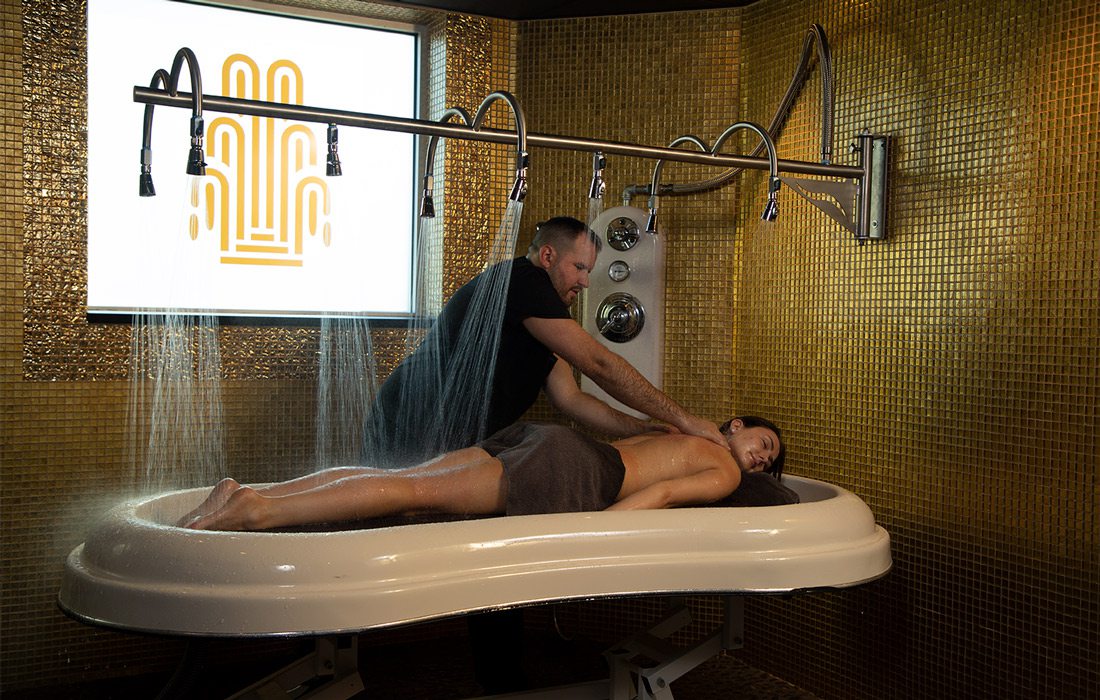 The Vichy shower, a luxe spa treatment that requires dedicated equipment and space, isn't widely available in Springfield, but Grove Spa (1522 E. Sunshine St., Springfield, MO, 417-881-8887) has wanted to offer it for a while, according to Pharmacy & Spa Director Miguel Nunez. To make this dream a reality, Grove transformed a mani/pedi room into its new Vichy room. I love the new floor, which has been made over to look like the pebbled surface of a riverbed, something Nunez says helps minimize slipping. It gives the room big "secret grotto" energy, and it immediately signaled I was in for something special.
What To Expect In The Vichy Shower
During the treatment, you lie on a table that's roughly the size and shape of a massage table, but instead of invoking a tucked-in bed, it has bathtub vibes. There's a groove running around the edge of the table—kind of like a moat surrounding a medieval castle.

The treatment begins with a sugar scrub that's applied all over your body. Grove mixes oil into the scrub, a nice touch for those with sensitive skin. Once you're sugared up, it's time for the Vichy shower. It's a network of shower heads that can be swiveled and customized to rain down on strategic points—everywhere from your shoulders to the bottoms of your feet. As the Vichy shower rinses you, it gently washes away the sugar scrub.

Bubble bath aficionados will recognize all the elements, but in the Vichy shower, they're deconstructed and elevated. Instead of crouching
by the side of the tub and getting sugar scrub everywhere, the body treatment gets administered for you—no mess, no fuss. Then the shower heads dissolve the scrub. You just lie there and let your stress slip down the drain.

What You Should Know
The water is everything. If you're the type who chooses steam room over sauna—if you go skiing so you'll have an excuse to hit the hot tub, you may love the Vichy shower. But if you dislike the sensation of being wet, I can't imagine it's for you.

Be aware that although you're probably used to getting naked at the spa, the Vichy shower requires you to get wet and naked, which is next-level naked. But no worries—the service at Grove felt sensitive and respectful, and there are disrobing options, no matter where you fall on the modesty spectrum. If modesty were rated on a hot sauce scale, I'd put my personal preference at "Tabasco"—pretty modest, and I was comfortable wearing bikini bottoms. If you're more of a "ghost pepper," you might bring a full swimsuit.

And know that the experience isn't fussy. For me, spa treatments and plane rides are opportunities to relinquish control—I'm not the expert in either environment, so I may as well let go and drink some wine. If you prefer to maintain control, the Vichy shower might feel too fluid. The water will do what it wants to do, no matter how intentionally the treatment is planned. There were times when I was very aware of specific shower heads. And there were times when I couldn't quite tell where the water was or where I was in relation to it.

It reminded me of floating on a pool raft that's achieved pool raft perfection—that magical stasis between submersion and flotation, when you're partway in the water and, somehow, above it. That magic spot never lasts long; I invariably shift position and send half the raft plunging. But when that perfect moment happens, you just feel thankful for it.
Want to try it for yourself? Grove Spa's 30-minute Vichy shower sessions are packaged with other spa services, including facials, Swedish massages  and the Hydra Luxe wrap. Packages start at $120. Call Grove Spa to book 417-881-8887 or visit the website for info.