Health
Body Buffs, Wraps and Treatments
We've rounded up eight of the top body buffs, wraps and treatments to help you find the best one for your skin.
By Rose Marthis
Feb 2016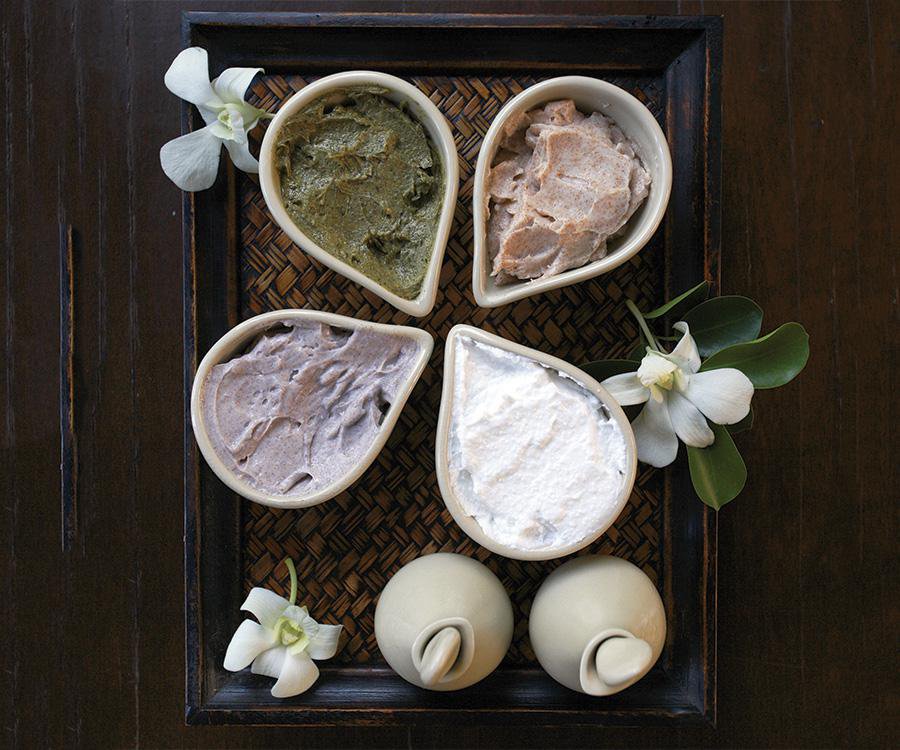 Aromatherapy Body Wrap
at Cedar Creek Spa at Big Cedar, 612 Devil's Pool Road, Ridgedale, 417-335-2777, bigcedar.com 
What It Is: Your choice of aromatherapy oil blends is applied with light exfoliation and massaged into your skin, followed by a full blanket wrap and a foot massage with the 45-minute session. A 90-minute session includes a Swedish massage for even more tension relief. 
What It Does: The mix of aromatherapy scents and the massages creates a deep state of relaxation perfect for tired bodies and souls.
What It Costs: $110 for 45 minutes, $185 for 90 minutes 
Body Glow massage
at Emerald Salon & Spa, 1332 E. Republic Rd., Ste. H, Springfield, 417-771-8147, myemeraldsalon.com
What It Is: The first 20 minutes of this treatment are dedicated to exfoliating your skin to reveal the hidden glow underneath. It is a shower-less treatment, so you're treated with warm towels and a full body massage with lotion for the remaining time.
What It Does: The rich exfoliants slough away winter's chill, and the massage lets you walk away with your skin hydrated, your muscles relaxed, and your mind soothed.
What It Costs: $65 for 60 minutes
Fango Mud Wrap
at Zen3 Spa and Bodyworks, 619 S. Pickwick Ave., Springfield, 417-866-9363, zen3massage.com 
What It Is: Mineral-rich mud brings your body back to nature and deeply hydrates and detoxes your skin while your body is cocooned. 
What It Does: This wrap is designed to heal your skin and melt stress away so you leave relaxed and invigorated.
What It Costs: $120 for 90 minutes
Firmi-sea body wrap
at Oasis Salon and Day Spa, 2915 E. 29th St., Joplin, 417-206-9999, oasissalonanddayspa.com 
What It Is: This relaxing wrap uses a mud rich with seaweed, algae, vitamins and minerals that promote firming, stimulating and toning. Stay after for a dip in the hot tub.
What It Does: The natural ingredients pull out all the toxins in your body, and the firming helps fight that pesky cellulite.
What It Costs: $77 for 75 minutes
Full Body Scrub and Wrap
at Nu Essence Spa, 1319 E. Republic Rd., Ste. C, Springfield, 417-890-7378, nuessencespa.com 
What It Is: First, your body is exfoliated with a mix of sugar cane extract, shea butter, noni, safflower and other soothing oils. Then, a peppermint French green clay detox body mask is applied to draw out impurities. 
What It Does: After scrubbing off dead skin cells and removing toxins with the mask, coconut, argan and grape and tea extracts help hydrate to improve skin tone and texture.
What It Costs: $80 for 60 minutes
Harmonic Body Buff
at Grove Spa, 1522 E. Sunshine St., Springfield, 417-881-8887, and 333 S. John Q. Hammons Pkwy., Springfield, 417-831-0880, grovespa.com 
What It Is: Dual Clarisonic brushes work together to exfoliate your entire body and polish away dead, dry skin. Then gentle moisturizers are massaged into your skin to ensure a healthy glow. 
What It Does: You (literally) shed your old skin to unveil a body that's fresh and rejuvenated. 
What It Costs: $75 for 60 minutes
Lipo-Active Inch Loss
at Lavaré Spa, 1460 E. Cherry St., Ste. B, Springfield, 417-576-6049, lavarespa.com 
What It Is: French seaweed is rich in trace minerals that flush out toxins to help eliminate excess weight and form your figure. 
What It Does: Improve microcirculation and stimulate the lymphatic system to help refine your skin and leave your body feeling slim. 
What It Costs: $80 for 60 minutes
Terra Vital Mud Wrap
at Acacia Spa, 1536 E. Primrose St., Springfield, 417-823-8318, acacia-spa.com 
What It Is: Using botanicals and smectite clay, this wrap detoxifies and remineralizes. And while you're relaxing, your scalp is treated with a massage using peppermint essential oils.
What It Does: The terra vital mud really helps to hydrate your skin and promote flushing. 
What It Costs: $75 for 60 minutes