Life
Killer Queen Bring the Queen Experience to the Gillioz Theatre
Killer Queen has been faithfully recreating the live Queen experience for 30 years and are bringing that experience to the historic Gillioz Theatre in Springfield, MO. We spoke to frontman Patrick Myers.
Jamie Thomas
Jun 26 2023 at 8 a.m.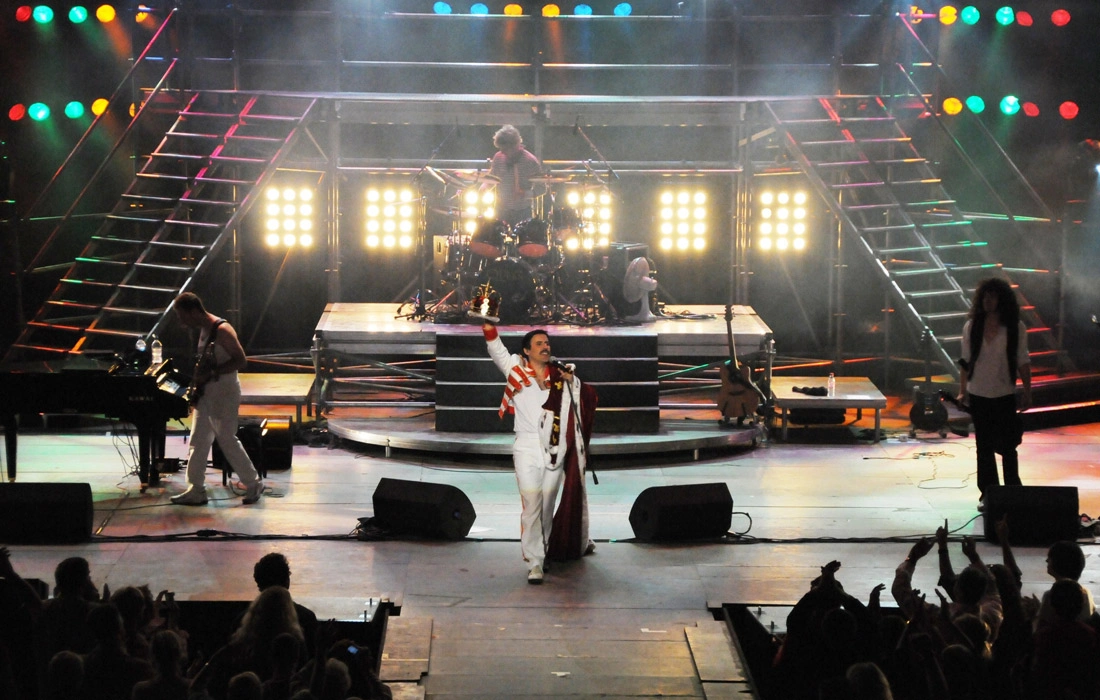 Few things unite people more than music. How many times have you used talking about musical taste as an icebreaker when you meet someone new? Some artists are able to transcend a particular genre or time period to become part of the cultural fabric, and few serve as a better example than British rock band Queen. Even if you don't know who wrote or performed it, you very likely know one of their songs, whether it's the stomp-and-clap of "We Will Rock You," the beat of "Another One Bites the Dust" or the memorable bass line from "Under Pressure." That's to say nothing of the breakout single "Bohemian Rhapsody." With the death of frontman Freddy Mercury in 1991, the chance to see Queen in their original form was lost—but you can still get a taste of what it's like, even now.
Killer Queen formed in 1993 in the dorms at London University. Since then, the tribute band has become a living embodiment of Queen's live performances. Mixing hits and deep cuts from the original lineup's vast and varied catalog, Killer Queen aims to give the audience the closest experience to seeing the real thing they can get, and that experience is coming to the Gillioz on July 14. Ahead of the show next month, we spoke to Killer Queen frontman Patrick Myers about the band, his experiences bringing the live Queen experience to fans around the world and more.
417 Magazine: How many times have you toured the U.S.?
Patrick Myers: We've been touring there since 2016, with a couple of years off during the pandemic. One of the first shows we played was Red Rocks, Colorado, and they loved it, so they had us back and we started selling the place out. We're back [there] again this year, and I think it's almost sold out again.
417: What kind of responses have you found from audiences in the U.S.? Is it different from Europe and the U.K.?
P.M.: We get really great responses from everywhere in the world because we're playing Queen's music, you know? So that's the common denominator. Queen's music sets people on fire. They absolutely go crazy for it. But we do notice there's a certain style of passion that you get from an American audience that we really look forward to. We get people going crazy and jumping up and down everywhere, but there's a real dedication to rock in America. And the reactions to Queen now in the aftermath of the Bohemian Rhapsody biopic that came out means that you're communicating to not just the original audience of Queen, but the grandparents, parents, their kids and their kids. You get four generations of people all coming along and all loving Queen equally. We try to get the look and the sound and the atmosphere as close as possible so we can let people pretend that they're at an impossible concert.
417: How did the members of the band first meet?
P.M.: When we first started we were students at the halls of residence and Freddy was alive when we left home. We'd gotten to know each other by asking "What bands do you like?" and the common ground in the halls of residence I was at, probably many others too, was Queen. We were that generation that had had "I Want to Break Free" and "Radio Ga Ga" and Live Aid. We'd all been soaked in Queen so thoroughly during our adolescence that it was in the fabric of our musical vocabulary. But we were also the generation in our year that were just that little bit too young to have seen Queen live. We all were in those early days thinking, "when's Queen gonna tour again?" It didn't cross our minds that Freddy was ill. When we got the news that Freddy had died that feeling that we'd had of getting to know each other suddenly became a collective grief.
417: How did that lead to the formation of Killer Queen?
P.M.: There was a little piano in the halls of residence laundry room. That piano became the sort of focal meeting point of what became the band. We all sat around waiting for our shirts and underwear to dry and while we waited we took turns singing each other Queen songs and showing each other how to play Queen songs. So we'd been doing that before Freddy had even died and we carried on doing that after he passed, even more so. It characterized our entire time away from home really, because it was such big, momentous news. From that it was: "Maybe we can do a concert ourselves." Tribute bands weren't exactly around at the time and there wasn't any way of seeing Queen if we didn't do it ourselves. Part of the engine behind it was thinking, "Well, at least we can feel like we've been to some kind of Queen concert," even if we've had to put it on ourselves.
417: What was that first concert like?
P.M.: I was unsure whether it would be a good thing or a bad thing. I thought, is dressing up as Freddie Mercury kind of sacrilegious or something—is it right? Is it a good thing or a bad thing? In the end we just thought the only way to find out was to get out there and do it and see what the audience reaction is. So we did, we played in front of a thousand students—we managed to somehow find ourselves headlining this big student ball for all of London, so our faces were all over [the UK magazine] Timeout. It was a pretty auspicious first show. It just blew me away because the audience reaction was so passionate and heartfelt because I think there was some kind of catharsis needed for everyone in our age group. The outpouring of love that I felt from the audience that night really knocked me off my feet and it remains one of the most extraordinary nights of my life.
417: How quickly did things start to pick up after that first concert?
P.M.: We got booked into a million student union balls and graduation [events] immediately after that, and then we were booked into the West End within months. We were the first ever tribute act ever to perform in the West End. It took off like a rocket and it took us all by surprise. Then we were playing Europe, and we started winning awards. I think it helps sometimes when you're the first on the block because everyone's going, "What is this thing called a 'tribute band'?" and BBC News were covering us. A few years down the road, having won awards and sort of earned our stripes, the arenas got in touch and said, "Would you like to play the same venue Queen played?" Now—30 years later—we're still doing that.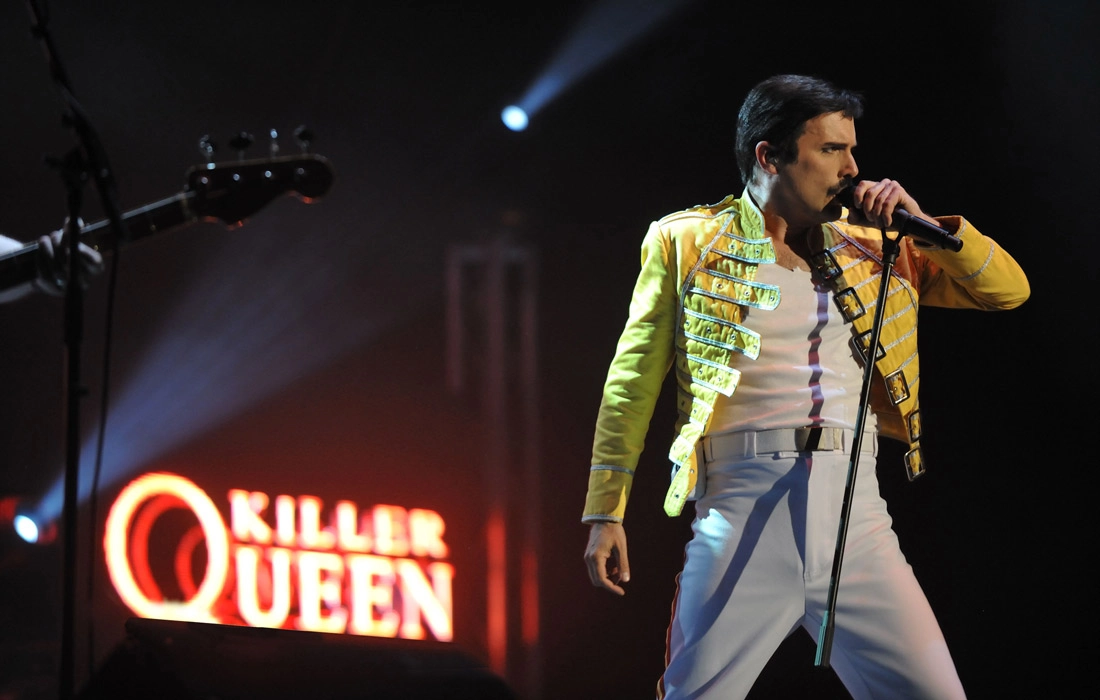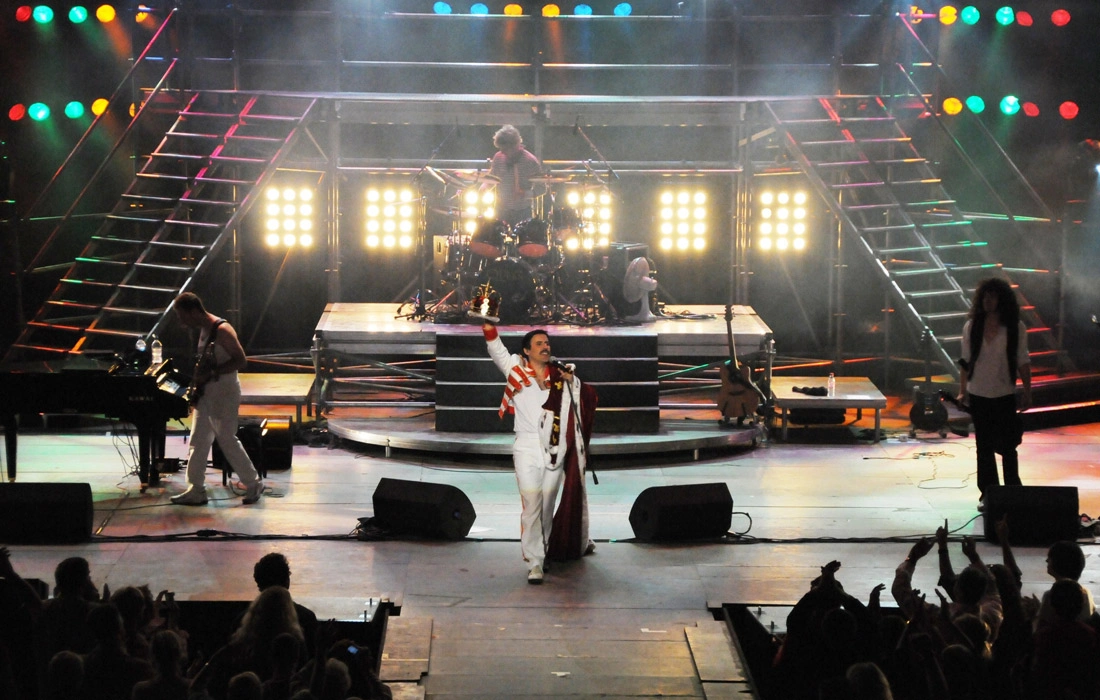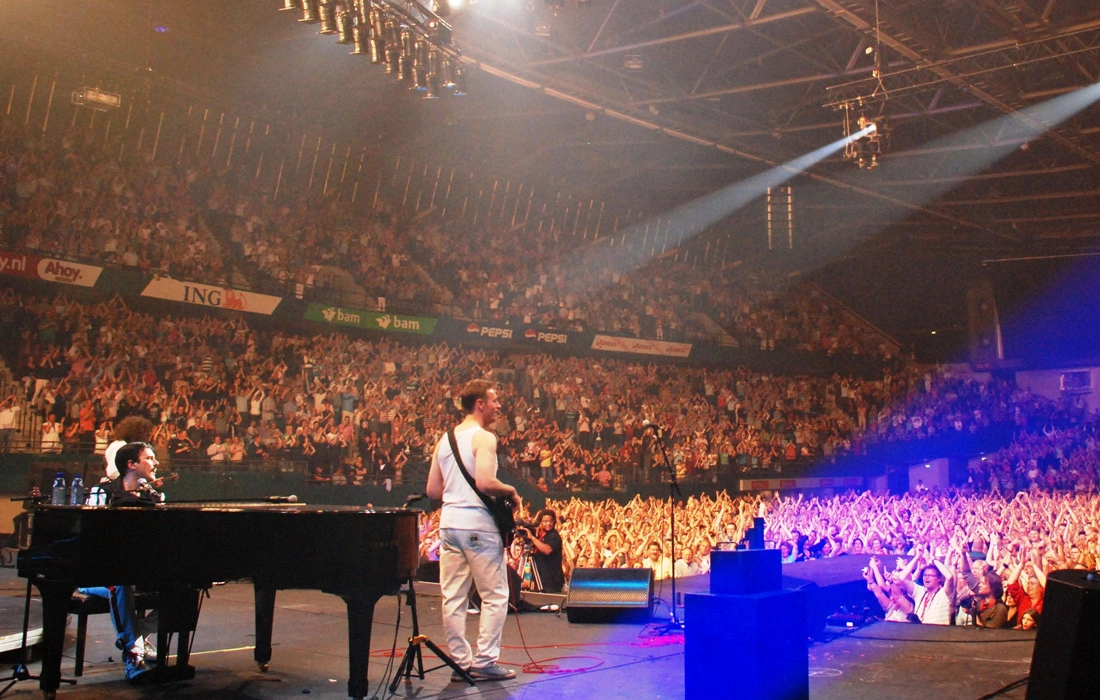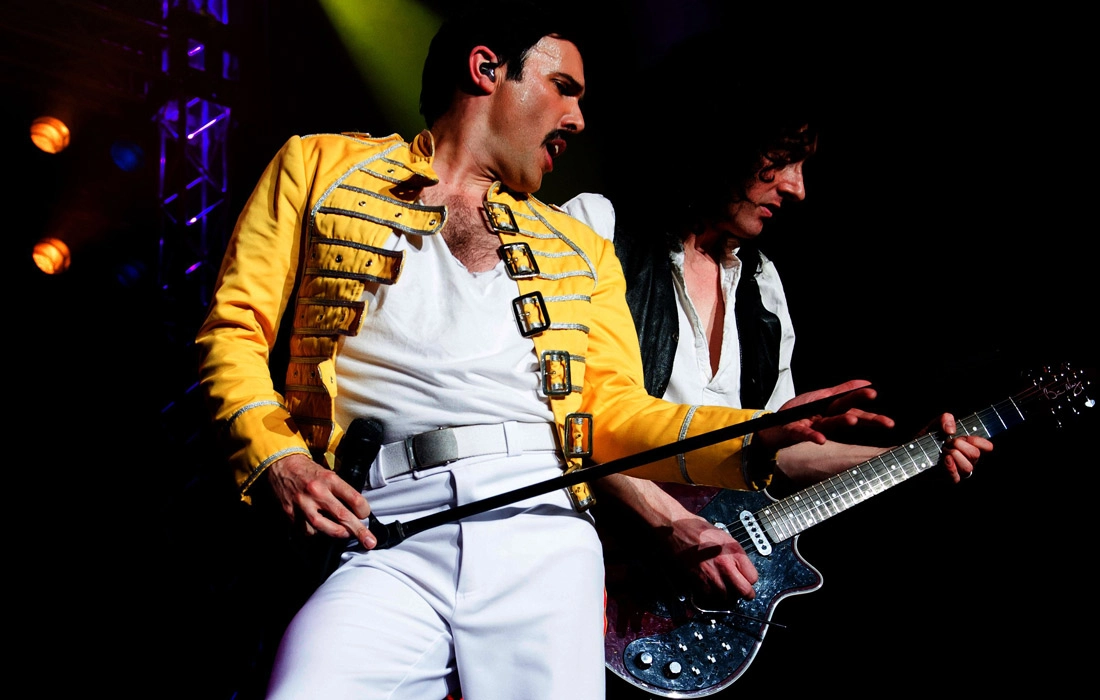 Photos courtesy of Chipster PR Killer Queen aims to give fans the full live Queen experience.
417: What was the first arena show that you did?  
P.M.: That would be the Ahoy Arena in Rotterdam. We played it as part of a package, and then the next year we were invited back to try and sell it just purely on ourselves, which we did. After that we also played Vorst Nationaal Arena a couple of years later, which is where Queen shot all their big things like "Hammer to Fall," "Fat Bottom Girls" and "Don't Stop Me Now." They were all shot on that stage, so it was amazing to play that.
417: Is there anything about being in Killer Queen that has been or can be challenging?
P.M.: It's always been physically demanding even when I was in my early twenties when we started this. You have to totally commit to the show from not just when you go on stage but even before when you're doing your warm-ups and your preparation. You have to lose yourself in the music—you have to use your whole body and represent that music. If you look at how Freddy performed, every fiber of his being was invested in his movements. It's not an exercise in copying—you're taking stuff on board, you're incorporating things rather than copying things. I did a bit of training as an actor as well, so that's really helped me. I studied movement at the National Youth Theatre with Matthew Bourne, who's gone on to do Swan Lake, as well as having vocal coaching from various great coaches over the years. I think initially we were so young that we didn't realize what we were biting off. We just threw ourselves at it, but for me, the challenge is part of the fun of it. It comes down to just how great these songs are. Lots of bands have great catalogs, but very few bands have got a catalog as extensive and lauded as Queen.
417: How do you work out a set list from a catalog that's as varied as Queen's?
P.M.: The setlists change over the years. You allow different songs and deep cuts in, then you think: "It's time to move it on again." There's a lot of ground you have to cover if you're going to serve an audience. Lots of people will have their favorite Queen song that they desperately want to hear live, so you have to acknowledge that, but at the same time, not get trapped by that.
417: Is there an era of Queen or an album that you'd be able to pick as a personal favorite?
P.M.: There's so much good stuff. For me, I love Queen II. It's fantastic and very exciting as an album. In terms of really upping their game, Sheer Heart Attack—every song, makes a perfect segue into another song. Then again News of the World [is] when they really distilled the essence of Queen and were at the top of their game. But then also I love Innuendo and Made in Heaven. I'm probably more a fan of the '70s albums if push came to shove, but [some of] their best work is on the '80s albums: "Who Wants to Live Forever?," "A Kind of Magic," "Radio Ga Ga," "I Want to Break Free."
417: What kind of influence or inspiration do you find outside of Queen?
P.M.: I'm always drawn to songwriters. I've never regarded myself as a natural rocker. I love rock songs [but] I've always been led by songs rather than a particular movement or style. "Since You've Been Gone" by Rainbow is just absolutely fantastic to me but I wouldn't regard myself as a devotee of Rainbow. Songwriters like Neil Hannon from Divine Comedy, Neil Tennant—lots of Neils, I'm just discovering. [David] Bowie was a massive influence on me, but that's probably not that surprising if you're into Queen. I also like lots of classic stuff like Roy Orbison; I think his stuff is amazing—I love his voice. I was a huge, huge, huge Beatles fan. Basically just really good quality songwriting has always appealed to me. I'm fascinated by the world of songwriting and rock and roll.
417: How do you balance what you do with Killer Queen with your private life?
P.M.: What's nice about being in a tribute band is that I've always been quite—I wouldn't say shy—but I enjoy privacy an awful lot, and I like anonymity. I've never been that interested in fame. So in a way it was quite cozy being in a tribute band because you're not offered fame; you're offered a reflection of fame. You're like a mirror and people don't look past the mirror. They just want to see the mirror. They want to see something reflecting Queen. So in a way you can have the best of both worlds: You can be entirely anonymous, but playing arenas and stadiums. It means you can have an entirely private life and a home life but disappear off into this world. I don't live the same life as a rockstar by any stretch of the imagination. I live a very straightforward life at home, but you do get a window into the world of that level of performance.
You can catch Killer Queen live at the Gillioz Theatre (325 Park Central E., Springfield, 417-863-9491) on July 14. Grab your tickets now before they sell out.