Life
State of the Arts in 417-land
The arts and culture scene in 417-land has taken a hit in 2020. We spoke to some of the people behind Springfield's venues and organizations about the impact and how you can help.
by Jamie Thomas
Nov 05 2020 at 11 a.m.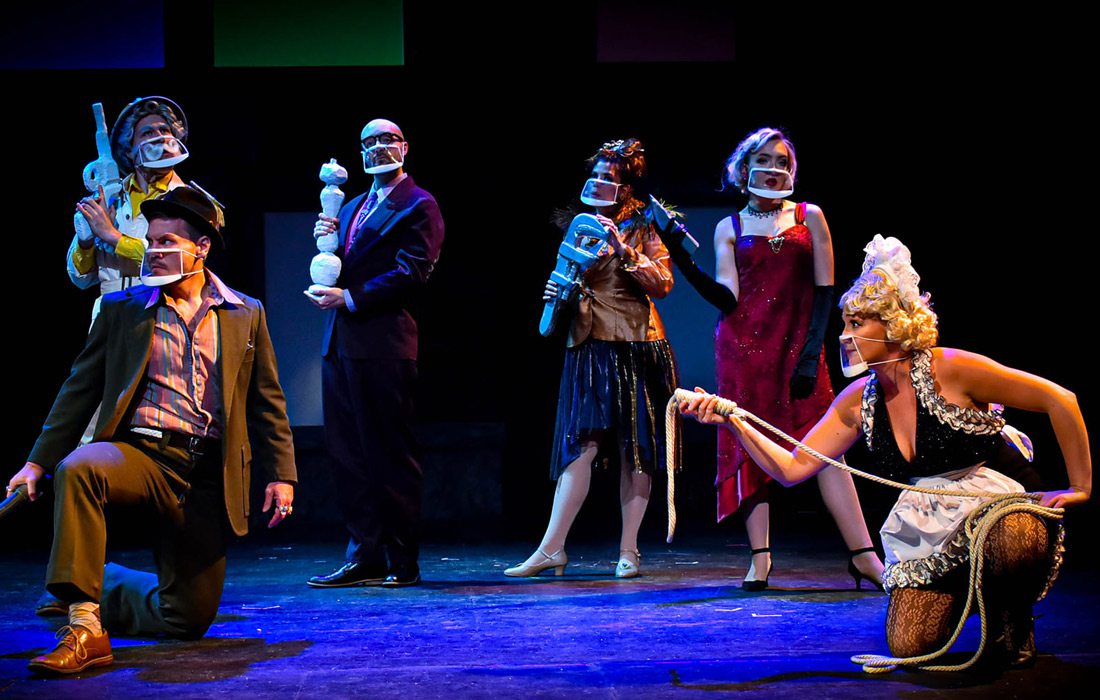 This blog was updated with new information on 11-19-2020.

In 417-land, we're spoiled for choice when it comes to live music, plays, musicals, comedy, movies new and old, contemporary art, rich local history and much more. How many of us took this for granted until we were all sent into lockdown earlier this year? The arts and culture industries were hit especially hard by social activities having to grind to a halt for the best part of 2020. We reached out to some of Springfield's prominent figures in the arts and culture scenes to find out what the impact has been, what they've done to stay afloat and their plans for weathering whatever comes next.

Beth Domann and Leslie Forrester
"We had to cancel Artsfest—we've never canceled Artsfest," says Leslie Forrester, executive director at the Springfield Regional Arts Council. "The 40th anniversary would have been 2020, [and] we canceled it for the first time ever." The Arts Council was able to hold an online alternative, Virtual Artsfest, to fill the gap, along with offering virtual tours of exhibitions at the Springfield Art Museum. "Virtual is nice, but it's not the same," Forrester says. "Seeing paintings [online] is way different than in person."

"When we did Forbidden Broadway and I was at the theatre watching it, I was cracking up," says Beth Domann, executive director of Springfield Little Theatre. "I watched streaming and it still makes you laugh out loud, but there's a little bit of a disconnect. Streaming is the best thing that we've got right now, so that people can feel safe and still be able to enjoy it, but people are craving that connection again."

While both Forrester and Domann recognize the missing connections now felt in the community due to people being unable to share in-person experiences, they're cautious about making any predictions when it comes to returning to normal. "It's not going to roll back immediately," Domann says. "I think it's going to take a long time before people are standing shoulder to shoulder again."
The result of having to hit pause has gone beyond losing shared experiences, however. "We know that the arts in Springfield has a $26.9 million economic impact." Forrester says, referring to a study conducted in 2017 by Americans for the Arts. "That's all based on surveys of audience members. We collected about 800 audience surveys over the course of the year." Forrester continues. "Those audience members were telling us directly how much they spent on going out for that evening, and that included not just the ticket price, but purchasing new clothes for a night out, eating dinner out, going for dessert, paying for gas, babysitters, memorabilia, all that stuff [...] We also knew from that survey about a third of our audiences came from outside of Springfield. Both of those numbers are drastically impacted during this pandemic."

Forrester and Domann were involved in forming the Ozarks Performing Arts League (OPAL), a collaboration between Springfield Little Theatre, Springfield Ballet, Springfield Regional Opera and the Springfield Regional Arts Council. "Originally we were going to do a show, just kind of as a fundraiser with the arts organizations," Domann says. "We decided what to do is to start a coalition here in town with the cornerstone arts organizations to raise money."
OPAL is working with the City of Springfield on a unique 2020 version of the Mayor's Tree Lighting on November 21. Stay tuned for more info about that closer to the time, and check the website for current plans.
The Gillioz Theatre
The historic Gillioz Theatre has been standing since 1926, and was fully restored in 2006. A destination for touring musicians and comedians from across the United States and the world, the Gillioz has been hit hard in 2020. "The impact for the Gillioz has been, I would say, nothing short of catastrophic," says Geoff Steele, executive director of the Gillioz. "We were first to close and we'll be last reopen."
The Gillioz was forced to close on Friday, March 13, and Steele says that this immediately impacted 38 confirmed shows that were on sale at the time. "In 2019 alone, we saw 1,071 different zip codes buying tickets through us," Steele says. "We generated over $43.4 million for the local economy above ticket revenue. The economic footprint is massive. And then you look at the number of people that we're employing. There's about $1.6 million household income that was impacted by our shutdown. Those are [also] the waitresses and bartenders around us; If there's a show at the Gillioz on Tuesday night, then you have a thousand people on Park Central on Tuesday night that you wouldn't have otherwise. They don't just come to the show and then leave. They go get dinner beforehand or they go get drinks after."

For Steele, who took the reins of the Gillioz in October of 2014, the impact goes beyond the local economy, too. "People that are in the arts industry—whether it be agents management, technicians, artists, or people like myself that are on the administrative side—we don't do this for the money." Steele says. "There's also a psychological and emotional toll that's being taken [...] For creative people, who I think feel highs higher and lows lower, I don't think we've even begun to process it." Steele explains that he has spoken to performers and agents alike who confess they're not doing well, and has seen many pillars of an industry he's deeply familiar with have to leave it due to the sheer uncertainty of the crisis. "The cuts are deep," Steele says. "They're on every level."

One of the biggest challenges in staying afloat for many in the entertainment and arts industries, according to Steele, is the sheer scale. "The challenge for us in the arts industry is that it's a massive, massive industry. It's four times the size of the North American airline industry." A combination of circumstances and a general ignorance of just how many people make a living in the arts, says Steele, is a large part of why there has been so little money invested in helping them.
Here's where you can help. A campaign called Save Our Stages is currently collecting signatures to petition Congress to act in providing more support to performing arts venues. You can find information about Save Our Stages here. You can also support the Gillioz directly by buying merchandise, tickets and more.
Springfield Ballet
"Right around that middle part of March is when it affected us," says Ashley Walden, executive director of the Springfield Ballet. "All of our classes for the rest of the semester—roughly about six weeks—all transitioned to virtual classes. We also decided to cancel our spring production, which was Sleeping Beauty. That was a big hit, it was kind of like you're in the middle of rehearsals in class, then things went virtual and then everything else got canceled."
According to Walden, the ballet lost between $80–$90,000 in revenue. But, as with all of the organizations 417 Magazine has spoken to in the arts and culture scene, it isn't just the money that matters. "The main reason why we've tried to keep things as normal as we can is for the mental health of everyone involved, from the dancers to the staff and everyone in between," says Walden.
The Springfield Ballet has used the time to focus on alternative ways to entertain patrons, according to Walden. Thanks to introducing streaming options, the 2020 production of The Nutcracker is able to go ahead, with some in-person ticket options available, too. Along with buying tickets for online and limited in-person performances, there are some other ways you can help the Springfield Ballet, says Walden. "We're always looking for volunteers for productions, obviously in a very safe way and we're working with [the Landers Theatre] on what that looks like." You can also make donations directly on the Springfield Ballet website.

Springfield Contemporary Theatre
Jeffrey Mindock began his role as director of development at the Springfield Contemporary Theatre in February of this year. In March, the theater had to cease all in-person events. "I was scheduled to be in one of the plays that we were producing," Mindock says. "That's been the biggest impact for Springfield Contemporary Theatre. Never in our wildest dreams would we have anticipated that we wouldn't produce a play on our main stage for almost an entire calendar year."
According to Mindock, the outlook for the Springfield Contemporary Theatre is that there are unlikely to be in-person performances until well into 2021. "We have an 86-seat theater," Mindock says. "The audience is maybe 10 feet from the stage. In order for us to get anywhere near operating at capacity, it just doesn't make sense [to open]. So that's been the biggest impact." The theatre has been aggressively pursuing grant money to help, says Mindock, and has seen an influx of support from patrons.

"We're now pivoting hard into virtual programming," Mindock says. "We're putting together the infrastructure to be able to produce virtual productions [...] We've also used this time to focus on strategic planning for the future so that our patrons, who are so graciously keeping us afloat, will eventually be able to see what they're investing in for the next three, five and 10 years down the road."

As damaging as this year has been for arts and culture industries, Mindock is able to identify some positivity in looking ahead. "What this pandemic has done, especially to the performing arts industry, is it's forced us to get creative, which is what we do normally, but in a completely different direction," he says. "We have a connection with a company out of New York City that's creating this virtual interface where patrons are all invited online to come together into a virtual theater where there's a lobby area. Then everybody watches the play, and afterwards there's a stage door where you can meet the actors on Zoom. Those are the kinds of things that we're focusing on to give our audiences here in Springfield, and hopefully regionally and nationally, the opportunity to feel like they're having that community experience that is so embedded in the theatre experience."

While there have been some opportunities to try new avenues of reaching audiences, the Springfield Contemporary Theatre still needs help. "We would be nowhere without our patrons supporting us through donations," Mindock says. "We wouldn't even be in a position to have this conversation."

You can donate directly to Springfield Contemporary Theatre on its website, or find out more about upcoming shows and how to get involved.
Springfield Symphony Orchestra
For the Springfield Symphony Orchestra, the impact of shutting down in March has been an estimated $170,000 to date, according to Lexi Locke. Locke, the marketing manager at Springfield Symphony, says that the team had been keeping up with news of the spread of the coronavirus just like everyone else. "I came in one day and our boss pretty much told us 'hey, get ready to pack up your things by the end of today because we're going to start working from home.''
Concerts through March and April were canceled, and many of the musicians lost a substantial amount of income. According to Locke, about half of the musicians estimated that they had lost between $1000–$2,500 in earnings. "They're not just musicians with Springfield Symphony," says Locke. "They perform with the Springfield Regional Opera, the Missouri Philharmonic, events hosted by business, schools and organizations in the area."
"We'll keep pursuing what we can," Locke says, emphasizing the role that music and the arts in general play in the community. The orchestra has offered online streaming as an alternative to in-person events and looks to continue with this option in the future, even when live shows return. However, though they were met with a positive response, the revenue generated online simply isn't enough compared to traditional, in-person performances. "Our live streaming wasn't really meant to produce much revenue," says Locke. "We wanted to meet the people in Springfield where they were at due to COVID, so we didn't want to make it something inaccessible. A single one-time purchase for our live stream is $12, which is really great for the consumer but it obviously doesn't really impact too much."
If you're interested in helping the Springfield Symphony Orchestra directly, you can donate or volunteer via the website.

How to Help
It's easy to take things like museums, stages and movie theaters for granted and, for many of us, this year has been something of a wake-up call when it comes to how fragile these places and people can be—and how vital what they provide to our community is. These are just three of the many arts and culture cornerstones in 417-land. Let's not forget The Moxie, the History Museum on the Square, the Sculpture Walk, Springfield Mid-America Singers and countless others. If you have a museum, gallery, music venue, theater or studio that you're passionate about, get in touch with them and ask what they need. They may not have the reach or the level of recognition that others do, and might be struggling in silence. Springfield and the wider southwest Missouri area is full places like these that have been hit hard by the unexpected circumstances this year has brought. Your support will make a difference.