Arts & Culture
Support Local Arts & Culture All Year Through Memberships
Supporting local arts and culture is always important. Right now, with shows postponed or canceled, it's essential. Check out all the ways you can help out theaters, museums and more in 417-land.
By Jamie Thomas
Apr 2020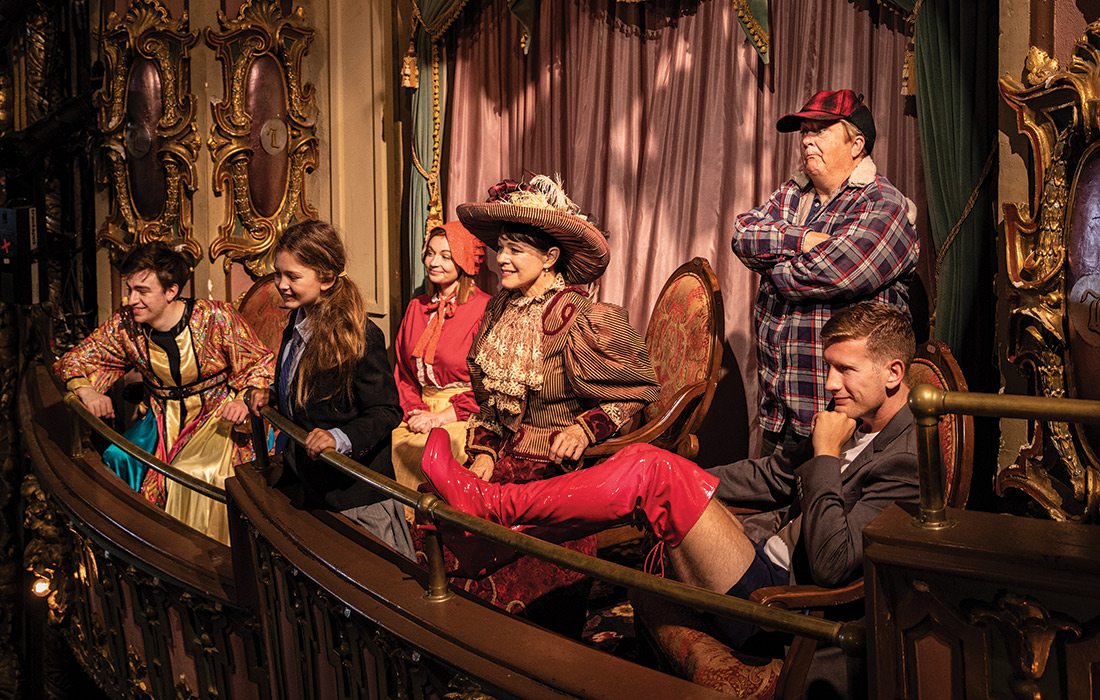 311 E. Walnut St., Springfield, 417-869-1334
An essential piece of cultural history in downtown is Springfield Little Theatre. The theater troupe is housed inside The Landers Theatre, which was built in 1909. SLT hosts live musical theater with local youth talent and bigname performers including Kim Crosby. Subscription benefits include discounts, opening night receptions and more.

Springfield Little Theatre is still running its Bigger Picture campaign, which began in February 2020. The campaign was launched to pay for the new Judith Enyeart Reynolds School of the Performing Arts for Springfield Little Theatre and is getting incredibly close to reaching the goal. While you wait for the stay-at-home order to be lifted, you can catch a variety of performances from members of SLT on the group's Facebook page. Check out all of the ways you can support the theater on the website.
305 S. Campbell Ave., Suite 101, Springfield, 417-429-0800
The Moxie is essential for Springfield cinephiles. Not only can you catch the latest releases in a cozy theater, but the Moxie frequently shows classics, cult movies, short films and arthouse features. Membership fees help to keep the Moxie running and the benefits can also apply to participating art houses nationwide.
Like many places in 417-land, the Moxie is temporarily closed. You can continue to support the cinema through membership options, which will help now more than ever, as well as take part in virtual screenings via the Facebook page.
438 E. Saint Louis St., Springfield, 417-862-9910
Anyone with young kids or grandkids knows how hard it can be to find activities that are educational but still fun enough to coax them away from the couch. The Discovery Center is one of the most reliable solutions in Springfield, and investing in an annual membership pass has perks outside Springfield. Membership works in any of the Association of Science and Technology Centers worldwide.

The Discovery Center is currently going above and beyond for the community by offering childcare services for those working in healthcare. With the support of a number of sponsors donating money, the center has been able to provide crisis relief for families impacted by COVID-19. Head to the center's website to make a donation and help them keep up the work. If you're looking for some educational content for your own kids, the Discovery Center is also posting Facebook live sessions.
411 N. Sherman Parkway, Springfield, 417-862-ARTS
The Springfield Regional Arts Council supports the arts in 417-land and partners with schools, local businesses, granting organizations and the Spring fi eld Arts Collaborative. By becoming a member, you can contribute to local culture through donation options. If you're an artist, you can join for benefits like studio space, discounted classes and seminars and more. The arts council is currently using its Facebook page to spread news from the arts scene, including various free classes, online sessions and more.
325 Park Central East, Springfield, 417-863-9491
If you're looking for a theater experience, a 26 Club membership at the Gillioz Theatre comes with plenty of perks. The theater has been standing since 1926 and hosts The Mystery Hour tapings, opera, comedy and music. Benefits include pre sales, concession discounts and exclusive contests. Show your support for the historic Gillioz Theatre with a limited edition t-shirt.
1111 E. Brookside Dr., Springfield, 417-837-5700
Want to really get involved? The Friends of the Springfield Art Museum program began in 1982 and, to this day, has continued to support the museum in acquiring art, running educational programs, curating exhibits, hosting gallery talks and expanding awareness and understanding of the arts. If you're really invested in the arts, head to the website to find out more. Check out the museum's Facebook page for photos and insights on previous exhibitions.
411 N. Sherman Pkwy., Springfield, 417-864-6683
Music-lovers needn't miss out on supporting the local arts. The Springfield Symphony offers full season tickets that support the symphony and include perks like savings and discounts on additional tickets, preferential seating and more. Visit the Springfield Symphony website for all the details. As a way to keep delivering culture to 417-land while concerts are on pause, the Springfield Symphony is posting past performances on Facebook, as well as performer picks for favorite pieces. 
431 S. Jefferson Ave., #136, Springfield, 417-831-8001
The Springfield Contemporary Theatre holds a variety of productions all year round, with performances of everything from Emma to Killer Joe. Supporting the theater means you're also supporting a passion for daring, challenging arts and culture in 417-land. Giving a donation will mean you'll be included in playbills, while membership comes with a range of benefits. As of April 6 2020, the theater's relief fund has raised over $4,000–take a look at the support page for more information on ways you can help. While you wait for the theater to reopen, you can catch live streams of shows via its Facebook page.

154 Park Central Square, Springfield, 417-831-1976
Voted the Best New Attraction of 2019 by USA Today readers, the History Museum on the Square offers plenty when it comes to 417-land history. Whether you're looking for Native American artifacts, recreations of the Wild Bill Hickok shootout or authentic displays from the birthplace of Route 66, you'll find it at the museum. For now, the museum has had to close its doors in order to keep the community safe, but you can still get a daily dose of history via the Facebook page. Paying for a membership to the museum comes with a variety of benefits, and is more needed now than ever before.
Got a local arts or cultural institution that needs support right now? Send an email and let us know.