Recipes
Creamy Orzo Tomato Soup
Warm your soul with this super-easy homemade tomato soup. It's good to the last drop!
By Ettie Berneking
Mar 16 2015 at 6:23 a.m.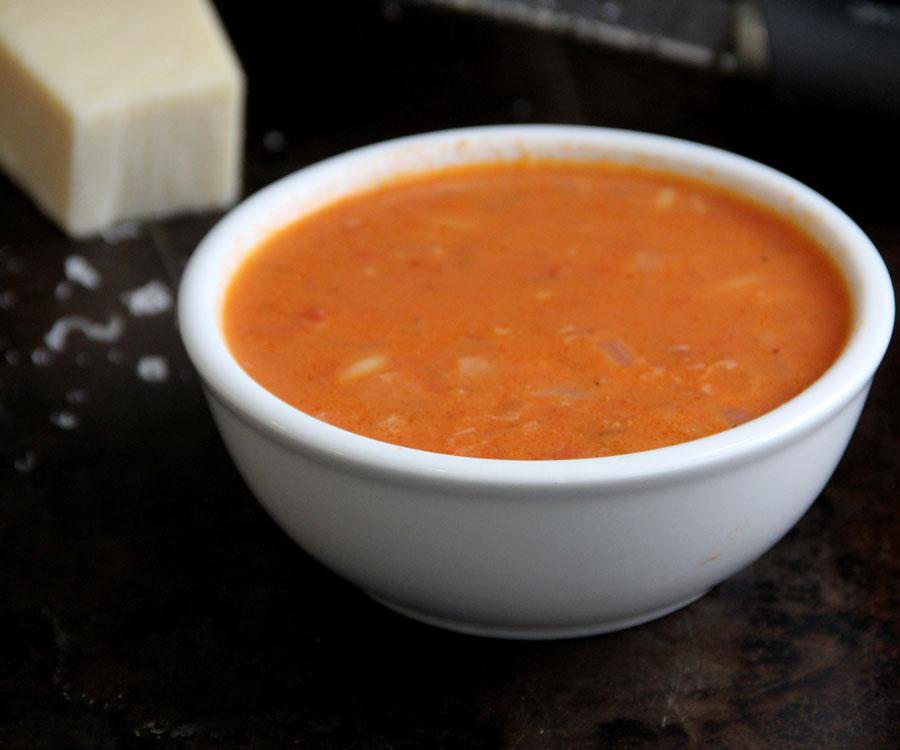 Rainy days mean one thing for me: soup. I love homemade soup, but don't always have the best of luck. While my mom is somehow able to throw together a handful of ingredients from her pantry and whip up something incredibly delicious, my own homemade soups usually fall short. But not this time! When the sky clouded over this week, I turned to Ina Garten's recipe for easy homemade tomato soup. With a few adjustments I was able to make my own version without a last-minute run to the grocery store, and the flavor was spot-on.
For starters, I used white onions instead of yellow, used water in place of chicken stock and ditched the called-for saffron. Saffron's rich price tag makes it non-existent in my kitchen. In its place I added two bay leafs. The result was delicious. Thanks to a dash of heavy cream and a serving of orzo, this soup is plenty filling and rich. If you really want to kick up the flavor, add the rind of a block of Parmesan to the soup while it's simmering. The tangy flavor of the rind will slowly work its way into the soup, and you'll love it.
If you're in the mood for a vegetable-rich soup, try this recipe for homemade pantry soup.
 Till next week, happy cooking!
Creamy Orzo Tomato Soup 
Yields 6 servings

adapted from Ina Garten's recipe for Homemade Tomato Soup
Shopping List
White onions
Whole garlic
Canned crushed tomatoes
Orzo
(All available at MaMa Jean's Natural Market)
Ingredients:
3 tablespoons olive oil
3 cups chopped white onion
1 tablespoon garlic, minced
2 bay leafs
4 cups water
28 ounces crushed tomatoes
1 tablespoons kosher salt
1 teaspoon black pepper
½ cup orzo
½ cup heavy whipping cream
Directions:
1. In a large pot, heat the olive oil over medium heat. Add in the onions, and cook over mediu,-low heat for about 15 minutes until the onions start to turn golden brown.
2. Add in the garlic and bay leafs, and cook for 1 more minute.
3. Stir in the water, tomatoes, salt and pepper. Bring the soup to a boil, lower the heat and simmer for 15 minutes.
4. While the soup cooks, start the orzo. Fill a medium pot with water, add 2 teaspoons of salt, and bring to a boil. Add the orzo, and cook for 7 minutes.
5. Drain the orzo , and add it to the soup. It will finish cooking in the soup. Stir in the cream, and simmer for 10 minutes, stirring often.