Recipes
Lemon Pancakes & Homemade Syrup
Extra-fluffy, extra-lemony and extra-delicious is the only way to describe these pillowy pancakes.
By Ettie Berneking
Mar 04 2015 at midnight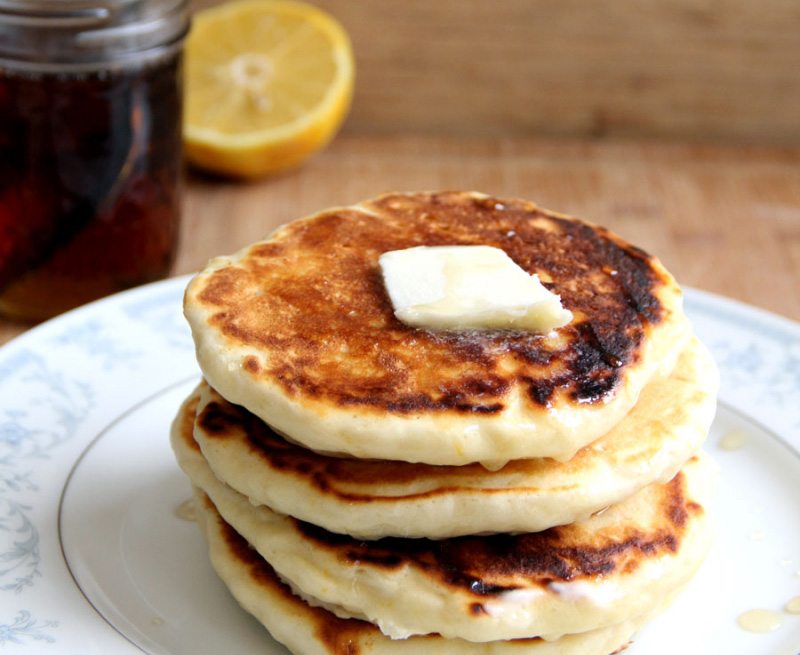 Everyone has their favorite pancake recipe. It could even be that box of Bisquick or Krusteaz that makes an appearance on Saturday mornings. I am still looking for my go-to pancake mix, and I've tried dozens of recipes. When I started making pancakes from scratch, I never imagined there could be so many different recipes. But there are. And they all taste slightly different. I've made vegan pancakes, gluten-free pancakes (not a great idea by the way), pumpkin pancakes, crunchy granola pancakes—the list goes on. A few weeks ago, I even made pancakes that had you whip egg whites until stiff peaks formed. But after all that work, the pancakes were nowhere near fluffy, and my wrist was sore.
But then I found this recipe for lemon pancakes. They're fabulous! I've made them the last two Saturdays for two different crowds to make sure I wasn't the only one swept off my feet, and my hungry guinea pigs loved them as much as I did. They're fluffy, light, sweet and oh-so-lemony.  But the best part? The homemade lemon syrup. It takes no time at all, and lasts for about two weeks. So if you're like me, you can dip toast and bacon in the leftover syrup whenever you're craving something slightly sweet.
While this recipe is nearly foolproof, I do have one suggestion. Once the batter is ready for the griddle, let it sit for about 5 minutes. I wish I had some scientific explanation for why this somehow makes the pancakes extra-fluffy and extra-delicious, but it really does. So I recommend whipping up the batter and then moving your attention to the syrup while the batter rests.
Trust me, you'll be happy with the results.
Till next week, happy cooking! 
Lemon Pancakes & Homemade Syrup
Yields 8 pancakes
Adapted from Jen's Favorite Cookies blog
Shopping List:
Lemons
Brown Sugar
Eggs
Almond milk
(all available at MaMa Jean's Natural Market)
Pancake ingredients:
1½ cups flour
1 tablespoon sugar
¼ teaspoon salt
3½ teaspoons baking powder
2 tablespoons vegetable oil
1 egg
1¼ cups almond milk
Juice of ½ lemon
Zest of one lemon
Syrup ingredients:
cup sugar
cup brown sugar
cup water
Peel of one lemon, cut into large chunks
Directions:
1. To make the pancakes sift together the flour, sugar, salt and baking powder in a large bowl.
2. Add the oil, egg, milk, lemon juice and lemon zest, and mix well. Let the batter sit for a few minutes.
3. Heat a griddle, and coat with melted butter. Use ¼ cup of batter for each pancake. Cook until the edges are slightly brown and bubbles form across the top. Flip pancakes and cook the other side.
4. While the pancakes are cooking, make the syrup by combining the sugars and water in a small sauce pan. Heat over high heat, stirring occasionally. Add the lemon peel to the syrup.
5. Bring the mixture to a boil for 4 minutes.
6. Remove lemon peel and discard.
7. Serve the pancakes with butter and lemon syrup.