Recipes
Rosemary, White Bean Stew
Loaded with bacon, rosemary, carrots and fennel, this rich and savory soup is the perfect way to melt those winter blues.
By Ettie Berneking
Feb 25 2015 at midnight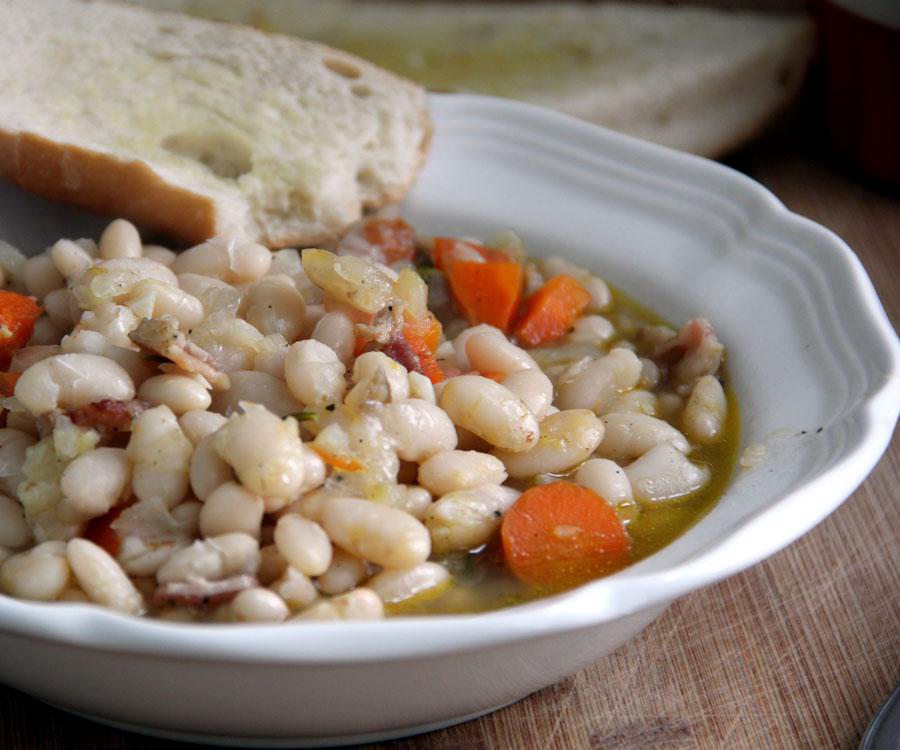 There's snow on the ground, and the temperature outside seems to be permanently set to frigid, which means it's the perfect time to make a big pot of soup. So dressed in my favorite pair of wool socks and several layers of long underwear, I braved the winter weather over the weekend and headed to the grocery store to buy everything I would need to make Ina Garten's French Flageolet bean stew. Besides the usual soup must-haves—carrots, celery, chicken broth and a crunchy baguette—I needed a bag of dried flageolet beans. Turns out, no one in Springfield carries these tiny legumes. I looked everywhere. At one point, I was holed up in my car with the world's largest coffee in one hand and my cell phone in another trying to find a grocery store that carries the French flageolet bean. MaMa Jean's Natural Market will happily order the beans for you, but I needed them that night.
After some quick Googling, I learned that great northern beans can be used as a substitute, so I grabbed a 1-pound bag and headed home to soak the beans in water overnight. Having actually read and re-read the recipe beforehand—a first for me—I woke up early in order to start the stew. This recipe is a breeze, but it isn't quick. It took me about three hours from start to finish. But on the plus side, the lengthy cook time gave me a good excuse to set up camp in front of the oven and flip through the stack of magazines I'd been meaning to read.
After catching up on the latest pop culture tidbits and dog-earring several new recipes to try, I stirred in the last pinch of kosher salt and spooned a heaping serving of this herbaceous stew over an extra-crunchy piece of bread. It was delicious! The bacon gave it plenty of rich, salty flavor I couldn't resist, and the beans were plump and filling.
It could have been snowing buckets outside, and I would not have minded. This rich stew is the perfect reason to stay inside. As far as I'm concerned, winter could last all year as long as I have a big bowl of this beany mixture nearby.
Till next week, happy cooking! 
Rosemary, White Bean Stew
Yields 6 to 8 servings
Adapted from Ina Garten's Barefoot Contessa Foofproof cookbook
Grocery List:
Carrots
Bacon
Dried great northern beans
Vegetable broth
Fennel
Onions
(All available at MaMa Jean's Natural Market)
Ingredients:
1 pound dried navy beans
2 tablespoons olive oil
4 strips of uncooked bacon, diced
2 cups diced yellow onion
2 cups diced fennel
2 carrots, washed and chopped
4 cloves garlic, minced
2 cups vegetable broth
2 bay leaves
1 large sprig fresh rosemary
2 cups water
1 tablespoon Kosher salt
1 teaspoon ground black pepper
Directions:
1. The night before you cook the stew, soak the beans in water and place them in the refrigerator overnight.
2. The next day, preheat the oven to 300°F. Drain and rinse the beans. In a large Dutch oven, heat the olive oil over medium-low heat. Add the bacon, and cook for 4 to 5 minutes until the bacon starts to brown. Stir in the onion, fennel and carrots and cook for another 7 minutes or until the vegetables start to soften. Add in the garlic, and sauté for 1 to 2 more minutes.
3. Add the beans to the mix, and stir in the broth, bay leaves, rosemary and water. (The water should just cover the beans.) Bring to a simmer.
4. Cover the pot, and bake in the oven for 45 minutes. Remove the lid, stir in the salt and pepper, and return to the oven without the lid. Raise the temperature to 350°F, and bake for another 30 minutes, or until the beans are tender. (Add more water if needed.)
5. Season to taste, and serve hot.