Table Talk
Table Talk
Read all about what's happening with the food scene in Springfield in this week's Table Talk.
by Tessa Cooper
Oct 03 2023 at 8 a.m.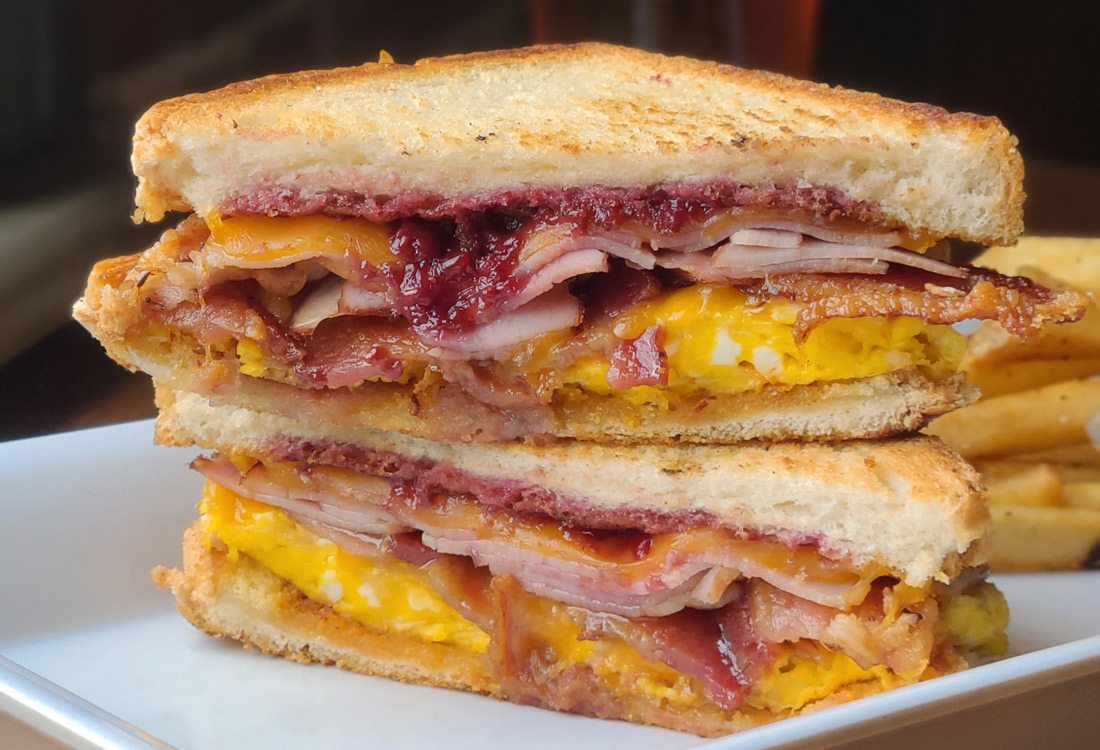 Brewing Up Changes
Springfield Brewing Company (305 S. Market Ave., Springfield) just released its fall and winter menu this past week, and just reading it is taunting our tastebuds. There are so many great options to choose from, but we will walk you through what we'll be ordering on our next visit. For the appetizer, it's got to be the seasonal hummus, which is topped with a sundried tomato tapenade and served with fried pita bread, celery and carrots. As for the entree, we can't wait to try their take on Springfield-style cashew chicken and pair it with the 417 Lager. But, if we are craving something lighter, we will most likely order the quinoa grain bowl featuring roasted sweet potatoes and candied walnuts, which we'd pair with the Clove Hitch Hefe Wizen brewed with a strain of yeast that offers a clove and banana flavor. We'll round off the meal with an apple pie pizza, which we feel doesn't require any explanation. Oh, and don't worry, all the Brew Co. classics, like the mac and cheese, are still on the new menu. One last bonus piece of good news before moving on: They're now serving brunch all day. 🍻
New Restaurants in Southwest Missouri
Want to try something new? Read our roundup of the newest restaurants in and around Springfield, Missouri.
Have a Beef
Now is a great time to stock your freezer with local grass-finished beef for the winter. Millsap Farm (6593 Emu Ln., Springfield) is partnering with Golden City–based Amish farmers Emanuel and Lydia Schwartz to offer high-quality grass-finished beef cuts at an affordable price. Grass-finished beef is a bit different than grass-fed beef. It comes from cattle that fed on only grass and what they could forage for their entire lives. On the other end, grass-fed beef refers to cattle that originally ate a grass diet but switched to grain later. The meat is currently finishing the aging process in a cooler but will be ready for the butcher in about a week. You can reserve some of the meat by texting or emailing Curtis Millsap at 417-839-0847 or millsapfarms@gmail.com. Pick-up for the beef is at Golden City Meats (400 Vine St, Golden City), but Millsap is happy to help coordinate carpooling.
• Great news for all you vegans out there: Bosky's Vegan Grill (405 W. Walnut St., Springfield) just made an exciting announcement! They've been hard at work getting their new food truck ready, and it will be coming to a parking lot near you soon. They plan on bringing the truck to special events around town where you can munch on all the sliders and fries that your heart desires. 
• It looks like it's time to plan a Silver Dollar City (399 Silver Dollar City Pkwy., Branson) trip to see all of the beautiful fall pumpkin displays! While you're there, add on a Harvest Tasting Passport to your ticket. You'll get to select five items from an exclusive menu at the eateries around the park. The pumpkin chili is definitely calling our name.
Fall Drink Spotlight: Pumpkin Cream Cold Brew from The Coffee Ethic
While it is now October, it seems a bit like the weather still hasn't fully gotten the memo. However, the pumpkin cream cold brew from The Coffee Ethic (124 Park Central Square, Springfield) seems as if it was designed with these warm early fall days in mind. The drink starts off with a base of the shop's Remedy Cold Brew and gets a nice spicy kick and extra caffeine boost from the addition of chai. But the real major draw of this drink is the pumpkin cream that floats atop and slowly seeps down into the drink. This cream is made from heavy cream whipped with the shop's signature pumpkin spice syrup that features pumpkin puree and seasonal spices like nutmeg and cinnamon. Like any of The Coffee Ethic's beverages, you can order this in a vegan version.
Table Talk: September 26–October 1
Another Beautiful Bridge Dinner
This past June, Finley Farms (802 Finley Farms Ln., Ozark) hosted its first Farm to Bridge Dinner on the historic Riverside Bridge. We attended and can honestly say it was one of the most enchanting evenings we've ever experienced in the Ozarks. Lucky for you, they are hosting another one on October 8. The evening kicks off with a cocktail hour complete with hors d'oeuvres, followed by five farm-to-table courses with wine pairings. After sunset, the bridge will cast a warm glow with its stringed lights draped overhead, and the rolling waters of the Finley River will add to the cozy ambiance. Tickets cost $125 and part of the proceeds benefit the Breast Cancer Foundation of the Ozarks in light of Breast Cancer Awareness Month.
An Excellent Culinary Collab
This gorgeous fall weather only lasts a few weeks, so we suggest filling your calendar with as many outdoor dinners as possible. On October 2 at 6 p.m., The Royal (1427 E. Cherry St. Ste. B) is hosting Foxes in the Field, a family-style dinner featuring a culinary dream team and expertly styled table settings by Autumn Davis and Courtney Jean Weddings. Dylan and Dustin Fox, who previously tantalized our taste buds at The Hepcat (now shuttered), will be concocting dinner and drink pairings featuring products sourced from Offshoot Selections, while Kyle Davis, pastry chef at The Order will be spearheading all things bread and dessert. We got a sneak peek of the 100% gluten-free menu, and it's got our mouths watering. We won't spoil it all for you, but an amuse-bouche of gluten-free bread with squash butter will prep your palate, and a cheese board with soft cheeses by Terrell Creek with not-your-average pairings like pickled figs, cherry gel and marinated olives will follow. The main course will be a pork loin with oat stuffing and cider cream sauce, and a dessert of sweet potato pot de crème will round out the experience. Tickets cost $135 each and can be purchased online.
A Local Favorite is Downsizing
We've got some good news and some bad news from Missouri Mike's BBQ & More. We will start with the bad news: The location at 1724 E. Battlefield Rd. plus Deli Mike's at 2040 S. Glenstone Ave. are both closing on October 1. However, the location at 2833 W. Chestnut Expressway will remain open, and they've got a few exciting changes up their sleeve. For starters, they will soon be offering table service during their dinner hours. Additionally, you can expect a more comprehensive catering menu coming soon plus a new secluded sports bar area. In the announcement post on Facebook, they even teased the idea of bringing back breakfast. Fingers crossed!
Fall Flavor Spotlight: Pumpkin Meets Apple
Happy first official week of fall! To celebrate the rich autumnal flavors of southwest Missouri, we will be highlighting one seasonal dish or beverage that you'll definitely want to try while you can. What better way to kick off this mini-series than by highlighting a sweet treat that features two ultimate fall ingredients? The pumpkin spice and apple crisp crêpe from Aviary Cafe (2144 E. Republic Rd., Springfield) is a fair-weather delight. Mascarpone is a signature ingredient in several of the sweet crêpes the eatery serves, and in this dish, it is a house-made pumpkin version. A layer of flambéed apples doused in caramel sauce is the next added component, so expect a slightly smoky flavor. As if it couldn't get any better, the candied walnuts provide a sweet crunch. Bon appétit!