Recipes
White Chicken Chili
This not-so-traditional meaty chili calls for a mix of savory and sweet spices that will have you asking for seconds.
By Ettie Berneking
Feb 04 2015 at 4:24 a.m.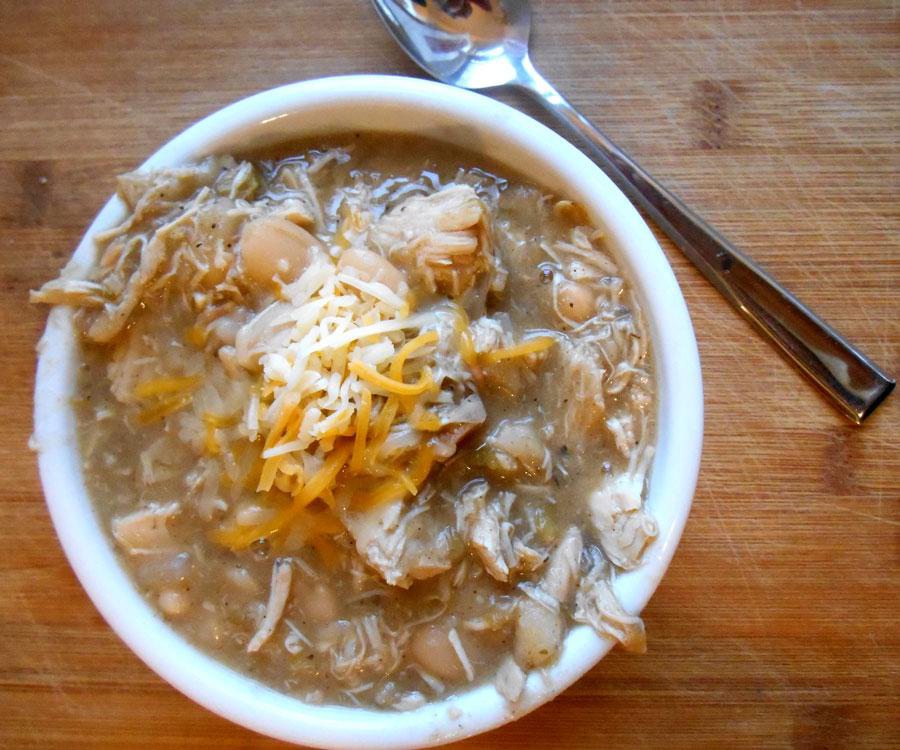 In honor of the Super Bowl last weekend and the annual Chili Cookoff held at our office, I decided to throw my hat into the ring and make a big batch of chili. Last year, my Chili Cookoff entry was a big bowl of piping hot pumpkin chili. It turned out that not many people at the magazine like pumpkin as much as me. It was a depressing defeat as other meaty, spicy chilies were crowned first-, second- and third-place winners. While I still love that pumpkin chili and make bowls and bowls of the stuff each winter, I decided to go with a safer chili recipe this year—white chicken chili.
Thanks to a combination of cumin, oregano, green chilies, cloves and cayenne pepper, this chili packs some serious flavor, but the spice is limited. Just toss the beans, broth, garlic and onion into a large pot and walk away. But don't go too far. Since the beans simmer for 3 hours, you will need to check in on them every now and then to make sure there's enough liquid in the pot. The recipe calls for 6 cups of chicken broth, but I probably ended up using 12 cups. It just depends on what consistency you're looking for. Another thing to watch out for is burning.  
I started out using a beautiful vintage stock pot that was a wedding gift to my parents years and years ago. I love this pot. It looks like it belongs in the Brady Bunch kitchen. But as lovely as it is, it's very thin. About 1 hour into simmering the beans, it was clear that something was burning. I dumped the chili into a different (thicker) stock pot and found a layer of black char burned to the bottom of my vintage beauty. Luckily, the incident didn't ruin the flavor of the chili, and I was able to finish the dish with no other mishaps.
Sadly, my chili did not win this year's Chili Cookoff, but when I went to pack up the leftovers, there were none. So someone must have enjoyed that slightly savory, slightly spicy flavor.
Till next week, happy cooking.
White Chicken Chili
Shopping List:
Great northern beans
Chicken broth
Garlic cloves
(all available at MaMa Jean's Natural Market)
Ingredients:
1 pound dried great northern beans
8 cups chicken broth (plus extra as needed)
2 cloves garlic, minced
1 tablespoon vegetable oil
8 ounces diced green chilies (the kind you can find in the Mexican aisle at the grocery store)
2 teaspoons cumin
1 1/2 teaspoons oregano
¼ teaspoon ground cloves
¼ teaspoon cayenne pepper
4 cups cooked chicken
Directions:
1. Put the beans, broth, garlic and one of the chopped onions in a soup pot with a thick bottom, and simmer for 3 hours.
2. In a medium skillet, combine the other chopped onion, vegetable oil, chilies and all seasonings. Sauté until the onions start to get tender.
3. When the beans are tender, stir in the sautéed seasoning mixture and chicken, and cook for 1 more hour.
4. Serve with your choice of shredded cheese and sour cream.