Recipes
Tuscan Chickpea Spread
Just in time for the Super Bowl, this flavorful spread will have you ditching your traditional chips and dip routine.
By Ettie Berneking
Jan 28 2015 at midnight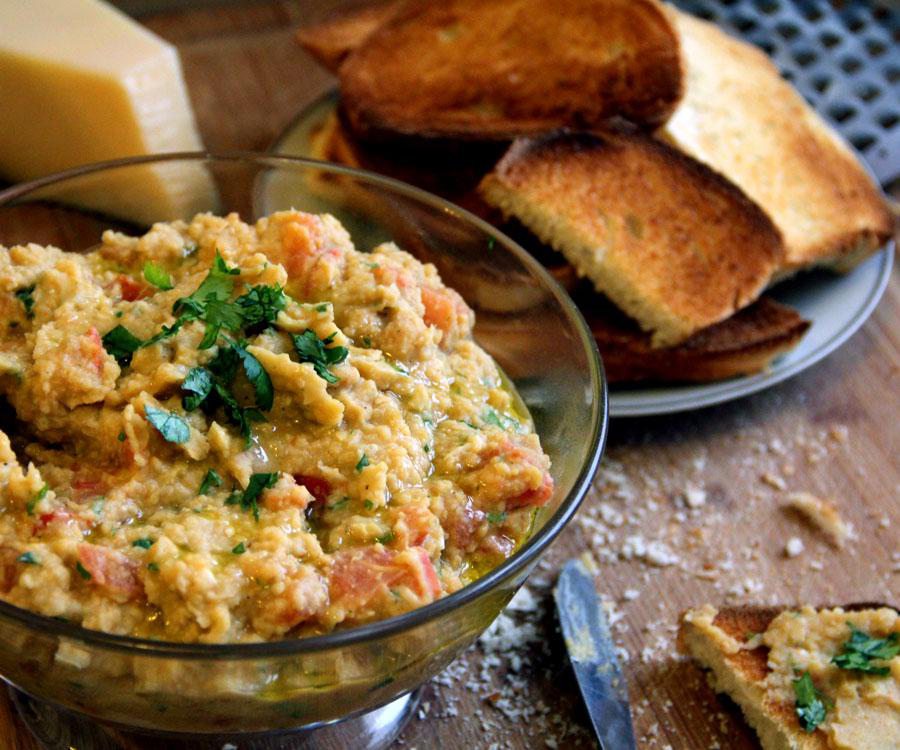 With the Super Bowl just a few days away, I wanted to make something I could serve at my family's watch party. There's the usual spread of cheeses, cured meats and tons of chips and dip. But this time, I wanted to make something a little lighter, so I turned to Ina Garten. Her recipes never let me down, and this recipe for Tuscan Chickpea Spread is another winner.
After flipping through all my cookbooks, I had narrowed the choices down to four recipes. There was a vegetarian lettuce wrap concoction, fried zucchini fritters (that sounded amazing!), something with butternut squash, and this chickpea spread. Unable to choose one, I made my brother decide. He snubbed the lettuce wraps and deemed the zucchini fritters inedible and a fire hazard. But the Tuscan Chickpea Spread recipe was, as he called it, fancy chips and dip. He was sold!
Besides being a chunkier and lighter version of traditional hummus, this spread is a breeze to make. It took me just 15 minutes to whip up. Between the lemon juice, salt and parsley, there is some seriously fresh flavor in each bite. If you want to knock out some of the prep work the night before, you can go ahead and slice the bread, and store it in an air-tight container. You can also blend up the chickpeas and chicken stock, so all you have to do the next day is sauté the tomatoes and garlic and warm the spread on the stove.
And for any leftovers (if you have any), I recommend spreading a dollop on some toasted bread and serving an over-easy egg on top. It's delicious!
Till next week, happy cooking! 
Tuscan Chickpea Spread
adapted from Ina Garten's Barefoot Contessa Foolproof cookbook
Shopping List:
1 lemon
Canned chickpeas (low-sodium)
Chicken stock
1 fresh tomato
Fresh parsley
Parmesan cheese
(All available at MaMa Jean's Natural Market)
Ingredients:
2 15-ounce cans chickpeas, drained and rinsed
½ cup chicken stock
3 tablespoons olive oil, plus extra for serving
1 large tomato, seeded and diced
2 garlic cloves, minced
¼ cup Parmesan cheese, grated
3 tablespoons flat leaf parsley, minced
2 tablespoons fresh lemon juice
Kosher salt and pepper to taste
French bread, sliced and toasted
Directions:
1.  Combine the chickpeas and chicken stock in a food processor. Pulse until coarsely chopped.2. In a medium sauté pan, heat olive oil over medium heat. Stir in the tomatoes, and sauté for 4 minutes or until the tomatoes start to soften. Add the garlic, and cook for 1 minute more. Stir in the chickpea mixture, and cook until warmed through, about 5 minutes.
3.  While the chickpea mixture is cooking, toast the French bread in the broiler.
4.  When the chickpeas are ready, turn off the heat, and stir in the Parmesan, parsley, lemon juice, salt and pepper.
5. Lightly drizzle extra olive oil over the spread and serve warm with the toasted bread.