Recipes
Green Chickpea & Chicken Curry
This spicy and incredibly filling curry is made up of jasmine rice, coconut milk, shallots and green curry paste.
By Ettie Berneking
Jan 21 2015 at midnight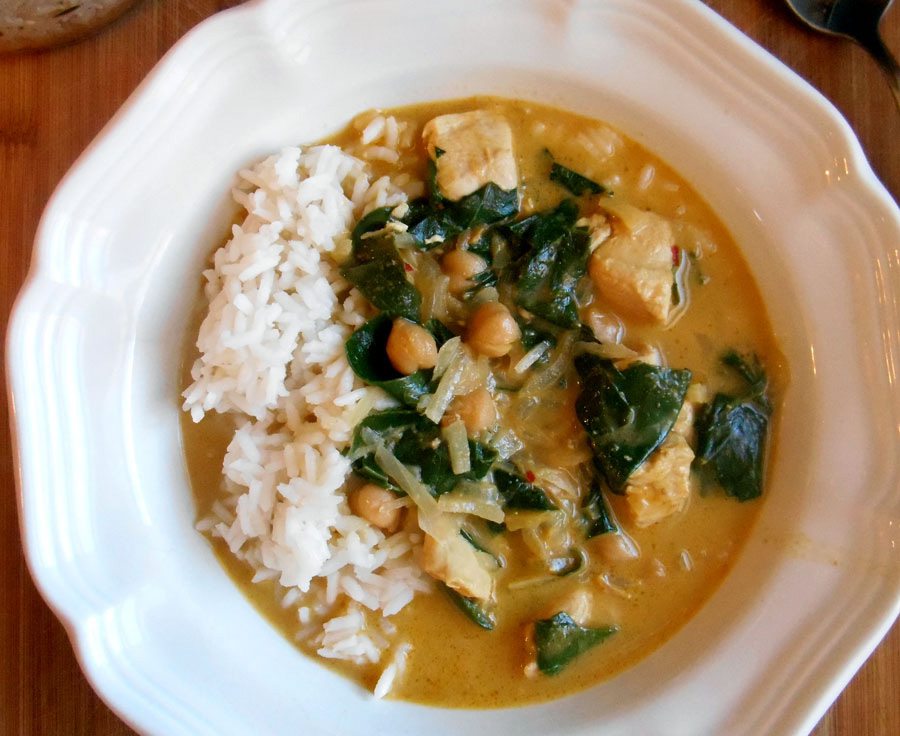 There's a new member of my kitchen family that I have to brag about—a bright orange Dutch oven that I have fondly named Big Bertha. I found Bertha at an antique mall in Monett for just $10. It was one of those moments where you feel like you've just unearthed buried treasure. I had spent months scouring flea markets and antique stores in search of a quality Dutch oven that didn't break the bank. Then one day while getting a tour of Monett, I wandered into a nearby antique mall and found her. She was bright orange and incredibly heavy. I plopped my $10 on the counter, and headed home to try her out.
I've actually never cooked with a Dutch oven before, but since bringing Big Bertha into my kitchen, I have started stockpiling recipes that call for Dutch ovens. I have also been using her to make batches of soups, and this recipe for green chickpea and chicken curry was the very first meal I made with Bertha. It was fantastic, and I like to think that Bertha's heavy cast-iron makeup helped seal all that spicy curry heat into each spoonful.
This recipe comes from one of my favorite new cooking blogs, The Crepes of Wrath. Every recipe I have tried from this site has been a success, and the photos are stunning. Most of these dishes are hearty, indulgent meals that have tons of flavor and plenty of vibrant colors. This curry is no exception. It's spicy and incredibly filling.
After a quick run to the grocery store to load up on Jasmine rice, coconut milk, shallots and green curry paste, I turned up the music and got to work cooking. This dish ends up being a one-pot creation that takes about 40 minutes to prepare. It's easy and delicious, and those are the only two descriptors I need in order to fall in love with a recipe.
Till next week, happy cooking!
Green Chickpea & Chicken Curry
Makes 6 servings
From The Crepes of Wrath
Grocery List:
Swiss chard or kale
Coconut milk
Shallots
Ground ginger
Chili paste
Green chili paste
(All available at MaMa Jean's Natural Market)
Ingredients:
2 tablespoons olive oil
6 chicken thighs, cut into bite-sized pieces
2 shallots, thinly sliced
3 tablespoons green curry paste
2 tablespoons chili paste
1 teaspoon Kosher salt
½ teaspoon ground ginger
1 14-ounce can light coconut milk
2 cups water, divided
1 14-ounce can chickpeas, rinsed and drained
1 bunch Swiss chard, cleaned, trimmed and thinly sliced
Directions:
1. Heat your olive oil in a large, heavy-bottomed pot. Add in the chicken, and cook over medium heat until the chicken is almost fully cooked. Stir in the shallots, and continue to cook until the shallots are softened.
2. Stir in the green curry paste, red chili paste, Kosher salt, ginger, coconut milk, and 1 cup of the water, and bring to a boil. Add in the second cup of water, and bring the mixture back to a boil. Add in the chickpeas, and simmer for 20 minutes.
3. After simmering, stir in the Swiss chard. Simmer for an additional 10 to 15 minutes. Adjust seasonings as desired.