Recipes
Cranberry Curd
Fill up on weekly kitchen experiments, recipes and local cooking tips from our assistant editor, Ettie Berneking.
By Ettie Berneking
Nov 20 2014 at 5:02 a.m.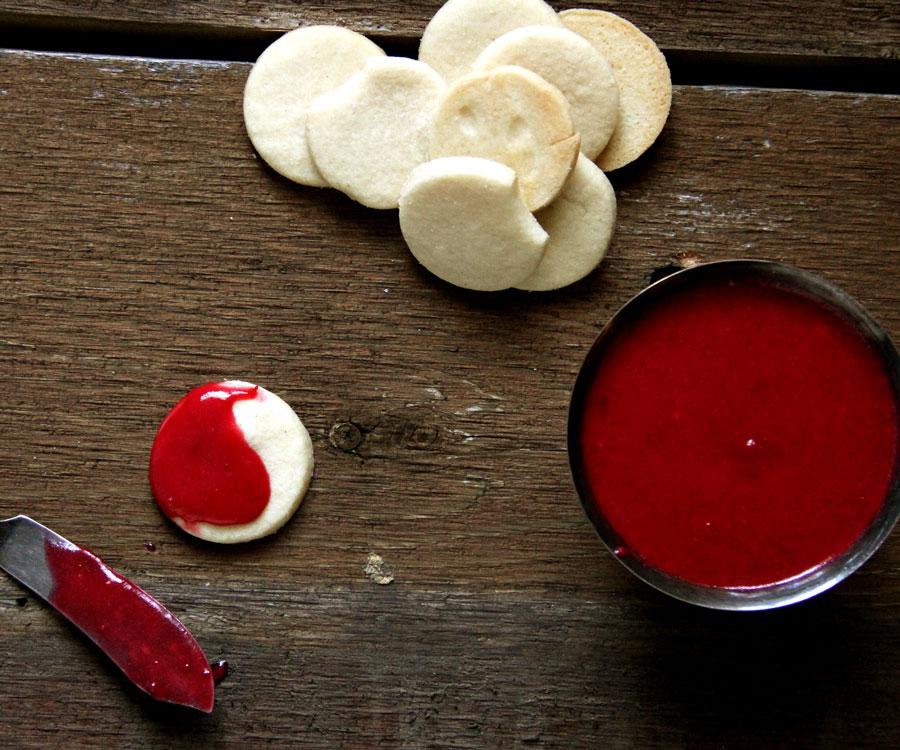 Since Thanksgiving is right around the corner, (just one week away!) I've started experimenting with a few dishes that I plan on contributing to this year's feast. Besides bringing those buttery Parker House Rolls that I made last year, I will be whipping up a sweet potato pie and some sort of cranberry dish. I love cranberries! They're oh-so tart, and that bright ruby-red color just makes me happy. There's something about cranberries that screams holidays. 
So instead of making a traditional cranberry relish, I wanted to find a recipe for some sweet and tart spread that my family could dip into several times during the Thanksgiving weekend, and this cranberry curd is just the thing! It's very similar to the lemon curd I made earlier this year. It's thick and tangy but also sweet and silky smooth. I imagine we'll be spreading spoonfuls of this tangy curd on toast in the morning then on tender strips of turkey in the afternoon.
I made a test batch of the curd in our 417 Test Kitchen this morning with the help of Dylan Whitaker (a true culinary wiz). The whole thing only took about 30 minutes to make, and besides having to put together a double boiler really quick, it was a breeze. I left out the Grand Marnier the recipe calls for because that is definitely not something I have on hand at home. The final product was delicious! It's tart and sweet all at once. To fully enjoy this decadent treat, we loaded dollops of the curd on top of buttery sugar cookies. Perfection! 
Till next week!
Cranberry Curd
Makes one 12 ounce jar
Adapted from Cooking Light
Ingredients:
1/2 cup water
2 tablespoons lemon juice
1 12-ounce package of fresh cranberries
2/3 cup granulated sugar
1/4 cup packed brown sugar
2 tablespoons unsalted butter, softened
2 large egg yolks
1 large egg
1 1/2 teaspoons cornstarch
1/8 teaspoon salt
Directions:
1. Combine the water, lemon juice and cranberries in a medium-sized sauce pan, and bring to a boil. Reduce the heat, and simmer for about 5 minutes or until all the cranberries have popped.
2. Place the cranberry mixture into a blender, and process until smooth. Strain the mixture through a sieve into a large bowl. Discard the solids.
3. In a large mixing bowl, beat the sugar, brown sugar and butter until well blended. Add the egg yolks and egg one a time. Stir in the cranberry mixture, cornstarch and salt.
4. Place the mixture in the top of a double boiler, and cook over simmering water for about 10 minutes until the mixture thickens.
5. Let the curd rest for about five minutes to allow is to thicken up. Cover, and chill for up to one week.