Recipes
Goat Cheese and Tomato Biscuits
If you're really adventurous, skip the tomatoes all together and spoon on some grilled peaches and a drizzle of balsamic vinegar.
By Ettie Berneking
Jul 10 2015 at 4:51 a.m.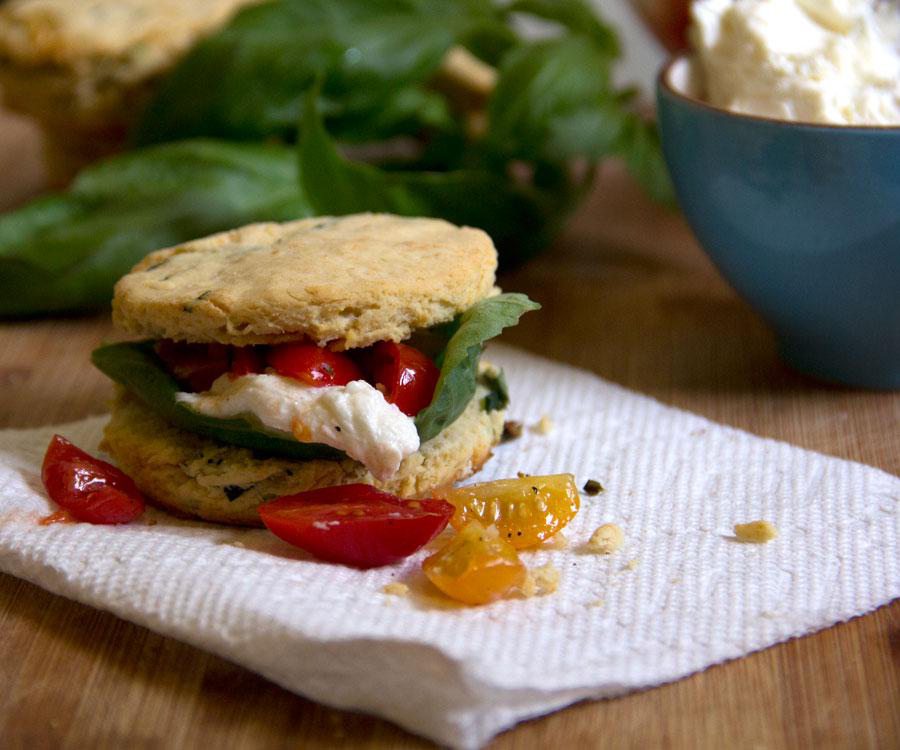 Turns out using expired heavy whipping cream in your biscuit recipe is not a good idea. Who knew! Not me. I'm the person who eagerly snags discarded groceries whenever fellow staffers clean out our office fridge. Barely-browned veggies, left over sliced lemons, forgotten bags of salad mix. I take it all.  So of course I don't even bat an eye when I'm cooking at home and realize that the heavy whipping cream expired last week. I shrug and forge ahead.
But this past weekend when I whipped up a batch of biscuits, that expired heavy whipping cream really ruined my day. What should have been fluffy, buttery biscuits came out of the oven with a slightly sour tang. The only saving grace was that I had made a half-batch of biscuits, so I tossed the spoiled cream and made a quick run to the grocery store. The round-two biscuits were much better, especially once I spooned on some whipped goat cheese, sliced cherry tomatoes and fresh basil.
If you start reading the biscuit recipe below and think it sounds familiar, that's because it is! I used the same recipe several years ago when I made biscuits and chocolate gravy. (I was lost in the middle of a chocolate craving and couldn't find my way out, so don't judge me.) The rest of this summery treat is all Deb Perelman and her Smitten Kitchen Cookbook.
If you follow Perelman's recipe, you'll be making scallion shortcakes instead of biscuits. The shortcakes are a little denser, but they do stand up nicely to the juicy tomatoes. I also skipped the scallions. My basil plant is exploding right now, so I've been trying to use up as much fresh basil as possible. If you're really adventurous, skip the tomatoes all together and spoon on some grilled peaches and a drizzle of balsamic vinegar. The options are pretty much endless.
Till next week, happy cooking!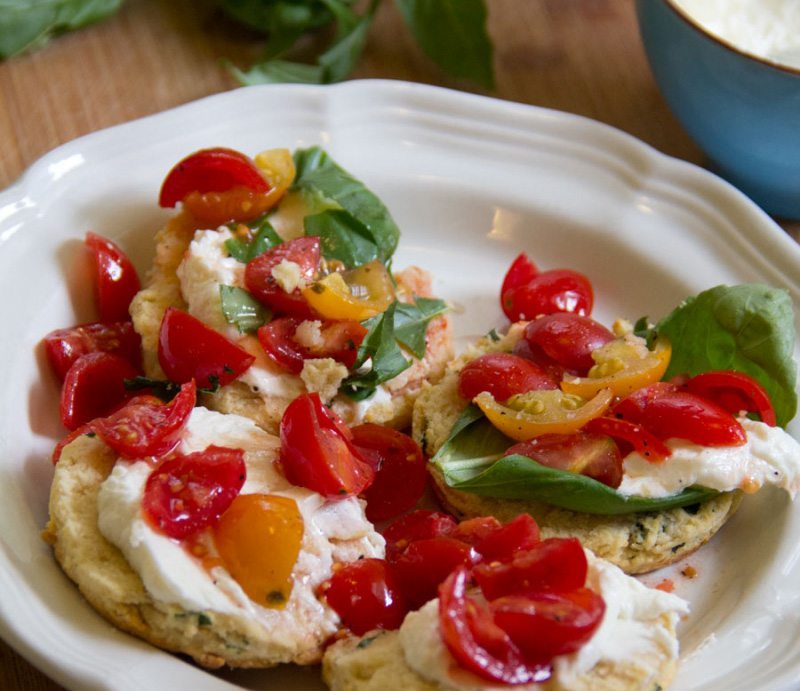 Goat Cheese and Tomato Biscuits


Adapted from Smitten Kitchen
Shopping List:
Cherry tomatoes
Goat cheese
Basil
Unsalted butter
(All available at MaMa Jean's Natural Market)
Ingredients:
2 cups of all-purpose flour
3 tablespoons sugar
1 tablespoon baking powder
¾ tablespoon salt
6 tablespoons cold unsalted butter, cut into chunks
1 cup buttermilk
1 tablespoons olive oil
1 1/2 tablespoons red wine vinegar
1/8 pinch of salt
Pinch of sugar
Freshly ground black pepper
2 cups cherry tomatoes, quartered
4 ounces goat cheese, softened
3 tablespoons heavy cream
Fresh basil for garnish


Directions:
1. Heat oven to 400°F.
2. Mix dry ingredients.
3. Cut the butter into the flour mixture using a food processor or a fork. The mixture is ready when it looks crumbly.
4. Add the buttermilk, and stir until the dough forms.
5. Place dough on a well-floured work surface, and knead into a ball.
6. Roll the dough out so it's about half an inch thick. Use a biscuit cutter that's two inches wide to cut the dough. (I don't have a biscuit cutter, so I always use the top of a wine glass.)
7. Place biscuits on a greased baking sheet, and cook for 15 to 18 minutes.
8. While the biscuits are cooking, prepare the tomatoes by whisking together the olive oil, red wine vinegar, salt, sugar and pepper. Stir in the sliced tomatoes, and chill in the fridge.
9. Whip the goat cheese and heavy cream, set aside.
10. To assemble the biscuits, slice them in half, and layer on the tomatoes, goat cheese and some torn basil.