Recipes
Vegan Pea and Mint Soup
Mint, peas, extra butter...what more could you ask for?
By Ettie Berneking
Jul 01 2015 at 11:33 a.m.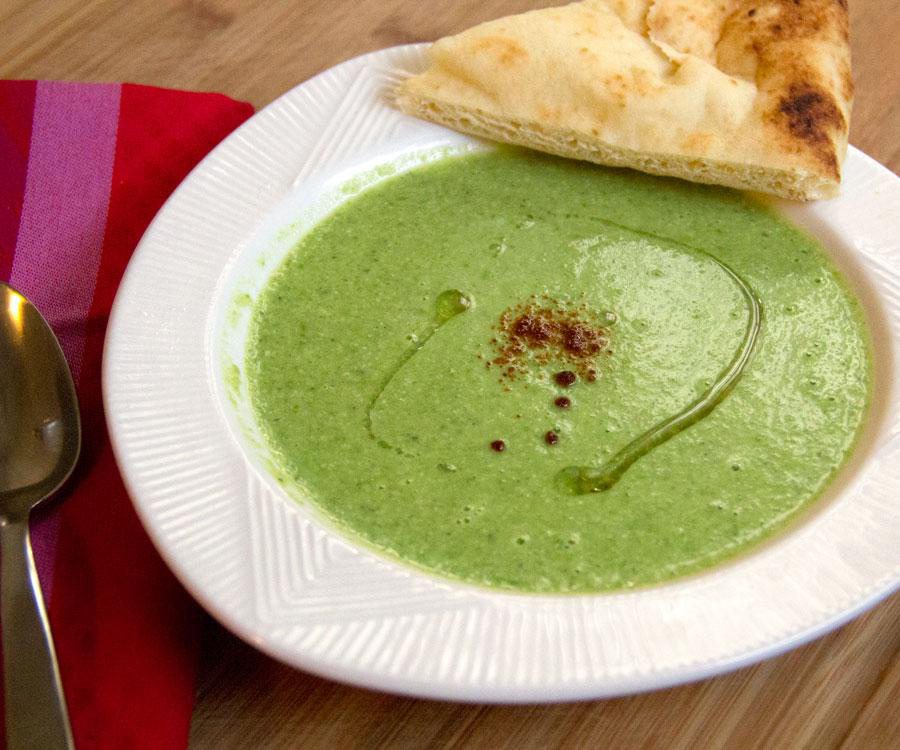 I know this dish isn't very festive for the upcoming 4th of July celebration, but it is delicious and summery. And for all you veggie lovers, I promise this soup will have you twirling around with sparklers long after the holiday weekend.
I read through several pea and mint soup recipes before coming up with this hodgepodge version. Several recipes I found called for chicken or vegetable stock, but I skipped the stock and used plenty of vegan butter, olive oil and mint to make up for any lost flavor. I also decided to add edamame to the mixture for some added protein. I was a little worried the toughness of the beans would mess up the texture, but it worked great. Now, if you don't like a chunky soup, you can always strain the swampy green mess through a sieve, but that was way too much work for me.
If you're wondering why in the world I would bother making a pea soup, well, let me tell you. Years back, I used to whip up a big batch of broccoli soup with spicy homemade olive oil croutons. After finally overdoing it on the broccoli, I decided I needed another vegetable soup perfect for summer. This recipe fits the bill. It's fresh; it tastes great cold or hot; it uses summer produce, and you can fiddle with the recipe to fit your tastes. Add more mint. Use a base. Use more butter. Add some spice. Do whatever you want!
So come up with some delicious twist to this recipe, and share it with all your other vegetable-loving friends. They will thank you.
Till next week, happy cooking!
Vegan Mint and Pea Soup
Makes 8 servings
Shopping List:
Sweet paprika
1 lemon
Sweet onions
Mint
Frozen peas
Frozen and shelled edamame
(All available at MaMa Jean's Natural Market)
Ingredients:
½ stick of salted butter
1 onion, sliced
2 cups frozen peas
2 cups edamame
6 cups water (adjust to reach the consistency you like)
1 handful of mint (most kinds will work but I wouldn't recommend spearmint)
Juice of 1 lemon
Salt and pepper to taste
1 teaspoon sweet paprika
Olive oil for garnish


Directions:
1. Heat the butter in a Dutch oven. Add the onions and sauté until the onions are tender.
2. Add the water, and bring to a boil.
3. Add in the peas and edamame. Cook until tender.
4. Stir in the mint, lemon juice, salt and pepper and paprika. Cook for another 3 to 5 minutes.
5. Use an immersion blender to puree the soup. You can strain it if you would like a thinner consistency.
6. Drizzle with olive oil, and enjoy.