Recipes
Kale and Prosciutto Salad
Salty, tart and full of fresh summer flavors, this simple salad is the perfect way to use that bounty of kale growing in your garden.
By Ettie Berneking
Mar 25 2015 at 5:09 a.m.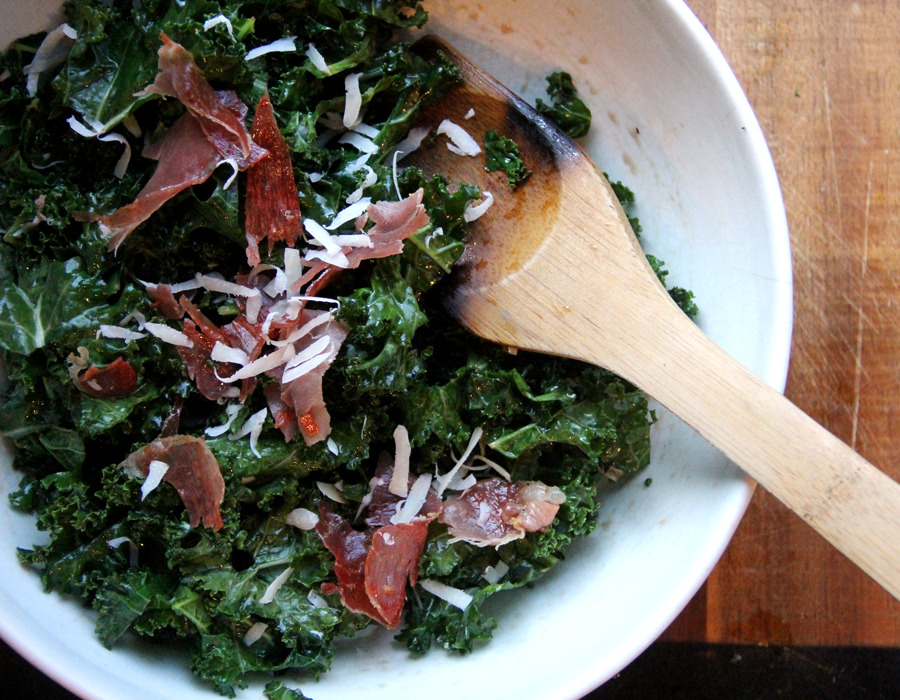 Last summer my small garden was overrun with kale. Within weeks of planting the four tiny kale plants I had brought home from the farmers' market, my garden was crowded with hearty green leaves that threatened to overtake the tomatoes and cast a shadow of destruction over the bell pepper plants. It was bedlam! But it was also delicious. I ate more kale than I could have ever imagined. I tossed it in soups, blended it up in smoothies, threw it on the grill with some olive oil and salt and made as many kale chip as possible. But no matter how much kale I devoured, there was more to be harvested.
Then my fabulous mom handed me a new cookbook dedicated to using up all that fresh garden produce. Jeanne Kelley's Kitchen Garden Cookbook saved me last summer. This book is filled with gardening tips from how to grow perfect strawberries and asparagus to making your own compost. And, of course, she has several delicious recipes that call for kale. My favorite was her recipe for kale and pancetta salad. It's simple and fresh, and the mixture of tart lemon juice and salty cured meat gives this dish a wonderfully complex flavor.
I made a few adjustments based on what I had in my kitchen, but the result was the same. So now as I plan out this year's garden, I will be armed with an arsenal of recipes to help me eat my way through all that kale.
Till next week, happy cooking!
Kale and Prosciutto Salad
Adapted from Jeanne Kelley's Kitchen Garden Cookbook
Shopping List:
1 Lemon
1 bunch of kale
Garlic
Parmesan cheese
(All available at MaMa Jean's Natural Market)
Ingredients:
2 tablespoons olive oil
1 tablespoon balsamic vinegar
1 tablespoon fresh lemon juice
1 garlic clove, minced
¼ teaspoon kosher salt
1 bunch kale
3 slices prosciutto
Parmesan cheese, grated for garnish
Ground black pepper to taste
Directions:
1. In a large bowl, whisk together the olive oil, balsamic vinegar, lemon juice, garlic and salt. Tear the kale leaves away from the rib, and coarsely chop. Toss the kale in the olive oil mixture, and chill in the fridge until the kale is tender and slightly wilted (about 4 hours).
2. When the kale is tender, sear the prosciutto in a skillet over high heat till it starts to crisp up. Cut into chunks, and sprinkle over the kale salad.
3. Garnish with grated Parmesan cheese and a sprinkle of black pepper.