Recipes
Sweet Potato and Andouille Hash
This is the perfect dish to enjoy when those spring showers keep you holed up inside. It's warm and savory and just plane delicious.
By Ettie Berneking
Mar 18 2015 at 6:52 a.m.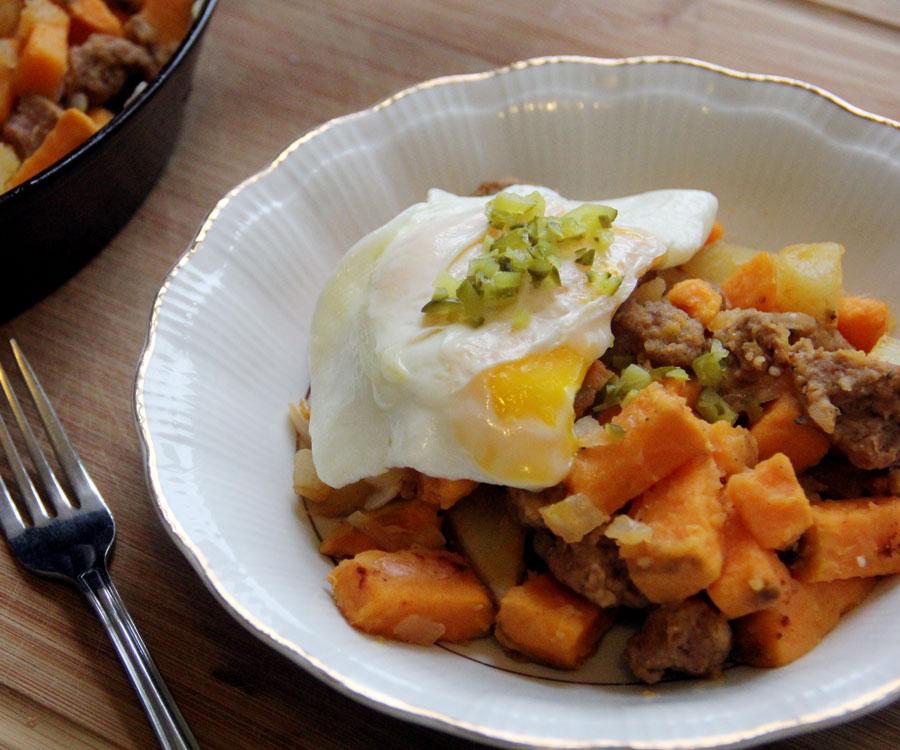 This recipe came from a desperate attempt to use up all the leftover potatoes and onions I had after Saint Patrick's Day. I love corned beef and hash and bowls of cabbage and onions, but there are always way more leftovers than I expect. This dish is an easy and tasty way to clear your kitchen of any leftover spuds. And if, like me, you're a big fan of corned beef and hash, you will be happy to learn that this recipe is pretty similar. But instead of that briny corned beef, I used andouille sausage and some minced pickles to get that tangy flavor I love so much.
I know it sounds weird, but trust me—it's delicious!
This is the perfect dish to enjoy when those spring showers keep you holed up inside. It's warm and savory, and the spices can be easily changed depending on your taste. If you don't like paprika, you can stick with salt, pepper and a pinch of thyme. And if you don't have Yukon golds, just dump in any potatoes you have on hand. Get creative. I skipped the pickles the second time around and added crumbled bacon instead. I even enjoyed a portion served over cornbread and drizzled with some warm maple syrup.
So go crazy, and add whatever you're craving.
Till next week, happy cooking!
Sweet Potato and Andouille Hash
Yields 6 servings
Ingredients:
3 Yukon gold potatoes, peeled and diced
1 sweet potato, peeled and diced
1 tablespoon unsalted butter
1 onion, diced
2 andouille sausages
¼ teaspoon paprika
Salt and pepper to taste
Eggs
Pickles, minced
(All available at MaMa Jean's Natural Market)
Directions:
1. Fill a large pot with water, and add a pinch of salt. Bring the water to a boil, and add the diced potatoes. Cook for about 10 minutes or until the potatoes are just tender. Drain, and set aside.
2. In a large skillet, melt butter over medium heat. Sauté the onion for about 5 minutes.
3. While the onions are cooking, remove the andouille sausage casings, and cut the sausage into bite-size pieces.  Add to the skillet, and cook until the sausage is no longer pink.
4. Dump the potatoes, paprika and a pinch of salt on top of the sausage and onion mixture, and cook for another 5 minutes. Smash the mixture down with a spatula, and stir if needed.
5. Once the sausage is cooked through, portion out the hash, and top with an over-easy egg.
6. Garnish the egg with salt, pepper and a sprinkle of minced pickles.