Life
Go Floating in Eureka Springs
Audience Development Intern Corin Cesaric took a trip to Eureka Springs, AR for a weekend getaway and floated the afternoon away on an inflatable stand-up.
By Corin Cesaric
Jul 01 2019 at 8 a.m.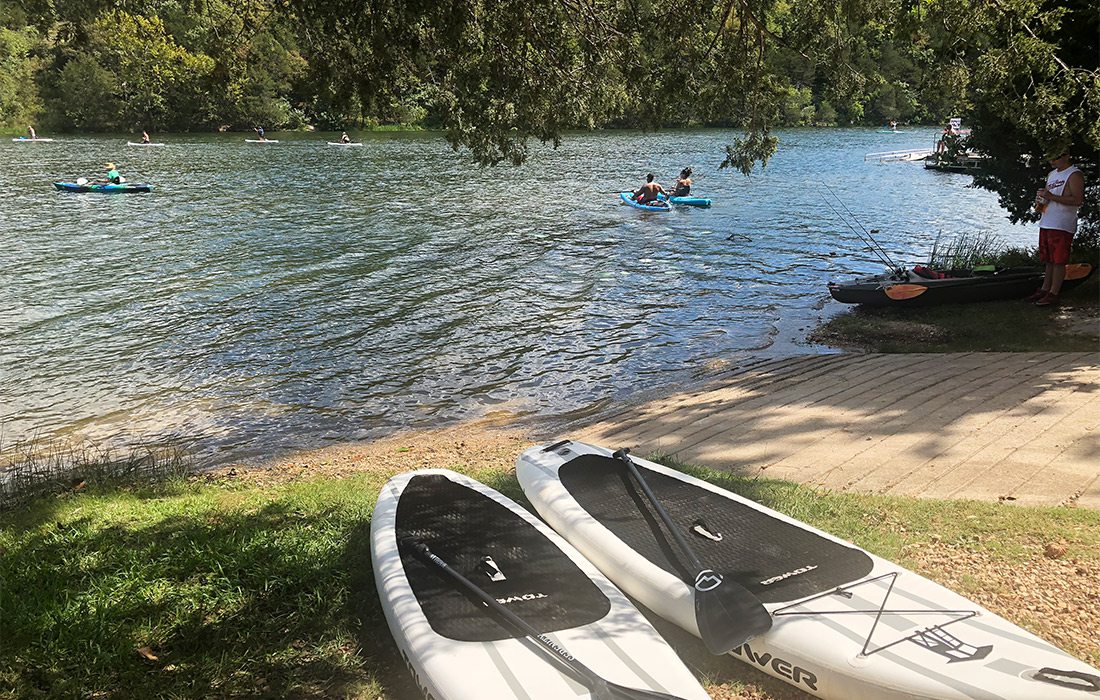 Sunny skies, good company and lots of sunscreen always make for a perfect outdoor day. And at the start of last September, it was still warm enough to spend time on the water, so I made the scenic trip from Springfield to Eureka Springs to see what Float Eureka (216 W Van Buren, Eureka Springs, AR, 479-981-2689) was all about and give stand-up paddleboarding a try. After a couple hours of driving, my friend Jordain and I arrived at the shop, which was conveniently located next to our home for the weekend—The Wanderoo Lodge. 
Rachel Spencer and her fiancé Max Deitchler opened Float Eureka in April 2018. "Both my fiancé and I are passionate floaters," Spencer says. If you love being on the water like me, then this is a great place to visit. The small business is packed with stand-up paddleboards, kayaks and canoes available for rent, and the staff walks you through how to use each one if you're a first-timer.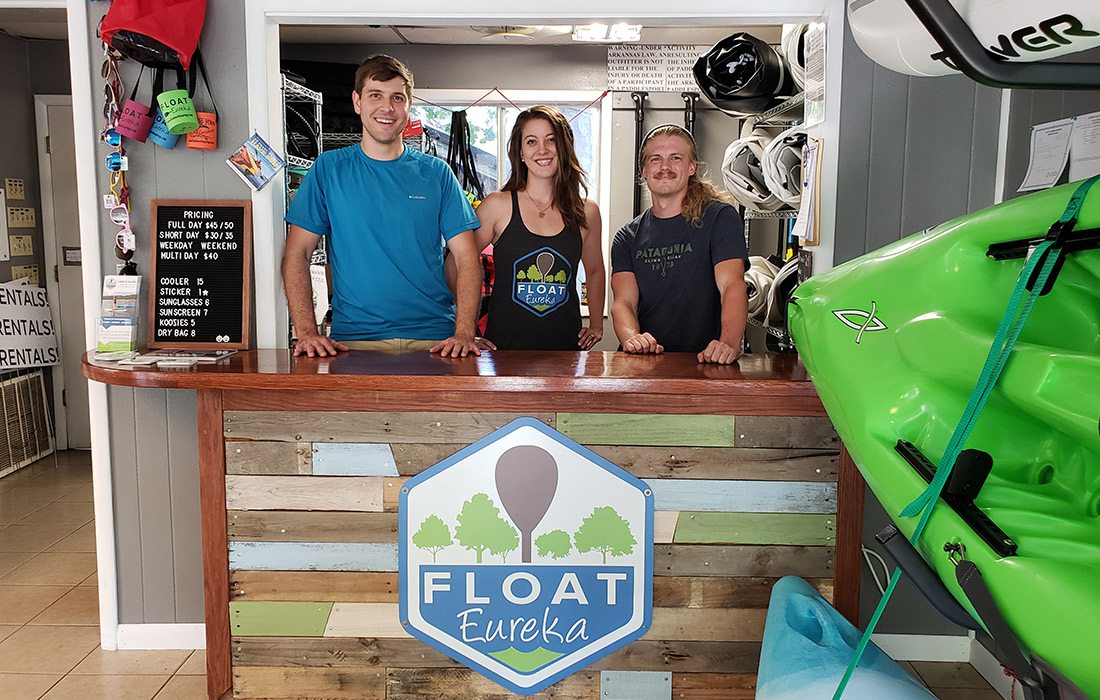 "This is a passion we turned into a business."
— Rachel Spencer, co-owner of Float Eureka
Getting to Float Eureka
We arrived in Eureka Springs around noon. The drive is beautiful, with hills and rock formations along the way. But if you're prone to car sickness, I suggest taking some motion sickness medicine or making sure you're in the driver's seat.

Once we arrived at Float Eureka, Adventure Specialist Patrick Schreffler assured us the standup paddleboards would fit in my tiny two-door Honda Civic. Turns out the shop has inflatable paddleboards, which means they can deflate and roll up compactly. Convenient! He walked us through the inflating process, which seemed easy enough to remember. Then he helped us choose our paddling spot for the day, and we were off.
There are a ton of water options in the area. Some are just five minutes outside of town and others take a bit longer to reach, but each spot has something different to offer floaters.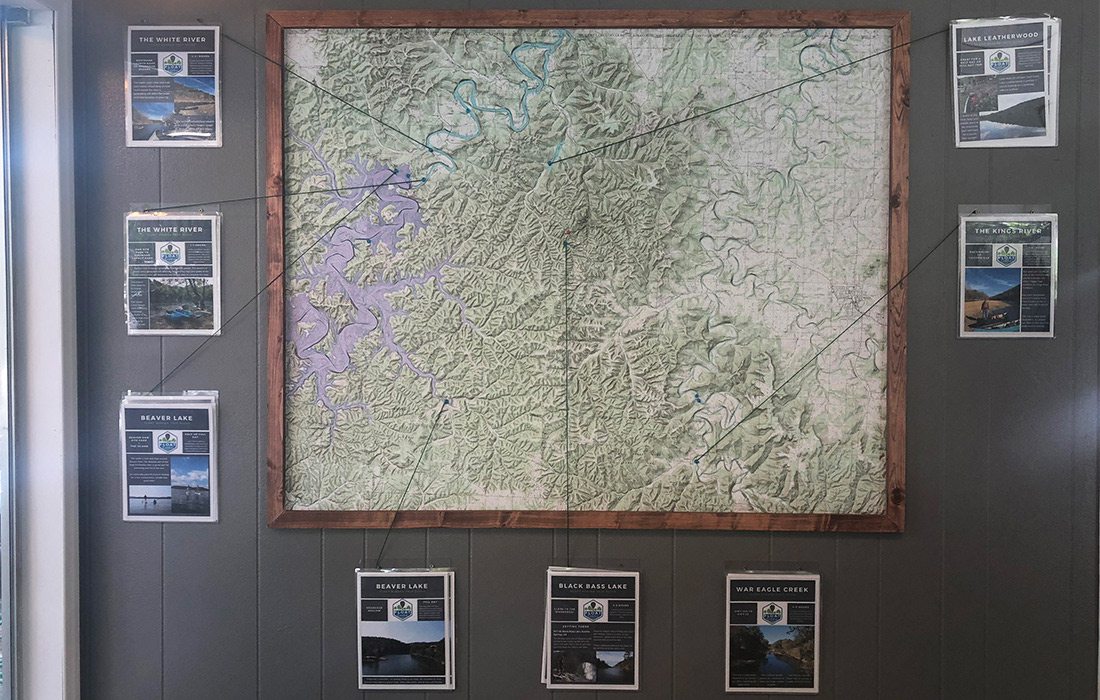 To test our paddleboarding skills, we decided to head out to Lake Leatherwood. We landed on that destination in part because it was super-close but also because Schreffler told us there weren't any motorized boats in the area. Avoiding waves and wakes seemed ideal for us paddleboard novices. With our deflated paddleboards and paddles and all of our gear easily packed into my car, we hopped in and headed down the road. 
Setting Up the Paddleboard
It only took about five minutes to get to Lake Leatherwood from Float Eureka, and Shreffler gave us a laminated trip guide in case we had any issues. It was an easy drive, and we ended up conveniently parking right by the water and a boat dock.

We rolled out the deflated boards and used an electric pump provided by Float Eureka to air up our boards to 13 PSI. After attaching the fin and the pin underneath the paddleboards (key components to not sinking and steering), we were ready to get on the water. In total, it only took 15 minutes to set up the inflatable boards, and it was 100 percent worth it since choosing the inflatable option meant they could fit in my car. I doused myself in sunscreen and hit the water with my board.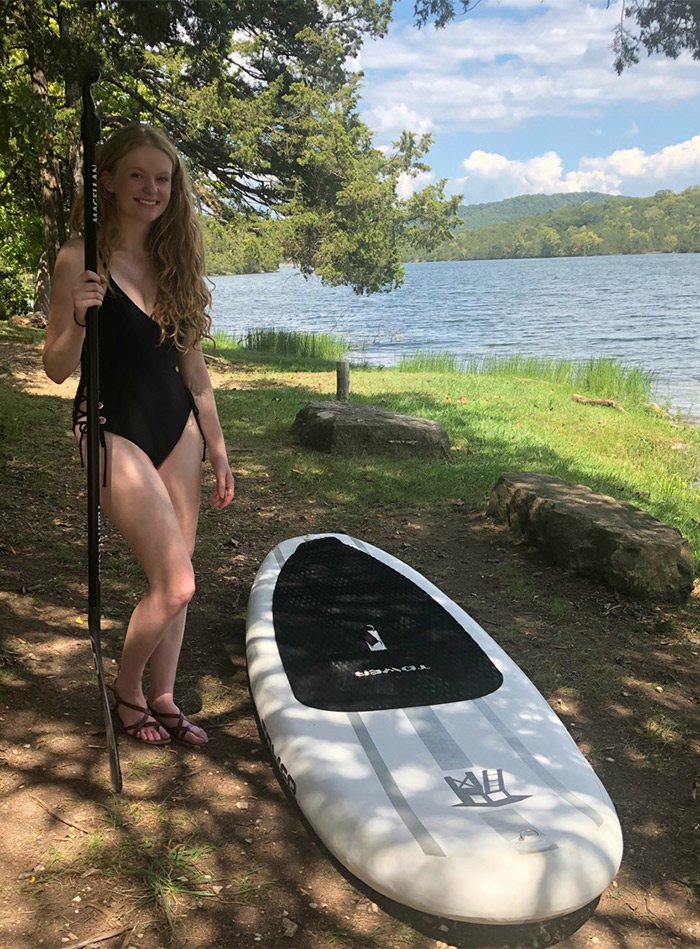 Photo by Corin Cesaric
Audience Development Intern Corin Cesaric takes her paddleboard to the water after inflating it.
Purchase Photo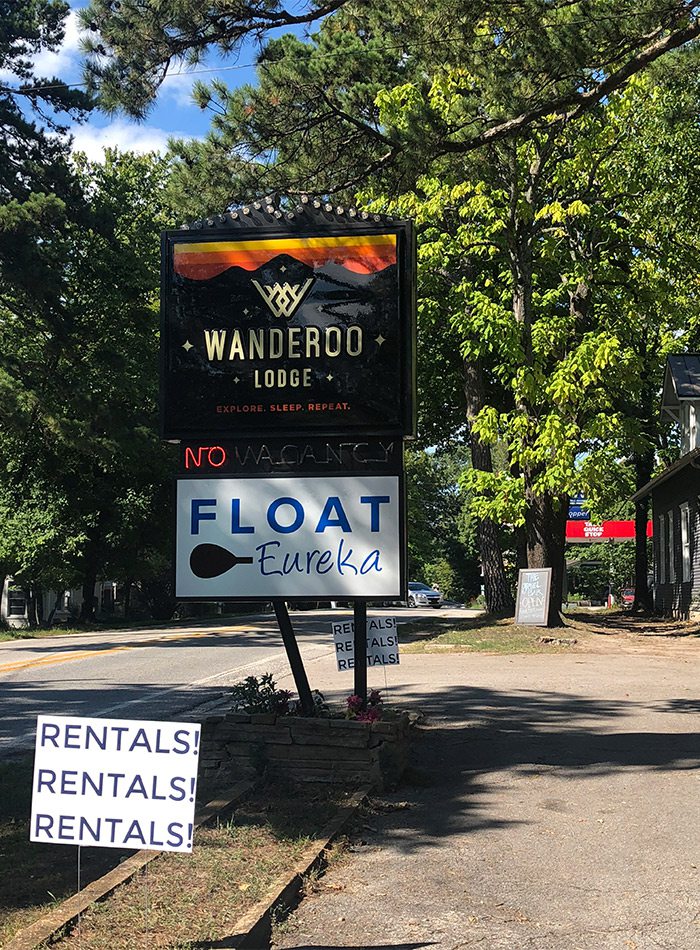 Photo by Corin Cesaric
Wanderoo Lodge is located directly across from Float Eureka, making it the perfect spot for a weekend getaway.
Purchase Photo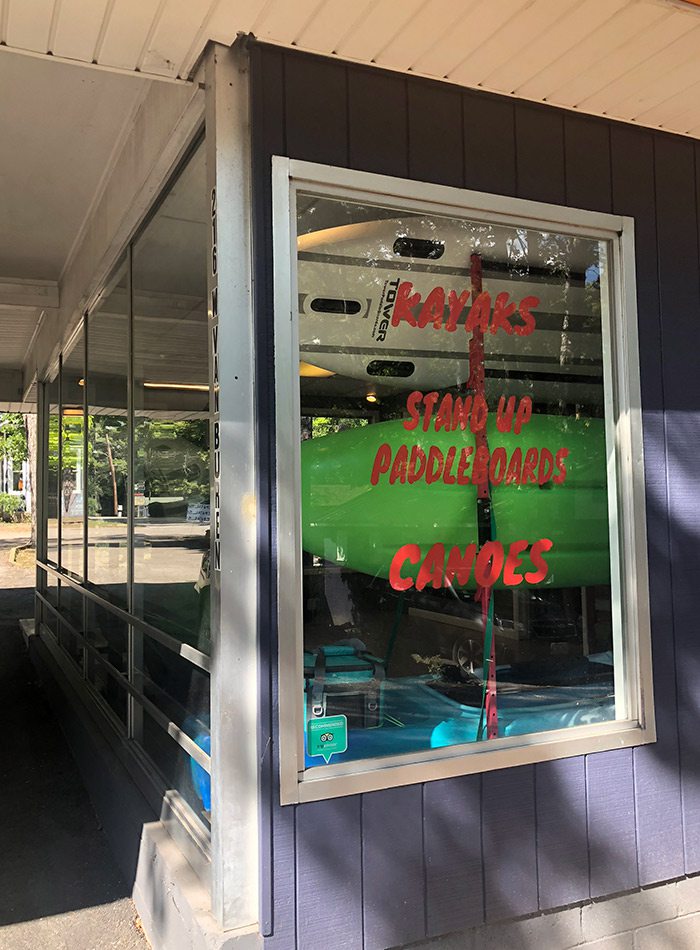 Photo by Corin Cesaric
If paddleboarding isn't what you're looking for, Float Eureka also offers kayaks and canoes.
Purchase Photo
Out On The Water
To get used to the board, I started out sitting on my knees and let the wind take me wherever it pleased. Unfortunately, it took me straight into a massive bunch of weeds floating in the water. With a little gusto, I decided to pick up the pace and paddle in the opposite direction. 
The weather was perfect, and the water was a great temperature, too. At one point, the breeze finally stopped, and I decided it was time to stand. Well, I mean, fall—a lot. It was my first time on a stand-up paddleboard. I felt confident enough to try standing, but I ended up losing my balance quickly, and I fell headfirst into the water. I held onto my paddle like it was my only lifeline, even though I was wearing a life jacket. You can say I'm one for the dramatics. I swam back to the board to try again.
"I'm up! I'm up! Look at me, Jo-… nevermind."
No surprise here, but I fell again. Only this time I fell backward. Compared to reentering a kayak or canoe, getting back on the board is pretty easy. After a lot of trial and error, I stood again, and this time I stayed standing! We paddled around for a while, then sat on the boards to take a breather and snap some pictures with the disposable waterproof camera we brought. I could have stayed on the water forever, but it soon came time to head back to Float Eureka. Turns out deflating the boards was easier than inflating them, and we were out of there in 10 minutes. 
We pulled in, and Schreffler helped us haul our gear back inside. Jordain and I walked across the grassy yard and, just like that, we were in our room at The Wanderoo Lodge. At that point, it was time for a cold shower and a nap in our comfy king size bed before we hit the town.
What to Do in Eureka Springs
Eureka Springs is full of cozy restaurants and bars that make for the perfect weekend getaway. Thanks to some of Spencer's suggestions, we ended up at the popular Italian restaurant Ermilio's for dinner after walking up a steep hill. If you didn't know: Eureka Springs is extremely hilly. The wait was more than an hour, but the food was worth it, and we passed time drinking and playing games in the bar upstairs.  
After we trekked back down the hill, we ended up at Chelsea's Corner Cafe & Bar where a brass band was playing, and the locals were dancing the night away. This bar has a ton of character, which we loved.
In the morning, we made one last stop at Oscar's Cafe for some breakfast sandwiches and coffee. Like a lot of cafes in Eureka Springs, this one is in a house, which adds to the homey feel. After walking around the town for a little bit longer, it was time to make the short trip back to Springfield. Our weekend getaway had come to an end a little too quickly. 
Floating Tips From an Amateur
Don't be afraid to fall in. Once I accepted the fact that I was going to fall, I did better because I wasn't as nervous.
Bring sunscreen. All that time in the water means you're going to need to apply and reapply!
Stash your stuff. Think about what to do with your keys beforehand. If you drop them in the water, they're probably gone forever.
Inflate your board fully. Make sure you put enough air in your board or standing up will be close to impossible.
Start slow. Paddle for a little while on your knees. When you feel confident, try to slowly stand up with feet equally spaced apart.
Act quickly. If you drop your paddle, pick it up right away. They float, but not forever.
Enjoy the float. Bring along a waterproof speaker and waterproof camera if you can. The lake is quite picturesque.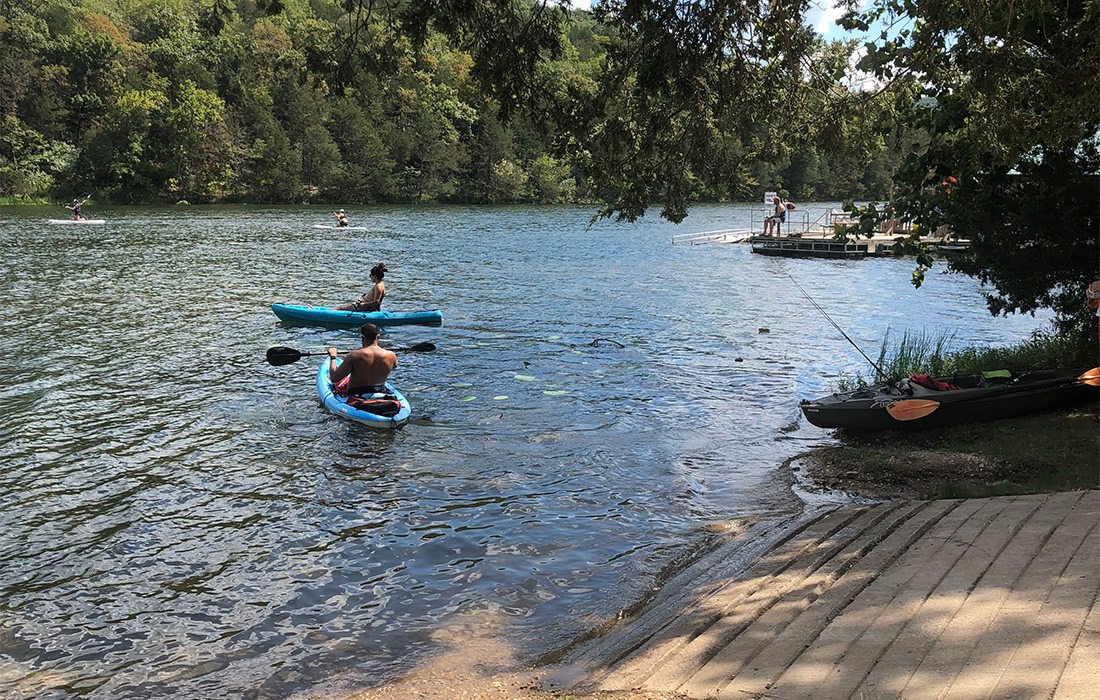 Try Stand-up Paddleboarding
Full Day: more than 3 hours. Boats must be back by 5 p.m. on weekdays and 6 p.m. on weekends.
Kayak/Stand up Paddleboard: $30, weekday short day; $45, weekday full day; $35, weekend short day; $50, weekend full day; $40 multi-day rental
Canoe: $35, weekday short day; $45, weekday full day; $40, weekend short day; $50, weekend full day; $40 multi-day rental
If you want to rent a paddleboard, canoe or kayak at Float Eureka, make a reservation here.