Reviews
Hot Chicken Hits the New Social on Patton
CB Social has rebranded and every Monday, they're whippin' up experimental dishes. If you like it, you might see it again.
By Evan Greenberg
Feb 13 2018 at 10:01 a.m.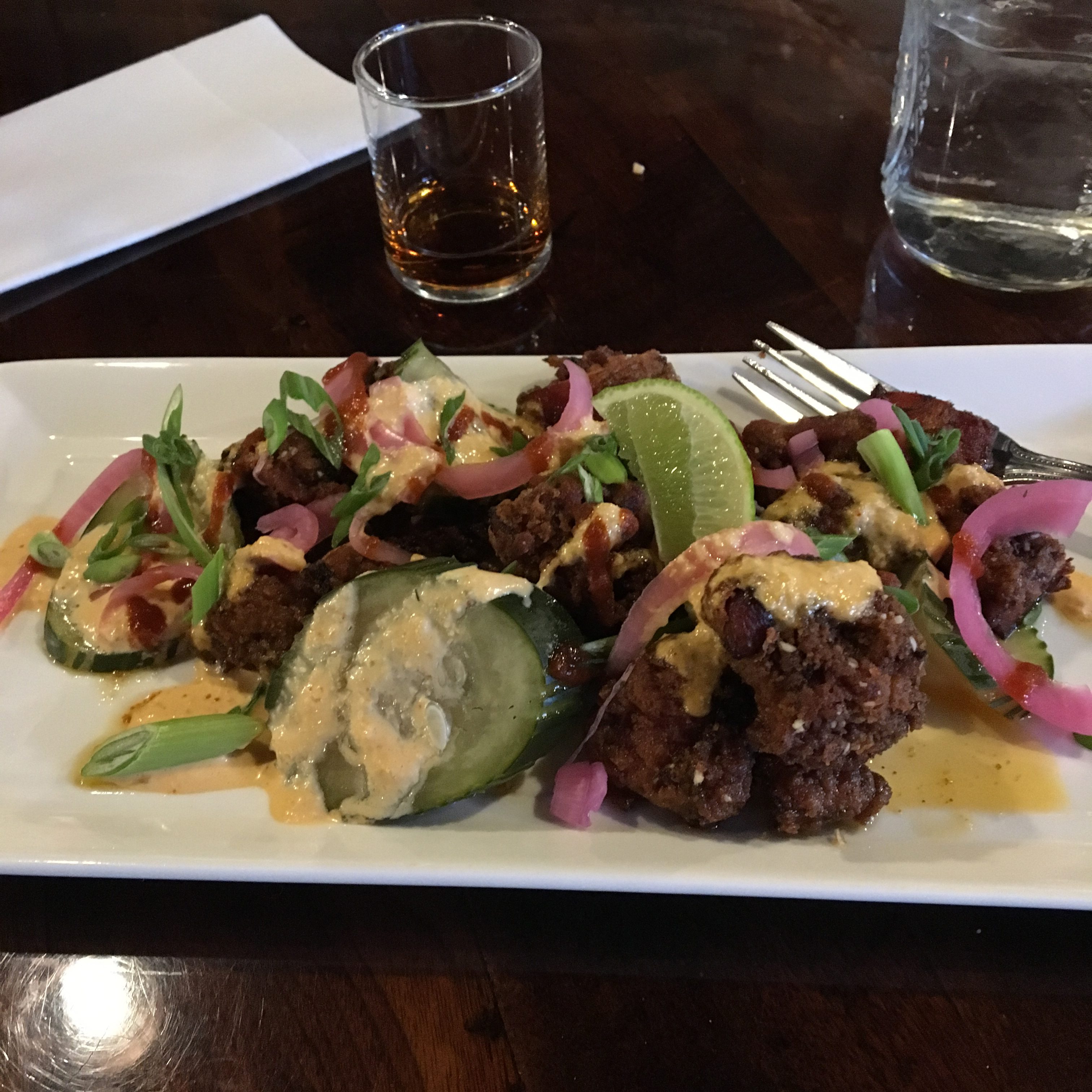 CB Social House is now Social on Patton. The downtown spot has undergone a rebranding—same chef, same amiable bartenders, but an updated menu and focus.
For the foreseeable future, each Monday, Social is hosting R&D nights. It's a term that usually brings to mind robots or the scientific method. But here, Chef Daniel Stern experiments with food to see whether it passes muster to make it on the menu. The prices change from week to week, but one thing remains concrete: if you like it, you might see it again. I see no better form of democracy.
Monday, I went to the first such iteration of these test kitchens. If it's an indicator of what's to come, Social is going to be a bigger hit than it already is. 
The menu had three dishes and three cocktail options. I started out with a Lemon Shrub Continental, and it was extremely satisfying. To me, the mark of a good cocktail is one that makes you forget you're drinking alcohol—you're just having a good drink. This definitely falls in that category. Made with Cocchi Bianco— an aperitif wine, lemon shrub and Campari, the drink has Italy to thank for its influence. I was there to sip, but I could've had a few. 
First up, I ordered a blue cheese flatbread with tomato, tasso ham, caramelized onions and oregano. It feels strange to say this about a flatbread, but each ingredient felt collaborative. The ham had just the right amount of kick, and even then, the bread acted as a relaxer. It was crunchy and delicate, like a carefully tended-to cracker. The tomatoes were ripe and rich, and I would've eaten the whole thing if I weren't on a sampling mission. 
The second dish I tried was the Hot Chicken Karaage with pickles, kimchi mayo, green onion and pickled onion. Stern describes this to me as a blending of Korean food and the South. I can think of no better precursor. The skin and batter of the chicken had the texture of the best Asian-style chicken, and quite literally melted in my mouth. 
I have an issue with a lot of hot chicken—it's too spicy and it often seems like its only purpose is to overwhelm. I understand that this is a personal preference, but I don't like to attack my palate for the same reason I don't like scary movies. With that said, the Hot Chicken Karaage had the perfect amount of balance—enough to announce its presence, but not too much to have me immediately reaching for a glass of water. 
The kimchi mayo was drizzled and proportionately spread, and was a great added flavor to the chicken. Above all else, this is fantastic fried chicken, and I wouldn't be surprised to see it on the menu in the future. 
Again, this is just the first of these R&D ventures—I highly recommend attending one in the future as Social enters its next phase. How often can you go to a mad scientist's lab and drink the potion right as it's made? That's what these trial runs are, and as the saying goes, if you don't vote, you won't have a say in the outcome.
See Social on Patton's full menu here.