Spaces
Get Some Inspo from the New St. Jude Dream Home
Take peek inside the new St. Jude Dream Home and see what you're doing wrong when building your own home.
by Ettie Berneking
May 01 2022 at 8 a.m.
We're always excited to see the latest St. Jude Dream Home Giveaway, and this year is no exception. Builder Brad King of King Built Artisan Homes and Charity Scott from Refine Studios have teamed up to create this year's 3,500-square-foot home. The four bedroom Tudor has been given a modern look, and even the lot layout is far from traditional. Tickets to win this year's Dream Home are on sale for $100 until they sell out, and since Scott and King are still busy wrapping up the home, we caught up with them to talk about seven key design and layout features most homeowners don't think about—but totally should.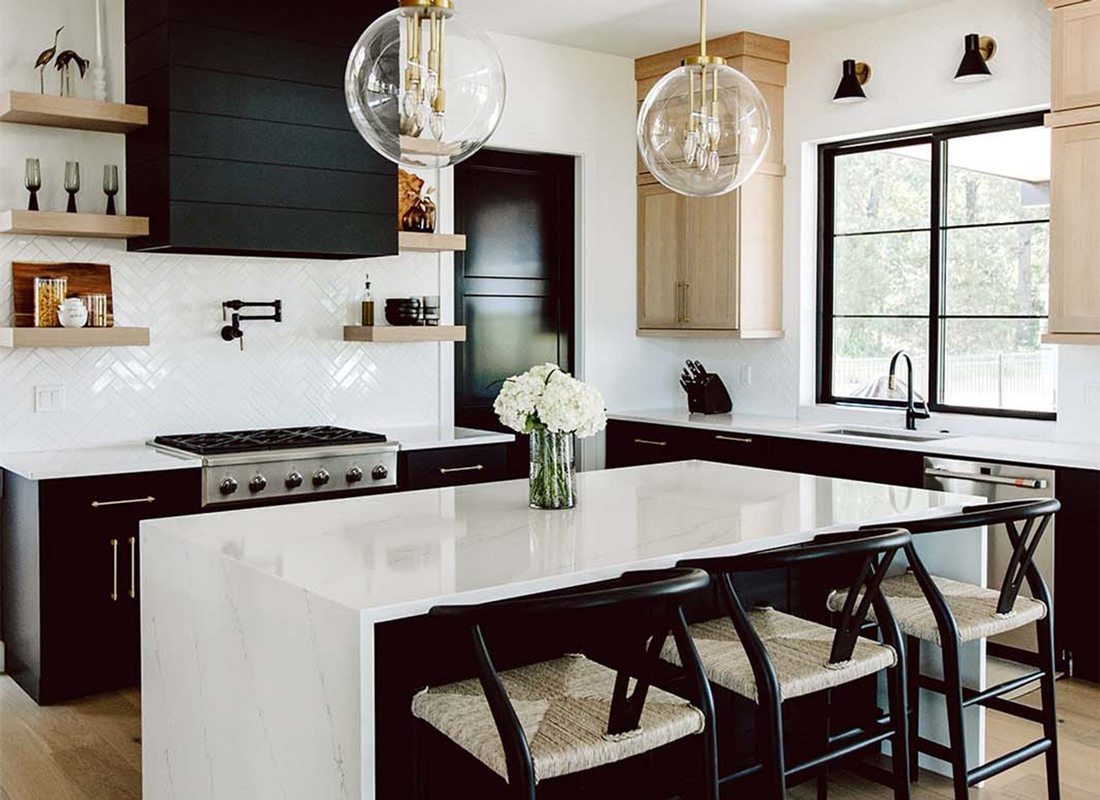 1. Bring Your Designer into the Mix When Working on Your Floor Plan
If you think an interior designer is one of those pros who you bring in toward the tail end of building your home, think again. "This is so important," Scott says. "Most people aren't thinking about their furnishings when they're designing their floorplan, but they should be." Your designer can help ensure that your bedroom floor plan includes plenty of space for your king-sized bed and the two nightstands you already have. They can also ensure your kitchen layout has all that dream storage you've talked about. Even as a builder, King agrees. "It is so important to have a team effort," he says. "As a builder, I'm thinking about how to actually build your house, but your designer is thinking about how all your furniture will fit and how the lifestyle you've said you want will come to life in this home."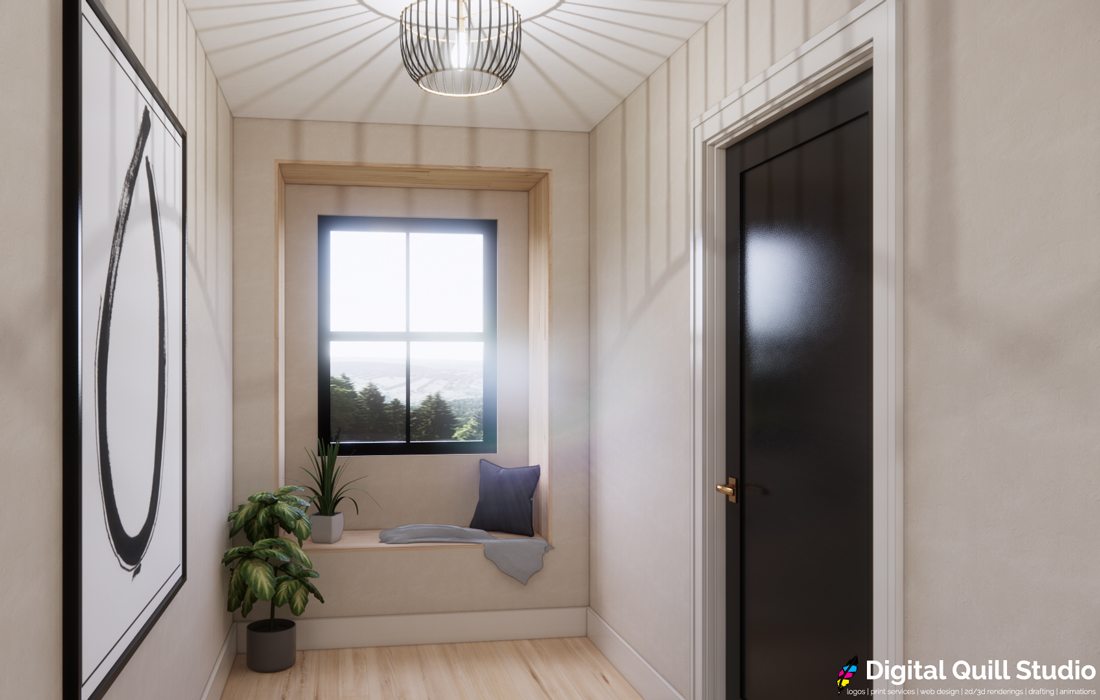 2. Add Detailing. Even In Places You Don't Usually Think About
To make your home really feel like it's been designed by a pro, add details to unexpected places. For example, at the St. Jude Dream Home, Scott added a window nook at the end of a hallway. "It creates interest, in a place that's usually forgotten," she says. To frame in the nook, Scott and King wrapped the wood flooring around the window. They also added detailing on the large wall along the staircase. "We used molding to add detailing on this wall and frame in a space for future artwork," Scott says. "We wanted every blank space to feel intentional."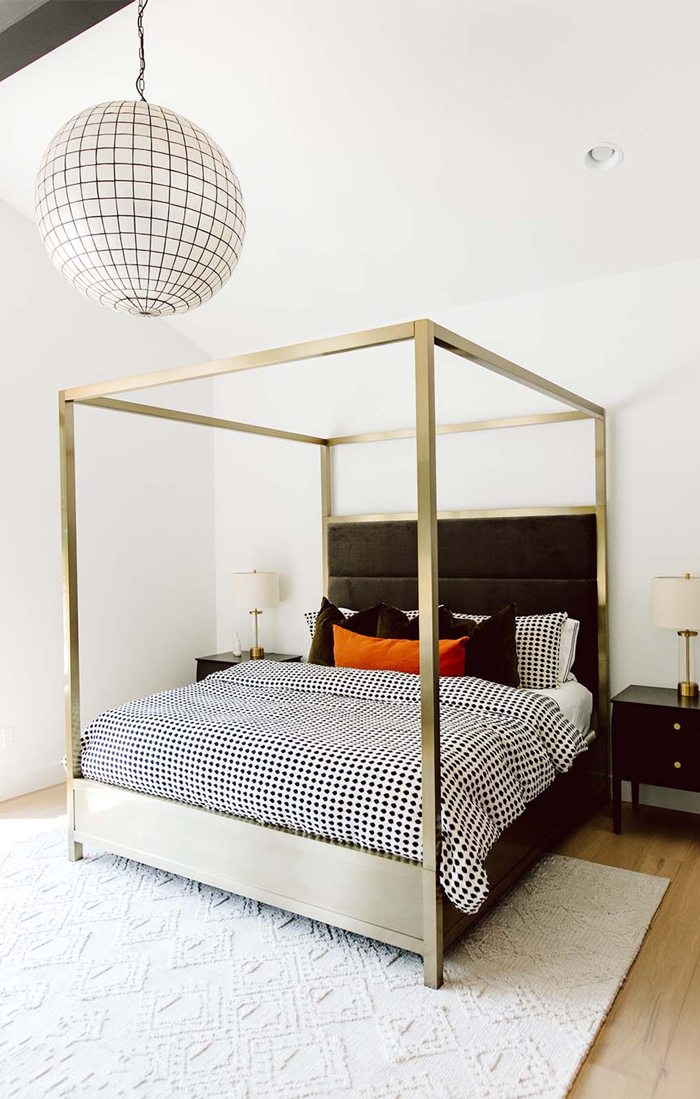 3. Do Not Skimp On Lighting
Lighting can be expensive, yes. But it's worth it, and you can also stretch that budget so you spend more money on fewer lights but you get a more dramatic look. "You can give any room a major focal point by adding over-sized lighting," Scott says. "The biggest mistake people make here is adding lighting that is just too small for the space." To stretch your budget, King says to add more can lights than you think you need and use the bulk of your budget on one or two custom lights that serve as focal points. Also be sure to look into lighting that lets you dim and change colors. "With technology today, you can really set the mood and atmosphere in your home just through lighting," King says.
4. Trust Your Builder To Think Outside the Box
Anyone can build a cookie-cutter home, but King says if you trust your builder, you should let them come back to you with one of their own designs. "We see all these front-facing, 3-car garage homes," he says. "One thing we take pride in is coming up with a different style." For instance, all the homes in the Valley Trail neighborhood, including the St. Jude Dream Home, are built with the garage at the back of the house. "This made the backyard smaller," King says, "but that was intentional. It makes the front yard much bigger and forces you to have a sense of community." Residents of Valley Trail now spend more out front and on their sidewalks. Most homes have even added rocking chairs to their front porches, and that, as King sees it, is proof that this style of community-forward design works.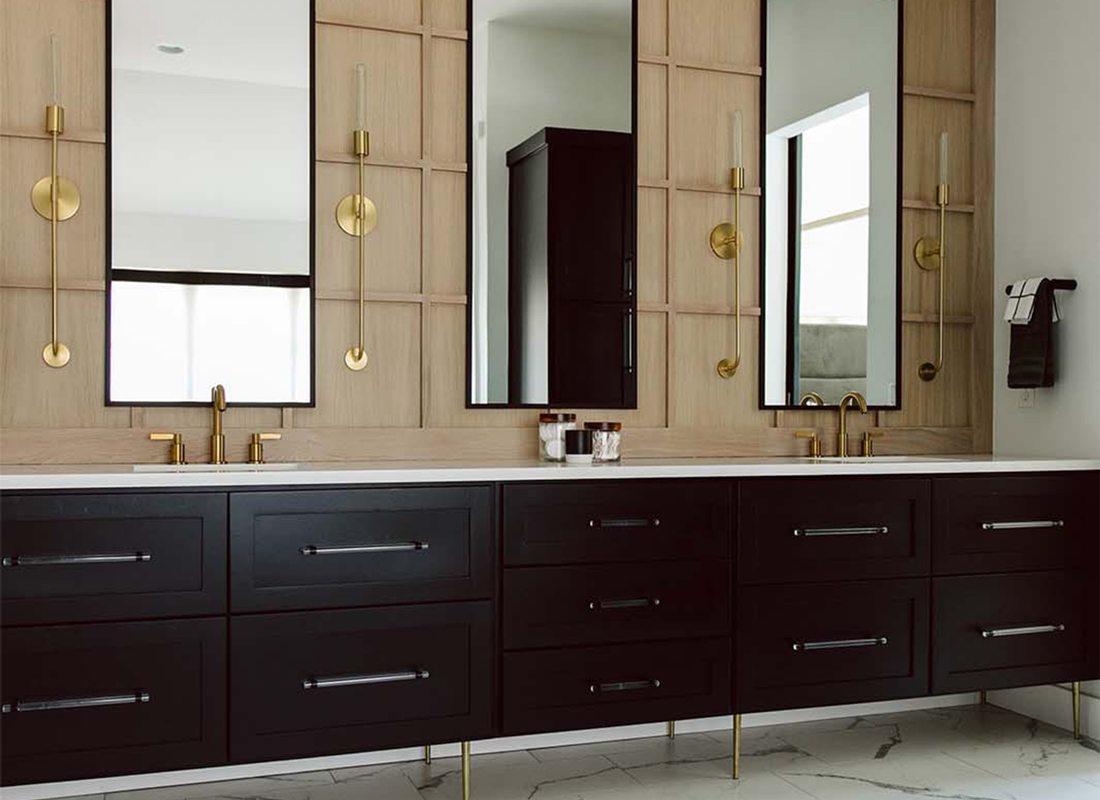 5. Come Up With Your Dream Square Footage and Then Decrease It
Homes these days seem to be getting bigger, and so does the cost of building. As a result, King and Scott agree that bigger isn't always better. "Most homeowners don't actually need all that square footage," King says. "They also don't realize how much each square foot costs." He warns that home owners who don't scale back are often surprised to find they have a much smaller budget for finishes and furnishings. "If you work with your builder and designer to map out your goals for the home and your storage needs, we can reduce the size of the home, stay in your budget and make sure you have money for your dream finishes," he says.
6. Fall In Love With Your Laundry Room
Secondary spaces in any home are not usually the ones that are exciting to design. Scott says this is a missed opportunity. "Your pantry and mudroom and laundry room are the spaces you really live in and use every day," she says. "Spending time and money to design those spaces will make those small tasks more enjoyable." It's also a chance to add storage that you'll appreciate later. For instance, Scott and King added seating to the home's mudroom by adding a bench. They then wrapped that bench in the room's floor tile to finish the look.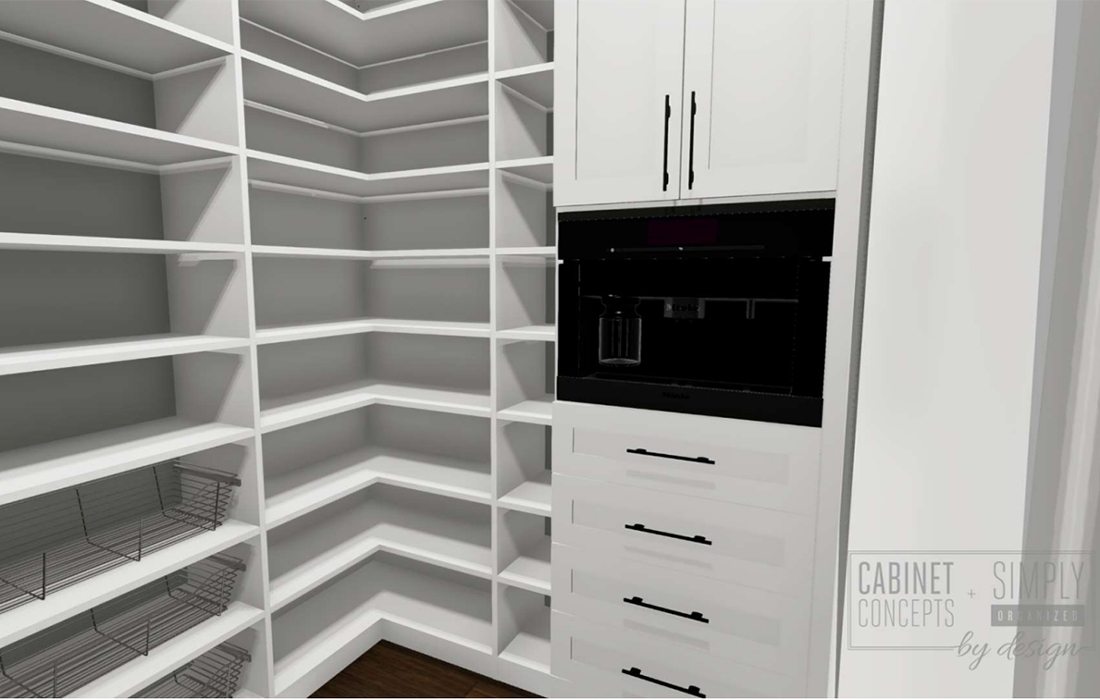 7. Take Inventory of Your Storage Needs
This goes well beyond listing out needs such as coat closet, walk-in closet in master bedroom and linen closet. "This is where you take stock of each room and list out what is used each day, what should be on display, and what gets used only a few times each year," Scott says. "Share this info with your builder and designer, and they will make sure you have all the storage you actually need, including hidden storage for those items not used very often." All the closets and pantry storage at the St. Jude Dream Home were designed and built by Cabinet Concepts By Design.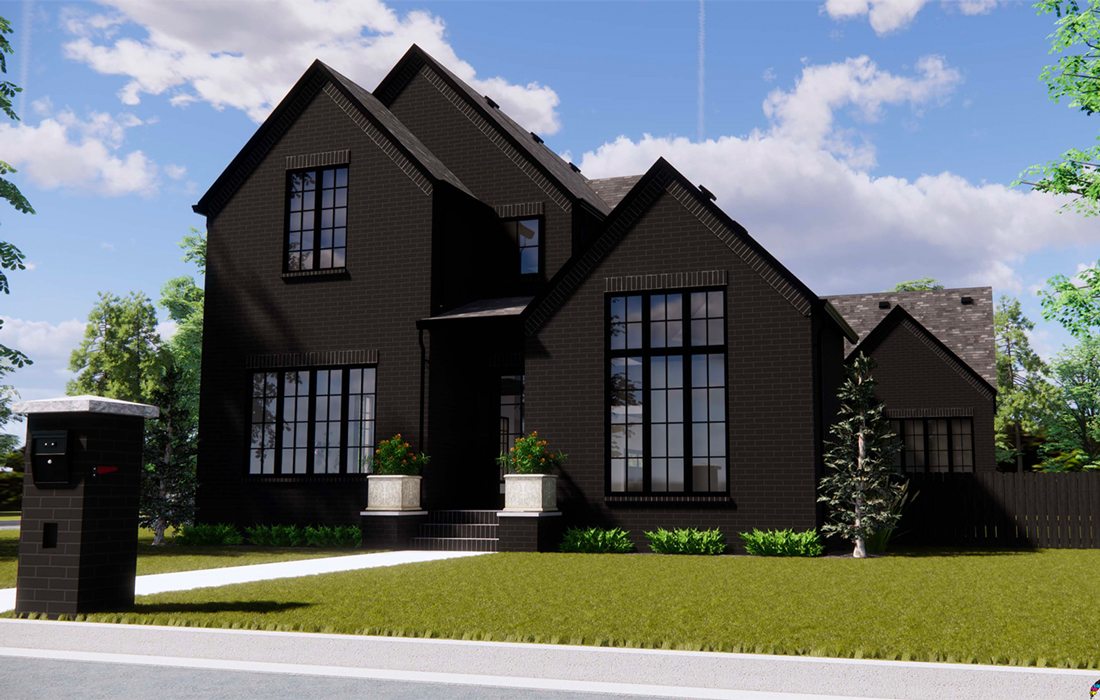 8. White is Out. It's Time to Embrace Color
Color is back big time, which King and Scott are thrilled about. Scott already works with clients to incorporate pops of color throughout their homes, so naturally she did the same thing with the St. Jude Dream Home. Even the exterior was given an updated color palette. "This is a more traditional style of home," she says, "but we gave it a more modern look by painting the all-brick exterior black." In fact, most of the homes in the Valley Trail neighborhood have a colorful facade. "These homeowners went with more bold colors," King says. "You'll see lots of navies, blacks and charcoal grays."
For more information on this year's St. Jude Dream Home Giveaway or to purchase a ticket go to dreamhome.org. The giveaway will be aired June 26 on KSPR/KY3. So tune in to see who wins the Dream Home and other prizes including a $2,500 Visa gift card courtesy of TWS Excavations, a 7-piece patio set and large Big Green Egg with a custom cooking island valued at more than $10,000, courtesy of Outdoor Home or a 2022 Acura ILX valued at $32,845 courtesy of Frank Leta Acura of Springfield.