Dishes
Jake's Burgers: Locally-Made Vegan Burgers
When Jake Herren couldn't find a meat-free burger to satisfy his cravings, he decided to make his own. You can buy them at Homegrown Food in Springfield.
By Vivian Wheeler
Jul 24 2018 at 11:49 a.m.
Jake Herren really loves cheeseburgers. In fact, he used to eat them almost every day. He ate them so often, it started to become a problem. "I was like, 'well I'm starting to hit my twenties,'" he says. "'I better slow down on this. This is too much. I'm going to balloon up."' So he quit eating meat. And that's when the dreams started. "I had dreams about cheeseburgers," he says. "I was having dreams for years that I was eating burgers, and I'd wake up feeling guilty." 

In order to ease his guilt and satisfy his burger cravings, Herren decided to create his own veggie burgers. The veggie burgers on the market didn't taste anything like a real burger, so he set out to make a product that would finally put his dreams to bed. Herren got to work tinkering with different ingredients and recipes until he created what he thought was a truly delicious burger. However it wasn't until his father—a man who refuses to eat a meal without meat—became a fan, that Herren knew he had something special on his hands. Jake's Burgers was born.

Herren has worked in the Springfield restaurant scene for almost two decades, and he is currently a server at Bambino's Cafe. These days, after his shift on the floor ends and the restaurant closes, Herren works late into the night making veggie burgers to keep up with the growing demand for his patties. After perfecting his recipe, Herren started to selling his burgers to friends. They would come to his house to buy the burgers, which started to seem inefficient, so he reached out to Homegrown Food, and the Rountree grocery store agreed to sell them. You can snag a frozen four-pack of burgers for $5.99. 

The pre-cooked vegan burgers are made of seitan, textured vegetable protein, spices and seasonings. For the best taste and texture, Herren suggests grilling them or heating them up in a pan with a little bit of oil. Whether you follow a plant-based diet or are just looking for a local, eco-friendly protein option, Jake's Burgers are sure to hit the spot. They're so good, you'll probably start dreaming about them.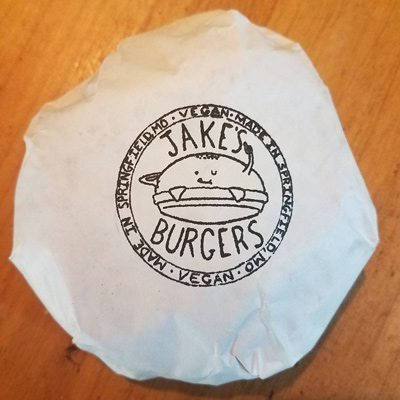 Available at
Homegrown Food
607 S. Pickwick Ave., Springfield
417-868-7004
Hours:
Monday–Thursday 9 a.m.–6 p.m.
Friday 9 a.m.–7 p.m.
Saturday 9 a.m.–5 p.m.
Closed Sunday