Music
Local artist creates cohesion between art, music
Brett Johnston
Aug 29 2016 at 3:40 p.m.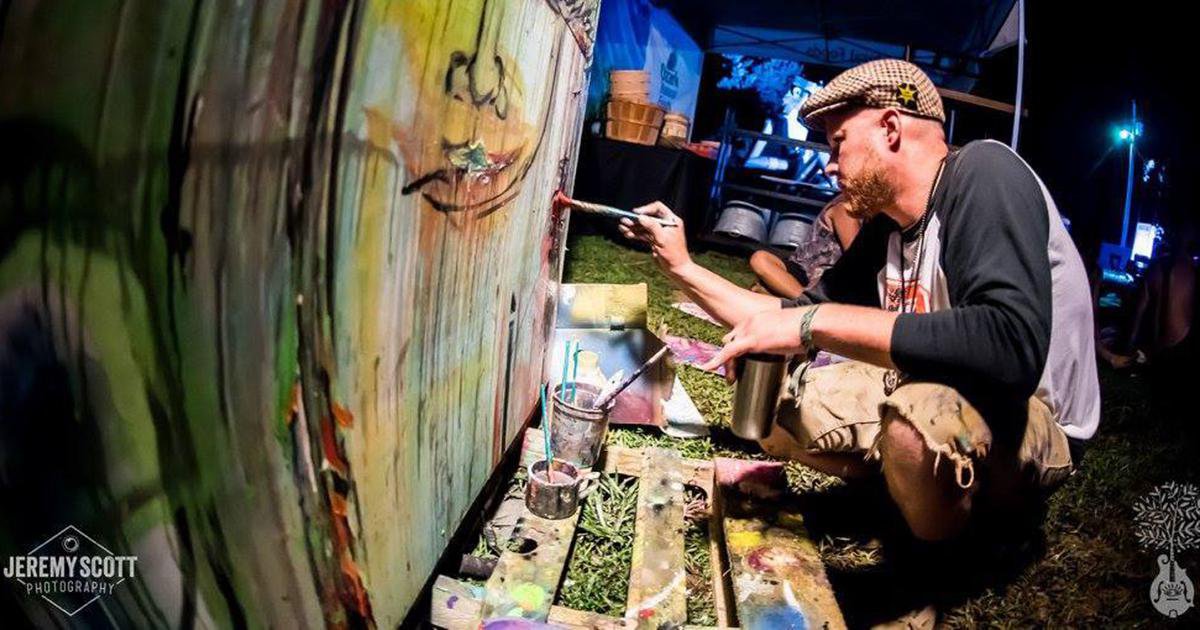 Nicholas Tarr is driven to create.
By day he creates art professionally—sign installations and sculptural pieces. In his downtime he creates art to round out the aesthetic experience of live music festivals.
Tarr says six years ago he attended his first music festival, Wakarusa at Mulberry Mountain near Ozark, Arkansas. He set up an easel and painted however the music and the people moved him.
"You can feel the flow between the people and the music," Tarr says. "I just paint and connect with the people, create something that I wouldn't otherwise."
The next year he was hired for a large art installation at Mulberry Mountain. In year three, he was the art director for Wakarusa, for which he coordinated and developed massive structures to transform forests into inviting spaces.  
The opportunity grew into others. He contributed live art or art direction to nine festivals in 2015 and was sent to Electric Forest in Rothbury, Michigan to get inspiration.
He recently returned from Baltimore for his first art direction of a premier electronic music festival, Moonrise.
Stylistically, Moonrise was a little outside of his tastes. He says he's grown to most appreciate camping festivals.
"I never thought I would be so into the bluegrass lifestyle," Tarr says with a laugh. "I love the bluegrass fests most because of the people who come out, and to be around the musicians roaming from campfire to campfire, jamming."
He says the art takes a different direction based on the music. Bluegrass, for example, is less aggressive in design.
"There's a little more homegrown kind of vibe—an organic feel," Tarr says.
Deadhead Productions, which executes three annual festivals at Mulberry Mountain (Hillberry, Highberry and Phunkberry) announced Tarr as Live Artist and Activity Director on August 24.
"It's exciting to be creating art and creating opportunities," Tarr says. "Having the experience and know-how to execute visions, but also being able to connect with people and bring the two worlds together from the production side and patron side."
The visibility of Tarr's work isn't exclusive to music festivals.
As Lead Design for Pinnacle Sign Group, his sculptures, signs and craftsmanship are embedded in Springfield's aesthetic. Locals experience his work with each drive past Miracle Field's baseball bat entrance on Blackman Road, Springfield History Museum's sign overlooking Park Central Square—a remake of the original—or the intramural fields at Missouri State University.
He hopes children will enjoy the giant trees and puppet show stage design at Itty Bitty City, which is opening on Battlefield in mid-September, for years to come; and he hopes that golfers will appreciate the sculpture work being developed for Twin Oaks Country Club.
Catch Tarr's moonlighting work next at Hillberry The Harvest Moon Festival, October 13 through 16 headlined musically by Railroad Earth, with performances also by Elephant Revival, Infamous Stringdusters and Ben Miller Band among others.
"I'm working more [by day] on the fabrication side," Tarr says. He adds that  the process, though creative, is planned and methodical. Painting live allows complete freedom.
"People talk to me while I'm painting, and I'll add a little piece of them to the work," Tarr says. He feels the aesthetic is necessary to create a cohesive experience along with the music. "I like to create that vibe—the pool of energy that everybody can get into," he says with a laugh. "I like building stuff, but damn, it's a lot of work."