Recipes
Make Your Own Kombucha Float
Get fizzy by popping a few scoops of Andy's Frozen Custard (or, make your own ice cream!) into a bubbly glass of Spring Branch Kombucha.
Claire Porter
Jun 11 2019 at 8:23 a.m.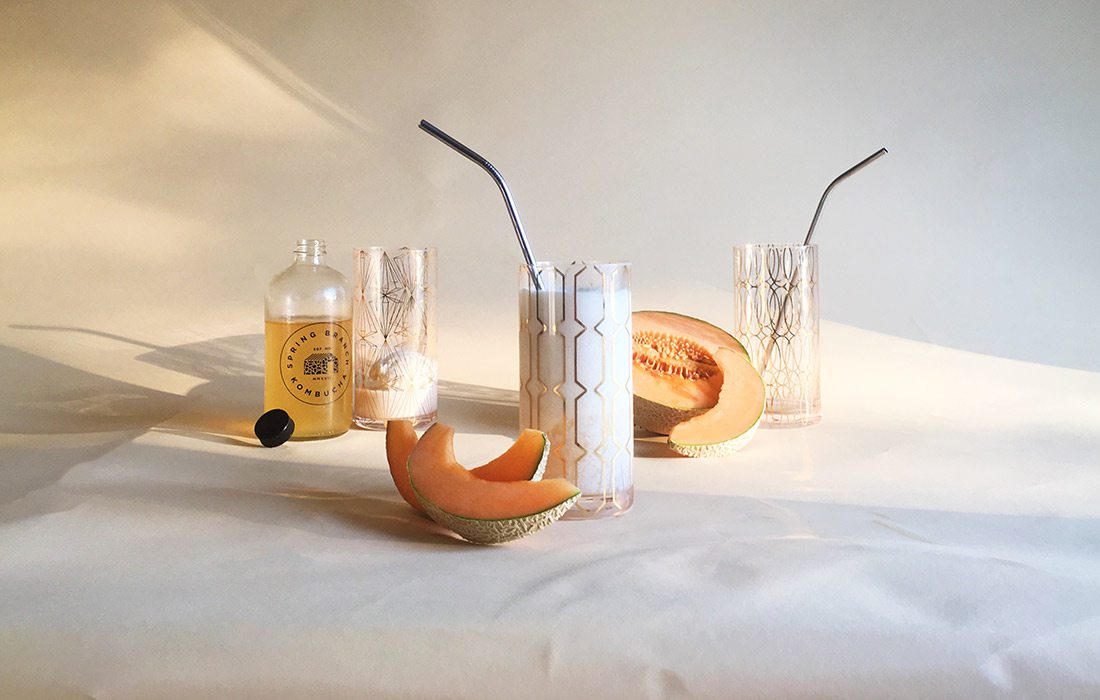 Summer is hot, hot, hot, and here at 417 Magazine, we're always looking for a new way to cool off. Enter: the kombucha float. These pretty little treats have been popping up all over Instagram and trendy menus this summer, and for good reason. It has all the fizzy, bubbly frothiness of a root beer float without the syrupy, saccharine stickiness of soda. And—added bonus—they're just as easy to make. 
For those who aren't familiar with the drink, kombucha is a fermented tea. It's lightly (very lightly) sweetened, comes in a whole host of flavors and is favored for its purported gut health benefits. Brands of kombucha abound at just about every supermarket, but some of the best is brewed right here in the Ozarks. Spring Branch Kombucha is a small batch kombucha operation, spitting inventive flavors out of taps throughout southwest Missouri. 
So, it's only natural to want to turn something somewhat healthy into an indulgent dessert, right? Making these floats truly could not be easier. Grab a growler of Spring Branch (or your favorite kombucha, but if it's not Spring Branch, you're really missing out), a straw and a pint of ice cream, frozen yogurt or custard. Combine 'em in a glass and, whammo, you're ready to start slurping. Truly, it's that simple.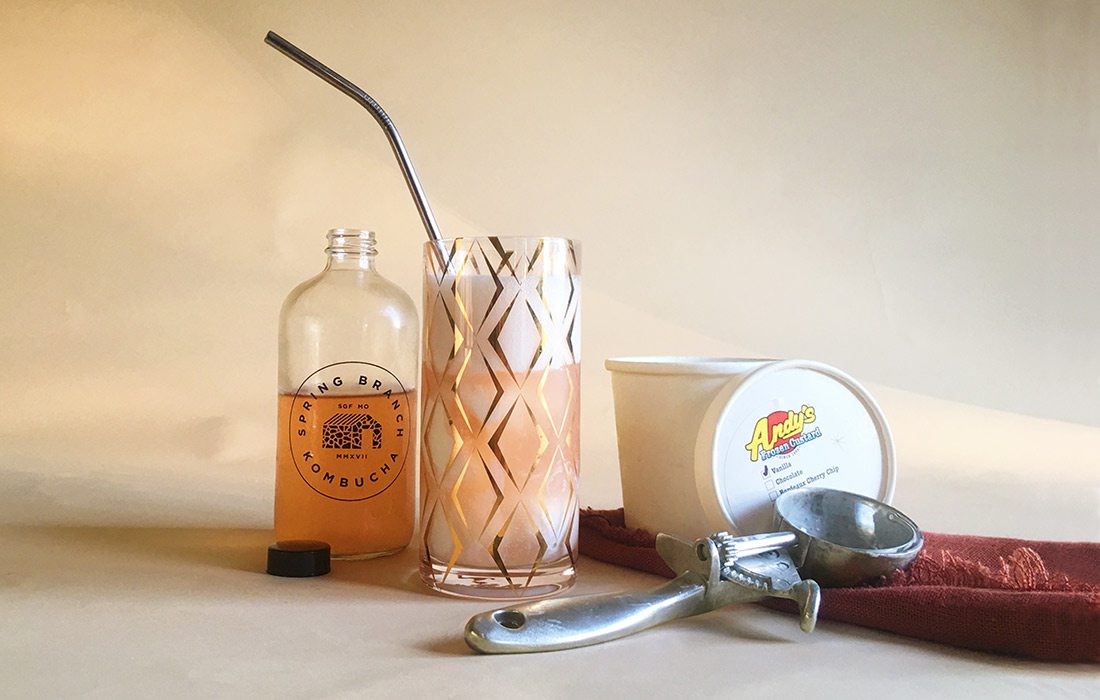 With as many kombucha flavors as there are out there and as many ice creams there are in the world (swoon) your combination options are literally endless. Our sweet-toothed taste testers were partial to the creamy combination of vanilla Andy's Frozen Custard with Spring Branch's raspberry basil flavor. It's also a quick and easy combo to make on a whim.
Now, if you want to put in a little more effort and take advantage of seasonal produce, you can really up your game by making your own ice cream. Spring Branch has a cucumber jalapeño mint flavor which has the cooling properties of a mint cucumber cooler, plus the tiniest bit of heat from the jalapeño. And it was just screaming to be combined with the currently in-season cantaloupes we've been seeing around every corner. So naturally we decided to get a little funky and make cantaloupe ice cream. 
This recipe takes a little bit of effort and an ice cream maker, but we assure you that the creamy luscious flavor is worth every minute. If you don't have an ice cream maker, we've included an alternative method that takes a little time and bicep strength, but you'll get the same result. 
Roasting the cantaloupe is an important step, as it caramelizes the sugars for a richer, more complex flavor, and it reduces some of the water content so you don't have loose, icy ice cream. We're going for smooth creaminess here. Be generous with your salt, as it brings out the flavor of the melon. The result is a mellow not-too-sweet caramelized flavor with a suggestion of cantaloupe. Plus, the ice cream is a lovely shade of pale peach. We love this so much that we recommend doubling the recipe. It disappears pretty quickly.

Makes about 1 pint 
Ingredients:
½ cantaloupe
1 tablespoon raw sugar (less if your cantaloupe is already very sweet)
1 cup heavy cream
½ cup whole milk
2 egg yolks
¼ cup plus 2 tablespoons granulated sugar
Kosher salt
Special Equipment:
Food processor, ice cream maker or hand mixer 
To Prepare: 
Preheat your oven to 400ºF. De-seed your cantaloupe, cut into slices, remove the rind and then roughly chop. Place the cantaloupe pieces on a rimmed baking sheet, sprinkle with the raw sugar and a pinch of salt. Toss to coat. Roast the cantaloupe for 20 minutes or until sugars have caramelized. Let sit until cool enough to handle, then blend in a food processor until smooth. In a medium saucepan over medium heat, combine heavy cream, milk and processed cantaloupe. Bring mixture to a simmer, cover and remove from heat. Meanwhile, in a small bowl, vigorously whisk together sugar, a generous pinch of salt and egg yolks until yolks are pale yellow and sugar has dissolved. Whisk about half a cup of the cream mixture into the bowl with the yolks, then pour the yolk-cream mixture back into the saucepan with the remaining cream mixture. Cook over medium heat, stirring constantly until mixture is thickened and coats the back of a wooden spoon. Strain custard through a mesh strainer into a clean bowl. Refrigerate until chilled. Process in an ice cream maker per machine instructions. (If you don't have an ice cream maker, pour your cooled custard into a 9-by-13–inch baking dish. Place in your freezer for 30 minutes. Remove and blend mixture using a hand mixture. Return to freezer, repeating the chilling and blending process for about four hours until smooth and frozen.) Transfer ice cream into a container and press a sheet of plastic wrap over the surface. Freeze until firm.
---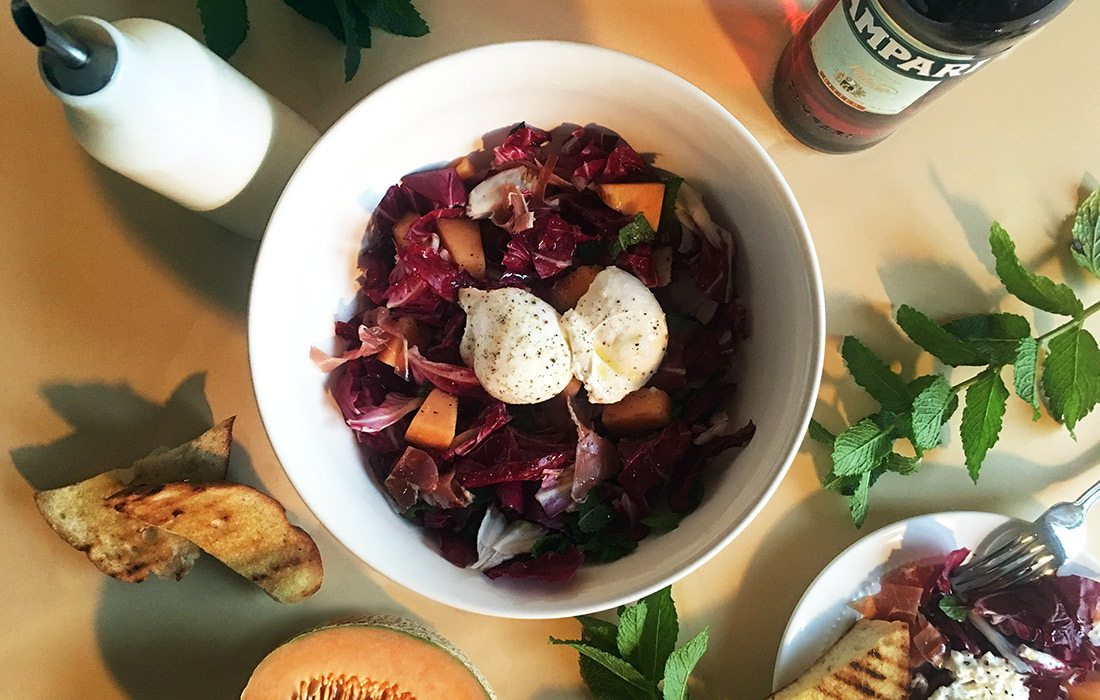 If you've followed this recipe to a T and are wondering what to do with your leftover half of a cantaloupe, consider tossing it in a radicchio salad. I know, it seems like I'm really off the rails here, but the melon's juicy sweetness works perfectly when paired with something a little salty, something a little bitter and something a little creamy. And if you're not putting Campari on your melons (or in your drinks), you're truly missing out. The juiciness of the melon offsets the bitter liqueur for a perfect balance. Give it a shot. It will take you less than five minutes for you to put together—and succumb to the cantaloupe craze. 

Serves 4
Ingredients
1 head of radicchio, leaves separated and washed
3 large sprigs of fresh mint, washed
1 3-ounce package prosciutto 
½ cantaloupe 
2 balls of burrata 
Campari
Extra virgin olive oil
White wine vinegar
Salt
Freshly cracked black pepper
To Prepare
Tear radicchio leaves and mint leaves into a bowl. Slice prosciutto into thin ribbons and add to bowl. De-seed, peel and cube your cantaloupe and add to bowl. Toss salad. Top with two balls of burrata. Drizzle salad with Campari, extra virgin olive oil and white wine vinegar to taste. Sprinkle with salt and freshly cracked black pepper. Serve.