Things to Do
Snow Tube Without Snow at Wolfe Mountain Outside of Branson
Branson Zipline at Wolfe Mountain has added a year-round snow tubing hill to its Walnut Shade property, and we tried it out on opening day. Plus nine other attractions new to Branson.
Written and photographed by Katie Pollock Estes
Dec 05 2017 at 9:29 a.m.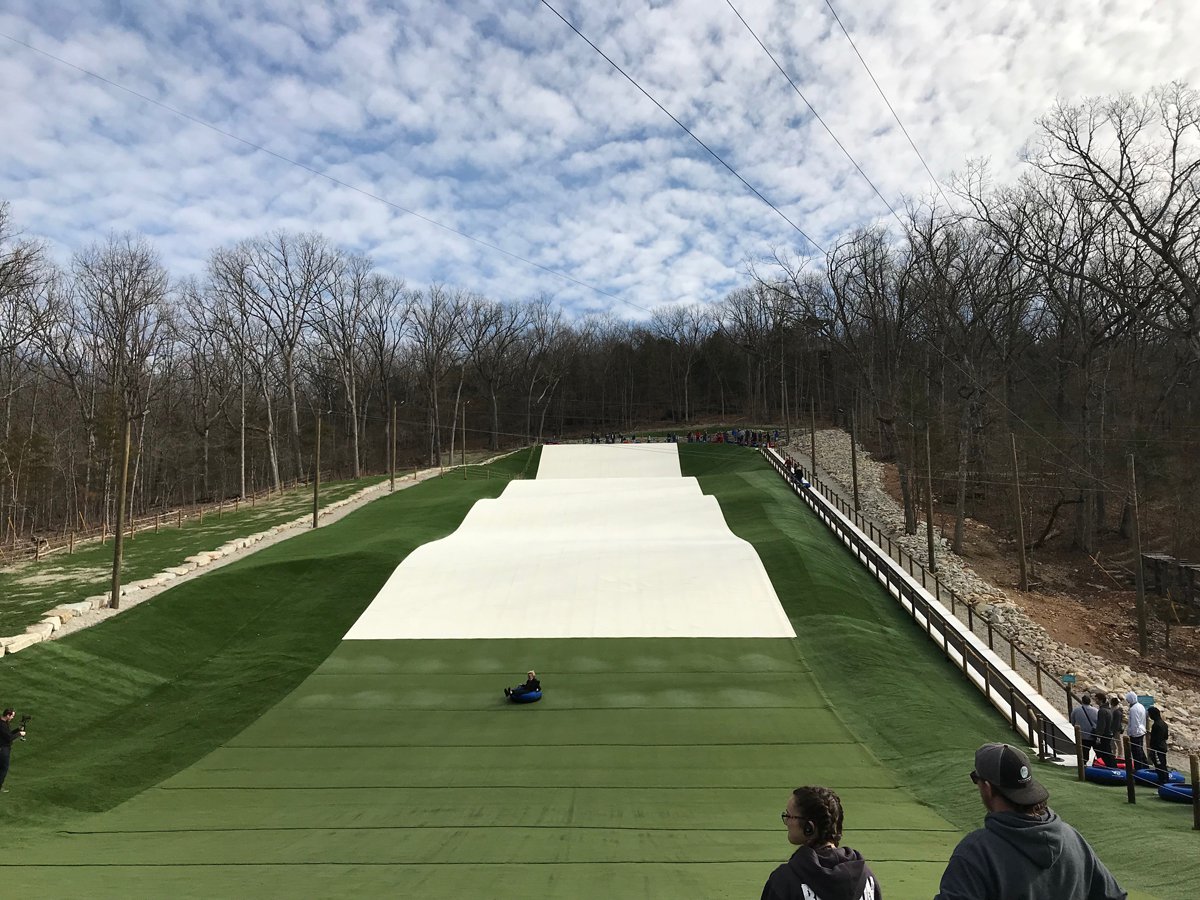 On its opening day, we got a chance to experience the Snowflex tubing hill at Branson Zipline at Wolfe Mountain (2339 Highway 65, Walnut Shade, 417-561-0699). The new attraction allows guests to tube down a synthetic surface that emulates a snowy hillside.
The Snowflex technology was created by Briton Engineering Departments Ltd., who partnered with Wolfe Mountain to design the tubing run. The easiest thing to compare Snowflex to is artificial turf, but even that is not accurate. Snowflex feels softer and smoother. Misters blow a sprinkling of water over the surface (enough to spritz your eyeglasses but not enough to make you wet), and the heavy tubes glide across the surface. 
They more than glide, actually. They zip. The 400-foot-long track looks pretty innocent until the Wolfe Mountain employee at the top spins your tube before take-off and sends you careening down the hill in discombobulating circles. And it is really exhilarating! It's impossible not to scream.
On the way down, the tubes keep you secure enough that you can use one hand to get that perfect wind-in-your-hair, screaming-in-delight selfie without feeling like you might tumble out. In fact, the ride is somewhat customizable depending on your skill (or bravery) level. I wouldn't send my 4-year-old son down the hill spinning like I did. But if you get a gentle push from the employee instead of a spin, the ride is much tamer. I saw a little guy about my son's age make the trek to the bottom, and he did great! 
When you're ready to ride again, you just lug your tube onto the people-mover that carries you straight to the top of the hill. 
When we visited, Dieter Sturm from Briton Engineering was there as well. We overheard someone ask him where he was from, and he said, "I developed this!" So we caught him during lunch to get the details. Turns out, he and Briton Engineering are at the forefront of this new Snowflex industry, and Sturm has a passion for helping people in the snow sports industry turn a four-month gig into a year-round gig. But he also makes synthetic snow for the film industry (You know all that snow in Fargo? That was all Sturm.) and even won an Academy Award for creating a biodegradable product that revolutionized the industry. 
Hearing him talk about the future of Snowflex got me even more jazzed about riding up the hill and trying it again. Try it out for yourself, and bring the whole family. The Snowflex hill at Wolfe Mountain costs $29.99 per hour for kids and $34.99 per hour for adults. 
---
Nine Other Attractions New to Branson
By Katie Griffiths
Branson's Ferris Wheel
From Chicago's Navy Pier to 417-land, this Ferris wheel made quite the trek, opening in July 2016. Branson's wheel of wow holds 240 riders and sparkles with 144,000 lights. It's open from 10 a.m. to 10:30 p.m., with a music and light show spectacle at 8, 9 and 10 p.m. The views are breathtaking, and we recommend to visit when Branson is glittering with Christmas lights. Want a sweet treat afterwards? Taste the seasonal concrete at Andy's Frozen Custard right next door.
Off Roading at The Shepherd of the Hills
The Shepherd of the Hills now offers ATV expedition trail rides to experience the Ozarks terrain firsthand. From November 1 to December 31, the Trail of Lights takes you through 160 Christmas-filled acres that include drive-thru animation display. As for the longest running outdoor drama in the U.S., the new show will include audience seating improvements plus exciting show additions.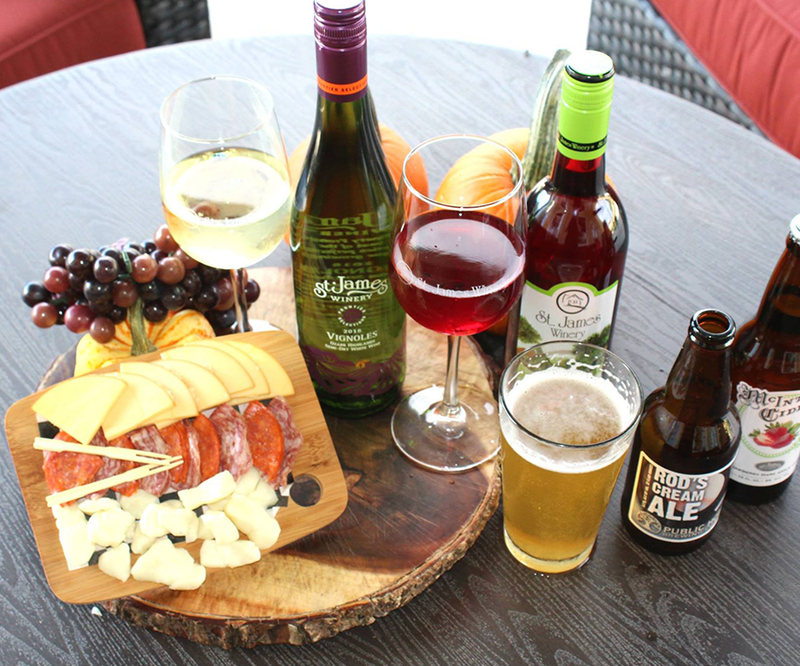 Photo courtesy St. James Winery
Wine and Dine at St. James Winery
St. James Winery & Restaurant in Branson opened in July 2017, and its prime rib dinner is quickly becoming the talk of the town. During the lunch hour, wood-fired pizzas, sandwiches, soups and goat cheese-stuffed medallions are made from scratch to pair perfectly with wines, hard ciders and draft beers. If you've got a party bigger than six, call 417-544-8283 to make a reservation.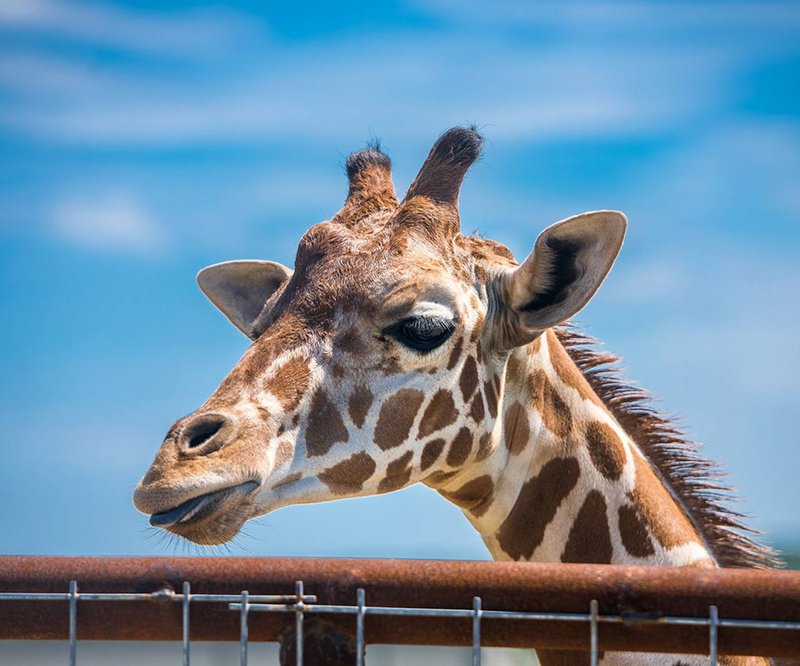 Photo courtesy Promised Land Zoo
New Drive-Thru at Promised Land Zoo
If you think you've seen all you can at Promised Land Zoo, think again. The park now has 60 extra acres of and a drive-thru zoo. Visitors can drive their own cars through the rugged landscapes, or take a guided tram. For a one-on-one interaction with the animals, take an ATV trail drive where you can even pet the critters. Did we mention they have a new baby giraffe (as of fall 2017) who's 11-feet-tall? Through December 31, explore Santa's Safari Village at night, and admire the two-mile drive through lights.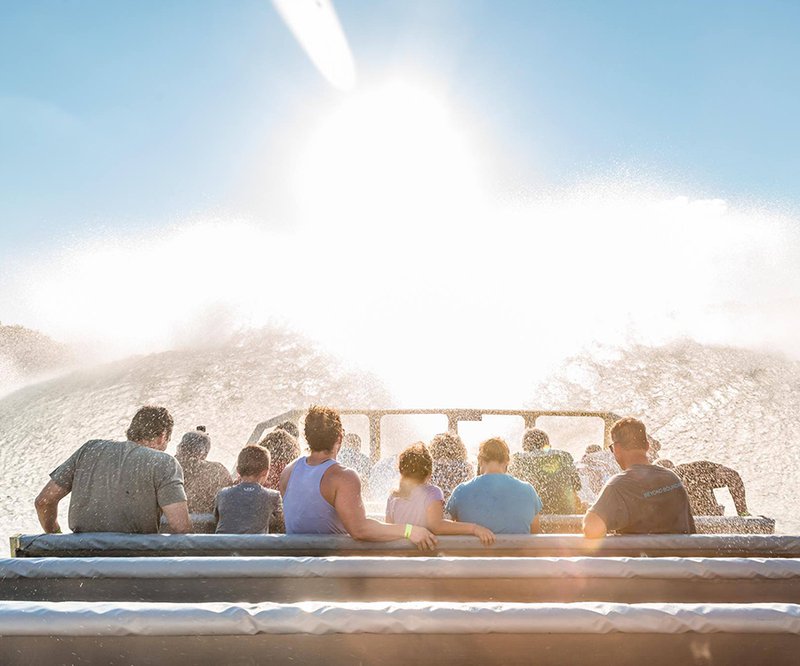 Photo courtesy Branson Jet Boats
Jet Boats: The White Water Rafting of the Ozarks 
You and your 64 closest friends are in for a wild ride. Jet Boats are making a major splash on Lake Taneycomo. Riders hop aboard for an hour-long thrill ride of complicated maneuvers, 180- and 360-degree turns and a narration of the scenic area. Tours run from spring to late summer on Saturdays and Sundays.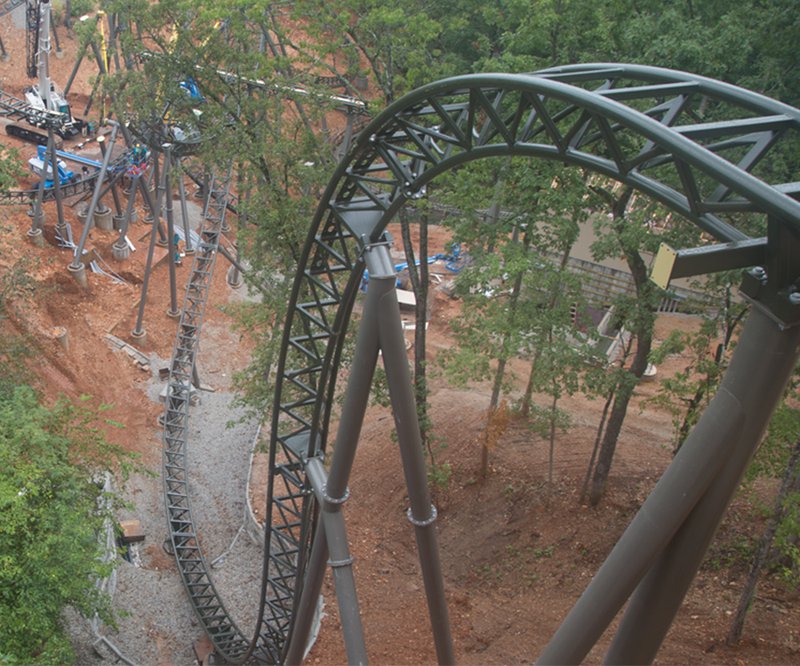 Photo by Savannah Waszczuk
Time Traveler at Silver Dollar City
Move over Outlaw Run®, there's a new sheriff in town. Silver Dollar City is building the world's fastest, steepest and tallest spinning rollercoaster for spring 2018. When we say spinning, we mean it never stops spinning. Time Traveler has a top speed of 50.3 miles per hour with a record-breaking 95-foot-tall vertical loop. We recommend snagging a funnel cake after, rather than before. While you're waiting for Time Traveler to open, check out An Old Time Christmas through December 30.
 
H&M coming to Branson Landing
The hip and surprisingly affordable store we all know and love is now coming to the Branson Landing. Recently, H&M has expanded to smaller markets like Joplin, Missouri, where a store opened in November 2017. The second largest clothing retailer in the world carries styles for teens, toddlers, adults and every age in between. Sadly, we have a while to go until the grand opening—the doors will open in summer 2018.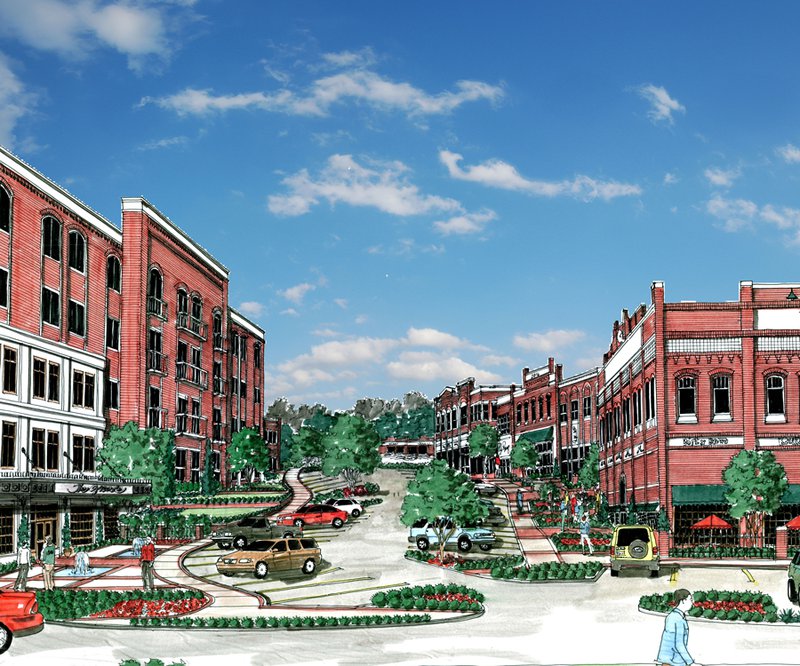 Photo courtesy Yung Design Group
Branson's Alley
It's what you didn't know Branson needed, but you're glad it's getting. The Alley will be your new favorite destination for bites and booze. Inspired by Nashville and Springfield's very own downtown redevelopment, it will bring a fresher, younger demographic to the area. Possible additions include a microbrewery, boutique hotel, movie theater, bowling alley and more. You've got a while to make plans—the developers are shooting for 2020.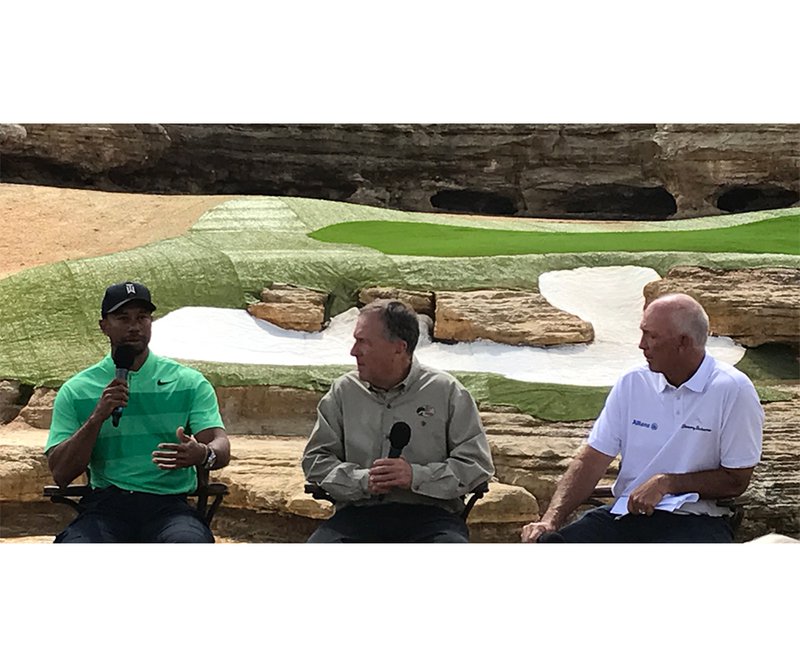 Tiger Woods, Johnny Morris and Tom Lehman. Photo by Adrienne Donica.
Tiger's Links
Branson is quickly becomea go-to golf destination. With Top of the Rock, Buffalo Ridge and Mountain Top already in full swing, golfers are flocking. Not only could a PGA Championship be held at these courses, but Tiger Woods is also designing a new one for Big Cedar Lodge that's set to open in 2019. It's the first public, Tiger-designed course in the world, full of insane views, waterfalls and a special 19th hole. Why the extra hole? It'll be the perfect place to break ties, place bets and settle wages. If you don't golf, you should probably start!