Life
Branson's Alley
By 2020, Branson will have a new hub of dining and shopping—all on one street.
Written by Erin Gregory | Photo courtesy Yung Design Group
Feb 2017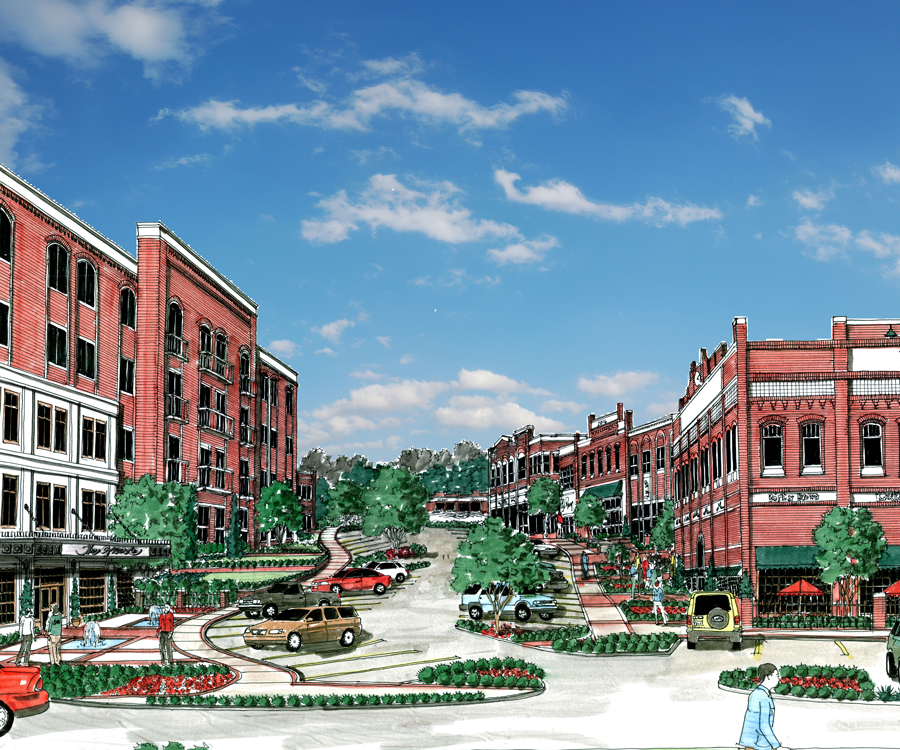 A prominent street in Branson is getting a really cool facelift. Across the street from the Grand Palace near the Grand Village, connecting to Green Mountain Drive, will be an all-new chic entertainment space for the town. This street is soon to be known as The Alley. 
The concept was created around some of the streets in Nashville, filled with music, bars and retail. The project began in the winter of 2015 and is expected to be completed in roughly three years' time. The owner is CenterCore Branson Development, LLC, an entity that formed to buy and develop the land. Bob Duncan is the President of CenterCore Properties, the managing entity of the project. 
"My firm acquired the Grand Village shops last May," Duncan says, "but I had been involved in Grand Village through my former firm since 2008. We acquired the land and shopping center in May with my new firm. The market continues to improve in Branson, and I think a lot of things have come together to make now a good time to move forward with a project on that site." 
Steve Critchfield, CCIM of Commercial 1 Brokers and one of the investors of the project, shared a few insider secrets for 417-land readers.
"The idea was to create something new that looks rehabbed with that same flavor."–Steve Critchfield
"The idea was to create something new that looks rehabbed with that same flavor," Critchfield says. "Most of the investors are involved in the Grand Village. Across the street is where the Grand Palace is. The street separating the palace from the village could become the feeling of an alley. We designed it to look like warehouses."
Critchfield says the concept of the old building appeal was taken from some of the success Springfield has had rehabbing old buildings. "We designed it to look like warehouses. We would like to have a brewery of some kind and a rooftop patio, [and a] stage, all complemented by good food. We have pads for two other restaurants [and] a retail strip, which we are talking to several businesses [about] now with contracts pending." There is also a site for a future hotel on the property. The investors are still in search of a brewery for the site, a factor that is necessary for the completion of the project. "We have had many writers come to visit and specifically ask about local beer—Branson beer," he says. "We intend to bring it to them." 
The Alley is intended to draw in the 45-and-under crowd in Branson. In recent years, Critchfield says, the town has appealed to a younger audience without turning away the older crowd. 
"We are trying to get in front of the market and appeal to the leading edge of that younger family," he says. "It will be a place that will be fun to hang out [in]. The entertainers we have shown it to are excited that there is a really cool stage there for them. It's in the heart of the entertainment district."