Life
7 Thing to Know About Rob Corliss
Rob Corliss runs culinary consulting company All Things Epicurean (ATE). We sat down with Corliss to hear about his role as a foodie extraordinaire and some of his favorite upcoming food trends.
Written by Vivian Wheeler | Photos by Brandon Alms
Feb 2017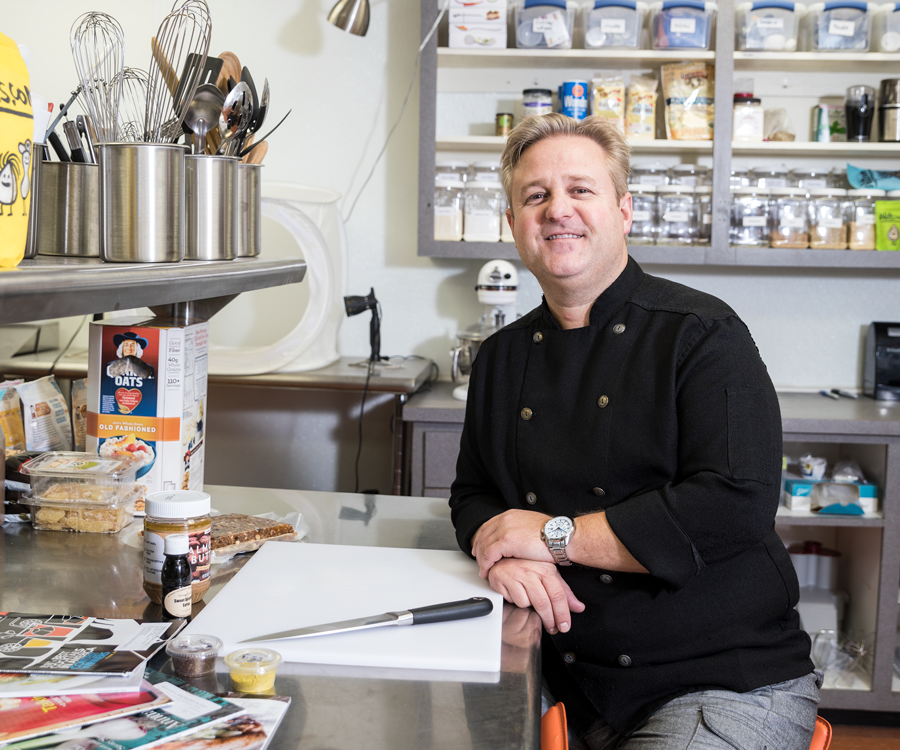 1. His love of cooking started early.
Born and raised in central Pennsylvania, Rob Corliss began cooking at home with his grandmother when he was in middle school. As a teenager he explored cooking through different classes at his high school. By his senior year, Corliss had taken every available cooking class, so his teacher set up an independent study for him. He had his own kitchen set up at school and would present his projects to the other classes. 
2. He cut his teeth working in boutique hotels.
After graduating from Johnson & Wales University, Rob Corliss spent 15 years working in boutique hotels across the country. He liked the variety of dining styles he got to cook and the fast-paced nature of the job. "What I liked about hotel resorts was there was anything from poolside dining to fine dining [to] catering," he says. "You always have to just adapt, evolve and learn unless you are going to become a dinosaur."
3. A twist of fate brought him to 417-land.
Ready to make a career move, Corliss sought the help of a headhunter who suggested he interview with Noble and Associates. He got the job and spent three years there working on national accounts. From there he moved to the Marlin Network, where he helped start Food IQ. 
4. His research sounds like someone's hobby.
When you walk into Corliss's office you'll see a wall filled with hundreds of industry publications. Reading a variety of culinary magazines is one of the ways Corliss tracks food trends and finds inspiration. Traveling is another way he researches for his projects. He helped open Unforked, a fast-casual restaurant that opened in Overland Park, Kansas, in 2011. "We took a year before that [and spent it traveling] the country, just looking for ideas," he says. He visited "mom and pops, taco trucks, New York, all over. Chicago; LA; Austin, Texas; San Diego; Portland, Oregon." What he saw was a trend toward healthy yet tasty food that customers could grab on the go. He helped translate this idea into Unforked's business model, which has been a huge success. 
5. He's cooked for a lot of famous people.
While Corliss was the executive chef at Spring Creek Ranch in Jackson Hole, Wyoming, he cooked for Sandra Bullock, Ron Howard and Bill Clinton. One year he even prepared Harrison Ford's Thanksgiving dinner. During his time at the Williamsburg Inn, high-profile heads of state came through the door. One memorable experience involved the former prime minister of England. "I fondly remember cooking breakfast for Margaret Thatcher," Corliss says. "She was staying in one of the hotel colonial cottages. While cooking, I could hear her through the kitchen door rehearsing her speech—she was speaking at the College of William and Mary later that day. [It was a] very cool moment."
6. His influence can be seen in grocery stores across the country.
Throughout his career Corliss has worked with a variety of national brands including Bush's Best Beans, Sargento Cheese, Mrs. Dash, Hammons Black Walnuts and Tyson Foods. 
7. He can predict the future.
Part of Corliss's job is finding out what the next big things are going to be in the food industry. He tracks trends and categorizes them into three levels of popularity: emerging, becoming popular and mainstream. "Emerging is like independents and fine dining, restaurant operations that are out on the fringe," he says. "And then becoming popular is starting to get energy—you're seeing it in some more of the trade publications. And then mainstream, it's in QSR (quick service restaurant) fast food. It's in grocery stores." For 2017, Corliss sees seven macro trends influencing the food market: snacking 24/7, crave-able wellness, plant-based foods, next-generation comfort, seafood as the darling, future beverages and social awareness.
Eating is only part of Rob Corliss's job. The other part is research, which requires reading a lot of culinary magazines.