Life
5 Takes on Mac and Cheese
Cheese isn't the only thing that makes our very favorite comfort food so great. In 417-land, you can add creativity to the mix. Local restaurants are offering up clever takes on the dish and using the carb-filled, cheese-laden concoction in all new ways.
By Katie Pollock Estes | Photo by Vivian Wheeler
Feb 2017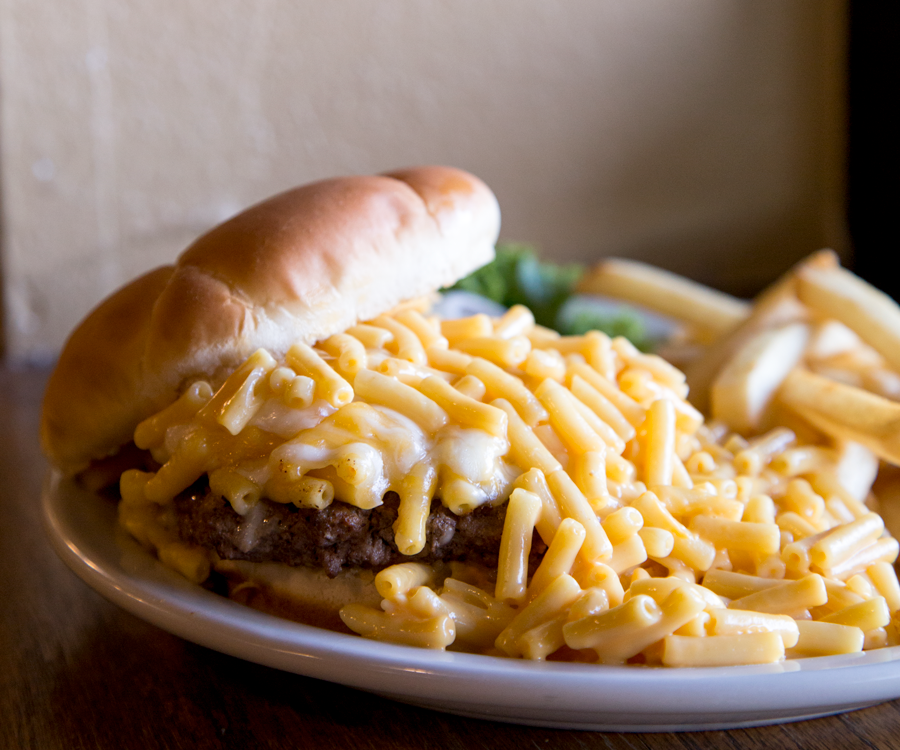 1. Mac 'n' Cheese Burger 
$12.99 from Bair's All-American Sports Grill; multiple 417-land locations
Why We Love It: Bair's enormous menu is filled with classic and creative burgers. One of the most surprising is the one that features a hefty scoop of macaroni and cheese both below and above the beef patty. It's like a tower of comfort food.
Bonus: The burger is also topped with the restaurant's super-melty five-cheese blend. More cheese for your cheese!
2. Waffle Mac 'n' Cheese
$10.75 from Black Sheep Burgers & Shakes; 209 W. Walnut St., 2160 W. Chesterfield, Springfield
Why We Love It: We thought maybe a macaroni and cheese waffle would be "too much." But you just can't go wrong when you throw something on a waffle iron to crisp. The creamy pasta becomes a solid, grab-able disk of cheese and carbs topped with a gooey cheddar cheese sauce.
Bonus: For $3 more, get this bad boy topped with homemade chili and fresh onion. Yes, please.
3. Breakfast Mac
$10 from Early Bird Breakfast Pub; 1717 E. Cherokee St., Springfield
Why We Love It: Early Bird Breakfast Pub knows macaroni and cheese is a dish not restricted to a specific meal. The restaurant serves up a creamy portion of the stuff, along with scrambled eggs, bacon, peppers, hash browns and a crispy corn flakes topping for some early morning indulgence.
Bonus: Spend $2.50 on a side order of sweet potato nuggs, the sugary little tots that go great with a savory breakfast. 
4. Frito Pie
$10 from Springfield Brewing Company; 305 S. Market Ave., Springfield
Why We Love It: As if Frito Pie—with its salty corn chip strips sprinkled atop a bowl of chili—weren't enough, Brew Co adds macaroni and cheese to the mix (along with shredded cheese, green onions, sliced jalapeños and sour cream). The big pasta shells perfectly hold loads of four-cheese mornay sauce.
Bonus: This dish just begs for brewed-in-house beer to go along with it. Order a Paul's Pale Ale.
5. Lump Crab Mac & Cheese
$9 at lunch at Crabby's Seafood Bar & Grill; 815 W. Seventh St., Joplin
Why We Love It: This deceptively simple mac and cheese is well adorned. Cavatappi pasta is smothered in a creamy smoked gouda mornay sauce and accented with lump crab meat, Applewood smoked bacon and a panko breading crust. 
Bonus: Offset your cheesy guilt with the lunch entrée's accompanying soup or salad.