Reviews
The Mighty Waffle
Waffles aren't relegated to the breakfast menu anymore. Now you can find them at dinnertime and even as a late-night snack. Read on to find out what time of day you can find some of our favorite examples of the funky waffle trend.
By Katie Pollock Estes
May 2016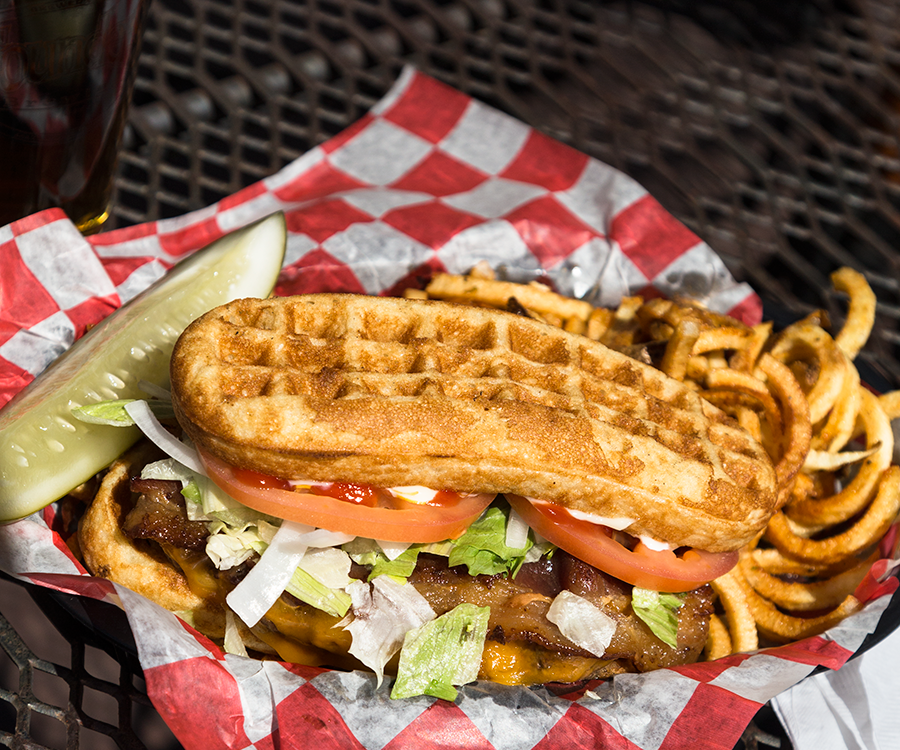 The Main Meals
Plenty of 417-land's waffle purveyors are putting a savory spin on the classic breakfast sweet by adding various proteins or morphing the waffles into sandwiches.
[MORE: Best Breakfasts in Springfield, MO and Beyond]
At 417 Taphouse (431 S. Jefferson Ave., Suite 160, Springfield, 417-942-0958), you can find chicken and waffles or the even more surprising Waffle Burger. What's a waffle burger? Well, it's exactly what it sounds like. A third-pound beef patty is served between two crispy waffles instead of a hoagie bun. On top you can get veggies like lettuce, tomato and onion and those classic white, yellow and red condiments.
Also in the sandwich realm is the Apple Bacon Cheddar Panini from Civil Kitchen (107 Park Central Square, Springfield, 417-501-8456). There, crispy-tart Granny Smith apple slices are layered with bacon and melty cheese and served inside a warm Belgian waffle for something that's sweet, savory and crunchy. Chicken and waffles make an appearance at Civil Kitchen, too.
But the waffle doesn't have to be made of batter to qualify. In fact, you can cook a lot of things on a waffle iron, as Black Sheep Burgers & Shakes (209 E. Walnut St., Springfield, blaaacksheep.com) proves with its Waffle Mac 'n' Cheese appetizer that consists of macaroni and cheese grilled on a waffle iron until super-crispy and then served topped with a creamy cheese sauce.
In Joplin, Instant Karma (527 S. Main St., Joplin, 417-206-3647) is constantly churning out creative specials, and one that made an appearance at press time was the Springfield-Style Cashew Chicken and Waffles. A scallion waffle comes topped with panko-breaded chicken, cashews and gravy.
An Evening Treat
When you find yourself out for drinks and in need of sustenance, you can get it in waffle form at Scotch & Soda (310 South Ave., Springfield, 417-719-4224, thescotchansoda.com). Their late-night sweets include a bacon chocolate chip waffle that perfectly melds salty and sweet, a savory waffle with ham and cheddar and one with a classic combo: peanut butter, honey and banana.
In the Morning
Although they aren't the oddest waffle around, we enjoy the ones you can get in the morning at Early Bird Breakfast Pub (1717 E. Cherokee St., Springfield, 417-885-8088), and that might be because you can get them with a breakfast cocktail on the side. A tasty Full Order of waffles comes with your choice of toppings, and we like the combo of pineapple, whipped cream and caramel sauce.
At Springfield Brewing Company (305 S. Market Ave., Springfield, 417-832-8277), the classic chicken and waffles are served up with boneless fried chicken strips and two eggs on top of a waffle. Get those eggs over easy for a little
yolk condiment.