Reviews
5 Best Chicken Sandwiches
Shake up your burger-and-fries routine this fall by biting into savory, delicious (and often fried) chicken sandwiches instead. These five places get it oh-so right with perfectly prepared poultry. Check them out.
By Claire Porter
Nov 2016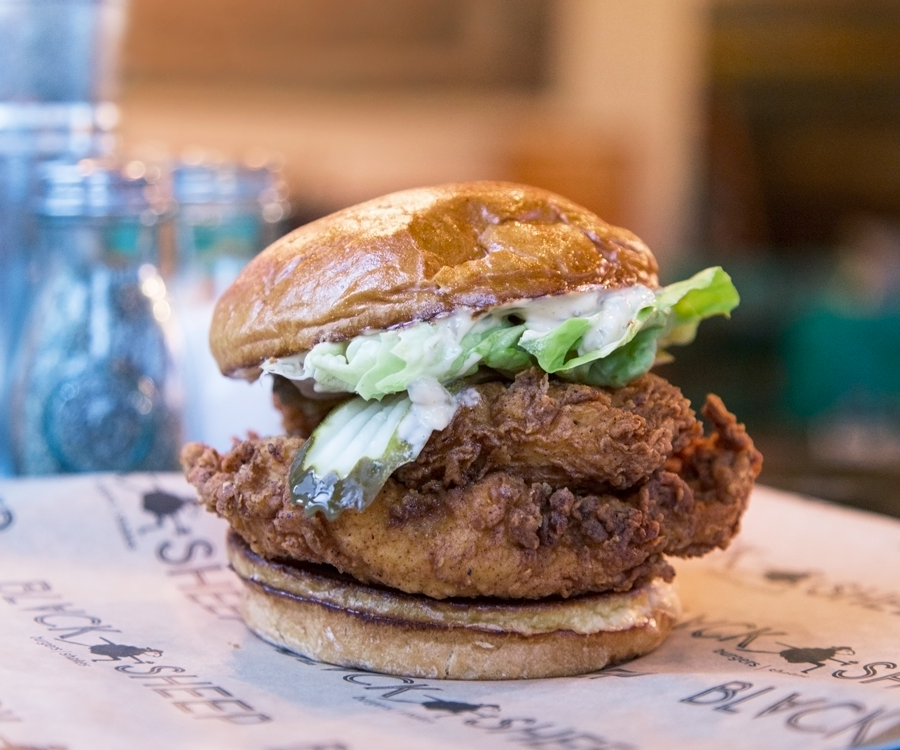 1. Black Sheep Burgers and Shakes
2160 W. Chesterfield Boulevard, Springfield
417-368-0227, blaaacksheep.com
Open wide and say "baaa" to get a bite of this big ol' sammie. The Lost Your Mind sandwich is only served at the Chesterfield Village location, but it's worth the trek. Two chicken breasts are fried with spicy seasoning and topped with pickles, onion, lettuce and Black Sheep's signature Baaahd sauce, which has a tangy Thousand Island taste. 
2. The Fork and Spoon
2340 W. Grand St., Springfield
417-761-4838, simplydeliciousllc.com/forkandspon
Get your chickie just north of the border with the Santa Fe Chicken Club sandwich. This sandwich has a kick thanks to chipotle mayo, smoky barbeque sauce and red onion, which are served atop a crispy chicken breast. That's not all that's squeezed between the buns. There's also tomato, cheddar, bacon and cilantro for maximum Southwest flavor. 
3. Farmers Gastropub
2620 S. Glenstone Ave., Springfield
417-864-6994, farmersgastropub.com
The fried chicken sandwich from Farmers Gastropub is as wholesome as your chicken is going to get. A buttermilk fried chicken breast from Peace Valley Farms is served on a Cuban roll from Artisan's Oven. The chicken is topped with a slaw made from local carrots, zucchini, squash and bell peppers, all tossed in a Dijon-thyme dressing. 
4. Springfield Brewing Company
305 S. Market St., Springfield
417-832-8277, springfieldbrewingco.com
A round-up of chicken sandwiches wouldn't be complete without a representative from the buffalo clan. This Buffalo Chicken Sandwich features chicken breast tossed in hot sauce and served with pepper jack cheese, sauteed jalapeños, lettuce, onion and tomato on a wheat bun. The sandwich comes with waffle fries to soak up some of the heat and can be made into the wrap for carb-conscious carnivores. While you're noshing, wash it all down with one of Brew Co.'s Mayhem Marzen—the fan favorite Octoberfest brew. 
5. Black Oak Grill
601 Branson Landing Boulevard, Branson
417-239-0063, blackoakgrill.com
Ready to break out of your formulaic chicken sandwich rut? Try Black Oak Grill's Chicken Fried BLT. This crispy sandwich has fried chicken breast, Swiss cheese, chipotle mayo, onion and pickle, plus traditional BLT fixings of lettuce, tomato and smoked bacon. The BLT is served with fries tossed in Black Oak's special seasoning. And if you're looking to expand your fried chicken horizons, try the Crispy Buttermilk Battered Chicken Salad, which tosses fried chicken with tomatoes, avocado, bacon, egg and blue cheese in a honey mustard dressing.