Dishes
Ozark Salmon Salad from Black Oak Grill
Plus six other things that passed the test of our taste buds.
By The Editors
Feb 2013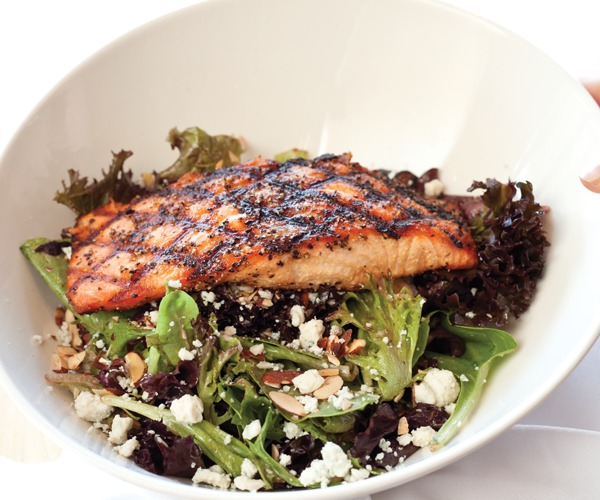 1. One staffer can't stop ordering The Ozark Salmon Salad from Black Oak Grill (601 Branson Landing Blvd., Branson, 417-239-0063).  Mesclun greens are topped with  smoked almonds, Fuji apple, bleu cheese and maple pecan vinaigrette. Plus you can add grilled salmon or grilled chicken. (We love the salmon!) 

2. There's a lot going on in the Valentines Roll from Nakato (2615 S. Glenstone Ave., Springfield, 417-881-7171), and we love the way it all tastes together. Crab, fried shrimp, spicy tuna, spicy crab, avocado and masago are wrapped up in soy paper and topped with tempura crumbs and four (four!) sauces.

3. When we're feeling indulgent, we love the cheese tortellini from D'Arpino's Italian Café (3014 S. National Ave., Springfield, 417-889-9898). The pasta is filled with plenty of cheese and covered with a creamy Alfredo sauce and even more cheese in the form of baked mozzarella.

4. We can't get enough of the lobster bisque at Chateau  Grille (at Chateau on the Lake, 415 N. State Highway 265, Branson, 417-334-1161). This luscious concoction comes with pernod cream and chive oil for just the right accompaniment.

5. For a great meaty lunch, we like to order the Brazilian meatloaf burger from ReRico (3371 E. Montclair St., Springfield, 417-881-8882). The juicy meatloaf is topped with sweet balsamic glaze and a healthy dose of provolone cheese and served with steak fries.

6. A new favorite breakfast from one of Springfield's freshest morning menus is the fried egg sandwich from Springfield Brewing Co. (305 S. Market Ave., Springfield, 417-832-8277). Bacon and eggs are served between two sliced of toasted white bread, with perfectly runny yolks.

7. When a sweet and sour chicken craving hits, we love to order the version served at Lucy's Chinese Food (multiple 417-land locations). The big, crispy chunks of white-meat chicken are covered in a warm and thick sauce that's super-delish.