Dishes
5 Best Mushroom Soups
Fill your belly with something hot and hearty this month. We found five luscious meat-free mushroom soups that pack a rich and filling punch but still make you feel like you're doing well by your diet. They're filled with veggies, right? Don't mind all th
By Katie Pollock Estes | Photo by Abby Gust
Feb 2016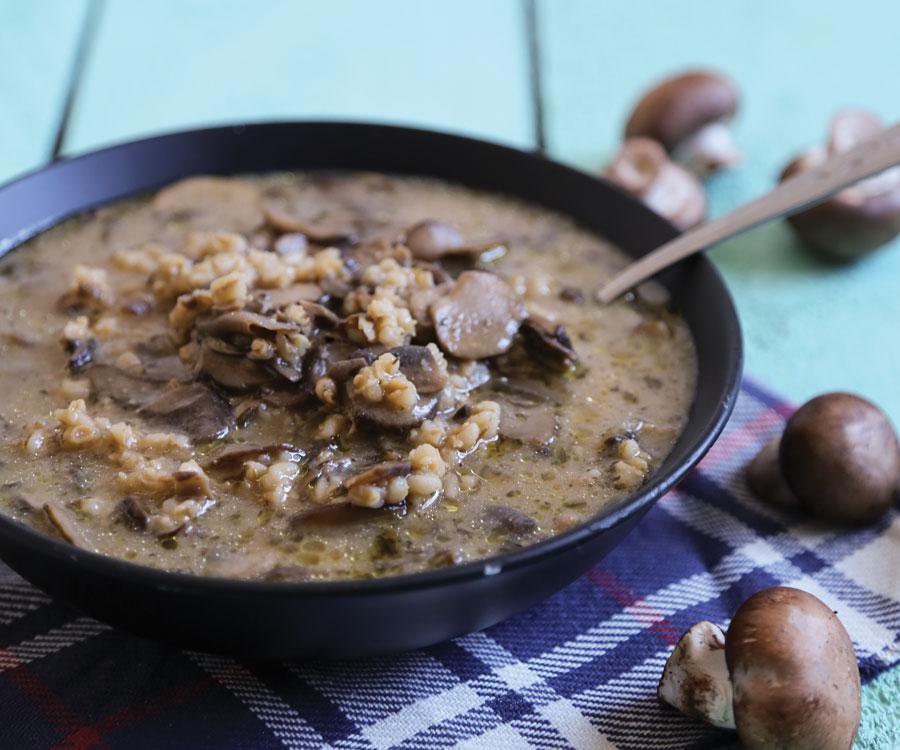 1.

 

Mushroom Miso Barley Soup
MaMa Jean's Natural Market's deli, multiple 417-land locations, mamajeansmarket.com
Why We Love It: This winter warm-up has no cream (although it does feature Parmesan cheese), so it isn't as heavy as some of the soups on this list. Yet it is quite hearty. The barley adds heft that fills you up all day, the miso adds richness and the mushrooms are cooked to meaty perfection.
When to Get It: MaMa Jean's changes its wildly varying soup offerings daily. Keep a keen eye out to spot this one when it comes around.
2.

 Mushroom & Sage Soup
Farmers Gastropub, 2620 S. Glenstone Ave., Springfield, 417-864-6994, farmersgastropub.com
Why We Love It: Sage and mushrooms are a pairing made in heaven, and they play together oh-so-nicely in this rich and sophisticated soup. The chunks of mushroom are perfectly tender, the cream is perfectly indulgent and the sage adds a depth of flavor that just brings it all together. And on top are some crispy buttered croutons. Butter makes everything better.
When To Get It: Anytime. It's always on the menu for $5 per cup or $8 per bowl.
3. 

Passato di Funghi
Gilardi's, 820 E. Walnut St., Springfield, 417-862-6400, gilardisonwalnut.com
Why We Love It: This is the kind of soup you crave. We can't resist starting a meal at Gilardi's with this luscious, rich soup. It's so flavorful that it provides that perfect indulgent start to a perfect Italian meal. Plus, there's an ideal ratio of thick, creamy soup to tender mushroom chunks.
When to Get It: Anytime. It's on the appetizer menu for $7.
4.

 Mushroom Sage Soup
The Fork & Spoon, 2340 W. Grand St., Springfield, 417-766-2946
Why We Love It: We don't know how they do it, but somehow this soup manages to taste both rich and delicate at the same time. When you eat it, you feel like you should be sipping it at a tea room. Yet it's hearty and delicious enough to fill you up when you're in the mood for a light lunch.
When to Get It: Anytime. It's always on the menu for $3 per cup and $5 per bowl.
5.

 Mushroom Bisque
Bambinos Café; 1141 E. Delmar, Springfield, 417-862-9999; 2810-D E. Battlefield, Springfield, 417-881-4442; bambinoscafe.com
Why We Love It: All of the soups at Bambinos are freshly made daily, meaning this is oh-so-fresh every time. And you know a soup is going to be good when it has the word "bisque" in its name. To us, bisque means thick, rich, next-level indulgence.
When to Get It: Tuesdays. It's one of the soups of the day on the Tuesday specials menu.