Dishes
Mussels at Florentina's Ristorante Italiano
Plus six other things that passed the test of our taste buds.
By The Editors
Nov 2013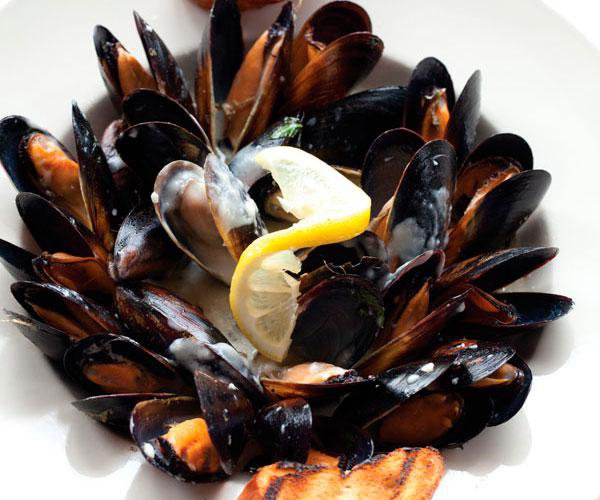 1. The mussels appetizer at Florentina's Ristorante Italiano (2690 Green Mountain Dr., Branson, 417-337-9882; 900 E. Battlefield, Springfield, 417-883-5678) features steamed mussels that are plump and tender. They're prepared with white wine, garlic, fresh basil, lemon juice and a splash of cream, and they make a perfect light meal with a side salad and bread.

2. We adore the massaman curry at Thai Peppers (1411 E. Sunshine St., Springfield, 417-882-1979). It is less sweet and has more depth of flavor than other massaman curries we've tried. It's a super-delicious meal. Order it with chicken.
3. The baked goat cheese salad from Farmers Gastropub (431 S. Jefferson Ave., Springfield, 417-864-6994) is a favorite, with its disk of warm and gooey toasted goat cheese from Terrell Creek Farm. The salad is topped with pinenuts, crostini and a tasty mustard vinaigrette.
4. A new quick-food favorite is the Hot Chicken at Lucy's Chinese Food (multiple Springfield locations, lucyschinesefood.com). Juicy chunks of chicken are stir fried with peppers and onions and cooked perfectly with red pepper flakes.
5. Even die-hard meat-lovers will swoon over the delicious spinach quesadilla at Coyote's Sports Cafe (313 S. Jefferson Ave., Springfield, 417-831-8201).  A spinach tortilla is grilled and filled with fresh spinach, artichokes, mushrooms, red onions and cheddar, jack and bleu cheeses. 
6. Don't miss the mushroom soup at Ristorante Gilardi's (820 E. Walnut St., Springfield, 417-862-6400). It's rich, creamy and utterly to-die-for.
7. The chicken gyro at Leona's Deli (14894 Business Highway 13, Branson West, 417-739-3354) is a delicious mixture of grilled chicken gently tucked inside a soft, warm pita and loaded with tzatziki, red onions, black olives and shredded lettuce.