Spaces
Craig and Janis Scott's Maintainable Mod Home
A minimalist design and easy-maintenance features make Dr. Craig Scott and Dr. Janis Scott's modern custom home the perfect spot to raise their five children.
By Savannah Waszczuk | Photos by James Maidhof Photography
Feb 2016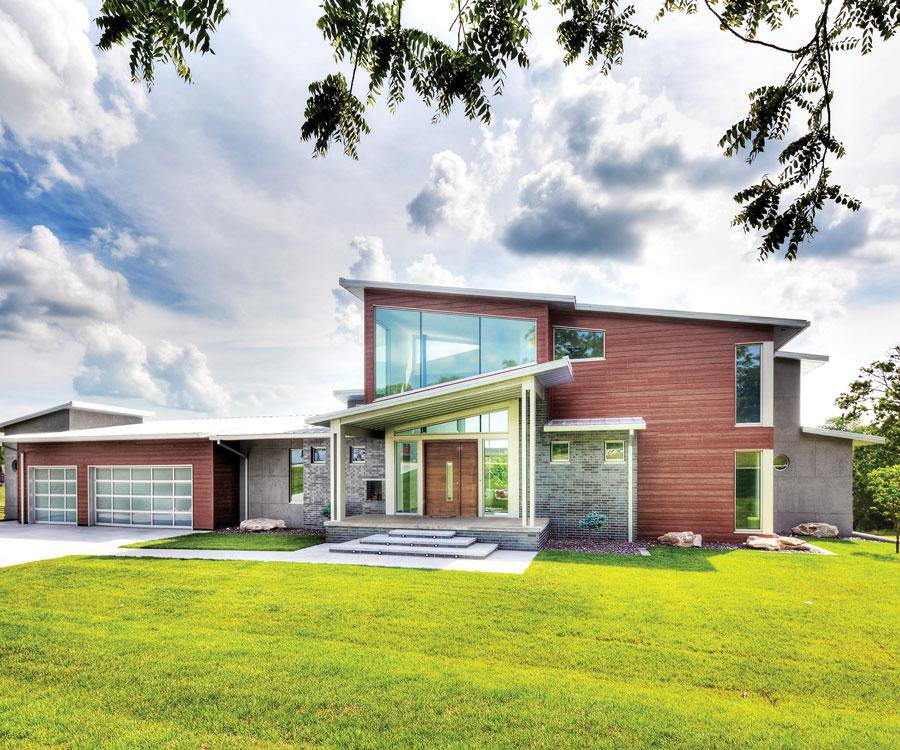 Dr. Craig Scott, an orthodontist, and Dr. Janis Scott, a dentist, always envisioned an Old World dream home, but they changed their minds while researching a bit more before the big build. "We saw a modern house we really liked in the Parade of Homes tour in 2012," Janis says. "That's when our plans started to morph." 
Rather than what they were used to living in and dreaming about—Old World-style homes—the two wanted something simpler. "We have five kids, and every kid is involved in two or three activities," Janis says. "Our lives are so busy. When we walked into our house, we didn't want to see clutter everywhere. We wanted it to be a calm, simple place with clean lines."  
The couple worked with builders Gary and Terry Herman of Herman Custom Critical Homes and custom home designer Jason Thompson of J. L. Thompson Design to create their new modern home, which is nestled on a hillside with five acres in Ozark. The house is three levels with six bedrooms, seven bathrooms and a few bonus spaces, like a game room, a theater room and even a Christmas tree closet. "The Christmas tree closet is my favorite feature," says Janis. Rather than undecorating and deconstructing their 12-foot tree year after year, they simply roll it into the closet, which features 14-foot ceilings and provides plenty of extra storage space. 
The house's modern, clean design is also complete with many energy-efficient features, including a geothermal heat, air and ERV system; closed- and open-cell foam insulation; a high-efficiency water heater and softener and a water filtration system. Paired with minimal, modern furniture, easy-to-maintain materials and a few pops of color all chosen by Janis, these features work together to create a home the whole family has fallen in love with. "We kept waiting to save enough money to build our dream house, but then we decided to just go for it," Craig says. "Our kids were getting older, and we wanted them to be able to enjoy it," Janis adds. "Our oldest was a freshman in high school when we moved in." From movie nights in the theater room to summer days by the pool, it's already proven to make memories that'll last a lifetime.
Kitchen: The kitchen's oversized porcelain tile floors are spaced with ₁⁄₁₆-inch grout, which is thinner than most people will install, but this was Janis's request—she didn't want the stress of keeping it all clean. There is seating for 10 at the kitchen table and additional seating at the island, so the room is spacious enough for the large family to spread out. The kitchen is given an edge with a couple pops of color, including a teal wall behind the stove and fuchsia chairs at the table. 
Theater Room: The home's theater room features two rows of reclining seats, providing plenty of space for the entire family to get cozy. A 100-inch projector screen makes the theater great for all sorts of entertainment, and it's used for everything from family movie nights and kids' sleepovers to watching the big game.
Living Room: Large commercial windows allow plenty of natural light to fill the living room, which flows with the kitchen. "Any time we're entertaining, people gather in here," Craig says. The room's plank vinyl adhesive flooring is tough and durable, perfect for holding up to the traffic of five kids. "I knew I didn't want hardwoods, which would get scratched up," Janis says. A few pieces of furniture and a cylindrical fireplace complete the room's minimal look, and the stainless cable rail system and plank stairs help carry the feel to the third level.
Master Bath: With heated floors, a heated towel rack and a sunken floor-level tub, the master bathroom is the perfect spot for Craig and Janis to escape. Corian countertops flow well with the home's clean, modern design, and luxury vinyl tile around the tub provides a clean look and easy maintenance. The wall-mounted faucets exit the mirror, where the water flows onto a slanted infinity-edge countertop and provides the perfect finishing touch to the space.