Spaces
House of Styles
A carefully crafted combination of French country, Old World and Italian styles brings beauty and comfort to Rob and Karen Lieurance's home.
By Julie Sedenko Davis
Mar 2013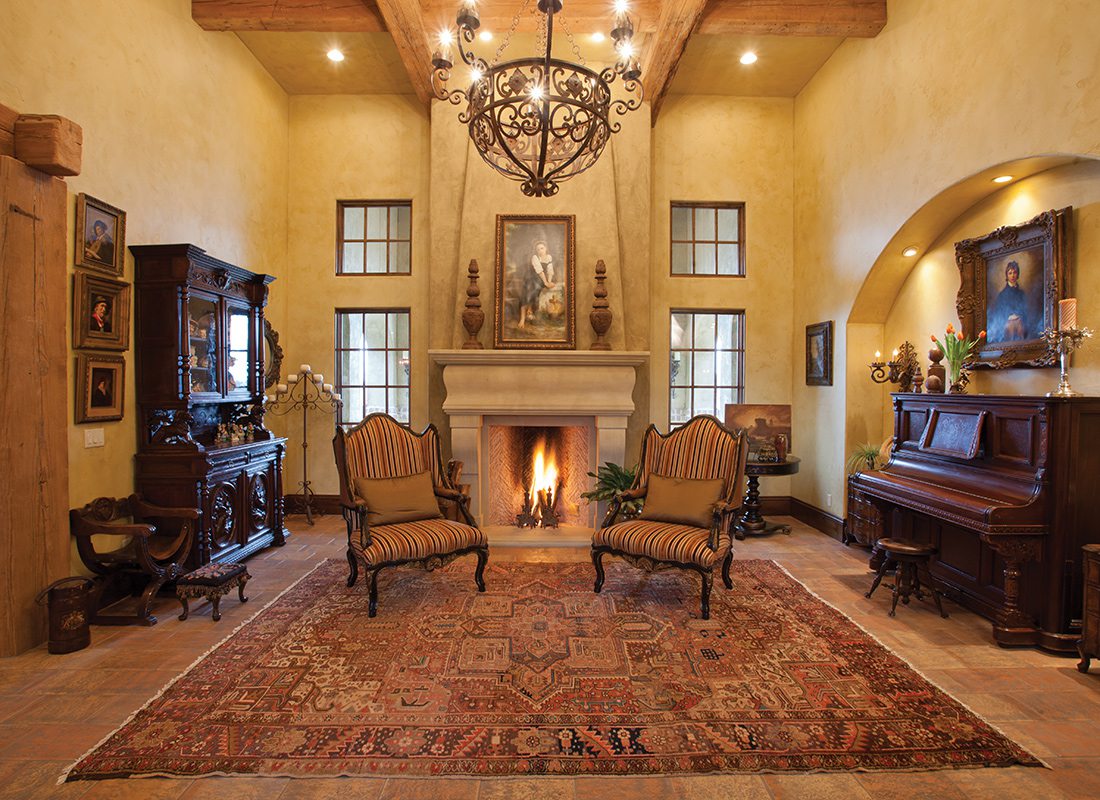 Rob and Karen Lieurance raised their three children, now 18, 16 and 13, in their former Joplin house. This old house, where they lived for 15 years, was a place where Karen stashed antique finds throughout the years, knowing someday she would find just the right place for each one. And it was from that old home's kitchen window that she could see a large hill, which she often thought would be the perfect place to build a dream house. The Lieurances eventually bought 25 acres on that hill, and several years later, the family began the long process of building their dream home.
Both Rob and Karen wanted a Normandy/French, Old World style with a very relaxed atmosphere. Flow was very important to Rob, who wanted an open floor plan for easy and comfortable entertaining. Karen wanted to mix rustic with elegant. The two worked to incorporate both of their dreams into the space, integrating reclaimed wood, stone and brick, beautiful tile designs, intricate light fixtures, ironwork and antiques from around the world. Karen enjoys mixing French, Italian and Mediterranean styles. "It goes with any palette," she says. "It's comfortable to me."
The two found an instant kinship with custom home designer Ron Hill of Euro World Designs. "The minute he started sketching… his flavor was right up our alley," Karen says. Armed with years of magazine clippings, Karen was confident about what she wanted, but she wasn't quite sure how to get there. Hill helped her, creating many special features such as built-in nooks to accommodate her many antiques. The Lieurances also worked with builder Doug Pitts of Doug Pitts Construction, who worked to create a beautiful home both inside and out. The house is just the right place for Karen's antique finds... and just the right place for her family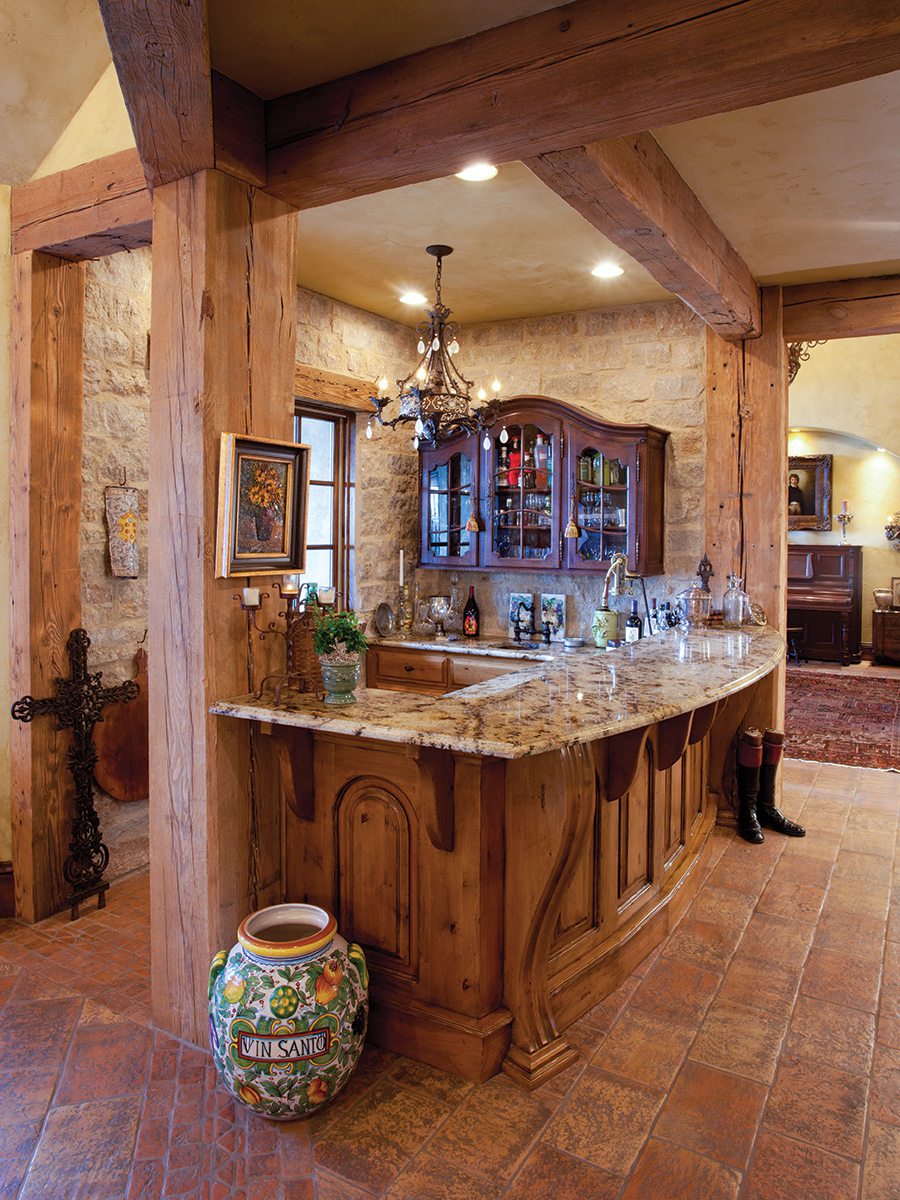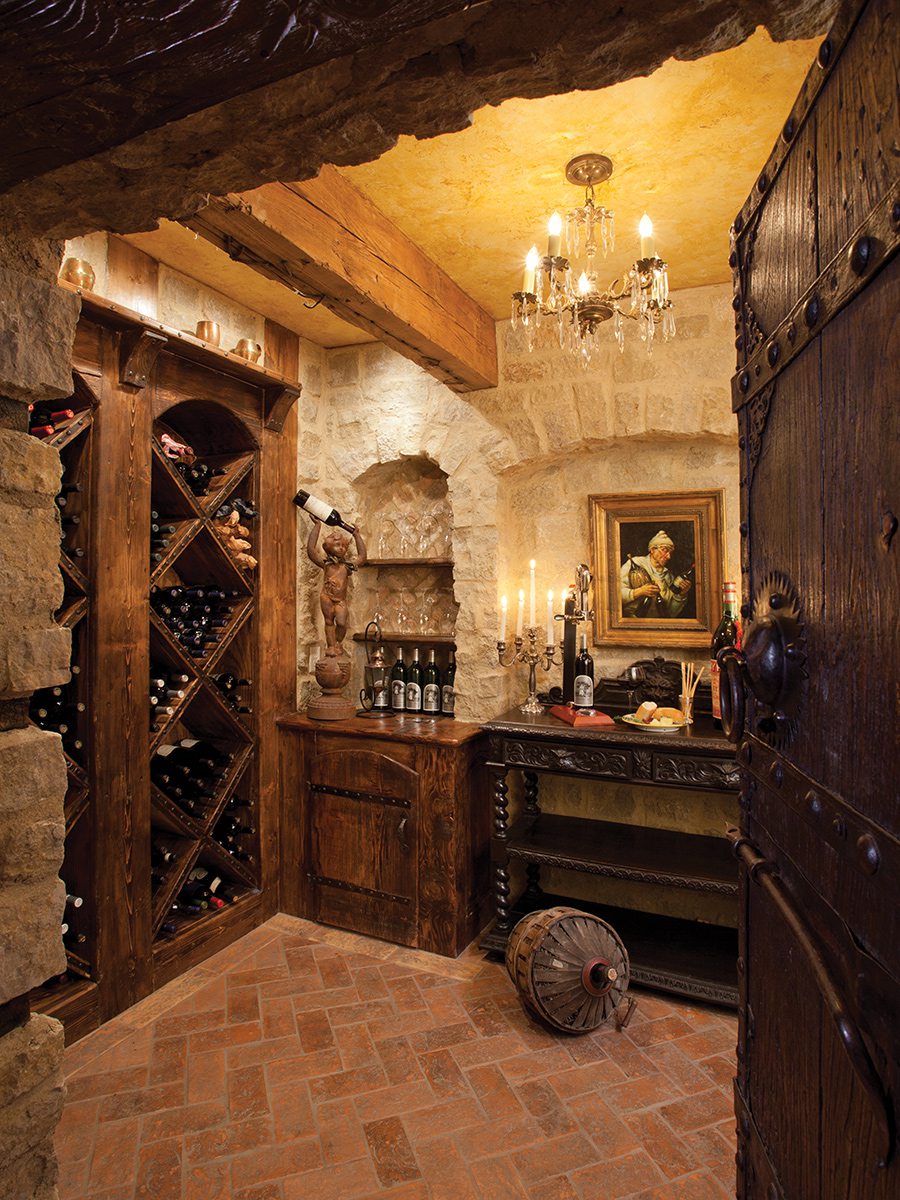 Photos by Dan Rockafellow (Left) The upstairs bar near the kitchen is a favorite entertaining spot for the Lieurances. It was modeled after a picture of an antique bar Karen has always loved. Antique beams add rustic definition to the space, and the chandelier provides elegance. The vintage cabinet, one of Karen's treasures found years earlier, was specially built into the stonework. A hammered copper sink features a fleur-de-lis design, and the bar's back window opens to the patio's barbecue area for easy entertaining. (Right) Large antique doors from Albuquerque make an immediate statement leading into the wine room. Stonework by G.R. Tracy Masonry was customized to allow the doors to open in both directions. Located underneath a patio, the room is all cement, creating the perfect climate for storing wine. An antique buffet adds a rustic ambiance, and a French piece stores wine bottles upside down. Reclaimed wood shelving adds additional storage and character.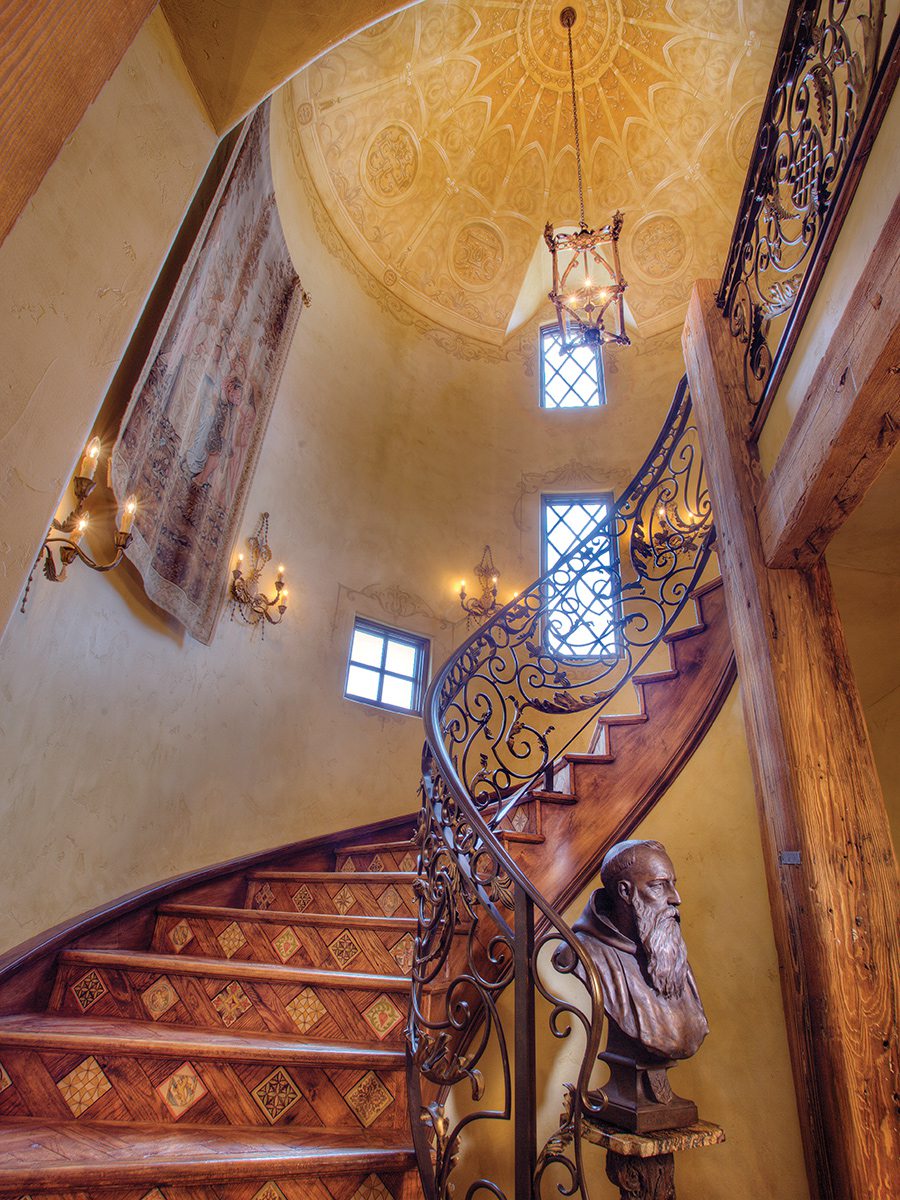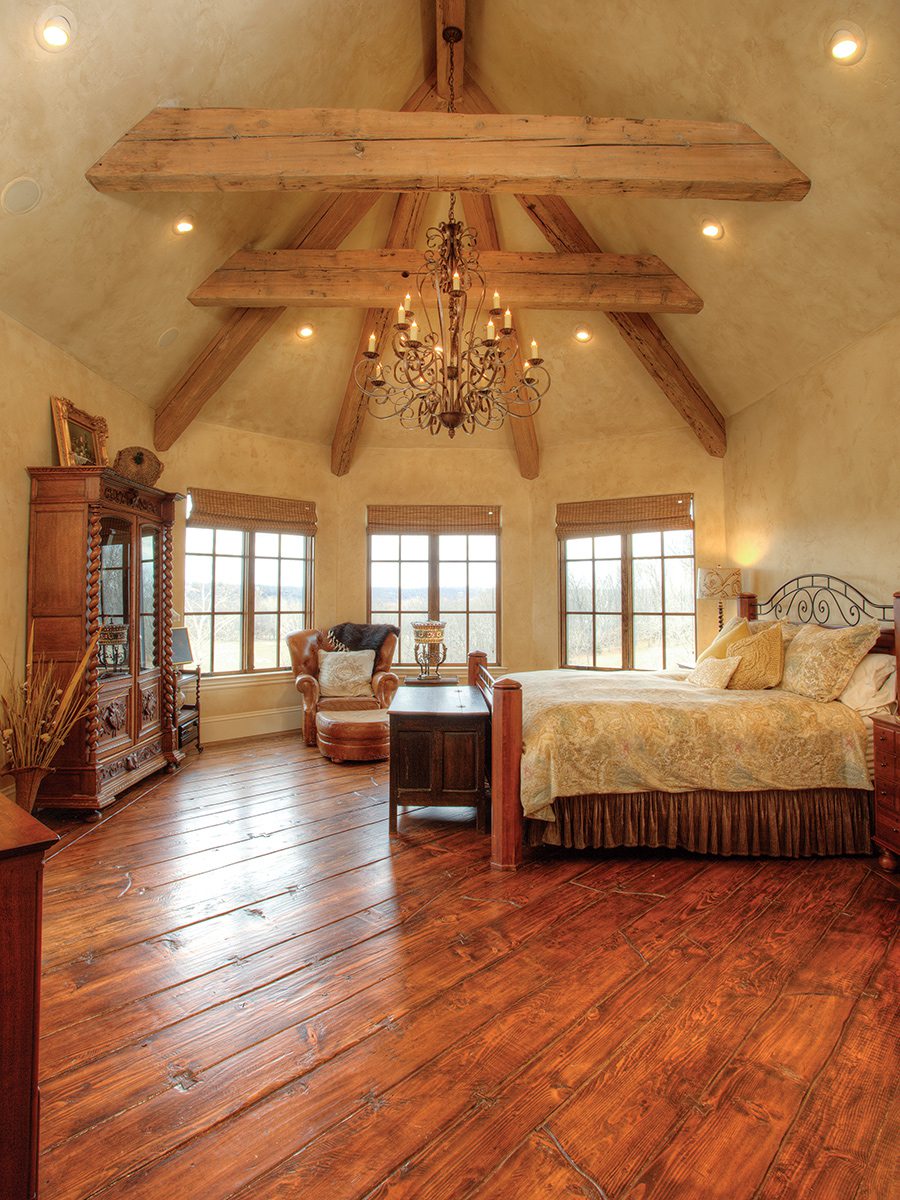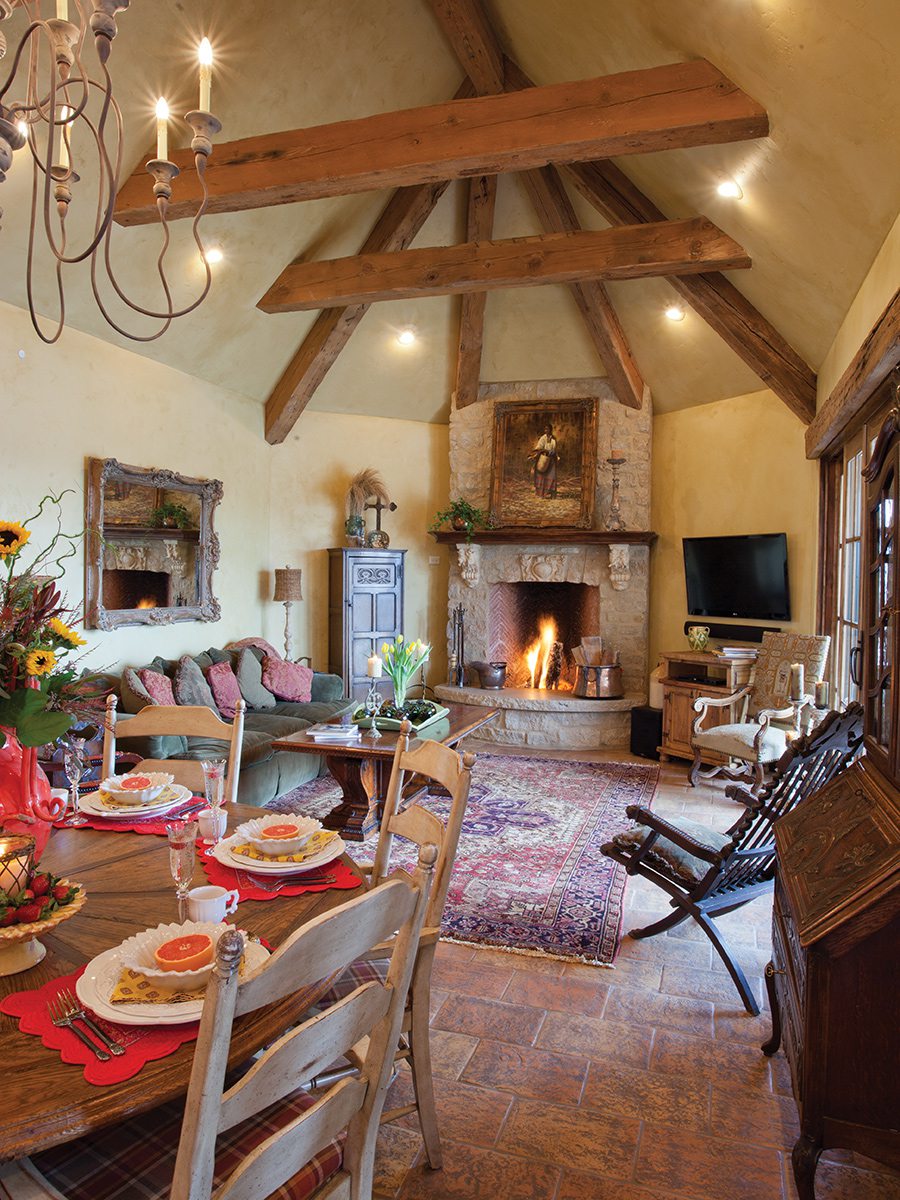 Photos by Dan Rockafellow (Left) The home's spiral staircase, enclosed in a turret, is a testament to the Lieurances Old World style. Steps made of reclaimed wood have a herringbone design with inlaid, hand-painted tiles set on a bias. An antique carriage light illuminates a freehand painting by local artist, Matt Myers, and the intricate artwork features hidden "green man" faces—the sun, moon, stars and more. The balcony's railing by Advanced Ironworks was designed from pictures Karen collected over the years. (Middle) Large reclaimed wood beams make an immediate statement in the master bedroom. The wood came from a textile mill in West Virginia and a tobacco plant in North Carolina and still has nails from its previous life, giving the room a rugged feel. Tall ceilings and a scroll chandelier offer an elegant touch. Floors are made with reclaimed wide plank wood, and a butterscotch color and glaze treatment on the walls completes the room's Old World atmosphere. (Right) Located off the kitchen, the hearth room serves as the home's main gathering place. A Rumford wood-burning fireplace made of hand-carved stone adds significant warmth and character. The edges of the herringbone-patterned firebrick are chipped to create an artisan look. Hand-carved stone corbels flank either side of the fireplace, and a small cartouche set into the stonework decorates the center. Nearby, French doors lead to the back patio's wood-fired pizza oven.