Dishes
Sashimi de Carne at Argentina Steakhouse
Plus six other things that passed the test of our taste buds.
By The Editors
Mar 2013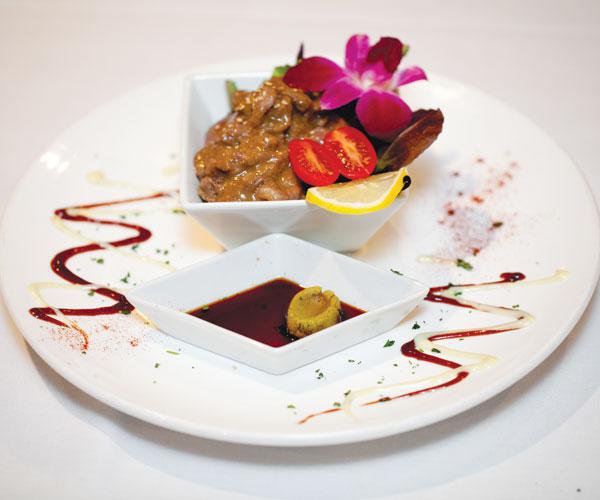 1. We love the simple deliciousness of the sashimi de carne at The Argentina Steakhouse (1410 E. Republic Rd., Springfield, 417-886-8010). Beef tenderloin is thinly sliced, served rare and tossed with a mouthwatering sesame sauce.
2. The
chargrilled pork and egg roll bun bowl
 at
Rolls-N-Bowls
(
1402 W. Sunshine St., Springfield, 417-869-1488
) has a spicier and more flavorful fish sauce than similar dishes we've tried at other places, and we keep going back for more. It's savory yet refreshing.    
3. You can never go wrong with 
crème brûlée
, and we absolutely love ending our meal with the version that's served at
Jimm's Steakhouse & Pub
 (
1935 S. Glenstone Ave., Springfield, 417-886-5466
). After finishing a top-notch steak, it tastes creamy, vanillay and perfect.    
4. Our new favorite sushi roll is the
salmon salsa roll
 at
Kai
(
306 S. Campbell Ave., Springfield, 417-832-0077
). It's simply awesome.    
5. For a tasty take on a classic sandwich, we like the
reuben rolls
 at
Dublin's Pass
(
317 Park Central East, Springfield, 417-862-7625
). They have elements of a reuben, all rolled-up, deep fried and served with Thousand Island dipping sauce.    
6. The
cheesecake
 at
The Rebecca Grille
 (
209 E. Walnut St., Springfield, 417-863-7000
) is ridiculous, and it cooks for seven hours. It's light and fluffy with warm caramel sauce drizzled over the top.    
7. We can't get enough of the
corn fritters
 from
Dobyns Dining Room
(
1 Opportunity Ave., Point Lookout, 417-239-1900
). Sweet corn and onions are fried in bite-size balls and served with smoked tomato tartar.