Spaces
The Rasmussen Christmas Home
Lizzie Rasmussen grew up in a large family that loved Christmas, and she is now passing on the love for the holiday with vintage-inspired decorations and some longstanding pieces from her childhood.
Written by Rose Marthis | Photos by Brandon Alms
Dec 2016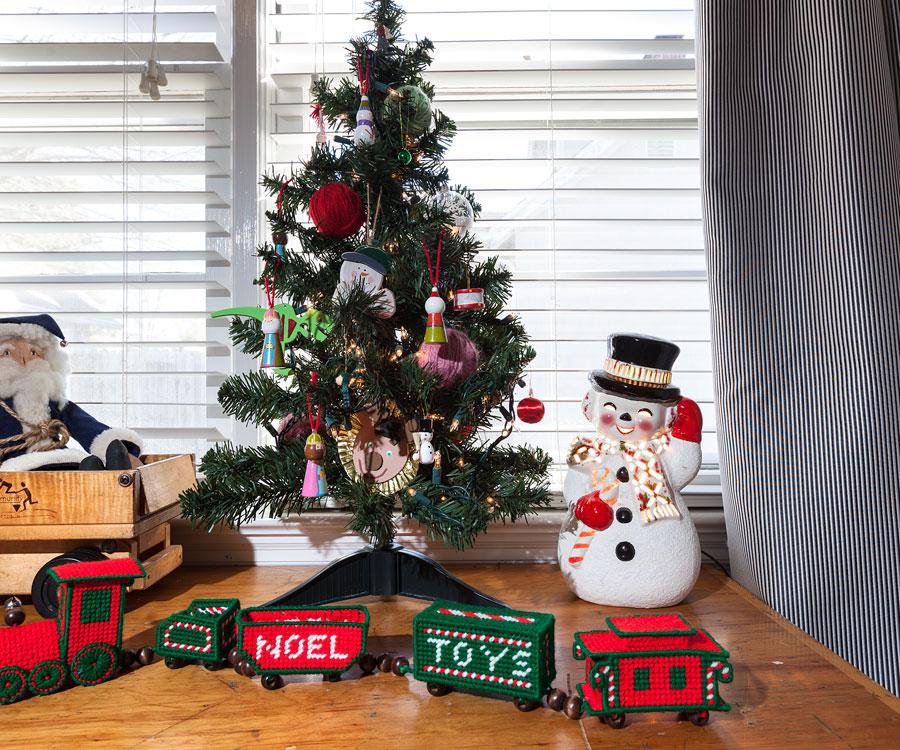 DETAILED DISPLAYS: It takes more than one main tree to display all the ornaments Rasmussen has, so smaller trees are set up around the house. The light-up snowman has been in her life since she was little and still sings "Frosty the Snowman." Rasmussen did update the lights to be white—her mom used red, which was a little haunting. 

When Lizzie Rasmussen was 10 years old, she climbed out the window to hang lights on a balcony of her childhood home. It was very important to her, she says. And then she figured out that her mom had gotten her to do all the difficult decorating that she didn't want to do herself. But that didn't deter Rasmussen, and her dedication to beautiful and classic Christmas decorations has only strengthened over the years. 
Rasmussen grew up in a large family with eight brothers and sisters. Her artsy mom collected old ornaments their entire lives, she says. Now, her own collection has vintage pieces inspired by her childhood favorites. Rasmussen has picked all the pieces up over time, going through phases of interests. One year it was bottle brush trees, and she wanted to find them in rare colors. One year she was after antique items inspired by nature, like garlands and flowers. She just keeps adding to her collection. "My collection probably grows twice as much each year," she says. "I add a good box or two every year." 
Rasmussen loves Christmas because it reminds her of all the good times spent with her family as a child. "I turn into a little kid again," she says. "I get excited every year." All of her decorations are reminiscent of the past, both from her family and her husband's. Now, the Rasmussens are spreading the love of the holidays to their own children, Albert and Betty.
TREE: The Rasmussens go as a family to cut down a tree every year. They usually end up with a tree too tall for their home, so Lizzie cuts off the top for the inside of the house and uses the bottom branches for extra garland. Her decor scheme isn't complete without cute packaging, and Rasmussen takes pride in her presentation of the presents. "Target had a cute line of gift wrap last year that helped me out," she says. 
MANTEL: Rasmussen went through a collecting phase one year and picked up every colored bottle brush tree she could find. Stockings are her favorite part of every Christmas. One year as a child, she opened her stocking to find an orange with cloves in it. Now she loves to boil cloves and orange peels on the stove every year. 
VINTAGE ORNAMENTS: Rasmussen snatches up vintage ornaments when she sees them at flea markets. She says they are reminiscent of what decorated her childhood tree. Some of her ornaments are also gifts from her sisters. 
DINING ROOM: Rasmussen loves planning and hosting parties, she says, and hosted a tea party last year for her daughter's December birthday. The snowflakes on the window have been a longstanding family tradition. Her sisters Millie and Rosie host a neighborhood bazaar every year and are "geniuses at cutting out snowflakes while mine always fall apart," Rasmussen says. All the siblings crafted snowflakes as a kid, and now her sister Nellie has passed the tradition on to the younger generation. 
BETTY'S ROOM: Lights are left up year-round in Rasmussen's daughter's room. She hangs the strands over the Ferris wheel picture because Betty likes how they glow, she says. 
TEA PARTY: Rasmussen sets up a tea party in her daughter Betty's room to inspire her imagination, she says. The little animals were picked up on a trip to New York City, and she found the miniature ornaments in a giant bag at a flea market to go with the tea set from Ikea. 
PIANO: One of Rasmussen's most vivid childhood memories was singing into a recorder with all her siblings while her mom played the piano. The kids sang songs to family members, and the recordings would be included in their Christmas letter. The holiday music book was a gift from one of Rasmussen's sisters and has '50s songs that she plays today.
BAR: Right inside her front door is a bar area that Rasmussen usually uses for parties. She hosts a holiday caroling party and makes sure to have plenty of punch for a fun evening. "My carolers probably wouldn't carol unless I did," she says. 
MASTER BEDROOM: Rasmussen doesn't skip her own master bedroom in the decorations, displaying a ceramic tree similar to one her mom had that she cherished. The quirky fishbowl decoration stays up year-round.