Dishes
Best Springfield Restaurants for Healthy Eating
Whether you have dietary restrictions, are watching your waistline or are just interested in knowing where your food comes from, we've found more than 30 ways to savor dishes in Springfield, Missouri that nourish your body and taste amazing.
By Lillian Stone
Jan 2020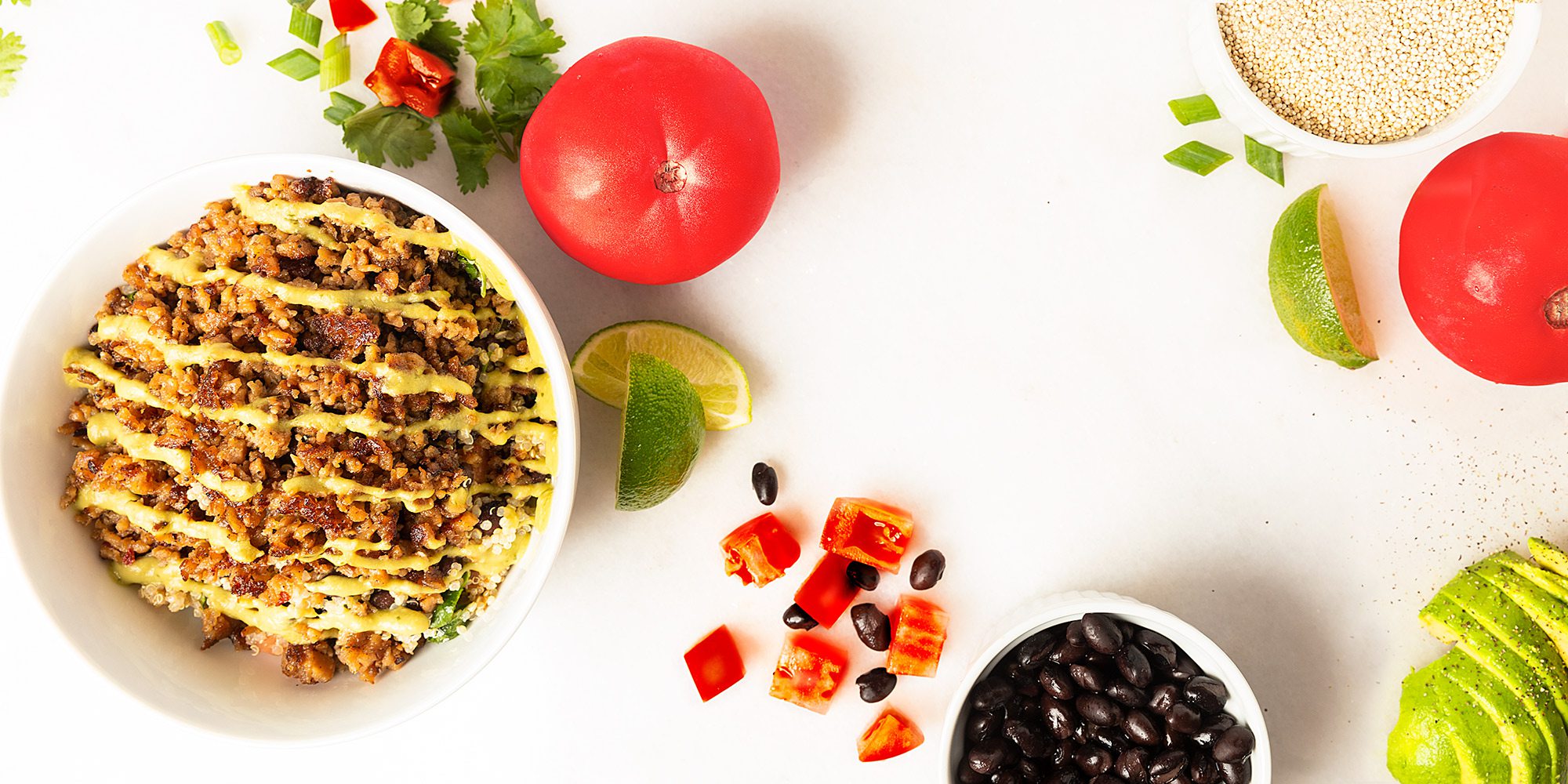 Calorie counting has gone the way of Juicy Couture sweatsuits. In other words, a regimented, deprivation-centered approach to wellness is so 2002. Although weighing and tallying your food can be helpful when you're, say, working on a finicky cake recipe, it can also lead to feelings of guilt and shame when applied to your diet in a broader sense. If you ask us, guilt and shame have no place at the dinner table—which is why we're ditching low-calorie vittles in favor of nutrient-dense, locally sourced, veggie-packed eats. This month, we're digging into local restaurants serving dishes that are packed with health benefits and phenomenal flavor. No weighing, counting or deprivation required.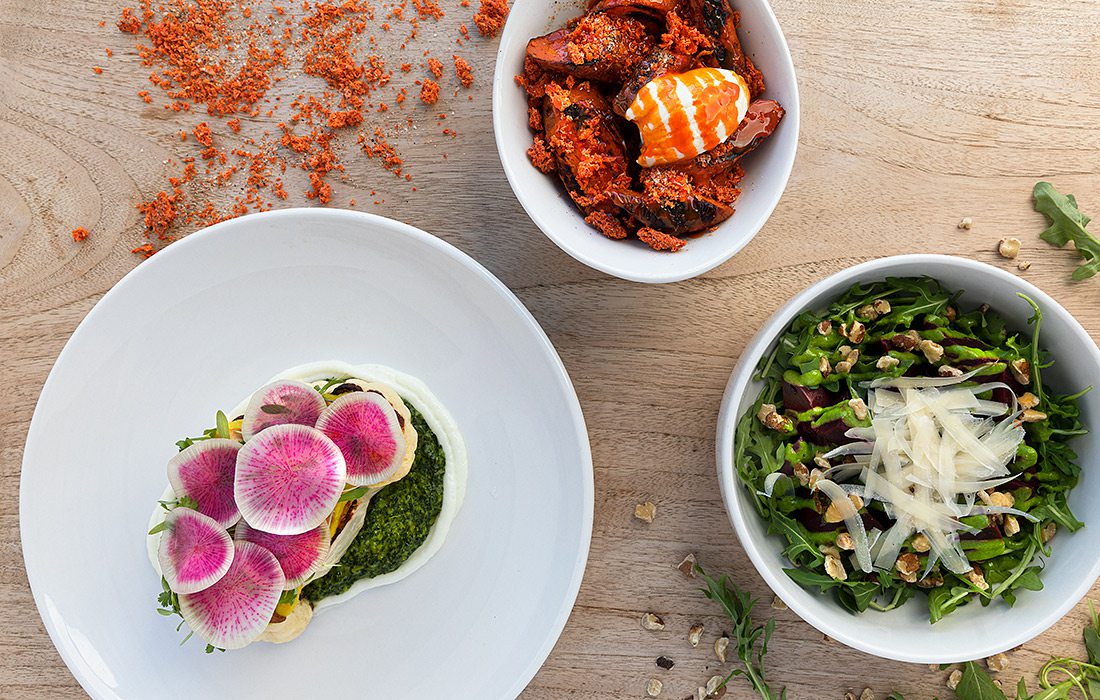 VEGAN CAULIFLOWER STEAK | Toum, shawarma-spiced cauliflower puree, dukkah, pickled watermelon radish
CHARRED CARROTS AND CARROT HONEY | Local carrots, Terrell Creek chevre, smoked yogurt, carrot honey, spiced carrot crumble
BRAISED BEET AND ARUGULA | Local beets cooked in Coffee Ethic coffee, arugula puree, beet molasses, Parmesan, Missouri black walnuts

Photo by Brandon Alms
Progress | Veg with an Edge
At Progress, the humble cauliflower gets the same star treatment as a slab of Kobe beef.

Since their days as a roaming pop-up venture, the Progress team has prioritized vegetables in a way that excites plant-based eaters and carnivores alike. Now, with a little over a year as a brick-and-mortar, Progress remains proof that produce can be a lot more than just an afterthought. "I believe that the flavor of vegetables can be much more exciting and compelling than meat," chef Daniel Ernce says. "They truly represent time and place, as well as terroir."
For the unindoctrinated, terroir refers to the environment in which a crop is grown—its soil, climate and topography, key elements in the story-forward cuisine available at Progress. "I feel that vegetables have a built-in narrative that is so often lost in translation or taken for granted," Ernce says. "I also feel people tend to have a bias that animal proteins are automatically or inherently better or more delicious than a plant or a vegetable. I love challenging that convention and showing that a vegetable can be prepared in a way that is just as memorable, thoughtful, gripping and compelling as any animal." Ernce explains that, not only does locally grown produce taste delicious—it's also a chance to pay homage to generations of agricultural tradition. "It's incredible what our farmers can achieve through their craft and the flavors they can cultivate," Ernce says. "Companies like Row 7 and Baker Creek are developing and bringing back heritage seeds that, in the skilled hands of our local farmers, make my job as a chef easy."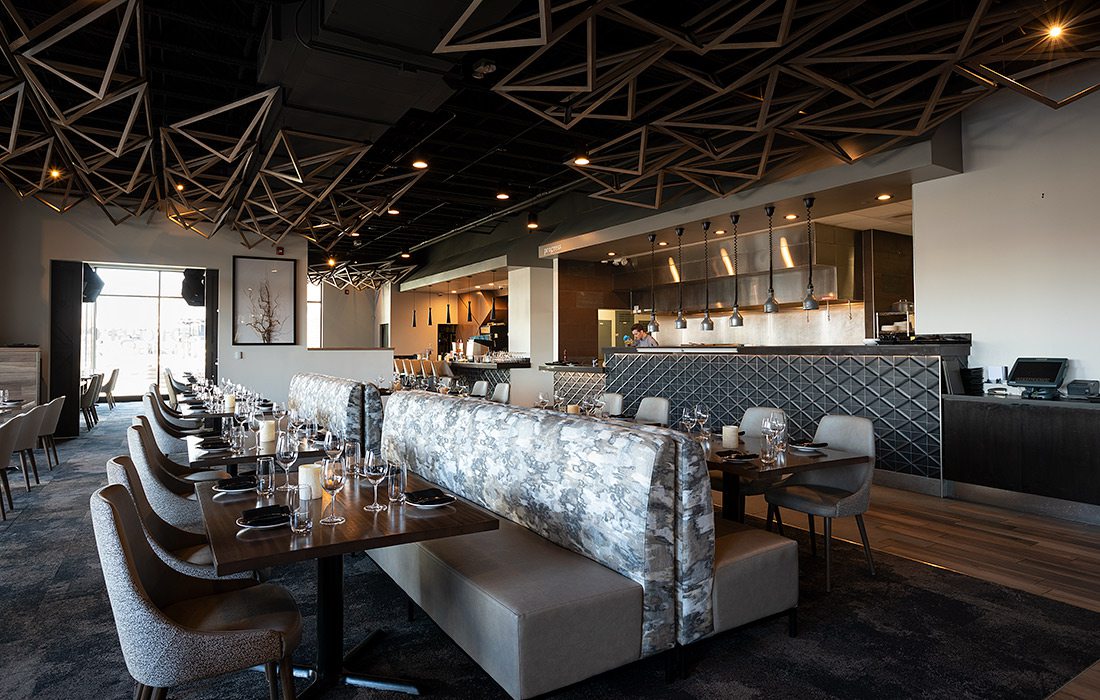 Ernce's focus on local produce is evident in his strictly seasonal menus, which he rotates out for fresher fare every three months or so. On each menu, you'll find the best of what local farmers have to offer—everything from Terrell Creek Farm goat cheese to local McQueary honey (in the ever-popular Milk and Honey dessert) to Coffee Ethic coffee-braised beets accented with locally foraged black walnuts.
At its core, Progress is a communal dining experience—one that proves to be a joy for carnivores and vegans alike. There are vegan options in every course, and the majority of small plates are meatless, establishing a truly shareable sentimentality where other concepts have failed. The portion-conscious will be happy to know that Progress makes it difficult to overindulge; the eatery's precisely plated dishes focus more on quality and less on brutally large portions. Then, of course, there's the cocktail menu. It offers both indulgent options—seasonal sangria, anyone?—and lighter sippers. Take, for example, the contents of the sugar-free Gin and Perrier menu, or sparkling libations like the Savage Spritz made with bone-dry rosé.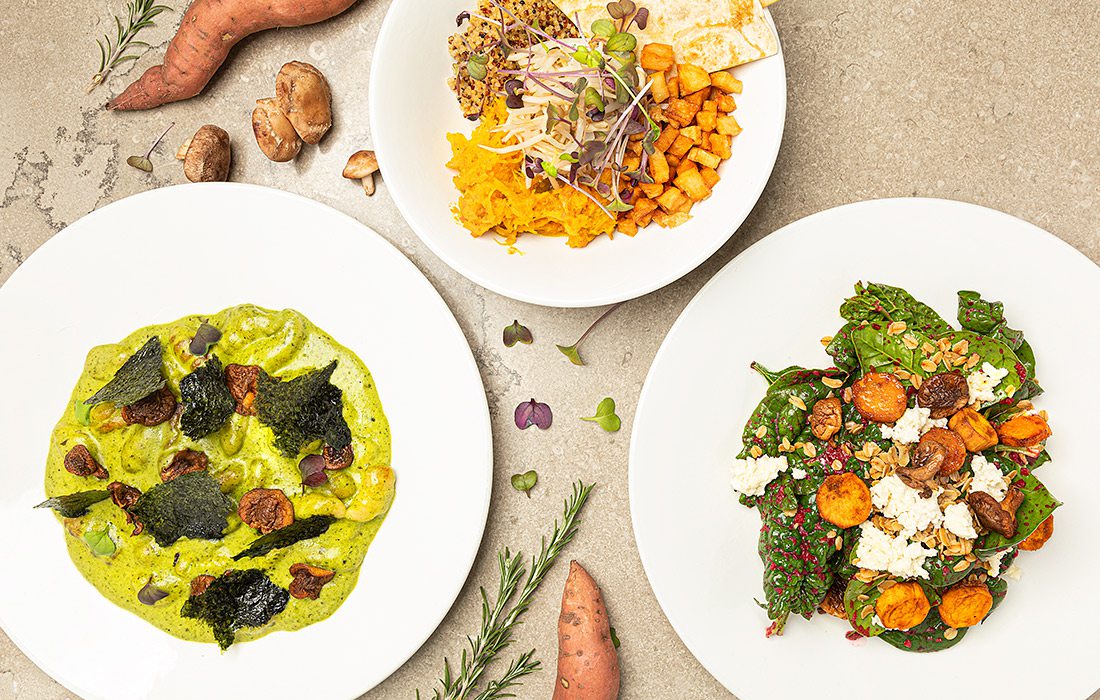 PESTO GNOCCHI | House-made gnocchi, Willow Mountain mushrooms, nori
BUDDHA BOWL | Quinoa, chickpeas, curry, spaghetti squash, miso-pickled vegetables
BAY SCALLOP CEVICHE | Cilantro, cucumber, jalapeno, blood orange

Photo by Brandon Alms
The Order | Tastes Like Home
At The Order, hyper-local cuisine is on the menu for locals and visitors alike.

It's fitting that The Order is housed inside Hotel Vandivort. For many lifelong Springfield residents, the boutique hotel represents the best of the Ozarks—impeccable accommodations, unforgettable Midwestern hospitality and a location in the heart of Springfield's historic downtown. In a way, The Order represents exactly that—a taste of the best Springfield has to offer.
In February of last year, Caleb Stangroom took the reins in the kitchen after former chef Zach White's exit. Inspired by White's local-forward approach, Stangroom has worked to incorporate products from a wide variety of local purveyors. Stangroom reports that the menu currently stands at about 60 percent local ingredients, with contributions from local favorites including JB Kobe Farms, Millsap Farms and Gardener's Orchard. In Stangroom's kitchen, the focus is on freshness, as well as the nutritional content of fresh produce. "If you buy from a large purveyor—for example, something like tomatoes—the nutritional value and the flavor both decline after about three days or so," Stangroom says. That's why he has ingredients delivered every week from places like Millsap Farms, Edgewood Creamery and Terrell Creek Farm. Of course, true farm-to-table chefs know that consistent supply can be a challenge, especially in the winter months or when there are supply issues. Stangroom cites a recent trout die-off that's made local fish hard to come by. "It's all part of the challenge," he says. "We just have to allocate our supply differently."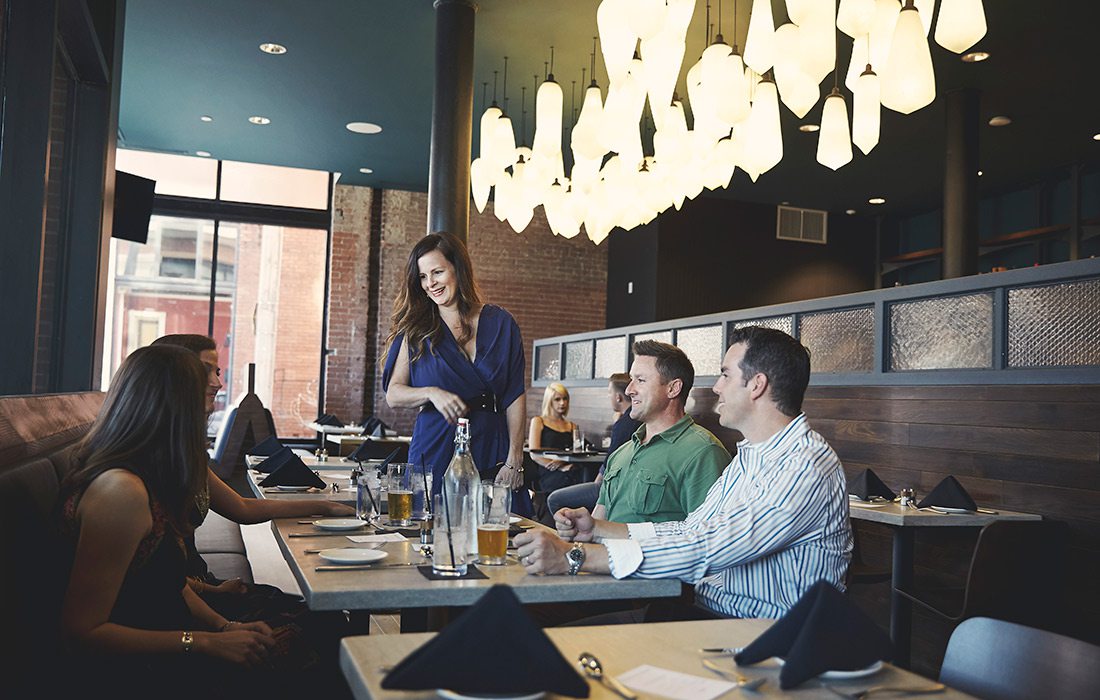 While Stangroom wants guests to enjoy high-quality local flavors, he also likes to draw attention to the unique economic impact of farm-to-table dining. "Not only is your product so much better—it actually gives back to the community," Stangroom says. "A dish should be like a city: locally grown and locally funded." Stangroom points out that, although some health-conscious patrons might approach The Order's menu with trepidation—rich dishes like creamy pesto gnocchi and buttery Kobe beef patties take center stage—the hyper-local nature of the ingredients ensures a higher nutritional value. Of course, you can also opt for more traditionally waistline-friendly items, like any of the seasonal salads highlighted on the newly launched winter menu. Now, if you need us, we'll be attempting to rationalize the nutritional content of the chocolate drizzled Hurts Donut bread pudding.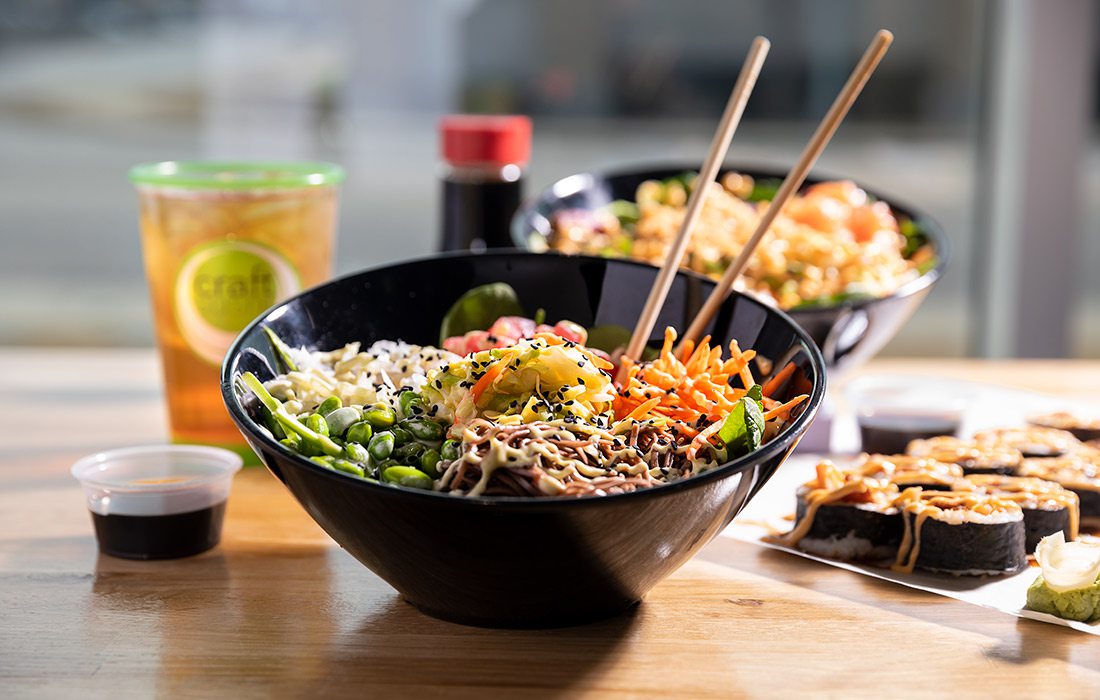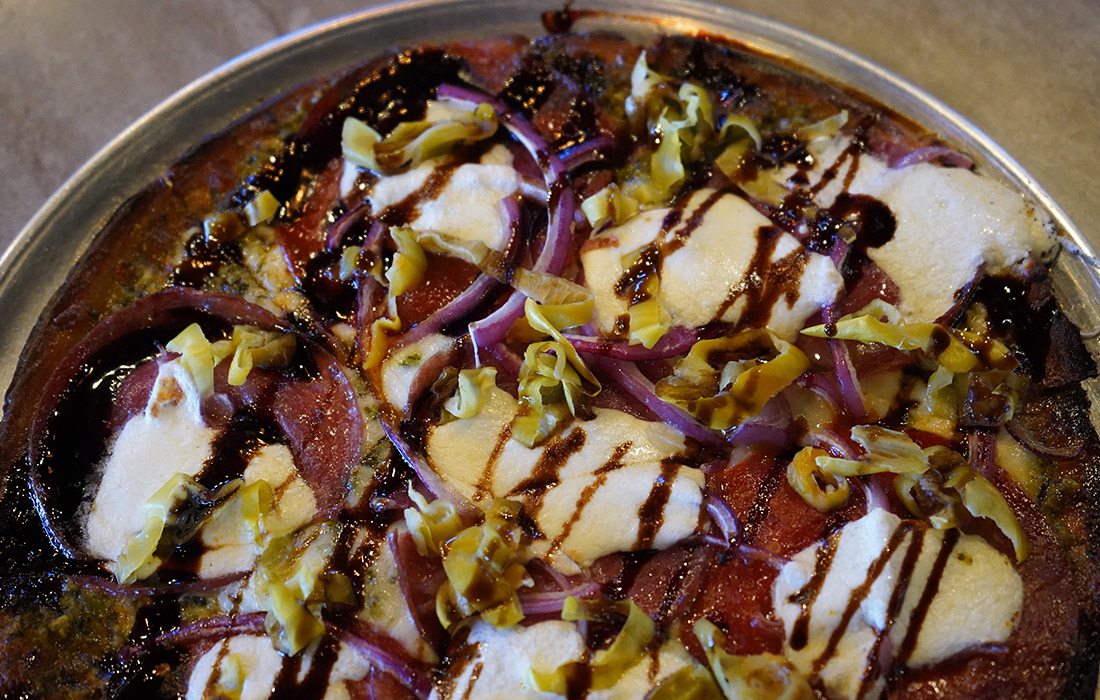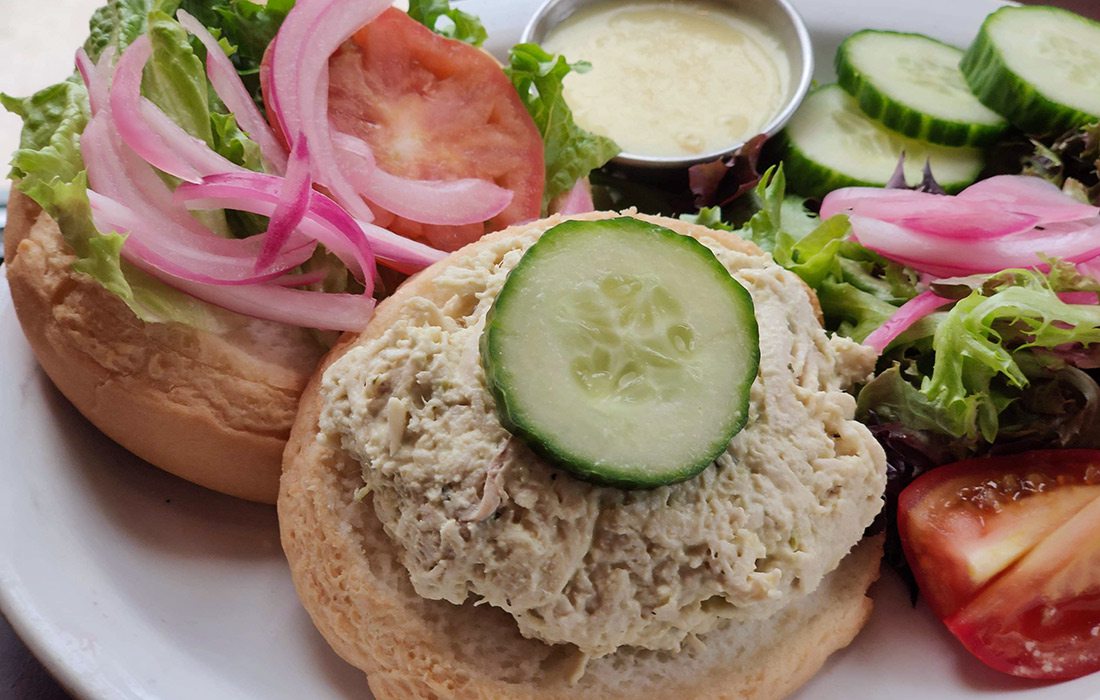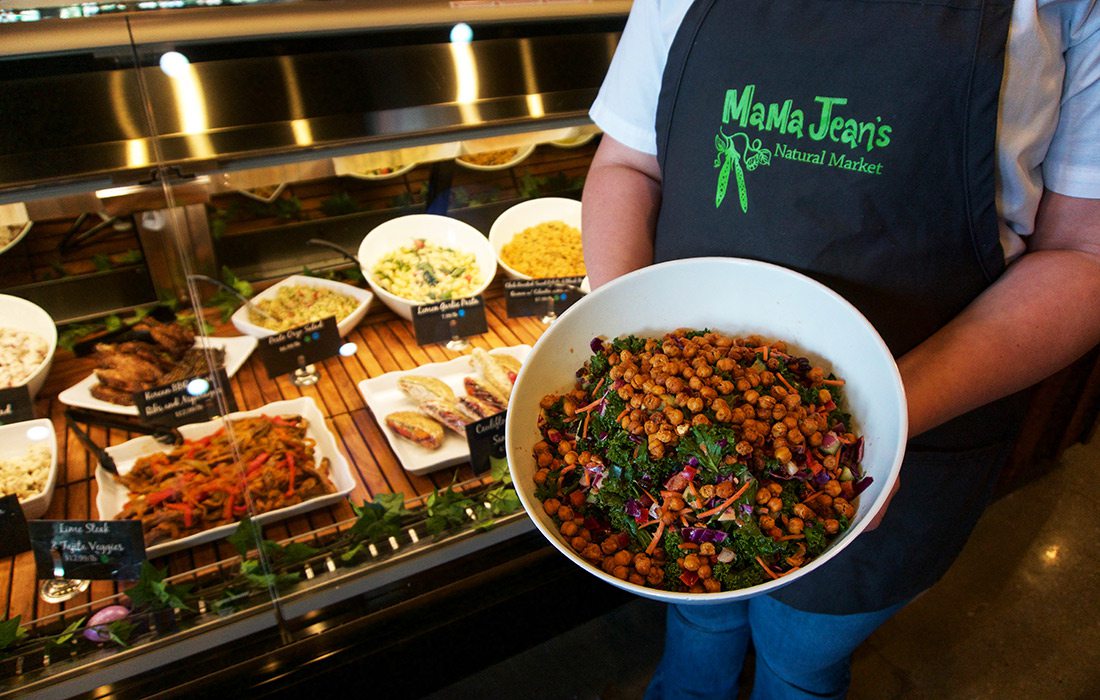 Best Places to Eat Gluten Free in Springfield
Gluten-free foodies know that going GF isn't a passing wellness trend—it's a way of life. These destinations offer the best in local gluten-free dining, although, be sure to call ahead if you have Celiac or a wheat allergy, as not all of these kitchens are gluten-free certified.
234 E. Commercial St., Springfield, 417-868-8088
The Peruvian spot's largely gluten-free menu has gluten-containing foods clearly labeled, with gluten-free buns available on all of the sandwiches. 
107 W. Aldersgate Drive, Suites 1–2, Nixa, 417-374-7291
If you're avoiding gluten, an Italian restaurant may seem like a dietary death trap. That's not the case at Piccolo, where you can substitute gluten-free penne in any pasta dish.
Multiple Springfield locations
If you're on the go and avoiding gluten, pop into the deli at any MaMa Jean's Natural Market location for smoothies, salads—even sandwiches on gluten-free bread. If you're cooking, MaMa Jean's also has arguably the most impressive gluten-free grocery selection in town.
The team at Gilardi's Italian Ristorante grows the majority of their produce just steps from the restaurant's front door.

A is for Arugula. Z is for Zucchini. As for the rest of the produce alphabet, you'll have to pop into the garden outside of Gilardi's Italian Ristorante. There, chef-owner James Martin grows dozens of fresh ingredients, having cultivated the property located immediately outside Gilardi's on historic Walnut Street. Before you run screaming at the thought of carb-laden Italian food, hear us out. Martin's well-curated garden gives his kitchen staff access to nutrient-dense, flavor-packed veggies and herbs that are served the same day they're plucked from the ground. Where some locals keep small beds of herbs alongside their restaurants, Martin and his team go above and beyond. A wide variety of staple crops are grown on the property, including several heirloom tomato varieties, peppers, lettuce and onions. Martin's staff also cultivates several herbs like basil, thyme and oregano, as well as a few more unorthodox items like edible flowers for garnishes and pineapple tomatillos, otherwise known as ground cherries. Intrigued? Head to Gilardi's and see for yourself. The fruits of this unique agricultural labor are best enjoyed in standout dishes like the Vitello Marsala, a lightly floured veal scallopini accented by a mushroom cream sauce. It's all served on a bed of garlic mashed potatoes and seasonal veggies plucked from the Gilardi's garden. If you're going to carbo-load, Gilardi's is the place to do it.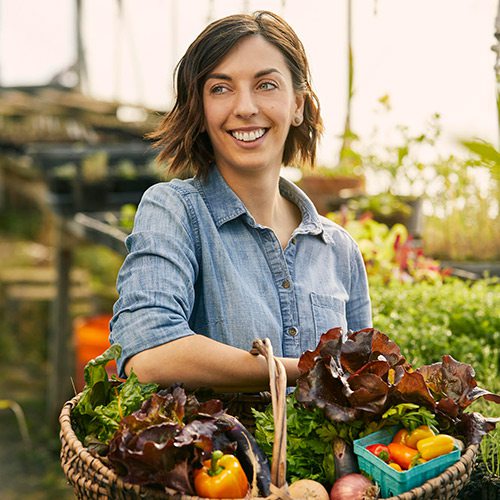 How Katie Baker is bringing farm-to-table cuisine to busy families.
With the rise of Blue Apron and HelloFresh, meal delivery services are rapidly becoming the norm for busy families looking to escape the siren song of the McDonald's drive-thru. Enter Katie Baker. Baker's company, The Gracious Plate, offers weekly meal deliveries for individuals and families with a focus on locally sourced food that accommodates a variety of food allergies. From the beginning, Baker has sourced the vast majority of her ingredients from local farms, starting with just one Urban Roots Farm Community-Supported Agriculture (CSA) share. Now, she gets her produce from a double share through Millsap Farm, supplementing menus with local meat and farmers market finds. Her meat comes from a variety of local sources, with beef from Blue Silo Beef and Blackgate Beef, pork from Circle B Ranch and chicken from Peace Valley Poultry. "If I know where my food is coming from, that's the healthiest way to eat," Baker says.
Customers can order from Baker's website, selecting customizable packages for weekly delivery. Meals are all pre-prepared—just heat and eat—with hearty favorites like a farmhouse chicken dinner with mashed potatoes, green beans and beet barbecue sauce.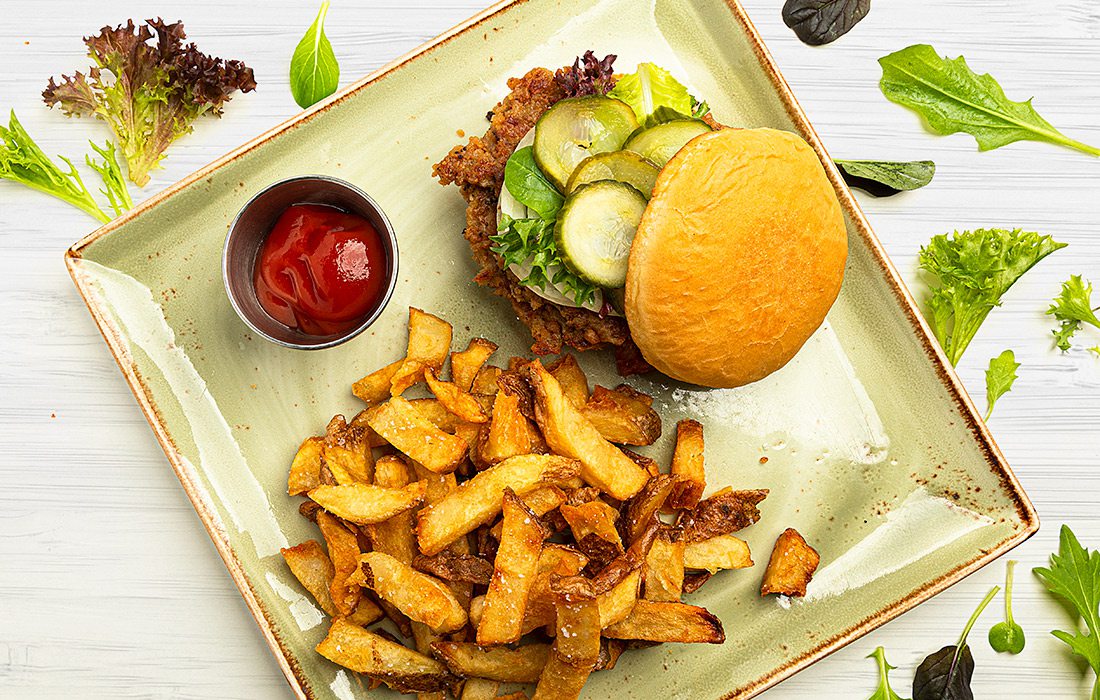 Chef and owner Andy Hampshire homes in on local ingredients for a uniquely nutritious—and delicious— pub experience.
When you think of pub fare, you might endure visions of greasy fish and chip platters, watery stouts—perhaps even decaying dart boards. Farmers Gastropub Chef and Owner Andy Hampshire is vehemently against all of the above (except, perhaps, a well-placed dart board or two). Since its early days in downtown Springfield, the British-inspired gastropub has prioritized freshness, highlighting local meat and produce throughout its seasonally rotating menu. Now, the gastropub is more innovative than ever, with Hampshire's steady hand guiding the eatery since he took over as chef and owner in 2015.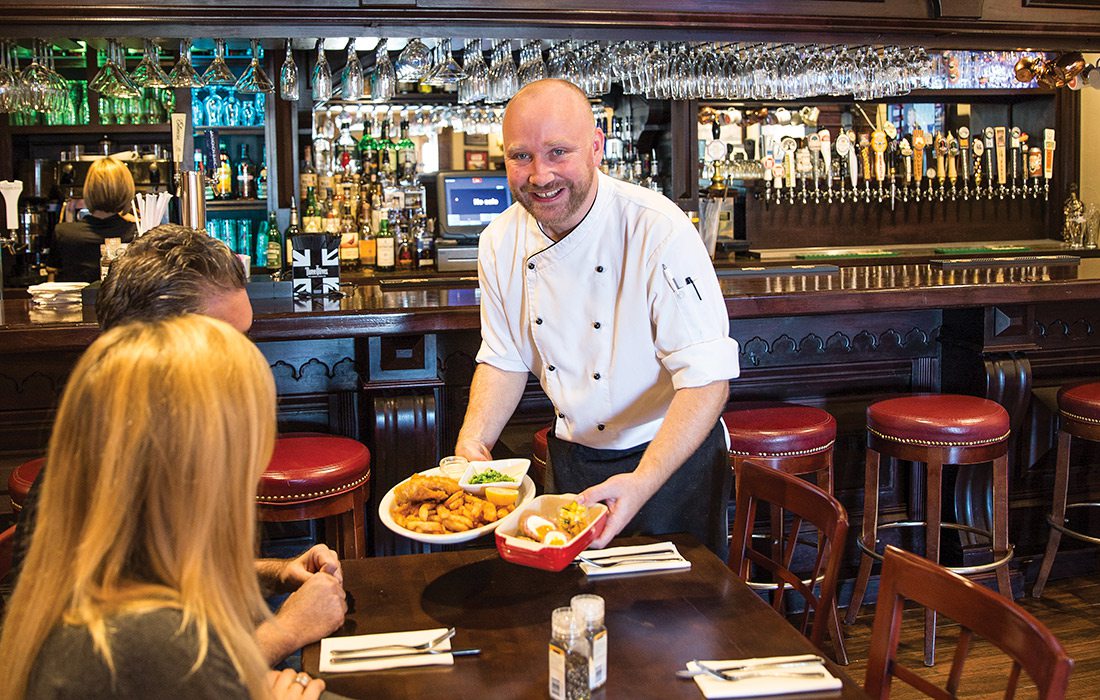 These days, Hampshire uses a wide variety of local products from dozens of providers including Circle B Ranch, Willow Mountain Mushrooms, Blue Heron Farm, Peace Valley Poultry, Terrell Creek Farm, Bechard Family Farm and Neighbor's Mill. He also supplements regular supplier deliveries with visits to area farmers markets. Most importantly, Hampshire works with the seasons, making frequent menu tweaks to accommodate differences in farmer supply—and to build relationships with local farmers and producers.
While traditional pub fare is certainly available at Farmers Gastropub—Hampshire makes a remarkable Scotch egg—the compelling dishes turn tradition on its head. Take, for example, the zucchini noodles, featuring cabbage, kale, garlic, mushrooms, lemon, parsley and a touch of white wine. The slightly heavier fare is also packed with local flavor—don't miss out on the Shepherd's Pie, with local lamb, carrots, onion gravy, peas and butternut squash. While the latter might not fit into a strictly health-conscious mold, it's worth noting that the vast majority of Farmers Gastropub's condiments and sauces are made in-house from scratch. At the end of the day, it's about using real ingredients that showcase the best of both worlds: Missouri's agricultural tradition and Hampshire's unmistakably English sensibilities.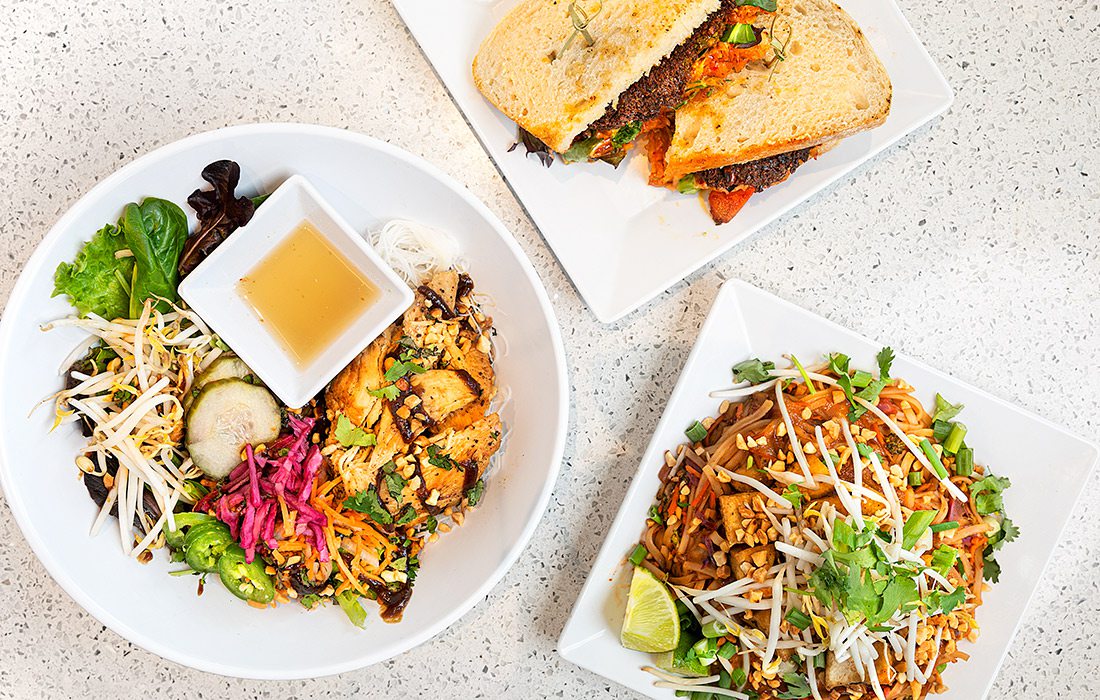 VIETNAMESE VEERMICELLI | Bean sprouts, veggies, sweet vinegar fish sauce, cilantro, garden-grown mint, hoisin sauce, crushed peanuts. Choice of meat or lemongrass tofu
KIMCHI FALAFEL | Garbanzo beans, brown lentils, house-made kimchi, B + B Boulangerie ciabatta, cilantro, chipotle aioli
VEGAN PAD THAI | Rice noodles, savory tamarind sauce, veggies, mung bean sprouts, crushed peanuts, cilantro, green onions

Photo by Brandon Alms
The flavor fiends at The Wheelhouse have something for everyone—regardless of dietary restrictions.
Since its days as Springfield's favorite turmeric-yellow food truck, The Wheelhouse has been a go-to for those looking to indulge in innovative fusion cuisine. Now based in Springfield's ViB Best Western hotel, The Wheelhouse has also made it possible for guests to revel in flavor without compromising dietary preferences or restrictions. Most of The Wheelhouse's menu can be made vegetarian and vegan, and there are plenty of gluten-free options, including an epic vegan pad thai and gluten-free pineapple fried rice.
Above all, The Wheelhouse focuses on high-quality Thai and Mexican-inspired ingredients, using spices that are ground and toasted in-house as well as fully homemade sauces and marinades. Owners Zach and Melissa Smallwood draw inspiration from Thai and Mexican cuisines and beyond, packing each seemingly simple dish with energizing seasonings. Of course, the Smallwoods occasionally stray from Thai and Mexican staples to pursue other culinary experiments—like The Wheelhouse's kimchi, which is fermented and sold in-house. (We recommend picking it up to add gut-friendly zing to your scrambled eggs.)
The Smallwoods also try to use local ingredients whenever possible, growing their own peppers on a plot of land in Seymour, Missouri, and sourcing sustainably raised meat from local farms like Circle B Ranch. "We're definitely firm believers in the power of local meat," Melissa says. "I think Circle B Ranch pork goes great with everything on our menu, especially the Vietnamese vermicelli."
The Smallwoods' passion for international flavors and homegrown ingredients results in a menu that's packed with gut-busting delights—the burritos are always a favorite—as well as veg-friendly, low-carb options like the Veggie Special Tacos. The tacos feature wok-fried veggies, hand-pressed corn tortillas, housemade sauces and goodies like red onions, cilantro and cotija cheese. Going low-carb? Try the tacos in bowl or salad form, accented by a low-fat version of refried beans, roasted garlic and ground Chile Pasilla. If you're looking to reduce overall fat content, all garnishes—Monterey Jack cheese, guacamole and sour cream, for example—are totally optional.
The Wheelhouse also has options if you're looking to imbibe, with a vibrant cocktail menu that highlights fresh-squeezed juices and natural flavors. We recommend the Grapefruit Cantarito, which features house-made grapefruit simple syrup, fresh squeezed grapefruit, lime juice and tequila.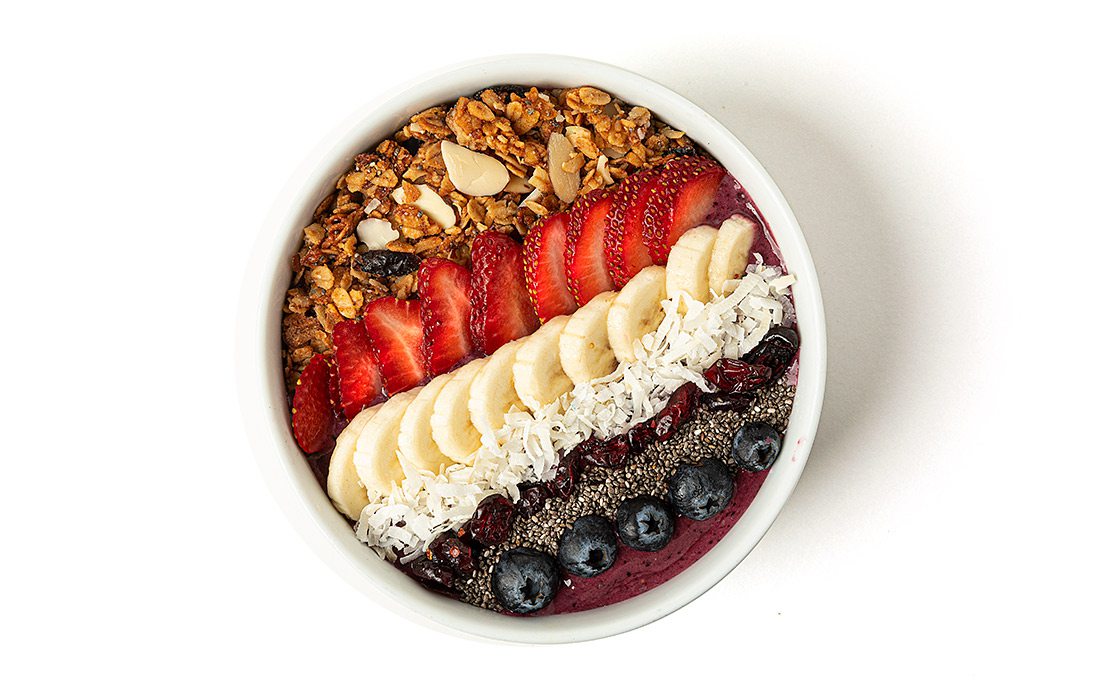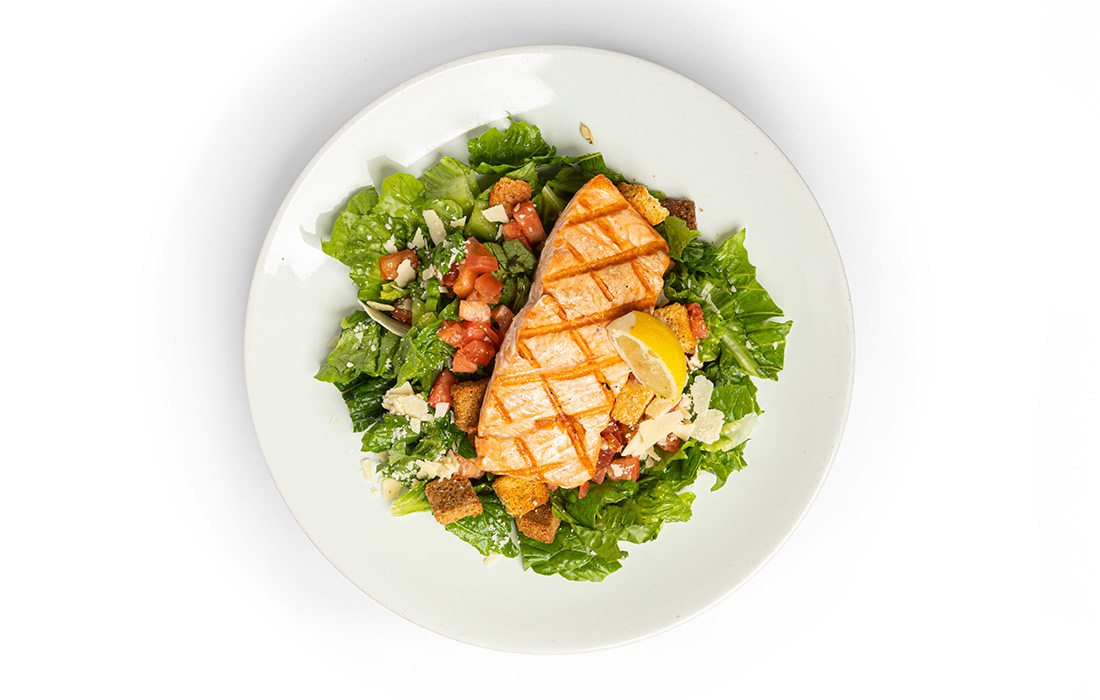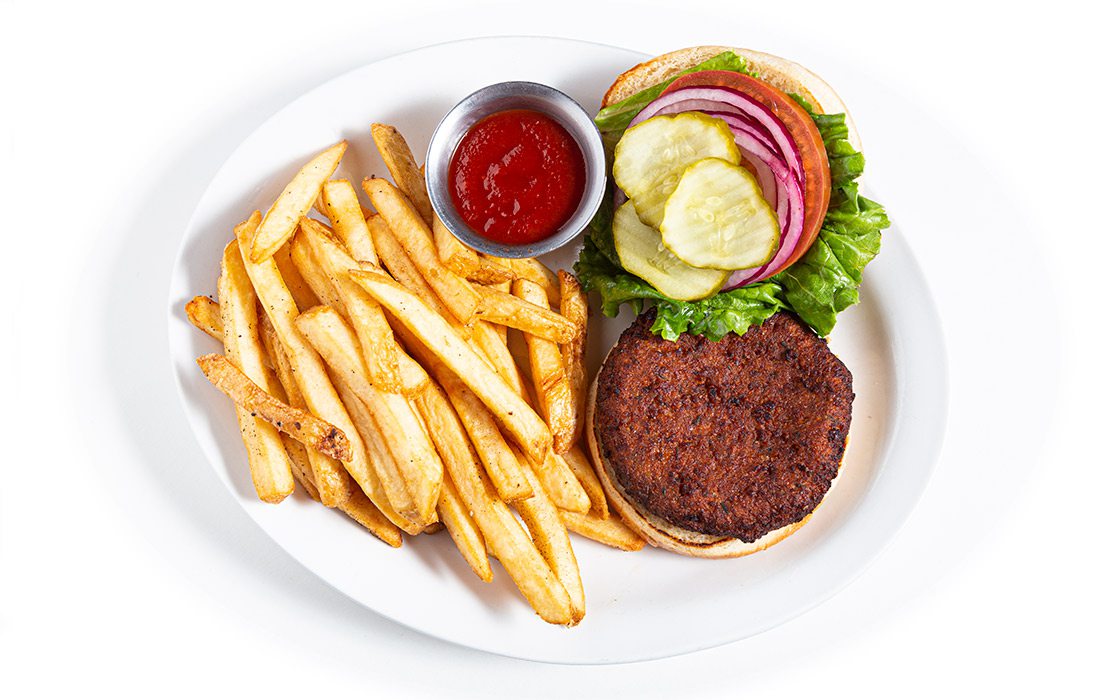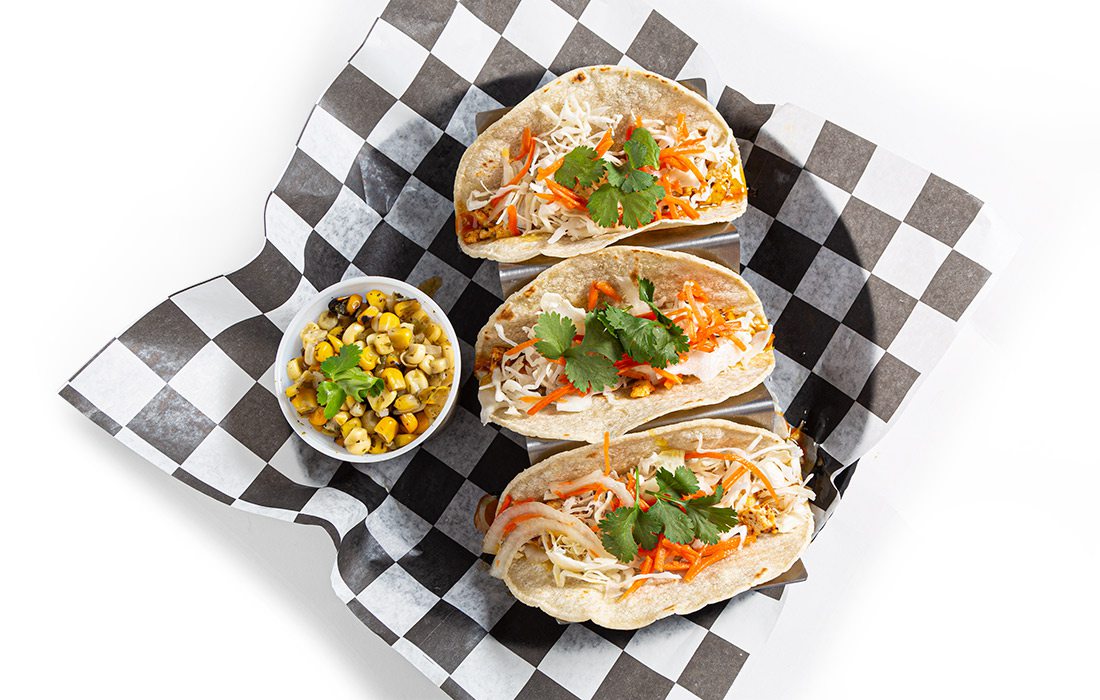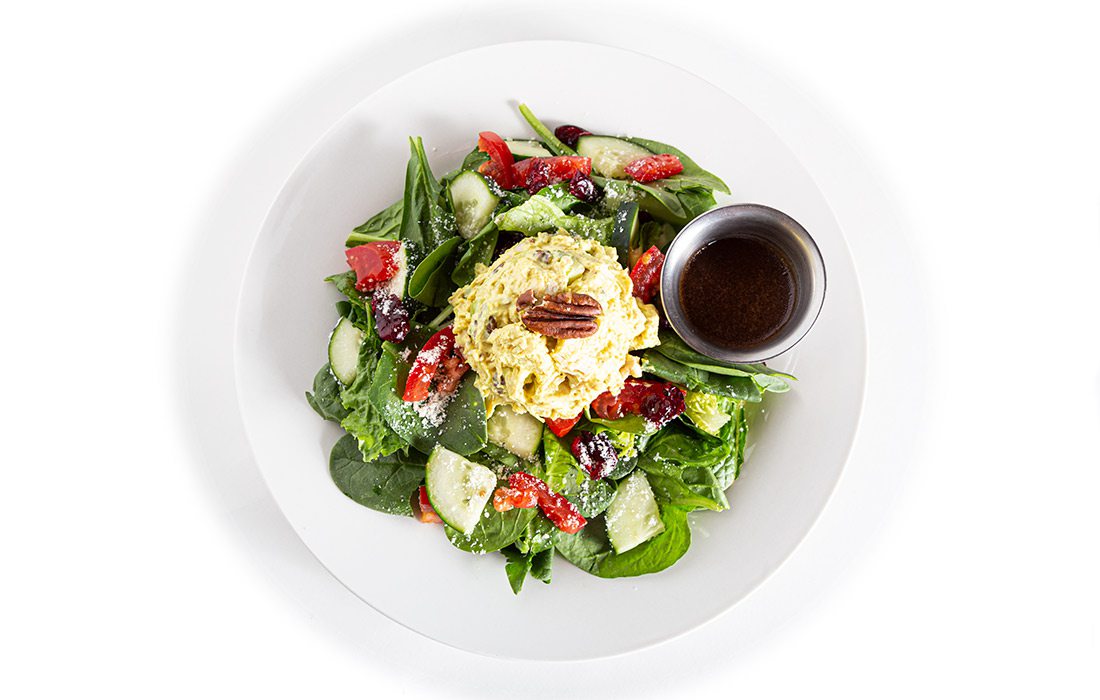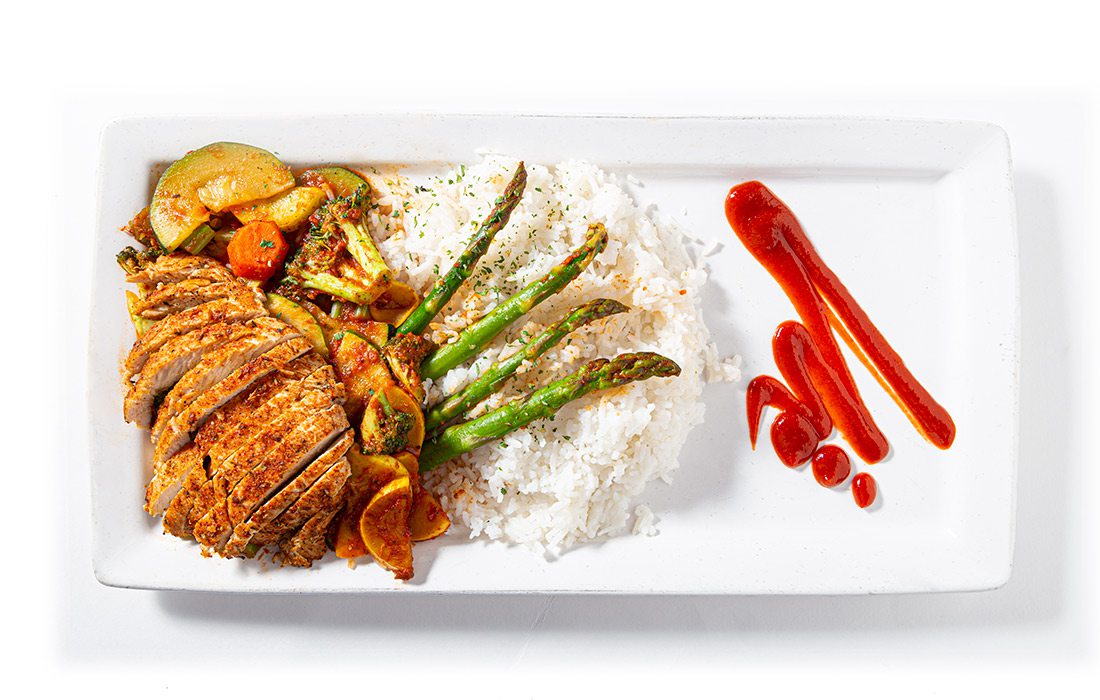 Feel Good Dishes
Parts of this healthy-ish list don't meet traditional calorie or fat content expectations, but they're packed with nutrients—and lots of flavor.
Featuring locally sourced trout, cornmeal crust with house-ground cornmeal and bacon chowder from pigs raised onsite.
Oh My Veggie Roll | Haruno

Calling all veg-heads: This roll features asparagus, yellow radish, shredded daikon, sweet gourd, cucumber, avocado—you get the idea.
Unleash your inner Helen of Troy with this bowl, packed with beautifying goodies like açai, banana, coconut flakes and raw honey.
Sausage, Peppers and Onion Bowl | Pasta Express

A Whole 30 dish at a pasta joint? Believe it.
Palo Alto Sandwich | The Grotto

This veg-friendly sandwich comes on pizza crust with portobello, goat cheese and lots of veggies.
Refreshing yet filling, this Springfield staple salad has Romaine, Caesar dressing and Atlantic salmon.
No pretending necessary—there's nothing fake about this house-made vegan burger patty.
Served with seasoned tofu, mango-habanero slaw, cabbage, pickled carrots, pickled onions and cilantro. Have one. Have five.
This veggie-packed alternative to a ho-hum dinner salad has mixed greens and light vinaigrette.
Vegan Breakfast Bowl | Druff's

Locally made Jake's Vegan Breakfast Sausage, housemade quinoa salad and avocado dressing make this a healthy choice for plant-based warriors and meat lovers alike.
This Indonesian-inspired dish combines banana, tofu and sweet soy sauce. It's the flavor adventure we didn't know we needed.
Vegetable Spring Rolls | Pho Kim

Jicama gives this vegan appetizer a pleasantly nutty flavor. 
Curried Chicken Salad on Greens | Tea Bar & Bites

Tea Bar has captured the hearts of 417-land's lunch crowd with this storied chicken salad, featuring toasted pecans and a creamy curry dressing. Also available in sandwich form.
GG smothers its house-made meat replacement in zesty toppings and sauces for a droolworthy experience that'll leave carnivores wondering what they're missing.
Don't fear the smash patty: Grad School's lightest entree features chicken breast served over basmati rice and veggies.
Whole-wheat pasta and a vegan-friendly sauce packed with veggies make this quite possibly the healthiest pasta dish in southwest Missouri.
Groundskeeper Taco | Team Taco

Team Taco's Skeleton Crew blasts roasted carrots and zucchini with a spicy verde sauce, then tops the veg with cilantro, cotija cheese and onion.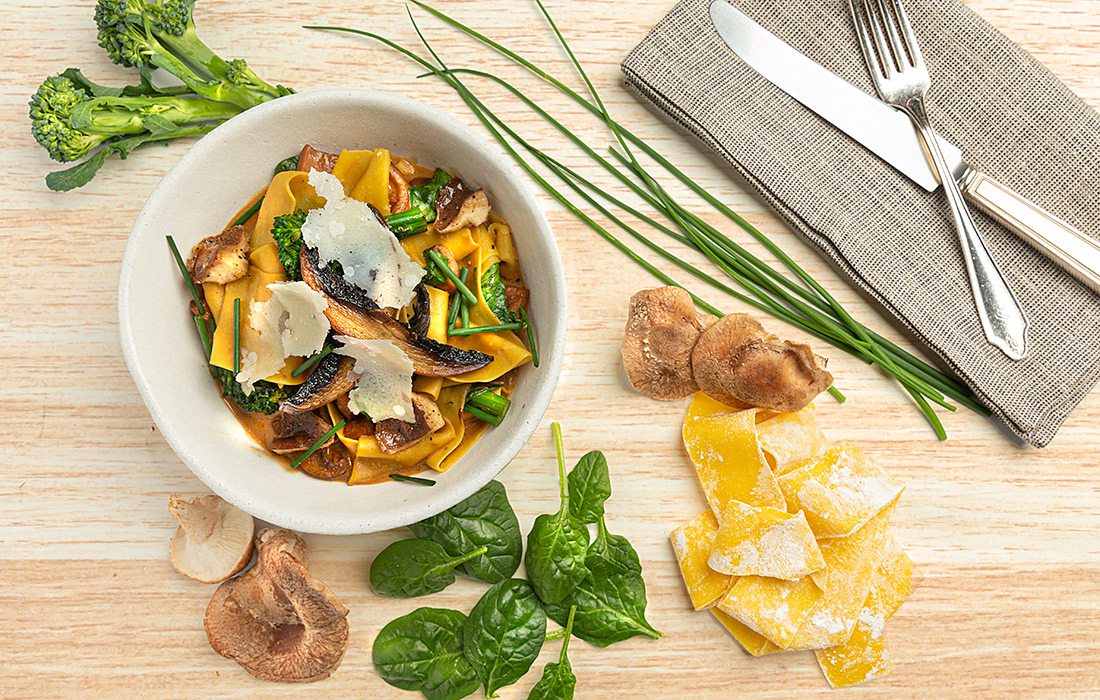 Harvest | Fresh to Death
On a good day, Craig von Foerster's menu is up to 90 percent local.

Craig von Foerster is seen as the godfather of Springfield's farm-to-table dining scene by many, thanks to his focus on hyper-local ingredients—many of which are grown just a few feet from his bustling kitchen.
Von Foerster operates Harvest alongside his wife, Tamara, on farmland that has been in Tamara's family for generations.
Von Foerster explains that the restaurant sources from the property, and any ingredients that are not grown on the farm come from local farmers markets, which he visits weekly. "In spring and the height of summer—even parts of the fall when greens are really growing—there are days where our menu reaches 80 or 90 percent local," von Foerster says, noting that lemons and seafood are an exception.
Using almost entirely local ingredients helps von Foerster ensure the quality of every course that leaves his kitchen. "Buying local—getting produce from a farmers market or from our own farm the day that it has come out of the ground—is really something special," he says. "It allows you to experience the vitality of the vegetable in a way that beats anything you'll get from the supermarket in a clamshell."
Of course, harvests can vary dramatically each season. That's why Tamara reprints Harvest's menus every day to account for differences in the restaurant's produce supply, as well as variances in meat deliveries from local purveyors like Providence Farm, Circle B Ranch and JB Farms for Missouri wagyu beef. It all adds up to Harvest's reputation for flawlessly simple food preparation.
"When you get a carrot that's grown locally, you'll think, 'This is everything I dreamed a carrot would taste like,'" he says, laughing. "From there, there's nothing I can do that would make that carrot better. I'll just add a little olive oil, salt and pepper and roast it whole in the oven."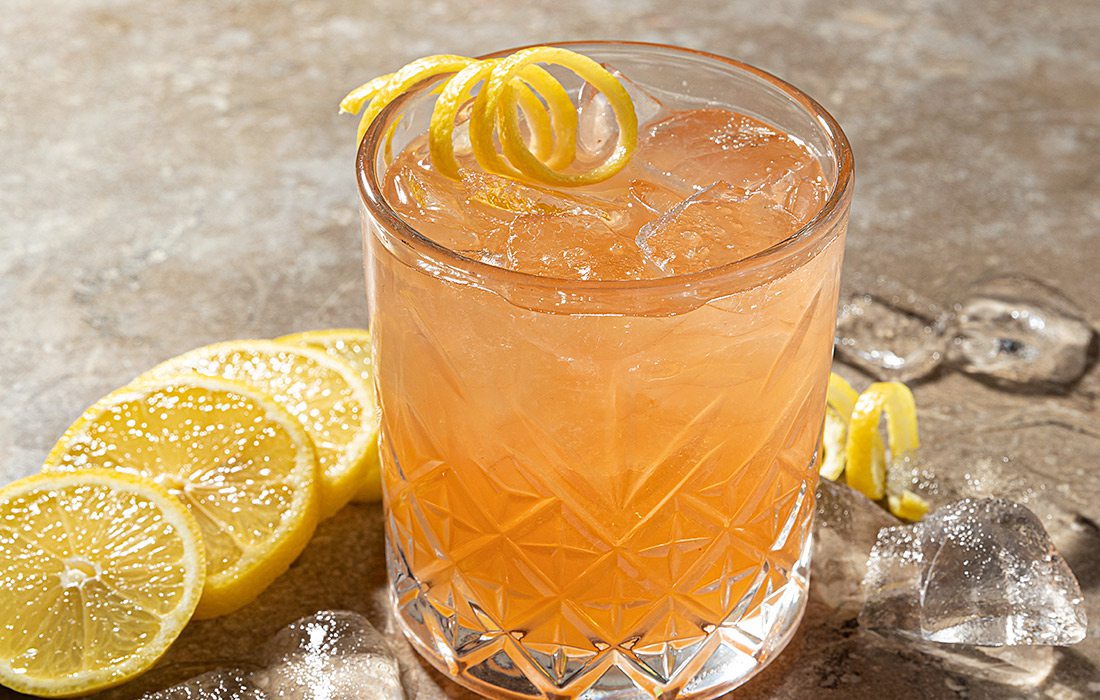 Healthy Cocktail Options in Springfield
Whether you're trudging through Dry January or just cutting back on carbs and sugar, check out these (mostly) healthy cocktails.

If the term "skinny cocktail" makes your lip curl—but you're still trying to reduce your sugar intake—head to Char Steakhouse & Oyster Bar. There, you can party like you're the First Lady of Song without throwing back a sugary, syrupy mess. This jazzy option features Tanqueray, fresh lemon juice, Angostura bitters and a salted lemon twist. Oh, and it's not officially on the menu—think of it as the speakeasy of healthy cocktails.
Jasmine Green G & T | Vantage
Pleasantly fizzy and just boozy enough, a classic G & T has long been a go-to for the low-sugar cocktail crowd. Notes of green tea make this gin and tonic a solid choice, regardless of your commitment to a sugar-free lifestyle. It's the drinkable equivalent of bringing your yoga mat to happy hour.
Matcha, Matcha Man | The Order
Cutting out booze entirely? Try The Order's mocktail menu. Of course, cocktails aren't known for their nutritional value, but the Matcha, Matcha Man comes pretty close. This alcohol-free treat is loaded with matcha, an antioxidant-rich, metabolism boosting green tea varietal. A healthy pour of coconut milk rounds things out, adding plenty of healthy fat and creaminess. Heck, have two.