Profiles
Five Questions with Andy Hampshire
This native Brit recently took over Farmers Gastropub, and he's using his extensive resume and culinary skills to bring a refined menu to the restaurant's classic pub feel.
By Rose Marthis | Photo by Kevin O'Riley
Feb 2016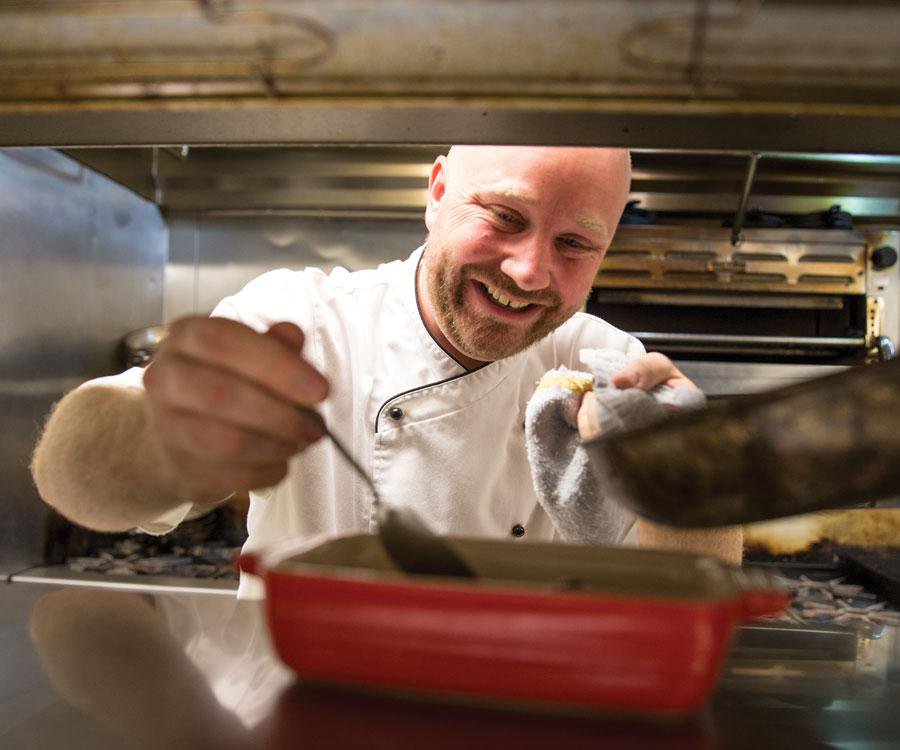 Chef Andy Hampshire started his career in restaurants when he was just 15 years old. He worked at The Boars Head in his hometown of Middlewich, Cheshire, and went to culinary school to study front of the house management, back of the house management, kitchen management, butchery and fish mongering. He made his way across the pond for an internship at Big Cedar Lodge when he was 19. After working his way up and moving between kitchens at Top of the Rock, all the restaurants at Big Cedar (including Worman House), Level 2 Steakhouse and Highland Springs Country Club, he offered to take over Farmers Gastropub from fellow Brit and the restaurant's original owner, Bill Griffiths. Hampshire shares his passion for food, dishes on the biggest differences between Great Britain and the United States and tells some of the most memorable meals from his career. 
 
417 Magazine: What was the deciding factor in taking over Farmers Gastropub?
Andy Hampshire: (Bill and I) had a conversation about him selling it to a Brit, so he kind of put a seed in the back of my head. I talked to my wife, Misty, and I was at a point in my career where it was either go somewhere else or buy my own place. And what's better than a pub in Springfield? It's food I love to cook and a concept that I strongly believe in: farm to table. 
417: What's your vision for the pub?
A.H.: The menu changed. The menu is completely me. There are some things on it that I put on there for the customers, like the meatloaf. My vision is to keep the British pub, keep it the way it is, but introduce a little more refined food. A little more refined menu, specials and seasonal specials. A lot of people think British food is "bleh." It's bland, it's tasteless, it's all meat pies, you know. I want to add a little more refined food to open people's eyes. They're not going to come in and look at the menu and go "I don't know what this is." Just mixing British culture and food with American culture and food to bring it together. 
417: What is the biggest cultural difference you've noticed since moving to the United States?
A.H.: The dining experience altogether. We go out to eat in England and go to the pub, and you're going to be there three hours. Drinks beforehand, some appetizers, a good time. That's what a pub is all about. You might not know those people over there, but by God you'll talk to them. That's the biggest thing. Some people (here) want to eat and leave. Eat and dash. "I'm too busy for this. I don't have time. Why is my food taking 35 minutes? C'mon. This is ridiculous." And that's one of the cultures I had to adapt to when I first came over here. You have a 20-minute window to put their food in front of them. But the pub atmosphere is more relaxed. 
417: Tell us one of the most memorable meals you've ever made. 
A.H.: There are a few, but one that stands out in my mind is when I met Kevin Costner at Dogwood Canyon with Johnny and Jeanie Morris. We fried some morels that Johnny brought, we grilled some steaks, we smoked some trout, and it was just a good time. Johnny told me to come over and sit down with him and talk. I had a picture of me and Kevin Costner on my fridge for years. It's pretty cool. We did quite a few cool things like that working at Big Cedar.
417: What about a time when you had a cooking failure?
A.H.: It was a Resort Food Executive Committee dinner at Big Cedar. I was the executive sous chef, Robert Stricklin was the chef. There were two master chefs in the room from the biggest resorts in the United States. Everything was going great until it came to the cocoa-dusted foie gras course. We made a torchon, which is basically when you break down the foie gras and you make it into a log.  And we cut it at the last minute, which was great, and we used really dark cocoa and we started searing them off and they just melted. It was the feeling of "This isn't going to work." I wouldn't say the dish was a complete failure, but it was a failure in my eyes. That course was forgettable.