Things to Do
Baker Creek Extravaganza
It's planting time, and what better way to get your garden growing than with Baker Creek's big planting festival?
By Savannah Waszczuk
May 2019
Every year on the first Sunday in May, a parade of vehicles slowly inches its way down the small town of Mansfield's old London Road. Houses are few and far between, as blooming trees and open pastures took over miles back. With every hill and every turn, each car gets a bit further from the hustle and bustle of everyday life. These cars are filled with thousands of visitors—many who traveled from all around the country—and they're all on their way to the Baker Creek Spring Planting Festival. The yearly event attracts thousands of guests from a complexity of backgrounds, and it does it with the simplest of appeals: two days of old-fashioned fun in a pioneer village. To get a true taste of the annual attraction, we sent a writer and a photographer on assignment to experience the event firsthand.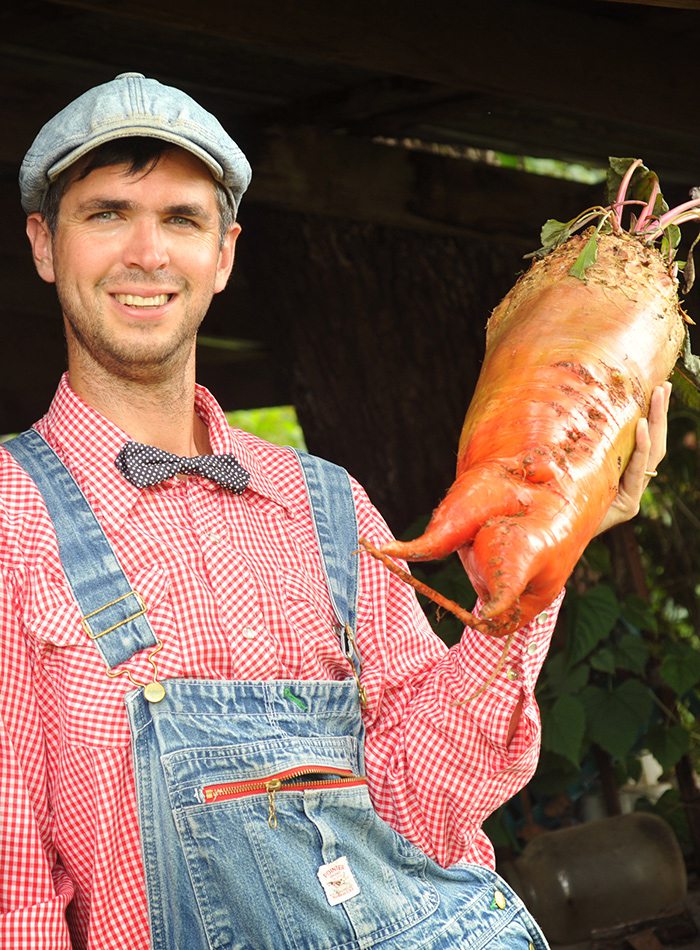 Photo courtesy Baker Creek Heirloom Seeds
Inspired by his passion for gardening, Jere Gettle founded Baker Creek Heirloom Seeds when he was just 17 years old.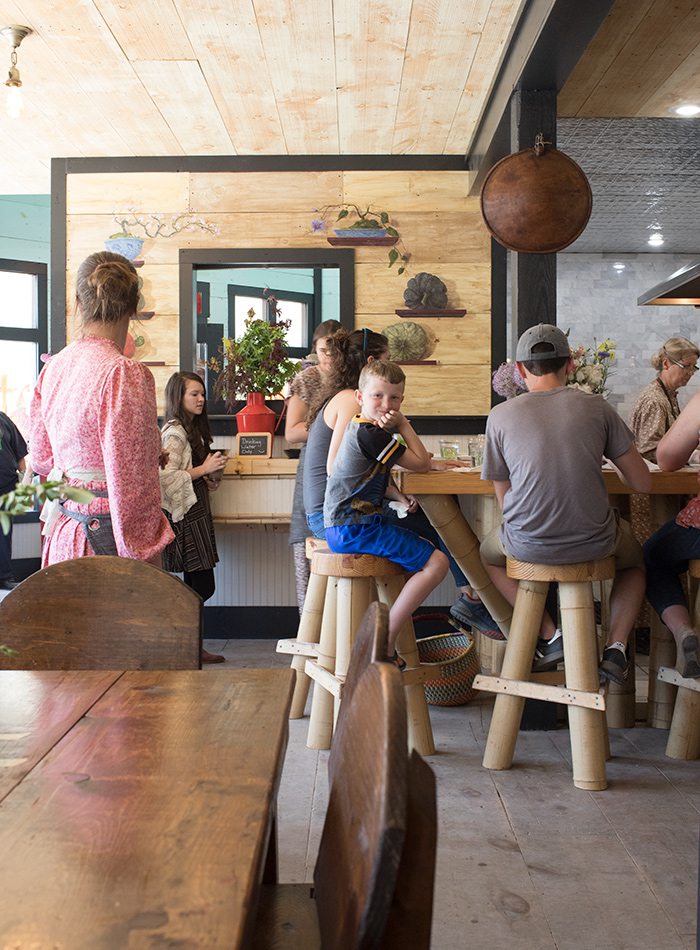 Photo by Chuck Travers
When you need a break from browsing the booths at Baker Creek, sit a spell and chat with other visitors in the on-site restaurant.
Escaping Reality
I quickly learned there are no strangers at Baker Creek. After parking my car among a sea of dusty vehicles in an open field, I started walking to the festivities and was passed by at least half a dozen cars; all six of the drivers smiled and waved. An older gentleman walked up behind me and asked where I was from, then he recommended the Baker Creek restaurant for lunch (with a smile-sealed promise that I wouldn't regret it). That's when I knew the people here were happy. They weren't thinking about work, or traffic, or emails, or laundry. Everyone who was there had the goal of forgetting about the real world for a little while. 
As I looked up and first noticed the number of people there—the thousands and thousands of people—I was amazed. Of course I knew there would be a crowd, but seeing a mass influx of visitors meander their way around more than 100 booths and buildings plopped in an otherwise barren Ozarks field is not exactly common. It's one of those instances where you wonder, "Why here? Did someone throw a dart at a map?" And that's part of what makes Baker Creek so special. 
The story behind this is the story of Jere Gettle. Gettle is a believer in what many consider to be the simpler things in life. He planted his first garden at age 3, and gardening with his grandmothers, aunts, uncles and parents are some of his favorite childhood memories. As he grew, so did his passion for planting—in 1996 he joined Seed Savers Exchange and became familiar with heirloom seeds, and at age 17 he printed the first Baker Creek Heirloom Seed Catalog. 
"These original festivals influenced the development of Bakersville, which is the picturesque, old-timey pioneer village where all of this magic happens."
Today the publication is delivered to more than 700,000 gardeners across the country. Each edition advertises Baker Creek's 2,000 varieties of vegetables, flowers and herbs. Gettle is also the reason the festival exists in this small village just outside of Mansfield—Baker Creek started hosting festivals 18 years ago to provide gardeners, homesteaders and other seed enthusiasts a place to meet, greet and exchange ideas. These original festivals influenced the development of Bakersville, which is the picturesque, old-timey pioneer village where all of this magic happens. 
I spotted Gettle soon after I arrived. Dressed in a blue-and-white checkered shirt and denim overalls, he was shaking hands and making small talk with the vendors. He smiled at me, and I felt a little bit like I just saw a movie star. Feeling shy, I simply smiled back, gave a little wave and continued exploring.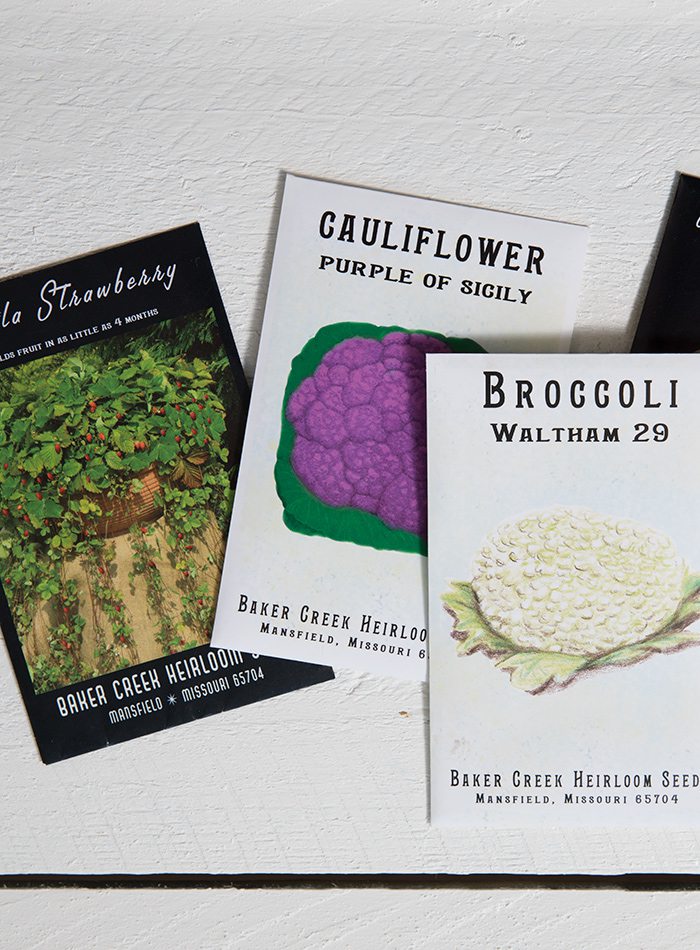 Photo by Brandon Alms
At the Spring Planting Festival, you can purchase heirloom seeds at the seeds store.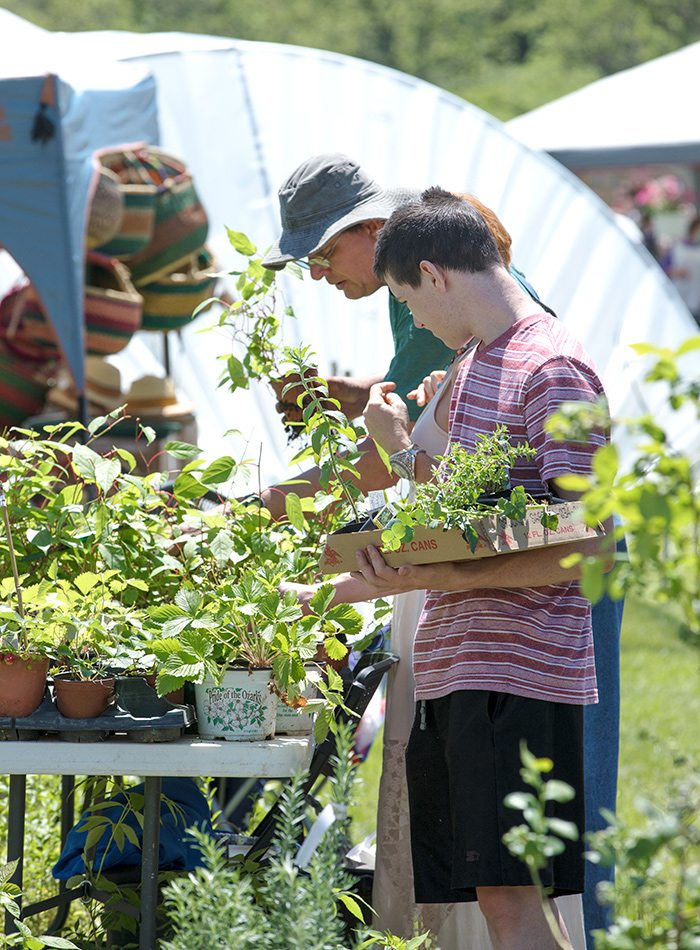 Photo by Chuck Travers
The Spring Planting Festival also offers you an opportunity to pick out seedlings and starters to take home to your garden.
A Walk Through the Village 
Baker Creek has a personality of its own. As you look around, you'll notice a range of demographics: There are gardeners and homesteaders. There are people dressed in old-timey costumes. There are free spirits wearing tie-dye tees and chasing their bare-footed children around in the grass. And these guests all have plenty of opportunity to shop—Baker Creek has dozens and dozens of booths selling a huge variety of handmade crafts, artwork, body products (things like homemade soaps, lotions, salves, lip balms), candles, foods and a whole lot of seeds, flowers and plant starts. 
The other aspect that makes Baker Creek one of a kind is the fact that all of these vendors are set up in and around Bakersville, a village that dots the scenic country landscape with a speaker barn, music barns, a restaurant, an old-time mercantile, an herbal apothecary, a bakery, a garden museum, a blacksmith and the famous Baker Creek Seed Store. It looks like something you'd see pictured in a history book.
As I made my way from booth to booth, I noticed live music in the background—performers offer their takes on old-time country, bluegrass and gospel tunes. You can sit and watch the musicians, or you can simply enjoy the notes filling the air as you browse vendors and imagine planting your own dream garden. At least that's what I did. I love growing flowers and vegetables (and I love eating the vegetables I grow even more), so I had a heyday searching for the healthiest starts and imagining ways to grow way more herbs than I actually had room for. My hands were full just a few booths in, but then I passed a woman toting a little red wagon spilling with tomato plants and realized my fun was far from over. 
After hauling my first batch of goodies to my car, I came back and made a stop by the blacksmith stage to watch blacksmith Matthias Penn in action. He talked to me as he fed his fire and turned his metal creations, explaining how he can build anything from railings to kitchenware to the well-known dinner triangle with nothing more than his own two hands and a couple of tools. "These are one of my most popular items," he said, holding his freshly forged triangle in the air. I wanted to ask him a few more questions (including if I could have his phone number—he had a gorgeous smile), but then he began taking a custom order from another lucky admirer. 
My next stop was lunch. A variety of food trucks lined the property and offered items including wood-fired pizza and English pasties, but I had my heart set on Baker Creek's restaurant. It's a bright, open space that serves up fresh fare made from the multitude of plants, herbs and vegetables that are grown right on the property. All of the cuisine is plant-based, and guests can watch it being prepared in the open kitchen. On my visit, the restaurant was serving an Asian-inspired rice dish I thoroughly enjoyed. Could I ever be vegan? Let's just say if I lived at Baker Creek, it'd be a lot easier to forget my love of meatloaf, meatballs and all other things meat.

HAVE THE VERY BEST FEST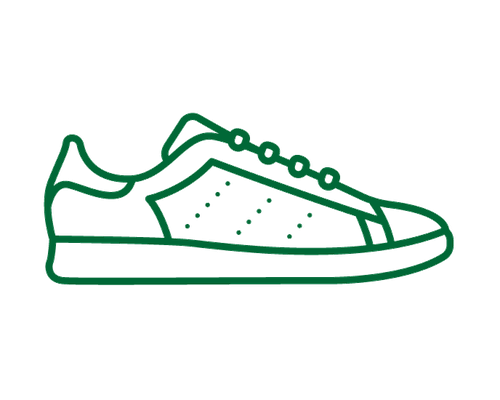 GET YOUR KICKS
---
I wore sandals on day one, and it had just rained. Not smart. Wear shoes that are weather appropriate and comfortable to walk in.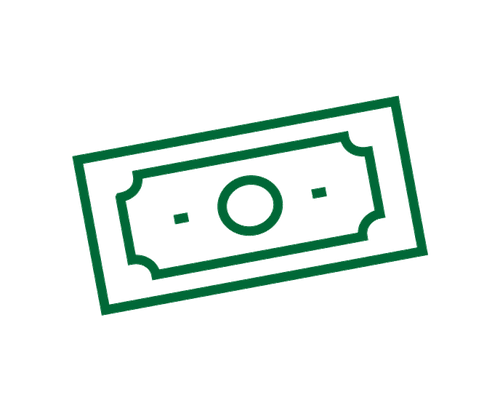 BRING CASH
---
Some vendors may take cards, but you'll want to have cash on hand for all of your goodies.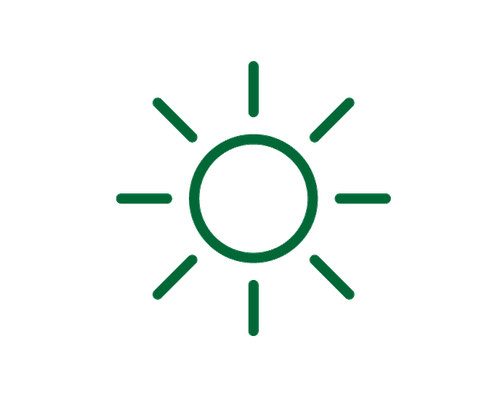 LATHER UP
---
Even if it's cool, slather on some SPF—the cool May temps tricked me into forgetting about sunscreen, and I got a sunburn.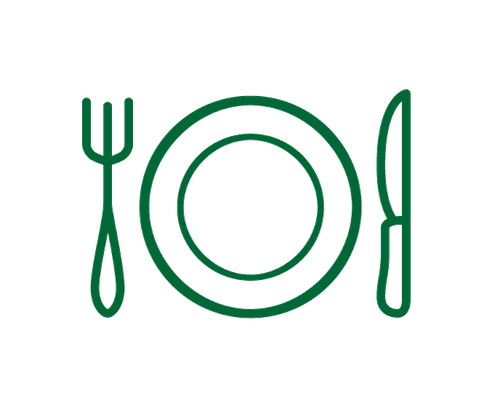 COME HUNGRY
---
There's so much great food here, and you have to try as much as possible. (Note: The cinnamon rolls at the bakery could very well change your life.)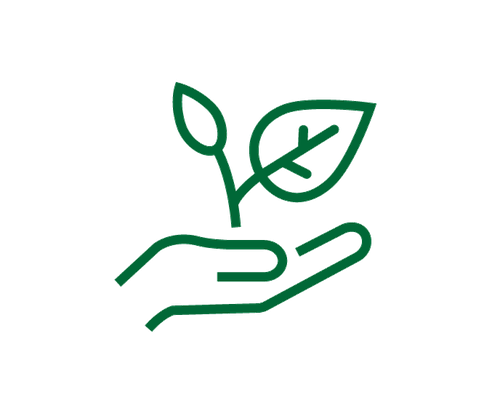 TAKE A LAP
---
My hands were full two booths in, and that was not fun. I suggest browsing all of the vendors before deciding what you want to buy and take home.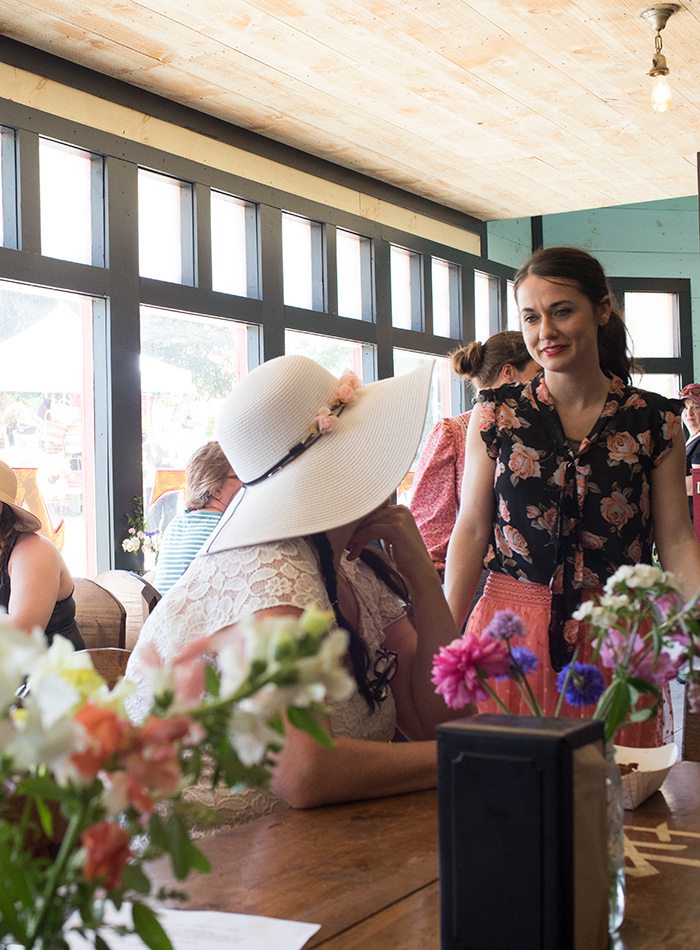 Photo by Chuck Travers
The on-site restaurant draws in a crowd with plant-based dishes made with ingredients grown right on the property.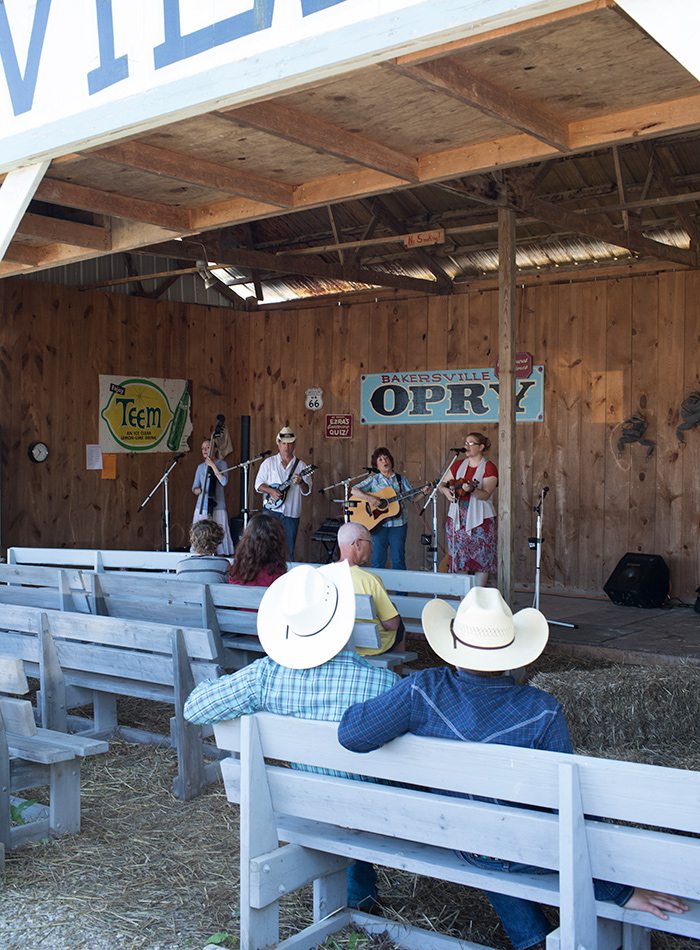 Photo by Chuck Travers
Country, bluegrass and gospel bands take the stage at Bakersville Opry to fill the air with tunes and entertainment.
Talking with the Townspeople
I spent the rest of day one browsing booths and talking to sellers, and I began day two in the same fashion. That's when I met one of my favorite vendors, Jamie Jackson of Missouri Herbs. "I have an organic farm, and I grow herbs that have naturalized to Missouri," Jackson said, her long, loose dress flowing in the wind. By her story, I knew Jackson had to be several decades older than I was, but her glowing skin suggested otherwise. "I make face butters, body butters, salves and extracts," she said.
Jackson spent several years working in corporate America before she found herself in Missouri. "I was head of QA for a software company," she said. "I was in charge of Y2K, and I literally worked around the clock for three years. I got so, so sick, and I was in the doctor's office almost every week. After that, I decided I wanted to get out of there." She began researching, and she learned the Missouri Ozarks were where she could get the most "bang for her buck," as she called it. "I wanted to live a lifestyle that required very little income," Jackson said. "I wanted to pay off the land, build my own house and grow my own food and my herbs." She knew about Baker Creek from previous research, and she moved within driving distance. Today she works for Baker Creek and on her farm.
"We really love the music. We do a lot of the festivals around here, but I'd say this one is more Ozarks style."
— Jim Oxley
Many of the vendors have stories similar to Jackson's—they're into sustainable lifestyles and helping people live the same way. Others are there to make a little money and listen to the music. "We really love the music," said Jim Oxley, a sweet man who shares a booth with his friend, Paula Keith. "We do a lot of the festivals around here, but I'd say this one is more Ozarks style." Oxley's most popular sellers are his "fancy dresses," which are frilly, lace-trimmed and available in sizes preemie to 9. Keith's biggest sellers include aprons, cloth storybooks and baby quilts. "I lie in bed, and I dream up all these patterns," she said. "I craft about four hours a day." 
As guests wove in and out of Oxley and Keith's booth, the two were more interested in making small talk than trying to make a sale. They talked to the gardeners and homesteaders, and they talked to the people dressed in old-timey costumes. They talked to the free spirits wearing tie-dye tees, and they talked to each and every one of their bare-footed children. "I'd say my favorite thing is just to see the people here," Oxley said. "There are so many friendly people here."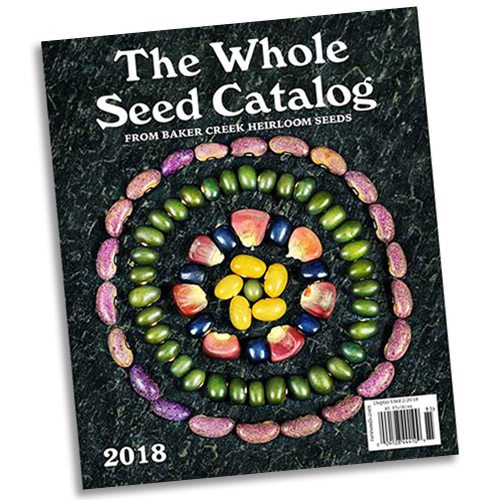 The 2019 Whole Seed Catalog (pictured is the catalog from 2018) from Baker Creek Heirloom Seeds ($9.95, available at Baker Creek Seed Store or online at rareseeds.com) boasts lovely photos of produce, recipes, advice and history.