Reviews
Neighbor's Mill Bakery & Café
Neighbor's Mill Bakery & Café serves up freshly baked bread and tasty lunchtime fare to crowds of hungry diners.
Written by Katie Pollock Estes | Photos by Brandon Alms
May 2016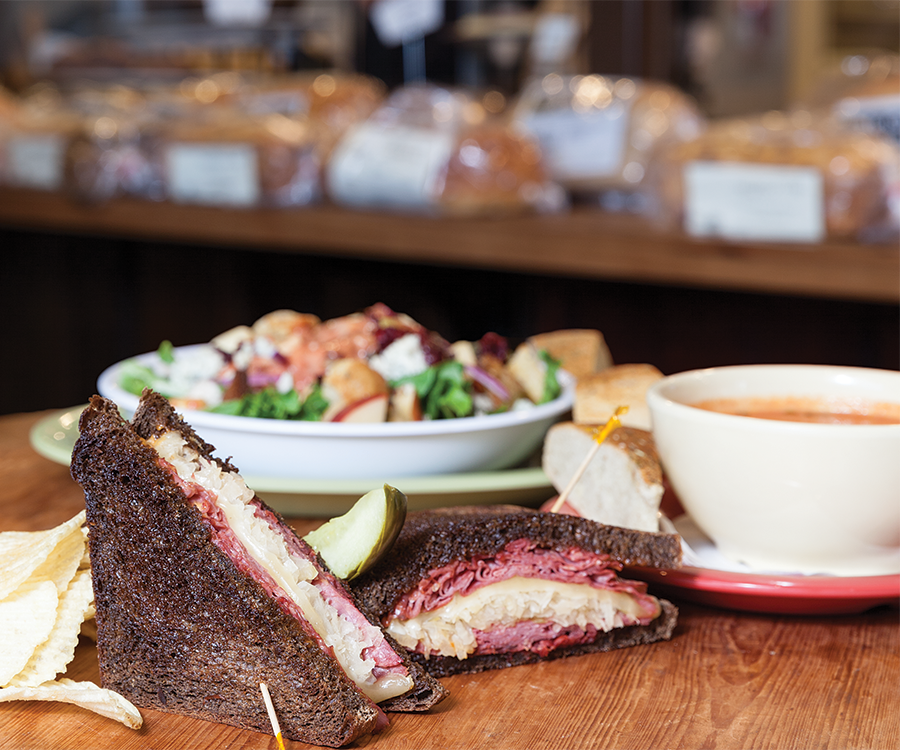 Neighbor's Mill Bakery & Café
1435 E. Independence St., Suite 110, Springfield, 417-720-4162, neighborsmill.com
Open 7 a.m.–8 p.m. Monday–Saturday
There is almost nothing in the world that whets my appetite faster than a whiff of fresh bread. It's even better than brownie batter, which is saying a lot. It's better than fresh herbs. It's better than slow-roasted turkey on Thanksgiving Day. The smell of fresh bread is warm and yeasty and instantly comforting.
And that's why stepping into a restaurant like Neighbor's Mill Bakery & Café is so intoxicating. The large and airy dining room leads up to a counter that's filled with beautiful loaves of bread, and another counter where you can order sandwiches that are made with slices from those lovely loaves.
Before Neighbor's Mill opened in Springfield, I was anxiously anticipating its arrival. The bakery's original location was (and still is) in Harrison, Arkansas, and I'd stopped in for a bite on an Arkansas hiking trip years earlier. Apparently I wasn't the only Springfieldian excited about its arrival, because my first attempt to stop in for lunch on a Friday afternoon was thwarted by a giant crowd. Every single spot in the parking lot was filled, the dining room tables were packed, and the line from the counter stretched into the breezeway between the two front doors. I knew I wouldn't make it in and out in time to get back to the office for a meeting, so I left.
The next time I came to visit, I was a little more strategic. I arrived at 11 to avoid the noon rush, and I came on a Tuesday hoping for a lighter crowd. My husband met me there, and we easily found a comfy seat in the spacious place. But within 20 minutes of us digging into our food, that long line was back. Talk about a popular eatery.
Eli ordered the Reuben sandwich, and I ordered a BLT that was on special that day, and we went halvsies so we could each try them both. The Reuben was outstanding, with a hefty portion of tender corned beef layered with not-too-much Swiss cheese, plenty of pickled sauerkraut and a schmear of thousand island dressing. The bread was soft pumpernickel rye that was toasted until buttery and crispy. Eli and I are both Reuben lovers (I've never met one I didn't like, at least a little bit), so there were a lot of happy little yummy sounds coming from our table while we stopped chatting to eat up. Eli noted that the sandwich had all the right Reuben flavors, but it didn't feel as heavy as some other versions he's had, and that was a perk. I think that's because they didn't overdo it with the cheese. The BLT was tasty too, but it didn't impress quite as much. Eli's half had all the bacon! The ingredients were delicious, though. The bacon was crispy, and the bread was, of course, incredible.
We also got a cup of the loaded baked potato soup and a small order of the Bleu Apple salad to split so we could both try them. We were sharing, but I hogged the soup. It was rich and indulgent, with big, tender chunks of potato and a hint of bacon. But the best part was how thick it was, just like a potato soup should be, in my opinion. It came with a little wedge of dense, herbaceous focaccia that was perfect for dipping.




Neighbor's Mill's Bleu Apple Salad comes with a mix of greens, diced apples, dried cranberries, red onion, roasted pecans and bleu cheese, and it's topped with a cranberry mustard dressing.


I was less in love with the salad, which was a mix of greens, diced apples, dried cranberries, red onion, roasted pecans and bleu cheese, with a tasty cranberry mustard dressing. Oh, and house-made croutons that were fabulous. But the small size of the salad was served in a small, deep bowl that made it hard to get a good, ingredient-filled bite without dumping salad bits out of the bowl. I found most bites ended up being mostly lettuce. But I did love that they ask you when ordering if you want your dressing light, regular, heavy or on the side. As someone who is always put off by an overabundance of dressing, I appreciated being able to pick a preference.
Curious about the breakfast offerings, I stopped back in the next day and was excited to see an assortment of toast options among the oatmeal and breakfast sandwiches. I ordered two of my favorite treats: The cinnamon toast on honey wheat bread (which tastes like childhood) and the avocado toast on pumpernickel (which tastes like summertime and has a hint of red pepper flake spice). Both were perfect day-starters served on some of the best local bread around.