Life
Let's Hear It for Springfield Area Chamber of Commerce Chairman Logan Aguirre
On Friday, 417 Magazine Publisher Logan Aguirre was installed as Chairman of the Springfield Area Chamber of Commerce Board of Directors. Here are our five favorite nuggets of wisdom that she shared during her speech.
by Katie Pollock Estes
May 10 2021 at 8 a.m.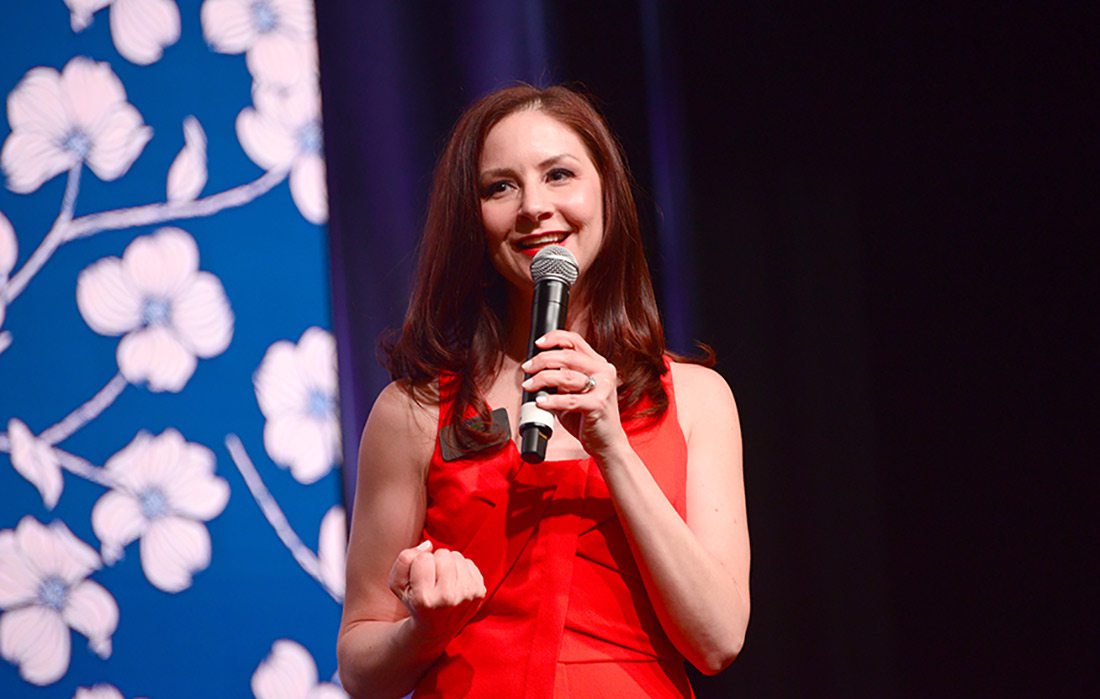 During the Springfield Area Chamber of Commerce's Annual Meeting on Friday, our Publisher Logan Aguirre was installed as Chairman of the Chamber's Board of Directors. In a powerful speech, Aguirre wove her and her family's stories together with some southwest Missouri history and a hopeful look ahead to the bright future of 417-land.
We're so proud to see our publisher lead the Board of Directors out of a pandemic year and into a changing, growing and positive year ahead. To give you a sampling of the messages she shared, here are a few of our favorite quotes from Aguirre's speech.
On discovering the stories that make 417-land shine: "When my parents first bought the magazine they asked themselves, 'How will we fill all these pages every single month? Is there really that much to tell?' Every single person in this room is proof that there is a never ending supply of great stories to tell. What you are doing each day in your business, with your families, out in our community—those are all stories that create the fabric of this beautiful place."


On forging confidently into the future: "Our next issue of Biz 417 will be out next week and it features the headline "Thank You, Next." It really sums up how I feel right about now! If you look at the past year as a toxic relationship—we learned a lot and as much as it hurt, we are thankful for what it taught us, and we are stronger for it. And now we're like 'Oh, hello!' to the options up ahead. This issue of Biz is a look at all the projects in our region that didn't stop when everything else stopped. It's a look at the growth explosion we are poised for."
On the people whose stories are shaping the future of 417-land: "The other day I was able to visit with Sally Hargis at Ozarks Coca-Cola/Dr Pepper Bottling Company, a third generation family-owned business celebrating 101 years. Isn't that amazing? I was able to see the new facility they are dedicating next week. Sally spoke with great pride about how the headwaters of the Jordan Creek are on their property. Did you know that? They are cleaning it up and creating a walking trail for the employees to enjoy it. That creek flows all the way downtown and will someday soon be daylighted. The really fun fact is that, from 1934 to 1977, their plant was located at the corner of Central and Clay, right on the Jordan Creek. They moved "up the creek" in 1977! I love thinking of all the stops along the creek that will now be connected.
"Have you seen the beautiful mural work done on the outside of the Frisco building? Chestnut and 65 is one of the front porches to our city. As parents are driving here for campus visits, that is often where they enter our city, their first impression. Springfield had been the communications and operating hub of the Frisco railway and it was Springfield's largest employer at one time. Christina Angle from the Erlen Group was telling me why her family felt passionate about honoring the legacy of the Frisco Railroad headquarters through the murals on the building. There is even a cool story behind the color red that they chose for their awnings. Ask her about it. I love that the building itself tells a story."
On creating a sense of pride in place: "Each of these stories and initiatives illustrates local passionate business and community leaders who are single-handedly creating ways to make this the best place possible. Then we as a Chamber, as a city as a magazine - get to take what YOU create and tell the story. Those stories give us a sense of pride in place."
On doing the work so Springfield can forge ahead: "You can't be a great place without putting in the energy to create energy. And that's what our Chamber does best. Our Chamber is the primary catalyst in promoting the economic health of the Springfield area, stimulating jobs and improving the quality of life. And their advocacy efforts are crucial in giving members a voice in the process to maximize recovery as policy discussions continue at the local, state and federal levels."
On facing the future head-on: "So tonight, looking back at a year for the history books 'Thank You!' and looking toward our future 'Next!,' think about this: Our next chapter is just getting started and we all get to be a part of it. We get to help write it together. I'm excited to help write this story with all of you. Are you ready for what's next? I know I am!"
For a sneak peek into the Springfield Area Chamber of Commerce Annual Meeting, where Logan Aguirre was installed as Chairman and Warren Davis was named Springfieldian of the Year, visit our People Pics gallery from the event.