Table Talk
Table Talk: May 11–17
This week: How to throw the garden party of your dreams
By Megan Dollar
May 11 2021 at 8 a.m.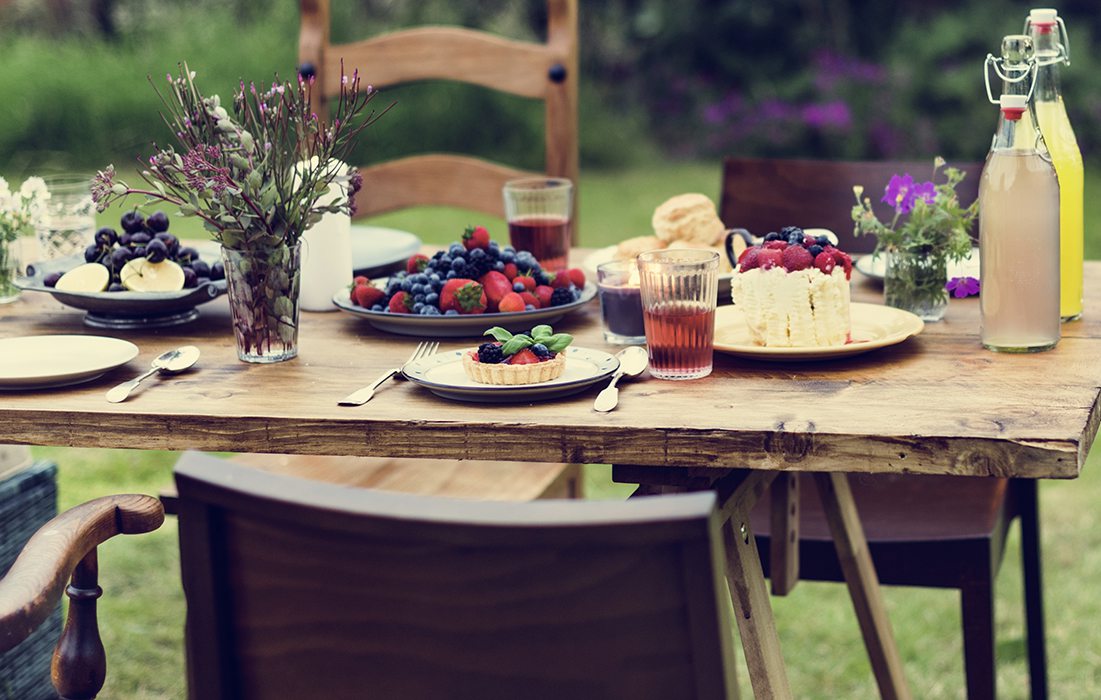 The Snacks
Every good dinner party, whether it's indoors or out, has plenty of snacks, and we're not talking about your grandma's cheese and crackers. Well, there should probably be cheese and crackers, but there should also be much, much more. Many cultures have been playing the pre-dinner meal game for years, think: the Italian aperitivo, the French aperitif, the Spanish tapas, the British high tea and so on. Channel these traditions and start, at least, with a charcuterie board. You can purchase beautifully designed, delicious, pre-made boards from 417 Charcuterie, Lavish Grazing or Olive + Fig, or you can build your own with house-cured and European-imported meats from Schuchmann Meats Co. If you want to add cheese, stop by Brown Derby International Wine Centerfor a wide selection of local and imported cheeses. A plate of crudités (a fancy word for "vegetable tray") is always a nice option, too. Check out MaMa Jean's Natural Market and Culture Counter to see what local veggies are fresh and ready for munching at the time of your party.

The Main Course

The star of the show: the main course. I dug through the 417 Magazine recipe archives (you're welcome) to find the best garden party recipes—bites and booze. Start here, and build your menu out.
The Atmosphere
In my opinion, one of the most important parts of any garden party is the decor. Without plenty of flowers, springy table settings and pretty linens, it would just be a backyard dinner. Right? 417 Magazine's Style Coordinator, Colin Shea Denniston, may have styled this shoot for some brunch inspo, but I think the table goods he found at Polish Pottery, House Counsel and Chabom Tea and Spices have some serious garden party vibes, too. Look for colorful pieces that evoke feelings of summer and sunshine. To complement your place settings, you'll want plenty of fresh florals, too. Head to Fleur Floral Studio to fulfill these needs. Rose Cochran, the store's owner, will bring your floral vision to life or guide you through the bloom bar and help you do it yourself. If you're short on inspiration, take a look through 417 Home's outdoor spaces feature from earlier this year to see some of the most sweeping outdoor spots in 417-land. Plus, check out expert foodie and host Elle Feldman's tips for hosting. 

The Getaway

If you're not really the DIY type, but you're still enthused by the idea of a garden party or an indulgent dinner, there is no shortage of non-DIY options in 417-land. Here are a few:
Dine at Harvest
8011 Highway AD, Rogersville, 417-830-3656
For a lavish dinner loaded with local and seasonal ingredients, book a table at Harvest Restaurant in Rogersville. It may not be an evening at home, but a warm evening at this intimate restaurant will come close to it.
Dinner from Anna Davis
Anna Davis is an internationally-trained private chef. Book her for an evening and she'll teach you how to cook or just do it herself. Either way, you and your guests will be treated to a delicious dinner in the comfort of your home. 
Private Picnic Co.
This new 417-land team's entire business is picnics and garden party-like set ups. They'll show up at the location of your choosing with all the goods: table settings, decor, sweet and savory food boards and more. 
Prix Fixe Dinners
Straight from this month's issue of 417 Magazine is this round-up of local prix-fixe dinners. From a quaint getaway at La Galette Berrichone in Fordland to a surf and turf evening at Char Steakhouse and Oyster Bar, read on to discover all of your options in 417-land.