Table Talk
Table Talk: June 6–12
This week: Lots of sweet news around Springfield, Missouri, an easy lemon recipe, new barbecue spot is coming to town, new menu from Druff's and more in Table Talk.
by Tessa Cooper
Jun 06 2023 at 8 a.m.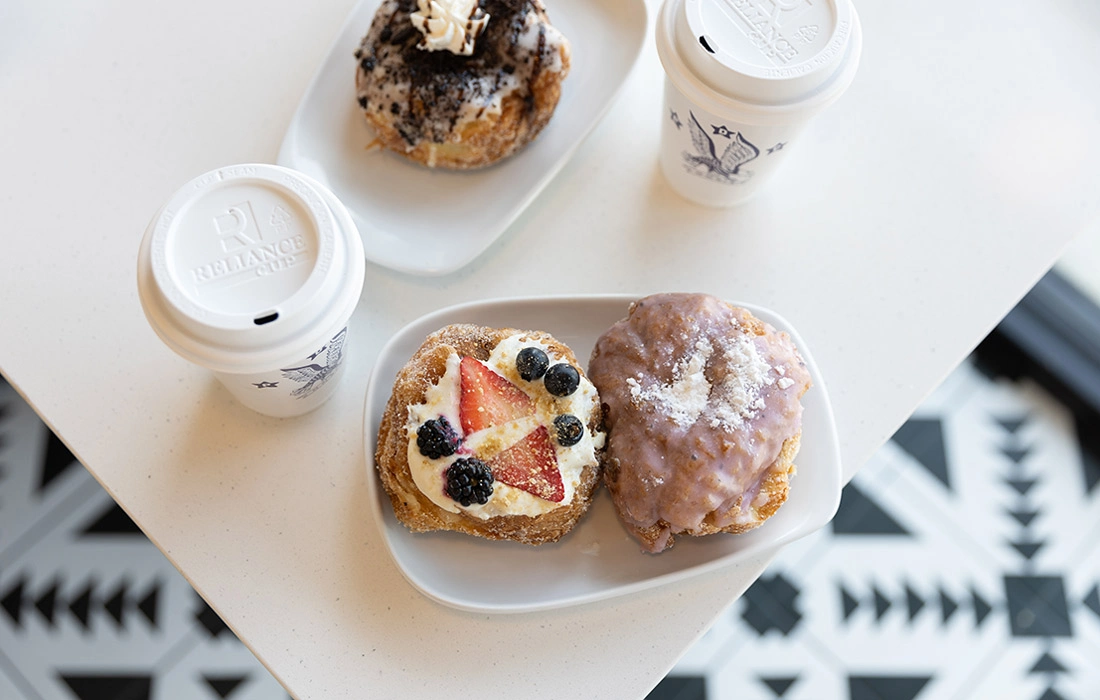 Sweet News Around Springfield
It seems like there are some delightfully sugary things in store for Springfield this summer! Here are a few updates:
• In case you haven't heard the good news, the Parlor Doughnuts franchise just opened a Springfield location at 109 E. Battlefield in suite A. We swang by and tried the layered confections, which we'd best describe as a cross between a European pastry and an American doughnut. Our order included the Cookies N' Cream, Blueberry Hill and Fruit Tart, and we'd indulge in all three again in a heartbeat. Parlor Doughnuts also offers keto, gluten-free and vegan-friendly options, so there's something for everyone. Between specialty lattes and single origins, they don't skimp on the coffee offerings either.
• It looks like Rita's Italian Ice & Frozen Custard is getting ready to set up shop at 2100 W. Republic Rd. in Suite 112. The Pennsylvania-based chain serves up creamy custards, Italian ice made with fresh fruit, and even a blended combination of the two. A branded sign covering construction progress just went up on the door, so we will do some digging on the expected opening date and report back!
• Whipped Delight is getting so close to opening its downtown brick-and-mortar location at 211 E. Walnut, dubbed Brunch Box. They tell us that they are pretty much just waiting on their final City inspections at this point. The vegan bakery, which has previously operated on a popup basis, will serve sweet and savory concoctions Friday through Sunday, 8 a.m. to 12 p.m. Oh, and in even more good news, they'll be sharing the space with Sweet EMOtion. We've been missing their creamy oat milk-based soft serve during their temporary closure and can't wait to have a cone.
• Piñas Locas has wowed Springfield with its Mexican street food for almost a year now. In addition to their savory dishes like Tostilocos that feature tangy pickled pork rinds, they've already made a name for themselves with their sweet offerings with a savory twist, such as the Mangonada made with mangos and chili lime seasoning. Now, they are further delving into the dessert realm with their new Mexican ice cream and paletas truck, dubbed Michoacana. Expect ice cream and popsicles in unique flavors like mango, lime, chocolate and even cheese.
• The Wonkie Waffle is one of the newest food trucks at Farmers Market of the Ozarks, and it's dishing out sweet waffles with playful toppings like Fruity Pebbles cereal and Oreos. If you need a little something to balance your blood sugar first thing in the morning, you can opt for a savory waffle with toppings like bacon and eggs or even smoked salmon.
An Easy, Lemony Recipe
We've been seeing various frozen lemon cup desserts making their rounds on TikTok, so we decided to give it a try and add our own spin. Served in a lemon shell, this dessert is just as pleasing to the eye as to the tastebuds. While true lemon sorbet doesn't contain any dairy, we added mascarpone cheese to ours. It gives this cold treat a creamy texture with a bit of a nutty taste that balances out the sweet and tangy notes. They only require about 10 minutes of hands-on prep time and 30 minutes of setting the freezer before you can enjoy them.
It's BBQ Time, BB
Since 2017, Curley Que BBQ and Catering has been keeping Bolivar well-fed with an entirely made-from-scratch menu, down to the ranch dressing. Now, they're doing the same for Springfield at 1450 E. Sunshine St. We can't wait to get over there and try out a sliced brisket sandwich, and since we can't resist sides, we'll definitely be ordering too many. Our guess is we will find a way to finish all of our fried zucchini and potato salad and still have room for the cheesecake.
How Smashing
Druff's just debuted a new menu, and while it's slimmer, it's more robust in terms of variety. "We're [slowly] becoming a combination Pizza Hut/Taco Bell," they wrote on their FB post. They've swapped out some of their grilled cheeses (RIP Uncle Tatey) for new offerings like smash burgers that are available Thursdays–Saturdays from 4–9 p.m. And good news for you early risers—The diner is expanding its hours and opening at 8 a.m. Tuesday–Sunday. And they're serving breakfast tacos now! Off we go to make some brunch plans.
Could it Be?
One of the most fun pop-ups every year (and one with an excellent commitment to a theme) is when Team Taco turns into Brent's Burgers for a day. They serve incredible burgers in a delicious riff on everyone's favorite animated restaurant, Bob's Burgers. Yesterday, Team Taco teased an unnamed upcoming event with a pic of a bunch of stickers… including a Brent's Burger's sticker. So is Brent's Burgers coming soon? We sure hope so! We'll let you know when Team Taco shares more information.